---
I have never wanted to lost a bet more in my life, but it is what it is and unless there's a massive upset in the next 15 hours and the price nearly doubles, I think I'm going to win my CUB not breaking $5.00 bet. On the plus side I've used this time to accumulate more CUB and I've been compounding all the earnings, but seeing the price pump would be nice too. Hopefully the bridge is going to get us to the next level.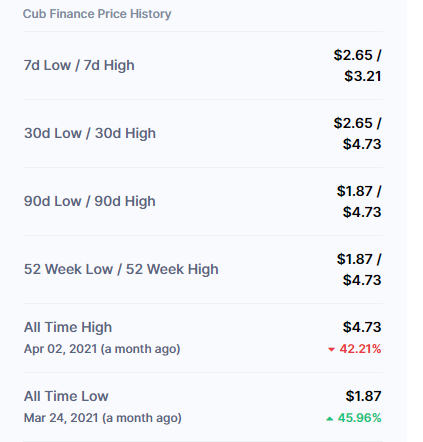 That being said, I still want to lose this bet and the only way I can think of to do that is to redo it for May. Obviously I'll need some volunteers to get on the "yes" side of things and I guess collectively we'll need to push the price up, but I think we can do it. Please, make me lose the bet this time. Please. HELP. It's all for fun and to help keep things interesting, I'll throw down another 5k PAL bet saying CUB won't break $5.00 and give everyone that wants to get in a week before the market closes.
You can find the new market here:
https://dublup.io/market/01F4GV5N4CKYHFH74EVFBBB11H
I'll verify that I bought the shares below when they finish minting.
Posted Using LeoFinance Beta