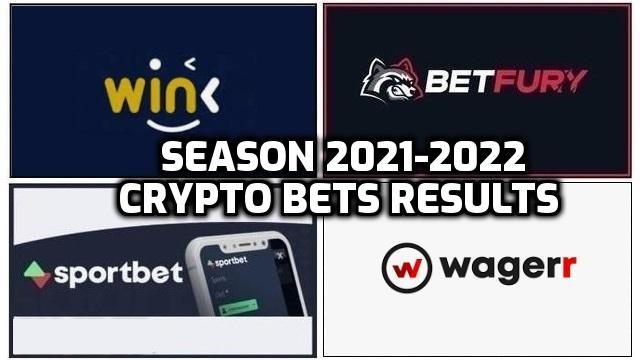 Every year there are more and more options to take bets using Crypto and I am trying to make use of it by taking some smaller bets on the side on top of my regular stakes. These are the results of the crypto bets I took and shared in my preview posts last season along with some general remarks...
My general view on betting with crypto still right now is that it offers no real competition to my regular Sports Betting Broker Sportmarket Pro which on average has way better odds and gives a much smoother betting experience especially live. I don't see any crypto bookie that will rival this anytime soon but they are useful similar to traditional 1x2 bookies especially when they already have odds available while the asian market (which is way sharper) still need to publish their lines. There lies the biggest opportunity to make profit from crypto bets along with the fact that they offer a lot of prop bets that aren't as widely available on the Asian bookies.

I still take nearly all my Pre-Game & Live bets with my Betting Broker Sportmarket Pro who always provides the best offers on the market with a 1 click solution and doesn't limit winning players offering high limits. For more info check my Sportmarket Pro Review
---
Biggest Issue with Crypto Bets
The main problem I personally experience with taking crytpo bets is that it requires different coins which all have their own volatility and each of the platforms have kind of their own ways to handle betting. The 4 main bookies I personally like the most and used are:
---
Betting Results
It's really hard to calculate the exact result and there also was very little structure in the entire betting as 1 bet that had huge value really stood out in terms of stakes as I was unable to get it early on the Asian books which had no odds available yet. Most of those bets spread between different books did win which is where nearly all of the actual profit comes from. It's also nearly impossible to calculate results on betfury as crypto bets somehow get taken in dollars. I guess they convert them in the background at the rate the coins are traded at and the moment they get paid out it converts it back at the rate they trade at that moment.
Wink was my most used platform since they offer the most prop bets which are nice to taken even though it is also the bookie I actually made an overall loss.
| Bookie | Bets | Stake | Result | Dollar |
| --- | --- | --- | --- | --- |
| Wink.org | 32 | 17300 TRX | -2314 TRX | -142$ |
| Sportbet.one | 11 | 265 EOS | +78.2 EOS | +181$ |
| Betfury.io | 7 | 490$ | +273$ | +273$ |
| Wagerr.com | 6 | 5050 WGR | +758 WGR | +18$ |
| Total | 56 | 2283$ | +330$ | +14.45% ROI |