For those who don't know what Grayscale is, we could summarize it as the main sponsor of trusts and investment funds of the main cryptocurrencies with the highest market capitalizations.
Para quienes no conocen que es Grayscale, podríamos resumirlo como el principal patrocinador de fidecomisos y fondos de inversión de las principales criptomonedas con las más altas capitalizaciones de mercado.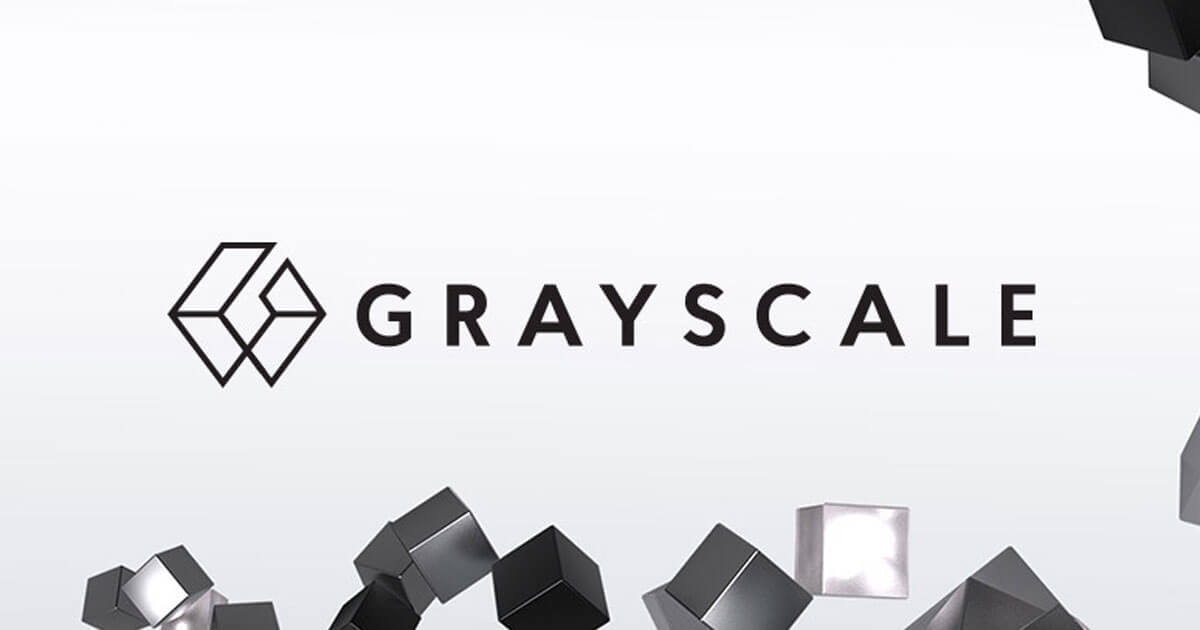 Their numbers speak for themselves
40.3 billion in assets under management
78% multi-product investor inflows. 35% of investors invest in multiple.
Their products cover 74% of the digital currency market.
Sus números hablan mejor de ellos
• $ 40.3 mil millones en activos bajo su gestión
• 78 % de entradas de inversores de múltiples productos. El 35% de los inversores invierten en varios.
• Sus productos cubren el 74% del mercado de la moneda digital.
For this reason, when they announce that they are interested in new products to invest in and sponsor, it is a positive aspect not only for the product that reaches support, but for the ecosystem in general.
On February 26, 2021, they published an initial list of assets that they consider including their product family, then on June 17 they updated this list including 13 more assets for consideration.
Por esta razón cuando anuncian que se encuentran interesados en nuevos productos en los cuales invertir y patrocinar, es un aspecto positivo no solo para el producto que alcance el apoyo, si no para el ecosistema en general.
El 26 de febrero de 2021, publicaron una lista inicial de activos que consideran incluir a su familia de productos, luego el 17 de junio actualizaron esta lista incluyendo 13 activos más para ser considerados.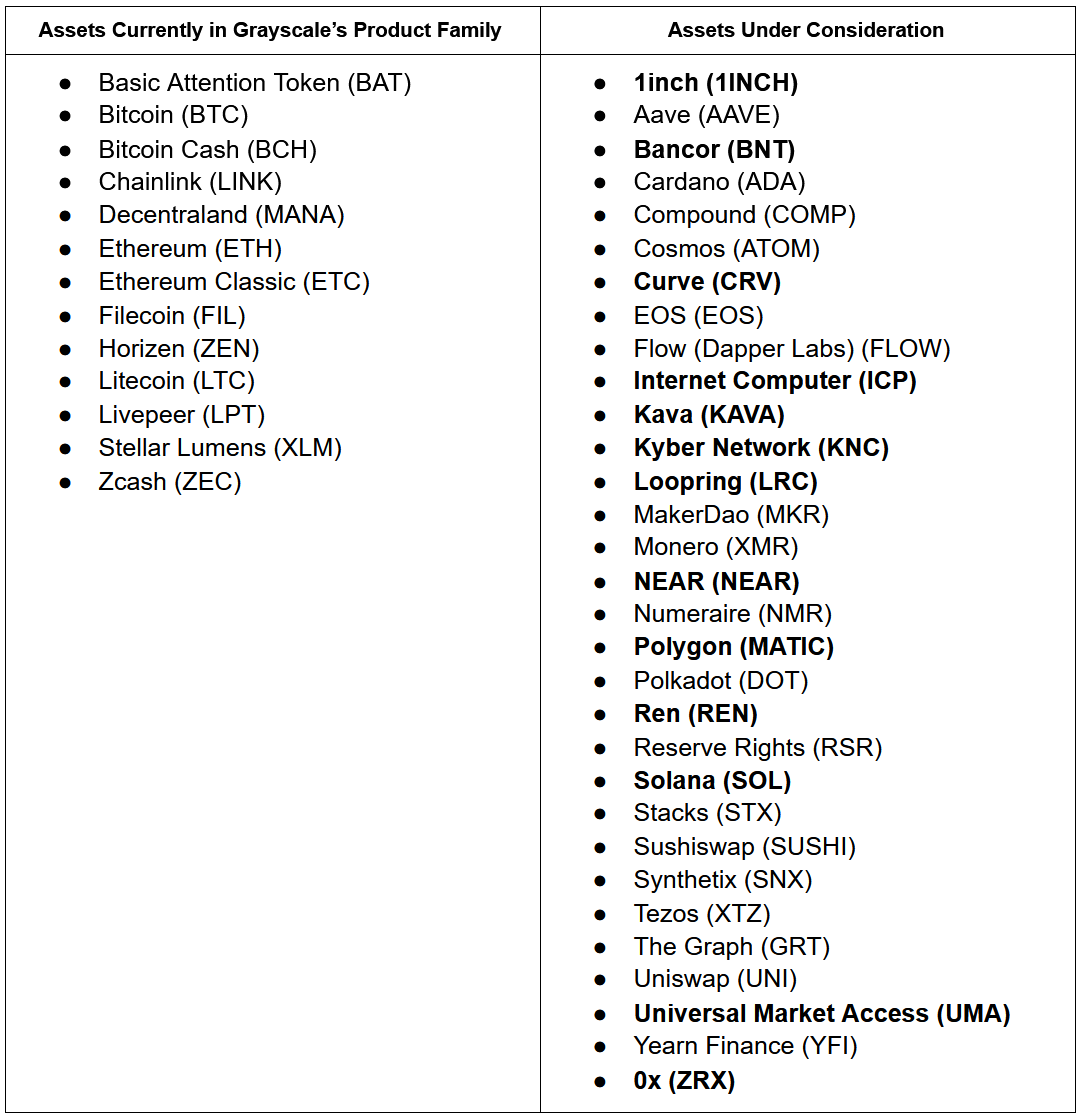 Among the 13 assets that have recently been included, 4 stand out for the decentralization they pursue, Uniswap for its AMM system, the Bancor - 0X decentralized order book and the 1inch aggregate exchange system.
These features are present in many chains, but few have managed to integrate several for a better user experience. For this reason, for some time now I have followed the track of the development of the Dex in EOS, being the main on Newdex, to the point of becoming an ambassador for their project.
Entre los 13 activos que recientemente han sido incluidos resaltan 4 por la descentralización que persiguen, Uniswap por su sistema AMM, el libro de ordenes descentralizado de Bancor - 0X y el sistema de intercambio agregado de 1inch.
Estas características están presentes en muchas cadenas, pero pocas han logrado integrar varias para que exista una mejor experiencia de usuario. Por esta razón, desde hace algún tiempo para acá he seguido la pista del desarrollo de las Dex en EOS, siendo la principal Newdex, hasta el punto de convertirme en un embajador de su proyecto.
In the beginning Newdex bet on the transparency and openness offered by the EOS blockchain to develop an exchange where all the tokens of this blockchain could be traded with the EOS token. Over time many updates were made to the exchange such as making it function as an aggregated system.
But despite these advances the Dex world took a major turn towards DeFi, and all the attention was fixed on these platforms, forcing Newdex to direct its efforts to become an aggregated Dex of AMM to provide a better user experience.
These efforts do not end, as it has yielded good results with projects such as Defibox, for this reason for the fourth quarter of this year is planned to launch this platform in Binance Smarth Chain, thus demonstrating that it has all the necessary features to be considered by Grayscale.
En un principio Newdex aposto por la transparencia y apertura que ofrece la cadena de EOS para desarrollar un intercambio donde todos los tokens de esta blockchain pudieran comercializarse con el EOS token. Con el paso del tiempo se hicieron muchas actualizaciones al intercambio como que funcione como un sistema aggregated.
Pero pese a estos avances el mundo de las Dex dio un giro importante hace las DeFi, y toda la atención se fijo en estas plataformas, obligando a Newdex a dirigir sus esfuerzos para convertirse en un Dex agregado de AMM para brindar una mejor experiencia de usuario.
Estos esfuerzos no culminan, ya que ha rendido buenos frutos con proyectos como el de Defibox, por esta razón para el cuarto trimestre de este año se ha planificado el lanzamiento de esta plataforma en Binance Smarth Chain, demostrando de esta manera que cuenta con todas las características necesarias para ser considerado por Grayscale
---
Images taken from Grayscale official site and Medium site
Posted Using LeoFinance Beta