dCrops is a farming simulation game on Hive. It is a play-to-earn game where you can earn CROP tokens by playing the game. Read our announcement to learn more.
Start playing at www.dcrops.com!
---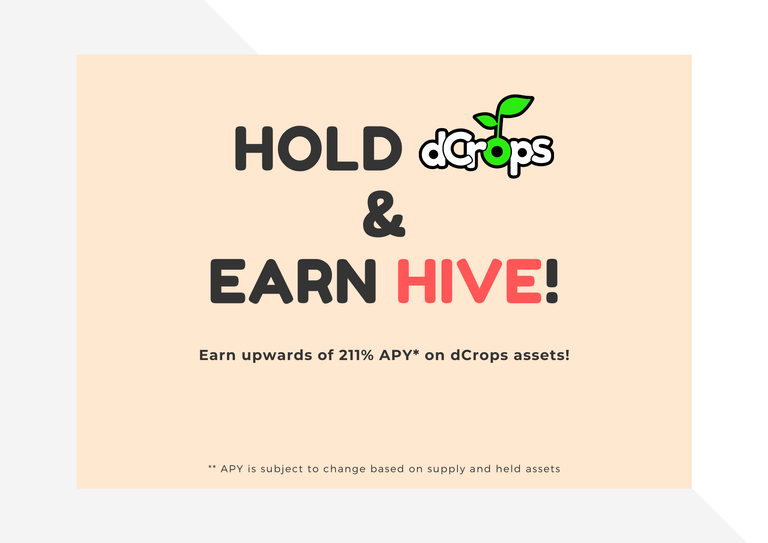 Hello farmers, in the last update we had briefly explained how the Hive rewards would work but we believe a more in-depth explanation is due.
What is CROP Power?
CROP Power is a sum of the average values of your dCrops assets. Every day we take a snapshot of your account and all the dCrops assets that you hold.
We take the sum of your $CROP token balance, your unopened ALPHA packs balance, 3* quality crops that you have harvested, and the burn value of your NFTs.
Both in-game balances and hive-engine balance are counted for $CROP and Packs.
Your CROP power is averaged out for 15 days. So if you just started holding 15,000 CROP tokens today, your crop power will be 1000 for the day. And as the days go by, it will slowly increase to reach 15,000 on the 15th day.
How to calculate your CROP Power.
Packs are worth 2000 CROP power and each $CROP token is worth 1 point.
The harvested crops are added as follows:
3* Common Crop: 0.25 Points
3* Rare Crop: 0.5 Points
3* Epic Crop: 0.75 Points
3* Legendary Crop: 1 Points
Your collection value is also taken into consideration. The burn values of ALPHA edition cards are:
Common: 3 CROP
Rare: 5 CROP
Epic: 10 CROP
Legendary: 50 CROP
Active and in-active cards
A card that has been used in the last 15 days is considered to be active. For example, if you planted a seed on a particular land, then both the seed and the land will be active cards.
For inactive cards, only half of the burn value is added while for active cards, the full amount is added.
So, to summarize:
The weights are as follows:
CROP TOKEN : 1
ALPHA PACK : 2000
ACTIVE CARD : Burn Value
INACTIVE CARD : Burn Value / 2
Harvested Crops : Only 3* harvested crops are considered and their weights are:
Common: 0.25




Rare: 0.5




Epic: 0.75




Legendary: 1



How to get Hive rewards?
We distribute Hive daily based on the average value CROP power you have had in the last 15 days. The more CROP power you have, the higher your share of the hive rewards will be.
Note: In order to start getting HIVE rewards, you must have a minimum of 20,000 CROP power.
What is the amount of hive that is distributed daily?
30% of all Pack sales done in Hive go towards the reward pool which has been periodically powered up on our official account @dcrops. We have started a power down and that amount will be sent to @dcrops.rewards.
The sum of all the powered-up hive on @dcrops and the liquid hive on @dcrops.rewards is the total reward pool.
0.25% of that amount is distributed daily to anyone having at least 20,000 CROP power across all their assets (i.e., cards, packs, harvested crops, and CROP tokens).
All official dCrops accounts are exempt from this distribution and their CROP power is not taken into consideration when calculating the holding rewards.
Moreover, the crop power below 20,000 is also not taken into consideration.
This infographic sums it all up.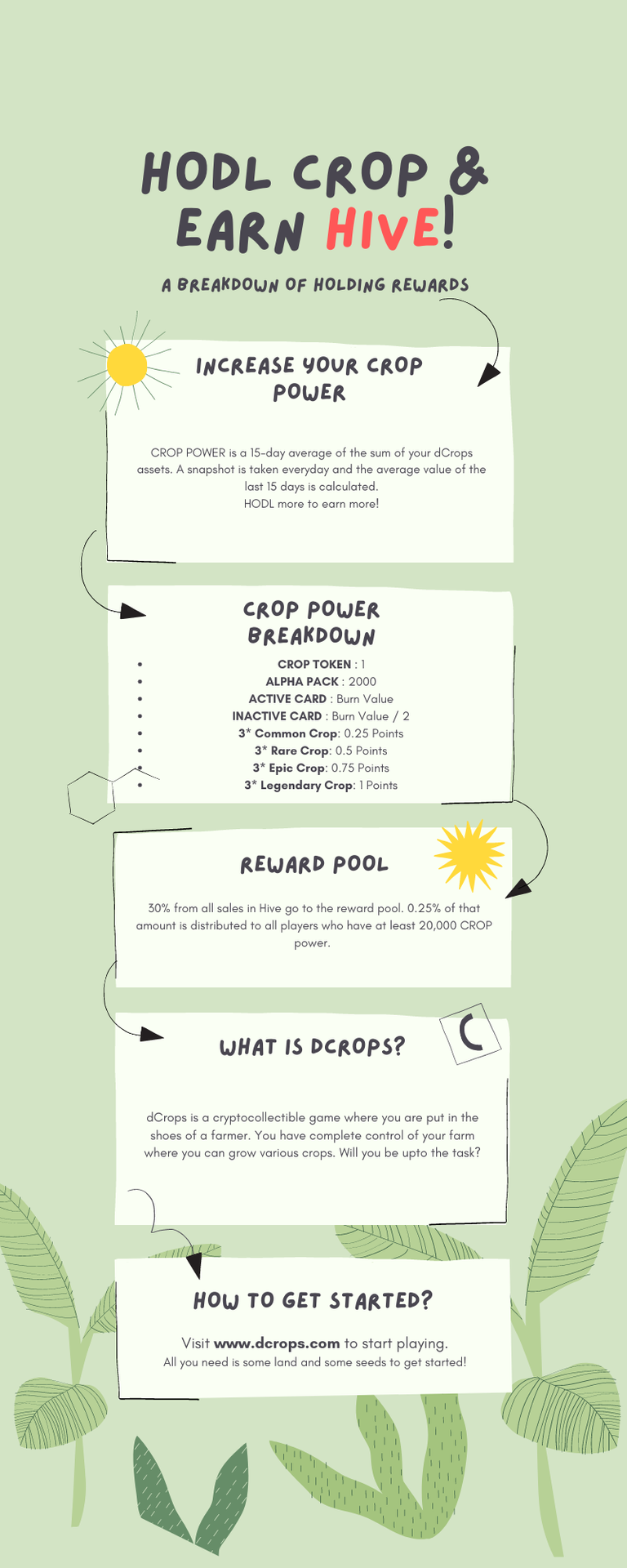 Okay but what does the ROI look like?
We had started the distribution 6 days ago with 10 Hive as a test for a couple of days before finally increasing the Hive amount to the 0.25% of the reward pool since yesterday.
As of yesterday's distribution, we distributed a total of 26.6715 HIVE and the total sum of CROP power across holders with more than 20,000 was 1968341.508 CROP Power.
By taking the last market price for both $CROP and $HIVE, the APY comes out to be 211%.
Disclaimer: This value is likely to change as the number of assets held increases and as the size of the reward pool changes.
---
A subtle reminder that we still have 15 days to go for our referral contest. You can win packs and mystery seeds by referring your friends to dCrops. Read more about the contest here.
Play Now: https://www.dcrops.com
Join our discord: https://discord.gg/zeJShKkF7K
Twitter: https://twitter.com/d_crops
Bitclout: https://bitclout.com/u/dcrops
Posted Using LeoFinance Beta