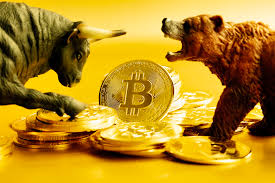 source
As the world moves toward a more digital age, more and more people are turning to cryptocurrency as a way to store their wealth. However, this mindset really depends because Cryptocurrency as we know can really act funny and surprising in it fluctuation of price in the Crypto market.
Cryptocurrency Investments is not something that can be taken for granted because it tends to show something positive and beneficial to gain from without doubting.
This as we may know is a future Investments, so I really don't see the idea to panic with the Investments since it is glaring that there is no stable price, but it is very much Profitable.
is Crypto really leading us to the right path
This depends on the thought of most individuals because the mindset of majority really differs on what they believe. It is said that the existence of cryptocurrency have made impact in the lives of many that the acceptance of it increases on a daily basis.
Though, this doesn't mean Crypto doesn't showcases it negative part but it existence have been helpful. Cryptocurrency have help in the aspect of building one's financial for the better where the idea of investing have been put to place.
Despite Crypto not showcasing a stable price, there is still believe that someday the bull run will be massive and every Investments made during the years of investing will showcase it Profitable part.
There is a lot to benefit from Crypto but only depends on the part and choice we choose in making it more profitable in our lives.