So it begins, power to the people.
The Swiss are a strange people but they are part of the closest thing we have on earth to a DAO running a country.
Switzerland is a direct democracy. Alongside the usual voting rights accorded in democracies, the Swiss people also have the right to vote on specific issues. Switzerland is governed by the Federal Council, a seven-member collegial body whose decisions are made by consensus.
https://leofinance.io/@leofinance/introducing-xpolycub-governance-or-first-vote-reduce-the-locked-claim-power-down-window
The power of the Leo platform is slowly moving from @khaleelkazi and the team to the actual users of the platform.
This is something we are experiencing all over the crypto space with the forming of all the DAO's.
A lack with of a lot/most of these organisations is the actual governance or the lack thereof. There is not a lot of community interaction in most but I think that here we do stand a chance. That is because on hive we are born out of community and not born out of an organisation. The whole platform was a community before it was a DAO (of sorts) so we are community first.
Most of the DAOs are formed first and build community after which they try to incentivise with a token.
With these good hopes I cast my vote for this first Xpolycub vote to reduce the power down window to 15 days. As the original post says, 90 days is like a year in Crypto and then 2 weeks make more sense. In the end it would not make a lot of difference because once the lock period is over the people are free to dump or not if they so choose on the rolling timeline. If there is to be dumping it just delays this by the amount of the window.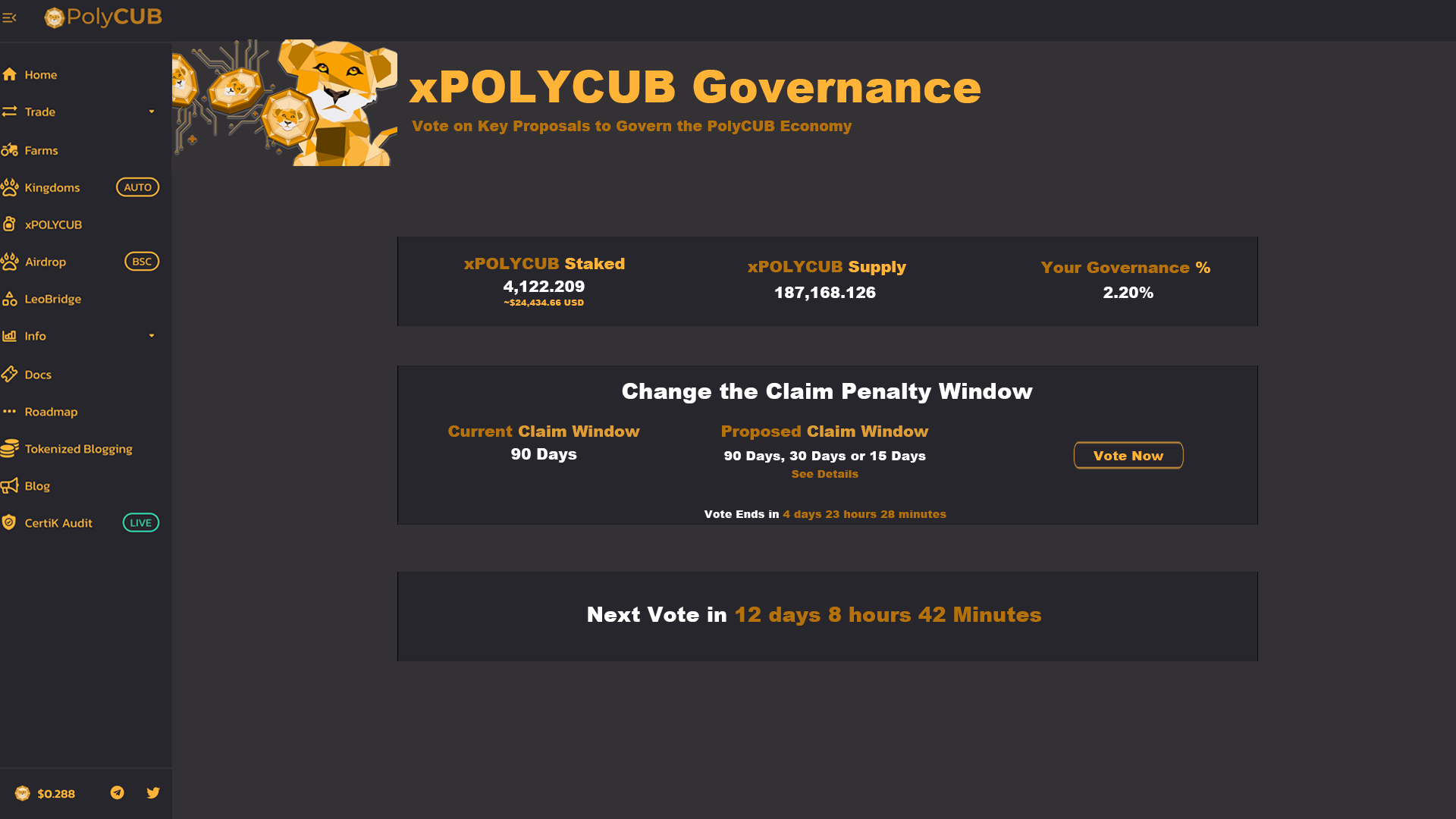 I assume we will get a short term dump of Polycub price but then shortly after it will stabilise and Xpoly will only increase in value anyway.
Let us see what the future brings.
Posted Using LeoFinance Beta