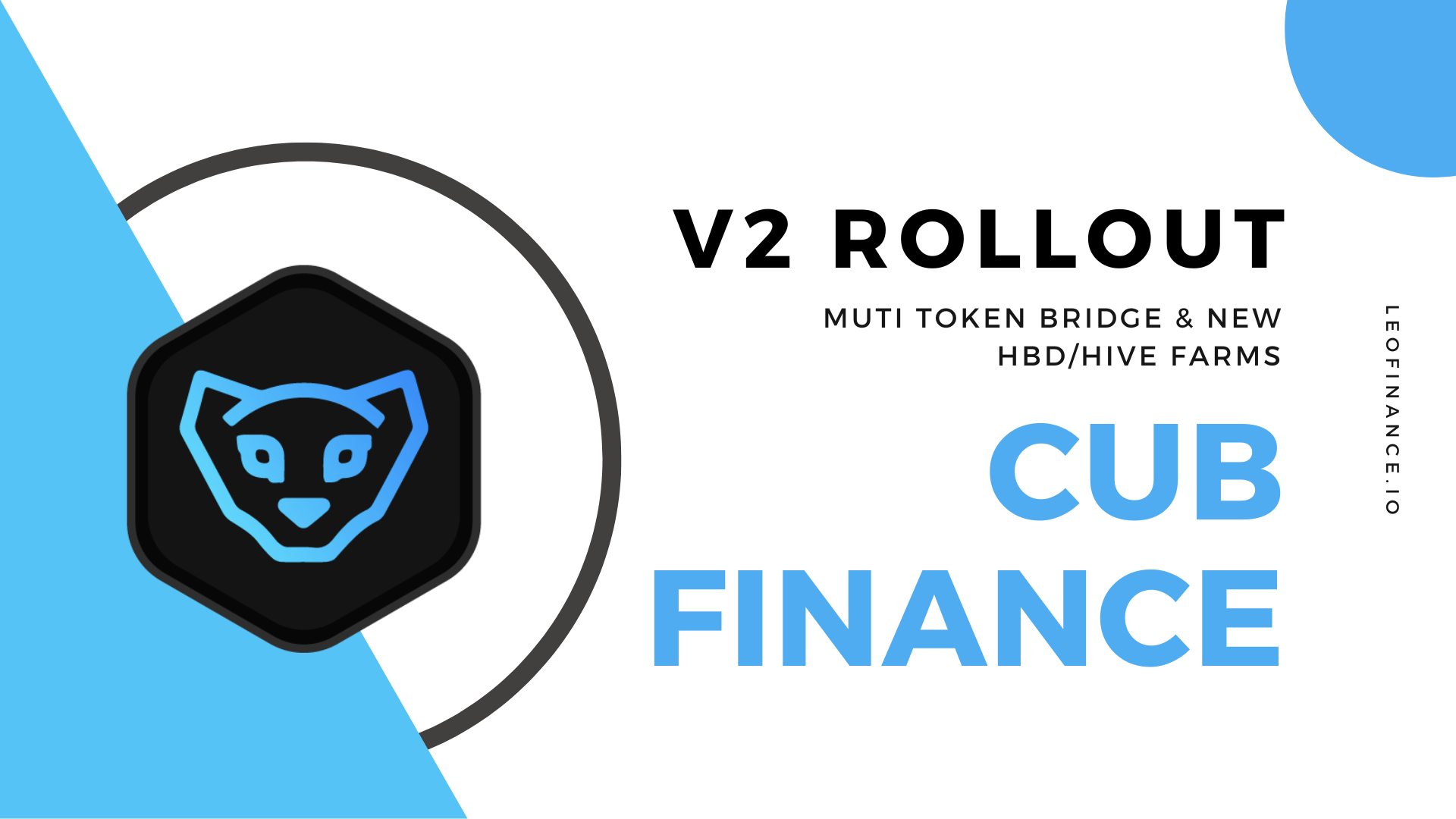 LeoFinance team is just killing it. The number of updates coming out every week is so damn high! It's getting hard to keep up. The good news is that the pace of development is not getting affected by the bear markets. It's a great time to build sustainable (and profitable) products for the community. In this blog, I will concentrate on the latest farms launched on Cub Finance & other related updates. For those who don't know already, it is a DeFi application on Binance Smart Chain. After the successful launch and run by PolyCUB on Polygon Network, it was time to migrate all the cool DeFi 2.0 features to Cub Finance.
Cub V2 Phase 1
These upgrades to Cub Finance would happen in phases. Phase 1 is already completed and it consists of the following:
Multi Token Bridge: Fresh UI (User Interface) and UX (User eXperience) with efficient refund handling. You can access the MTB here: https://wleo.io/
New V2 Farms: bHBD-bUSD, bHIVE-CUB and bHBD-CUB are now live. You can checkout these pools and provide liquidity here: https://cubdefi.com/
In the case of Cub Finance, MTB revenue will follow the 'buy & burn' mechanism which will reduce the supply of CUB substantially over time. As you can in the below screen, the multipliers have been raised to 20x. This means these vaults will mine more CUB for liquidity providers as compared to vaults with 10x multiplier.

The APRs on your HBD and HIVE are quite high right now. So juicy! In Defi, the risk is high and so are the rewards. You don't get this much via curation or HBD savings. Right now is the best time to join the party. These percentages will go down once more LPs join which is normal. Cub Phase 2 rollout will make these APRs more sustainable in the long term.
Cub V2 Phase 2
Phase 2 will focus on bringing a lot of PolyCUB features into Cub Finance. It is next in the pipeline. This will provide a sustainable model of value accrual that is proven and tested in PolyCUB.
Differences Between POLYCUB and CUB
The major difference between PolyCUB and Cub Finance is how MTB revenue is utilized to provide value back to Hodlers:
MTB revenue on Poly CUB buys POYLCUB and distributes it as 20% fixed APY to all vexPOLYCUB stakeholders
MTB revenue on Cub Finance buys CUB & burn to take them out of the supply forever.
How To Get Started?
For most people getting into DeFi is scary. I understand that there is a decent learning curve but believe it or not, CUB Finance was the first DeFi application I tried. I was a noob back then but took the plunge to learn how it works. Clearly, it was the best decision ever. 16 months later, as the platform grew, my knowledge and stake were also boosted with it. There are simple steps to get started:
Step by Step video tutorial is also available. Thanks to @anomadsoul. You can also ask questions in the comment section below.
---
Follow: https://leofinance.io/@finguru
Twitter: https://twitter.com/finguru6
Discord: finguru#4062
---
Not financial advice. For infotainment purposes only.
Posted Using LeoFinance Beta