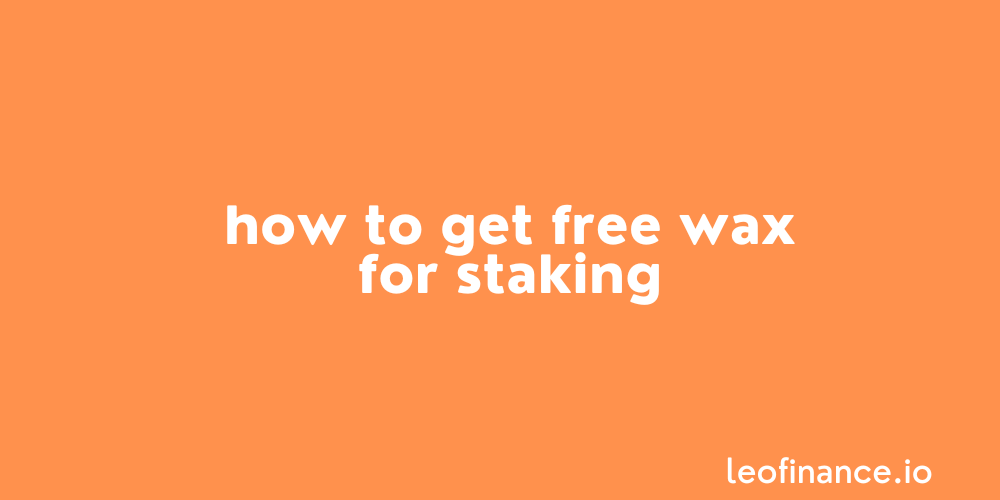 Direct from the desk of Dane Williams.
---
Walkthrough for getting free WAX for staking using HIVE and the SWAP.WAX Hive-Engine token.
In order to use the Wax Blockchain, you need to stake WAX for the network resources CPU, NET and RAM.
Sure, you could head to your favourite exchange and buy a little bit of WAX in order to use the network.
But if you're just playing around with WAX and don't want to go to an exchange and buy some, I'll show you how to get free WAX for staking using Hive.
The process is easy, so let's dive right into the walkthrough right now.
1. Sign up for a Hive account
If you're reading this on Hive, then you can skip this step.
But if you've come from Google and don't yet have a Hive account, then you're going to want to start right here on LeoFinance.
LeoFinance, the Web3 dApp that you're reading this post on right now actually offers the best way to sign up for a Hive account - For FREE!
Simply click the get started button at the top right hand corner of this screen to create a Hive wallet with nothing more than your Twitter handle.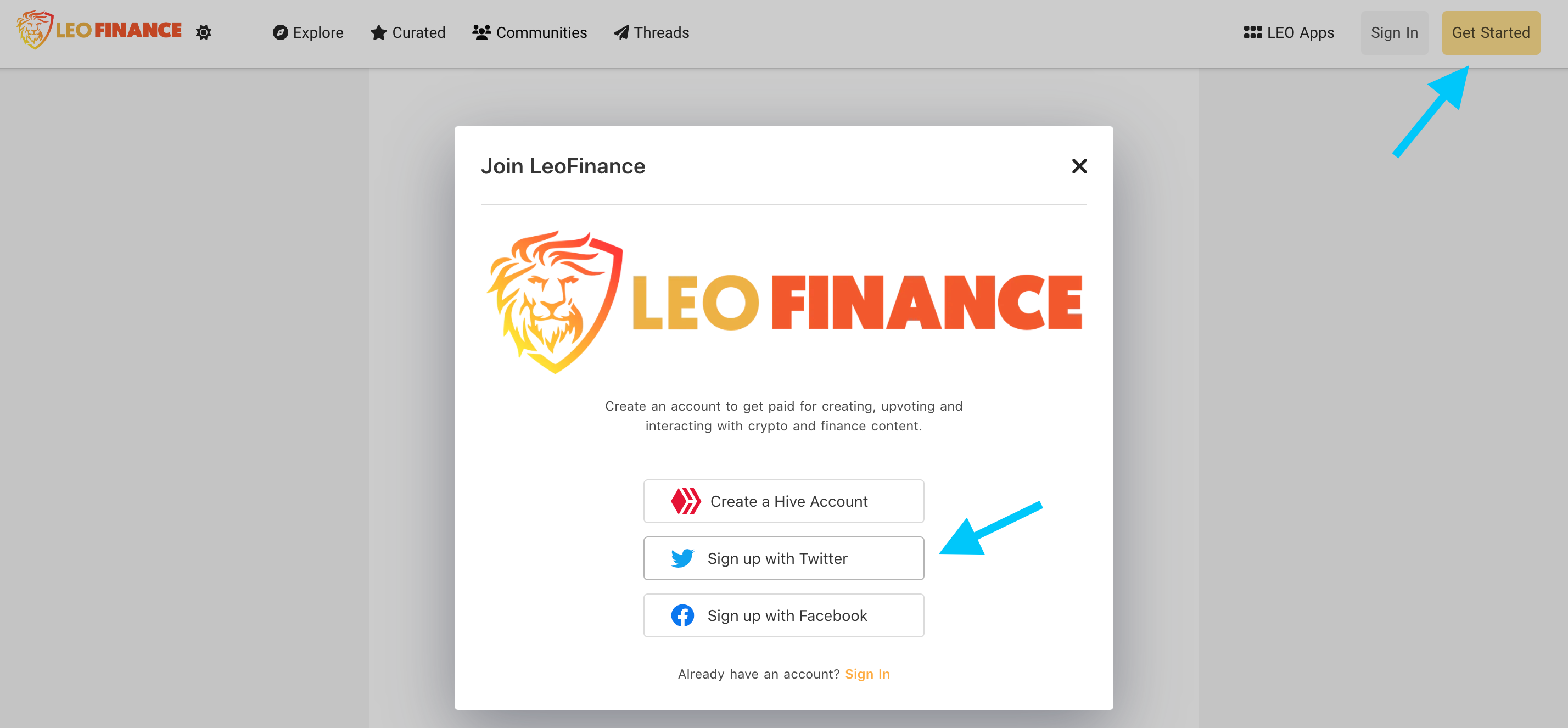 When you're ready, simply claim your keys and you'll be able to cash your crypto earnings from posting/curating into WAX.
2 Earn some free HIVE crypto
That's right, I said I'd show you how to get FREE WAX for staking and that's what Hive can offer you.
All that using Hive will cost you is your time.
Simply begin posting and engaging in any of Hive's Web3 blogging or social media platforms and you can start making money, fast!
Pro tip: The trick of this stake weighted voting platform is to put yourself in front of those with stake as much as possible.
Head to the popular section on the leofinance.io homepage and start commenting.
Genuinely add to the conversation and those with stake WILL reward you.
They're literally incentivised to do so.
Every 7 days after you post or comment, you will be paid HIVE crypto rewards into your wallet.
Cha ching!
3. Deposit your HIVE rewards into SWAP.HIVE on Hive-Engine
Once you've earned some free crypto in the form of HIVE rewards, it's time to move them to Hive-Engine.
Hive-Engine is a DEX built on Hive's layer-2 that allows you to swap your free crypto rewards into other tokens like WAX.
So you've earned free crypto in the form of HIVE.
Then you're going to move it into SWAP.HIVE so you can trade it for WAX.
For this particular walkthrough, I'd recommend using the Tribaldex front-end to deposit your HIVE.
Simply click your wallet at the top and then choose HIVE from the drop down.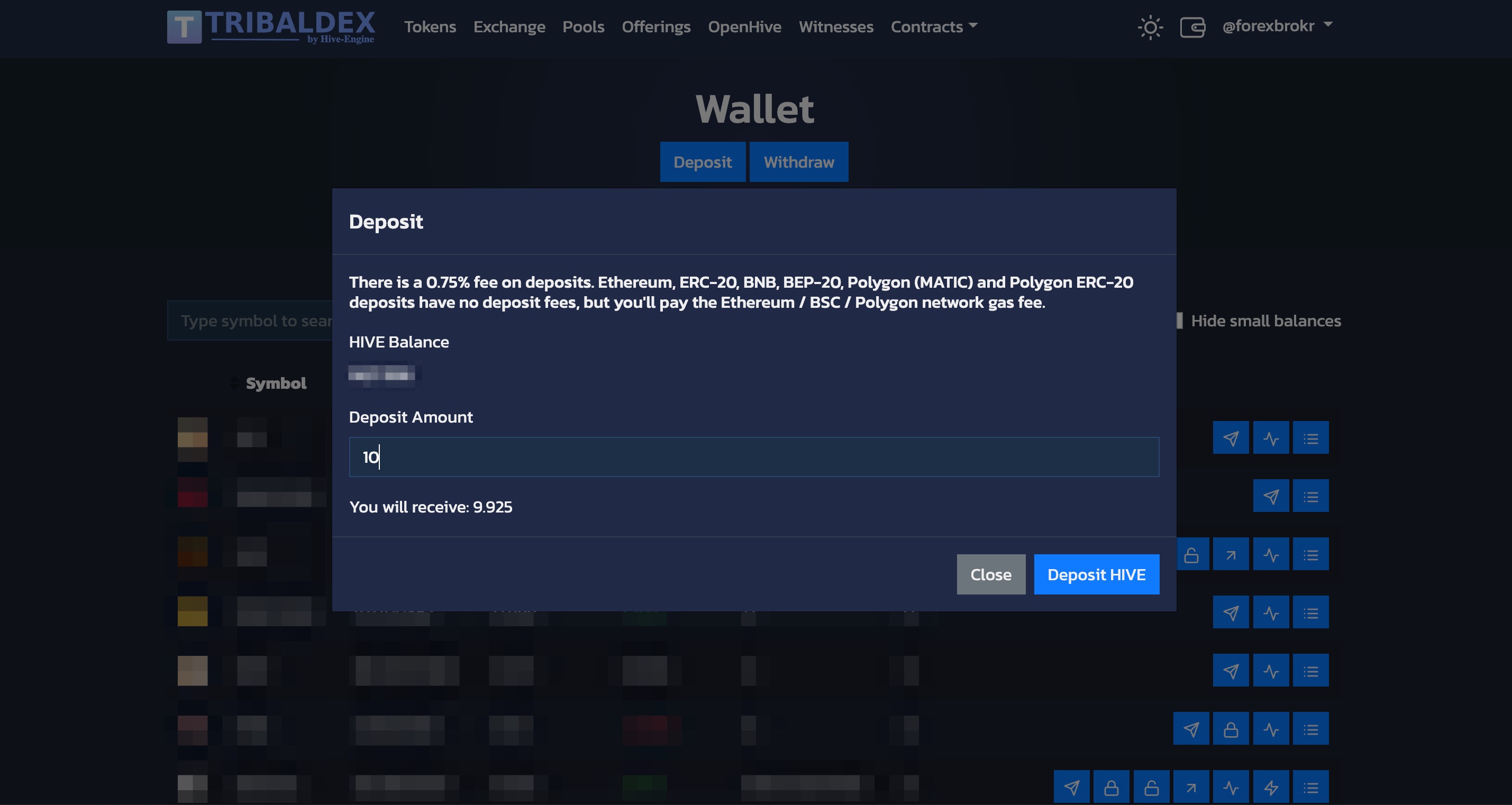 After confirming, that HIVE will now be sitting in your wallet as Hive-Engine exchange compatible SWAP.HIVE.
4. Trade SWAP.HIVE for SWAP.WAX
Still on Tribaldex, you're now going to click the pools tab at the top of the page.
Choose SWAP.HIVE from the top drop down and SWAP.WAX from the bottom.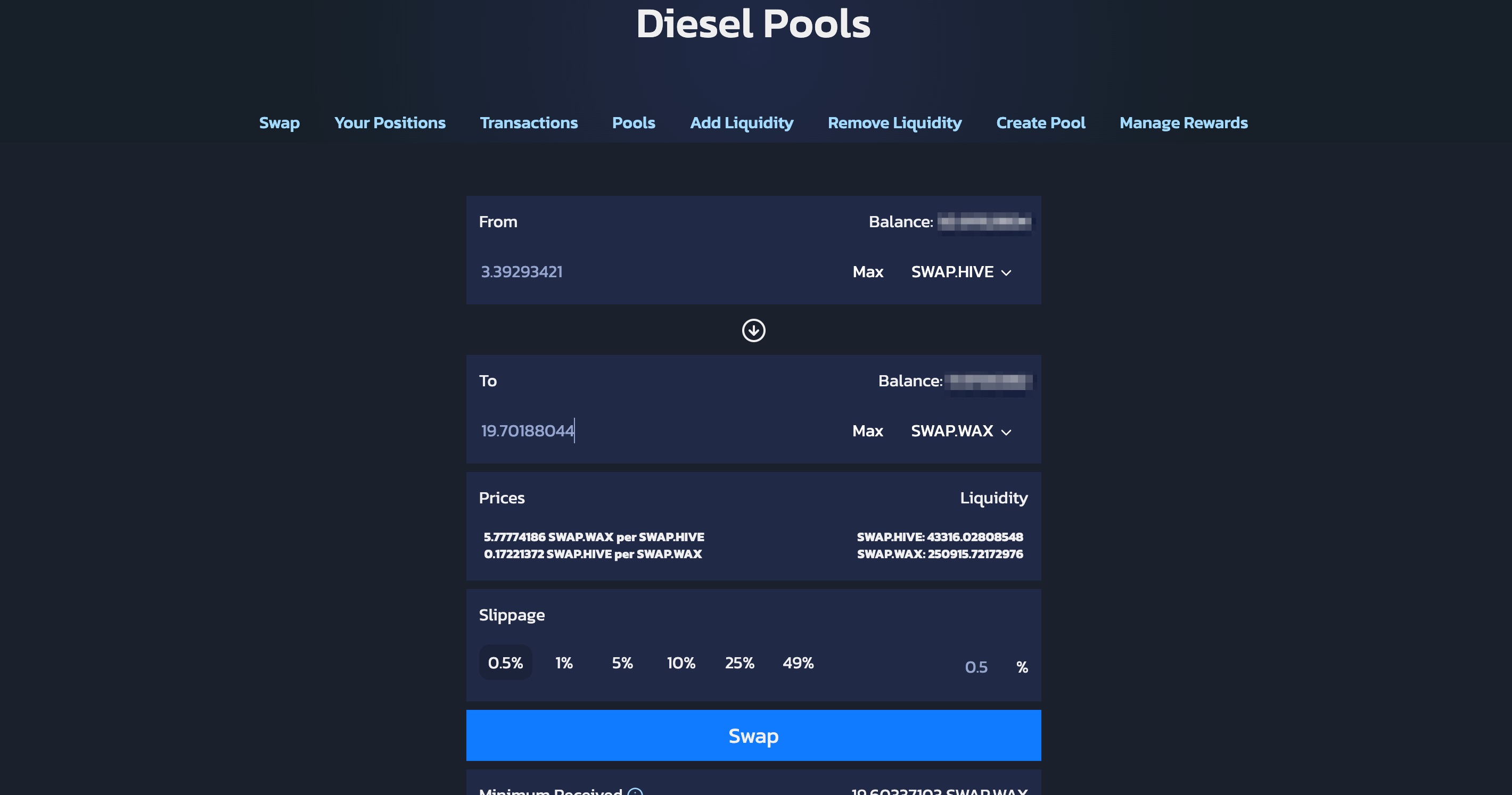 If you're using a CPU:NET:RAM resource starting ratio of 10:5:5, then you will only need 3.44 SWAP.HIVE (at current prices).
An amount of HIVE that you can easily earn for free by being social on LeoFinance or any of the other front-ends built on the blockchain.
5. Withdraw SWAP.WAX to your WAX wallet
Finish by clicking the wallet icon to the left of your username at the top and then hitting withdraw.
If you don't have one, you can get a free WAX wallet address, again using nothing more than your Twitter handle to sign up.
If you do, then simply enter your withdrawal amount and copy/paste your WAX wallet address into the bottom field.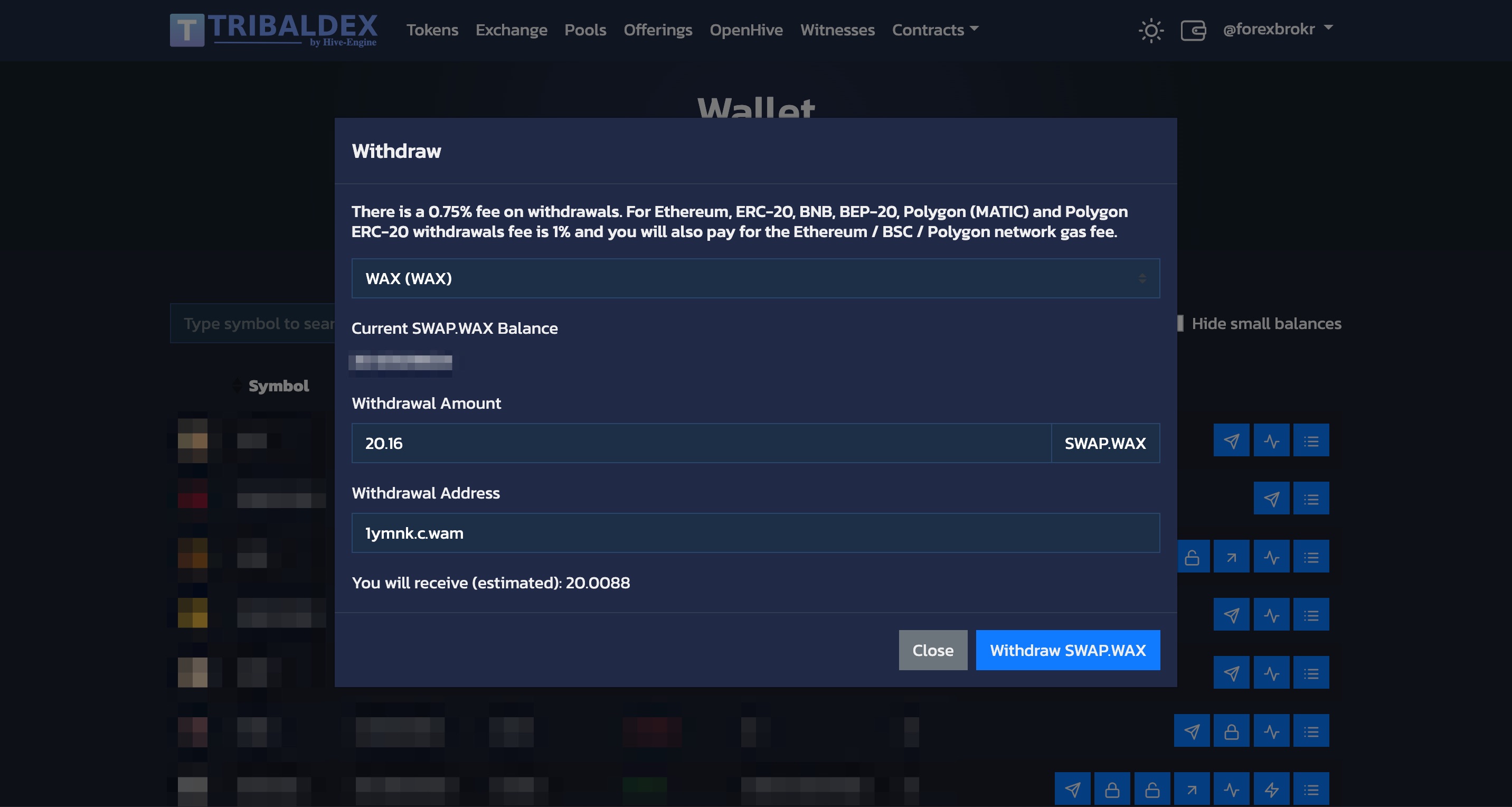 After the transaction is confirmed on the WAX network, your WAXP will now appear in your WAX wallet.
Done and done.
You have now earned free WAX for staking using Hive
There you go, getting free WAX for staking using Hive wasn't too hard, was it?
This walkthrough highlights the immense power of the Hive blockchain.
If you have any questions on using Hive or Wax, then jump into the comments below and I'd be happy to try and help you out.
Best of probabilities to you.
PS. Are you always on the lookout for more free crypto?
Check out my guides on using Hive to get free BNB and get free MATIC.
Posted Using LeoFinance Beta