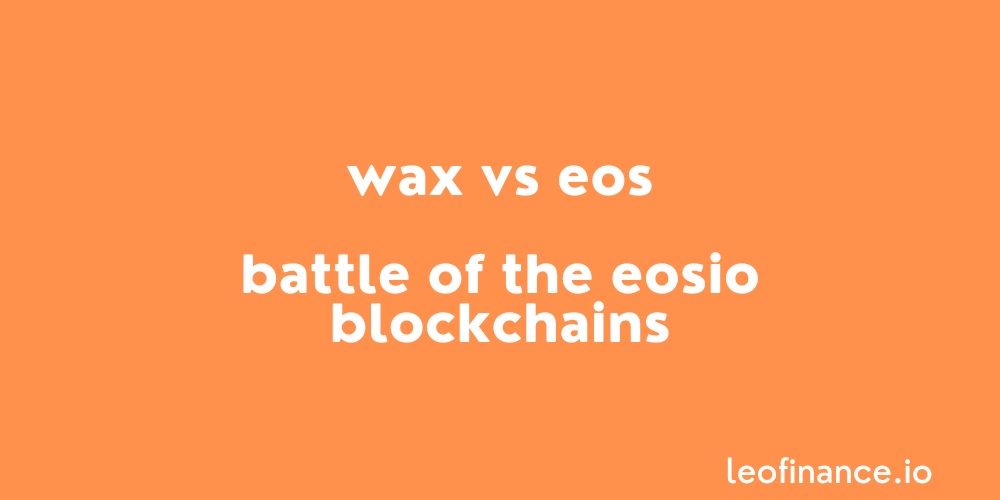 Direct from the desk of Dane Williams.
---
When it comes to making a head to head comparison with another blockchain, WAX vs EOS is the obvious choice.
Whether it's fair or not, the fact that WAX uses the EOSIO software at its core, means that the two will be forever linked and compared.
This is just reality.
With that in mind, this section of our WAX crypto guide actually takes a different approach.
Showing that WAX and EOS are in fact on the same team and no longer should be pitted against each other in this way.
Let's dive right into the section.

WAX and EOS are actually now working together
While I've teased pitting the two EOSIO blockchains against one another in this section of our guide to WAX, they're really no longer rivals.
As key members of ​​Antelope, a community-run blockchain protocol, EOS and WAX (alongside the other minor EOSIO players) are actually working together.

Sorry...
If you're truly looking for a battle, then this isn't the place for you.
But if you're instead looking from a crypto industry advancement point of view, anything where a community takes control of a project from their bazillionaire VC overlords (bye Bock.One), should be celebrated as a good thing.
And this is exactly what we're saying play out here.
What is the Antelope Protocol?
Earlier this year, WAX and EOS (along with a string of other blockchains running EOSIO at their core) came together to take control of the EOSIO protocol code's development that underpins both blockchains.
EOSIO was essentially forked and Antelope, a blockchain protocol run by members of the coalition, was developed as a part of their alliance in its place.
The group as a whole is coming together to place emphasis on areas where their chains overlap, offering incentives that will accelerate the core protocol's development and thus benefit all.
It's important to understand that while there may be some similarities between WAX and EOS, they ultimately serve different purposes.
Each member of the EOSIO blockchain family, has their own focus areas and as such, aren't really set to compete in the purest sense.
By joining forces under the Antelope banner, the future is bright for all!
Final thoughts on WAX vs EOS
So as you can see from this section of our guide to WAX crypto, there is no longer a battle of the EOSIO blockchain's being waged.
Thanks to their coming together to form Antelope, they've both instead chosen to pool their resources and take control over their real enemy…
That being, the might of Block.One!
To this end, if you're simply a user trying to decide between WAX and EOS, the best approach is to research the specific games and use-cases you're interested in individually.
Then choose to focus on whichever network they're based on.
The cool thing is that their shared compatibility actually makes it super easy to use any EOSIO based DEX to swap between WAX and EOS tokens in your wallet.
I've always said that the future of the crypto space is blockchain interoperability, not protectionism.
So why not get involved in both?
Best of probabilities to you.
Posted Using LeoFinance Beta