I think I may just be one of the few who are "in it for the tech".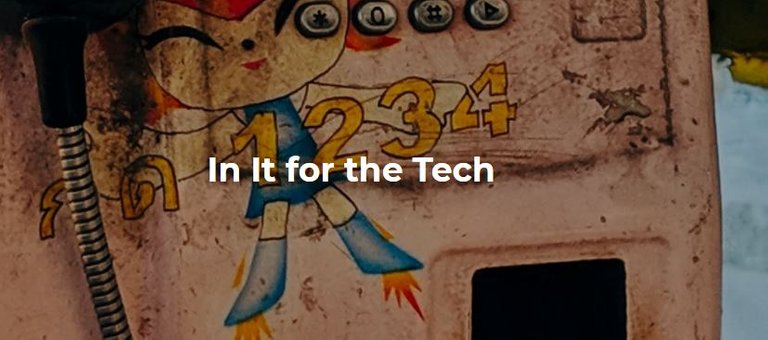 When an asset provides such exponential growth as Bitcoin has done over the last decade or so, it is only natural that it attracts an equally exponential amount of interest and hysteria. This in turn is reflected in the price action, which attracts more attention, and so the cycle repeats.
At the heart of Bitcoin's success is the implementation of blockchain technology and the application of an advanced cryptographic monetary system. As with previous disruptive technologies, there is now a frenzy to get involved and this is largely due to investors and institutions developing a fear of missing out. The industry is seemingly fuelled (and manipulated) in large part by the antics of social media influencers.
A joke has arisen in the crypto community where people claim to be "in it for the tech" when in reality they are unashamedly in it for the gains. With price analysis, predictions, hype and scams all battling for position in our increasingly limited attention spans, I am often left overwhelmed at the barrage of content aimed point blank at my financial toolset.
There are a few projects though that do capture my imagination and I feel a sense of relief when I see articles or hear about projects that have real life applications that benefit people, right here, right now. These types of projects serve as reminders to me as to why I delved down this blockchain rabbit hole in the first place.
As much we all love a good bit of escapism every now and then to joke about memes or play hours and hours of video games, it's important to remember that the world is still a very unbalanced place and unfortunately the coronavirus pandemic is deepening the chasm between rich and poor further by the day. That is why I think that certain blockchain projects are revolutionary in more ways than one.
To begin with let us take Cardano. One of the main reasons this blockchain project has been referred to as a sleeping giant is the raw potential of its aspirations for Africa. Cardano is set on connecting the unconnected and banking the unbanked. Africa is a continent with a population of over a billion, mostly young, bright and talented people who are eager to get involved in the global markets. For too many years Africa has fed off of the charity handouts offered by the western world. With this thought in mind and in order to truly understand the potential of Cardano's scope, it is important to make a critical distinction here: Cardano is providing Africans with a long-lasting economic partnership, not temporary charity.
Central to the philosophy of Cardano is the blockchain technology that brings identity management, property rights, education records and the like to the people who need it most. The recent Africa Special show highlighted some of the progress being made such as the flagship deal agreed with the Ethiopian Ministry of Education and a tech partnership with World Mobile that looks set to vastly increase mobile connectivity throughout the continent. Projects like this bring dignity and empowerment back to the people.
It's not only in Africa though where blockchain technology is being put to good use. As the Coronavirus pandemic leaves it's ugly trail of economic devastation behind in its wake, many unfortunate populations are grimacing from the taste of hyperinflation during their weekly grocery runs, as their currencies face a rising tide of devaluation. Enter Bitcoin Cash.
Viewed by some as the truest form of Satoshi Nakomoto's original vision for a decentralised peer-to-peer electronic payment system, Bitcoin Cash is providing both consumers and merchants alike the opportunity to transfer value at lightning speed, at close to zero transaction fees, while protecting both parties from the devaluation of their local currencies. A tour of the relevant social media platforms will show countless use cases in place throughout the world, from taxi rides in Asia, peer to peer market payments in Africa, to restaurant bills in South America.
As the original Bitcoin increases in both value and scarcity, all the while morphing into its new form as digital gold, it is refreshing to see the original protocol take on a new form in parallel with the initial intention of a cash payment system held firmly in mind. In an increasingly competitive cryptocurrency market where people can easily fall into coin clans, it is important to remember that there's a time and place for gold and a time and place for cash. Both have their merits and should be considered as complementary to one another, not as competition.
There are of course thousands of other blockchain projects besides the likes of Cardano and Bitcoin Cash; a quick peek at CoinMarketCap shows well over 9000 currently. Some are more useful than others. Some will succeed, many will fail. People will find new ways to play games, share art, or consume media. But once again, if you look in the right places you will see projects that offer true benefit to mankind, or at least an improvement to where we currently stand.
As the industry matures and more adoption ensues, it will be the serious projects with beneficial use cases that rise above the scams and hypes and provide true value to the humans who need it most. As the more fortunate among us can afford to sit back and laugh at memes and make jokes about space exploration, it is with these aforementioned projects and use cases in mind that I challenge you to think for a moment: Are you "in it for the tech"?