English
It is well known that we crypto enthusiasts call Bitcoin "the digital gold", but lately it has been behaving like gold in terms of looking for new highs, but there are also other things we have to keep in mind.
The first thing is that there have been fundamentals that support raising the price of Bitcoin along with gold (permission from the banks to use Bitcoin), which gives the opportunity for various institutional players to enter the cryptomarket just as they would enter the gold market.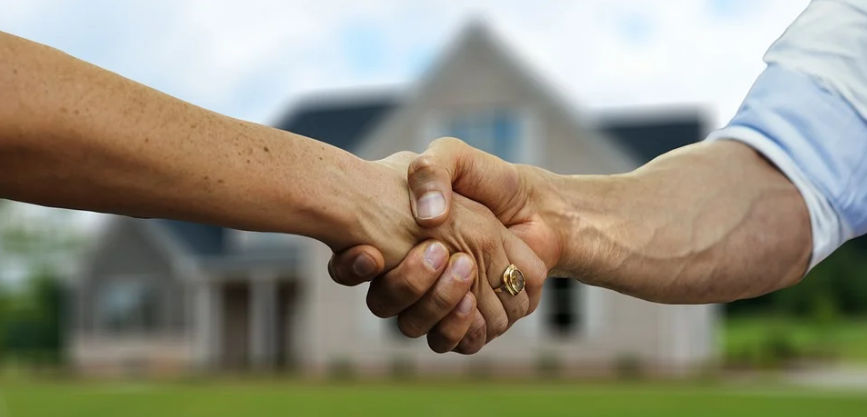 Sourcee
There are few times when there is a correlation that can be easily noticed with gold, like in 2018 just before a drop in prices (but the world situation was different so it doesn't necessarily happen that way this time) and in fact this has happened at the same time as it left the correlation with Sp500 behind.
Finally we have that Bitcoin has been detaching itself from the correlation it had with Eth and other altcoins, which seems illogical considering that they are assets of the same market, but we also have to know the so called "Bitcoin Suck", so it's consistent that there is a low or inverse correlation in some cases between altcoins and Bitcoin, which usually happens in times of new highs.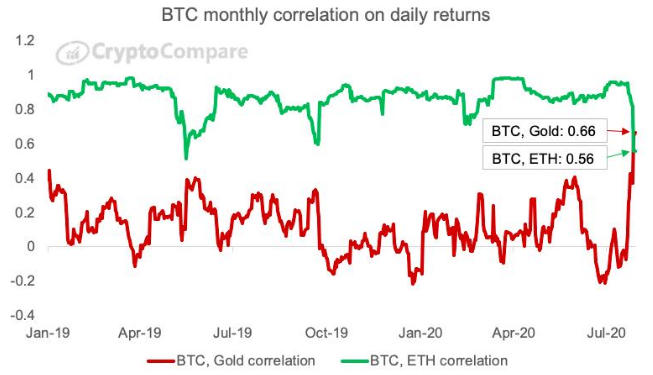 Source
At the end of all this it's very possible that altcoins will have a higher performance than Bitcoin, but we also have to take into account that this performance will be one step behind than what Bitcoin does, while we can see the movement of Gold and expect the same as Bitcoin, and knowing that both assets move in a correlated way we have to adjust our portfolio because if both go up, both can go down at the same time and we won't be diversified.
Likewise both assets will take us to the same place, which is the protection against inflation.
Happy Trading
Español
Es bien conocido que los crypto entusiastas llamamos a Bitcoin "el oro digital", pero últimamente ha estado teniendo el mismo comportamiento que el oro en cuanto a estar buscando nuevos máximos, pero también hay otras cosas que tenemos que tener en mente.
Lo primero es que han existido fundamentales que respaldan el aumento del precio de Bitcoin junto al oro (permiso por parte de los banco para usar Bitcoin), lo cual da la oportunidad de que varios actores institucionales puedan ingresar al criptomercado tal como entrarían al mercado del oro.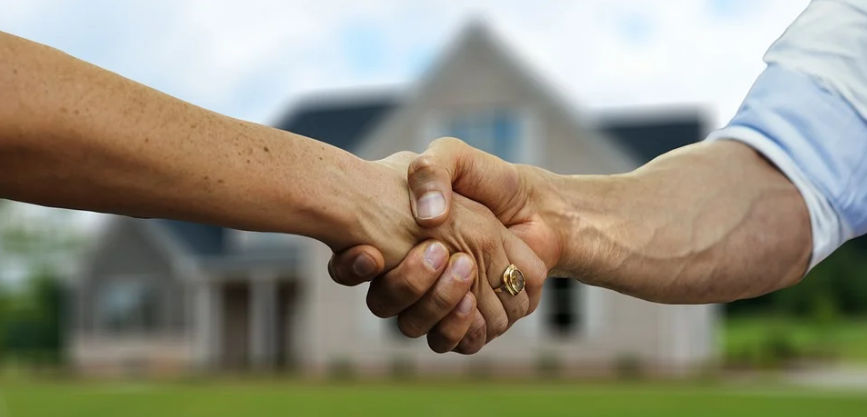 Fuente
Son pocas las veces en que existe una correlación que se pueda notar fácilmente con el oro, como en el 2018 justo antes de una baja en los precios (pero la situación mundial era distinta así que no necesariamente ocurra esta vez de esa forma) y de hecho esto ha ocurrido al mismo que tiempo que dejaba detrás la correlación con el Sp500.
Por ultimo tenemos que Bitcoin se ha estado despegando de la correlación que tenía con Eth y otras altcoins, lo que parece ilógico al tener en cuenta que se trata de activos del mismo mercado, pero también debemos conocer el tan llamado "Bitcoin Suck", por lo que es coherente que exista una correlación baja o inversa en algunos casos entre las altcoins y el Bitcoin, lo que suele ocurrir en momentos de nuevos máximos.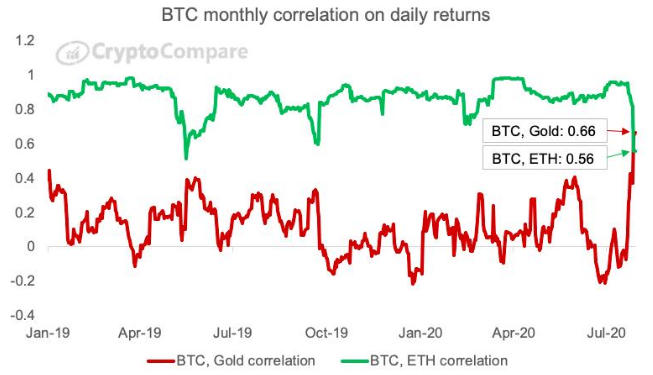 Fuente
Al final de todo esto es muy posible que las altcoins tengan un mayor rendimiento que Bitcoin, pero también hay que tener en cuenta que este rendimiento se encontrara un paso atrás de lo que haga Bitcoin, mientras que podemos ver el movimiento de Oro y esperar lo mismo que Bitcoin, y al conocer que ambos activos se mueven de forma correlacionada debemos ajustar nuestro portafolio porque si ambos suben, también ambos pueden bajar al mismo tiempo y no estaremos diversificados.
De igual forma ambos activos nos llevaran al mismo lugar, que es la protección contra la inflación.
Feliz Trading
Posted Using LeoFinance