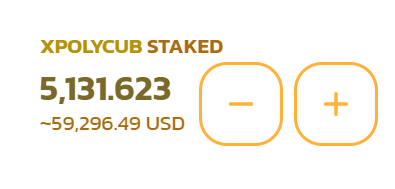 How Did I Get There?
For those who know me, I am a big believer in LeoFinance and the LEO token in general. So when PolyCub launched I had a very difficult decision to make. Do I Power-down half of my LEO stake or just invest some of my earnings from CUB.
Fortunately, I made a promise to myself to roll the profits from PolyCub back into the LEO token over the long-term but wanted to maximize on this new opportunity.
Why Did I Go All-In On XPolyCub?
At first, my play was to just stake my PLEO against WMATIC and see where it takes me. I took the penalty early on and started putting the PolyCub into XpolyCub and very quickly realized that this wasn't the same mechanics as the kingdoms on CubDefi. In fact, it looked as if the major inflation problem on other defi platforms might have been solved through the early withdrawal penalties and the Xpoly multiplier!
I noticed that even as PolyCub's price was coming down and stabilizing, my USD balance remained about the same, due to the multiplier! Some of you may have noticed the price bump up to $1.26 last week... well... I might have had something to do with that along with a few other people who caught on around the same time. We sold out of some of our other farms and shifted heavily into both the XPolyCub and the PolyCub/USDC as a way to gain access to as much PolyCub as possible and it is paying off even with the drop in price!
More Stability Coming And An Actual Deflationary Effect Defi 2.0
In his Recent Article On PolyCub Bonding the creator of the platform @khaleelkazi shared one more feature to further seal the deal on the long-term deflationary features that will be cementing Polcub's legacy as a truly deflationary token.
Read the article and check out the newly released roadmap for Polycub's future!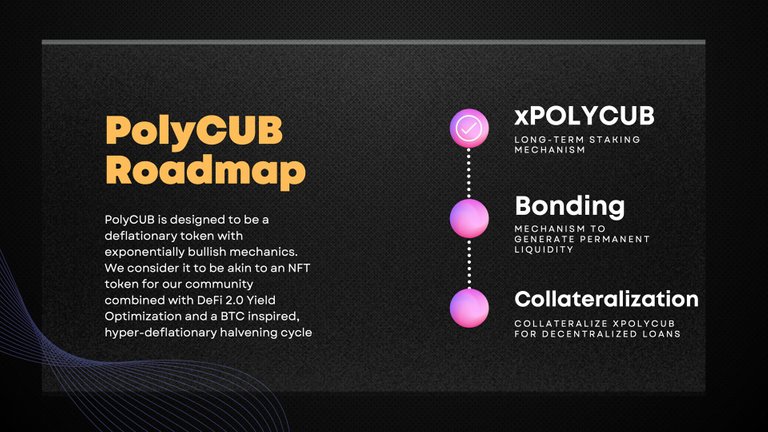 Follow For Truth @GualterAmarelo
Posted Using LeoFinance Beta