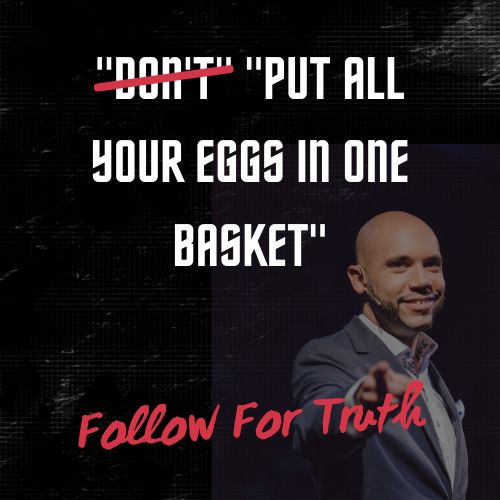 I am about to disprove one of the WORST pieces of advice for building wealth.
💔WARNING💔 this post is going to offend your broke friends and their financial advisors...
This ONE sentence has been spouted to me from financial advisors and poor people my entire career and has proven to be the ONE thing that has kept them both BROKE.
Here Is the Worst Advice You Will Get When Just Starting
"Don't Put All Your Eggs In One Basket"
The first record of the phrase "Don't put all your eggs in one basket" comes from around 1710.
The English proverb makes a metaphorical comparison between eggs in a basket to a person's resources being focused on or contained in one thing.
The pundit's advice is usually centered around the idea of DIVERSIFICATION of your finances which is a wealth protection strategy. NOT A GROWTH STRATEGY.
Let's Talk About The Truth
The wealthiest people I know have focused all of their energy, resources, and money on ONE THING and done whatever it takes to ensure that stream of income or investment does well.
These are the same people who are able to buy the lows and sell the highs, because they understand their singular investment so well that they can actually sense what is over-bought or oversold.
These are the people who don't have distractions in their lives and are able to continually focus on one business idea for years relentlessly until it has become large enough to automate and scale.
Warren Buffet "the oracle of Omaha" is quoted as saying, "When you are just getting started, you have to put all your eggs in one basket and guard that basket".
Millionaire Wealth Principle #4
This famous quote by one of the greatest investors of all time is the original source of Wealth Principle #4
I will be breaking this principle down and working through how to implement this in your business, investments, and life to get extraordinary results.
I look forward to seeing you on the live call at 10am EST!
You can find the registration link at AlchemistNation.com
Join My Mission To Build 100 Millionaires!
As many of you know, I built my wealth through Real Estate and only now learning more about cryptocurrencies. I've found Leofinance to be a great place to share my insights and although I don't claim to be an expert in Crypto, I am considered a leading expert in small multi-family investing.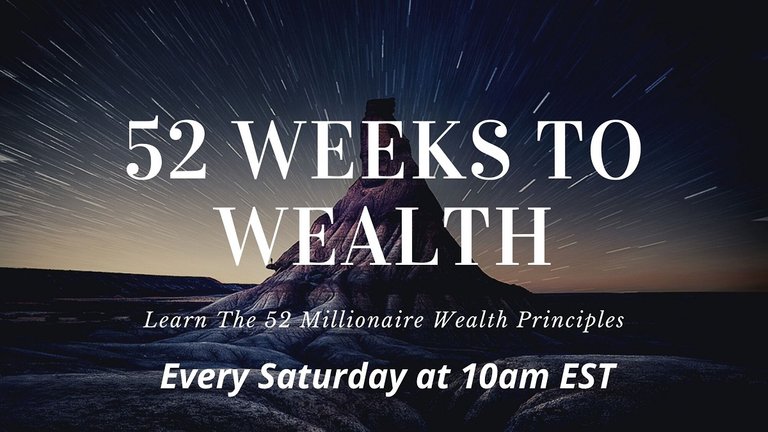 Each week I share my hard-earned insights on wealth building with anyone who will listen! I call this journey through the 52 wealth principles "The 52 Weeks To Wealth".
To join my mission and get access to over 30+ Real Estate & Wealth Building Courses for FREE at AlchemistNation.com
Thank You To This Community!
I provide these insights as a way to give back and help others who find themselves on the same journey I was when I got started. I want to say thank you to the Leofinance community for giving me the opportunity to learn more about Crypto as well as to the creators and team for providing many great avenues for investors to grow their wealth and knowledge in one easy place.
Cheers to our success!
@GualterAmarelo
Posted Using LeoFinance Beta