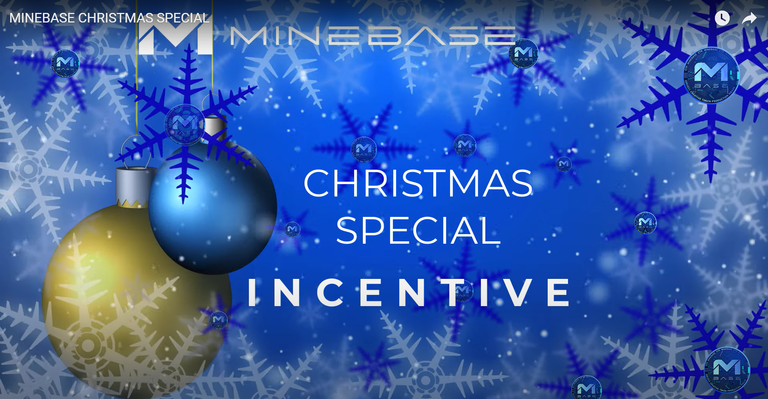 Summary: For every 25 tokens purchased, 25 tokens gift and for every referral 5 usdt).
The incredible Christmas special of this project gives us 25 Mbase tokens for every 25 Mbase tokens deposited and generating more and more.
As if this were not enough for each referral you have you will get 5 USDT gift and there are also more for more referrals, here I leave the link.
Link to Medium.
Link to referral.
Link to the official website.
Previous post where there is information on how to copy the code every 25 hours and claim our daily token (every 25 hours haha).
Video on Youtube of the presentation of the special Christmas promotion, only to the first 5000 new users, it is not unlimited.
In recent years in these dates close to the holidays many projects in the crypto world perform airdrops, events, promotions and others to make themselves known in the environment and thus seek new followers, the MineBase token is one of them and brings us a special Christmas promotion really very interesting, here I tell you what it is about.
The Minebase project has already finished its airdrop a few weeks ago having achieved and exceeded its goal of 500,000 users reaching more than 800,000, after this measure to enter the project at least you have to buy 25 Mbase tokens to generate wallets that generate more Mbase tokens, which is how the project works.
To enter Minebase you can buy the tokens on the exchanges Bitforex and Digifinex and sent by the Ethereum network, withdraw these tokens is not cheap at all, currently they are charging a fee of 10.34 Mbase, if you are going to enter the project should take into account these types of costs to avoid losses.
Resumen: Por cada 25 tokens comprados, 25 tokens de regalo y por cada referido 5 usdt).
El increíble especial de navidad de este proyecto nos regala 25 Mbase tokens por cada 25 Mbase tokens depositados y generando mas y mas.
Por si esto fuera poco por cada referido que tengas obtendrás 5 USDT de obsequio y también hay mas para mas cantidad de referidos, aquí les dejo el link.
Link de Medium.
Link de referido.
Link a la pagina oficial.
Post anterior donde hay información de como copiar el código cada 25 horas y reclamar nuestro token diario (cada 25 horas jaja).
Video en Youtube de la presentación de la promoción especial de navidad, solo a los primeros 5000 nuevos usuarios, no es ilimitado.
En los últimos años en estas fechas próximas a las fiestas muchos proyectos en el mundo crypto realizan airdrops, eventos, promociones y demás para darse a conocer en el ambiente y así buscar nuevos adeptos, el token MineBase es uno de ellos y nos trae una promoción especial de navidad realmente muy interesante, aquí les cuento de que va.
El proyecto Minebase ya terminó su airdrop hace unas semanas habiendo conseguido y superado su objetivo de 500.000 usuarios alcanzando mas de 800.000, luego de esta medida para entrar al proyecto al menos hay que comprar 25 Mbase tokens para generar billeteras que nos generen mas tokens Mbase, que es así como funciona el proyecto.
Para entrar a Minebase se pueden comprar los tokens en los exchanges Bitforex y Digifinex y se envían por la red de Ethereum, retirar estos tokens nos es nada barato actualmente están cobrando un fee de 10,34 Mbase, si van a entrar al proyecto deben tener en cuenta este tipo de costos para evitar perdidas.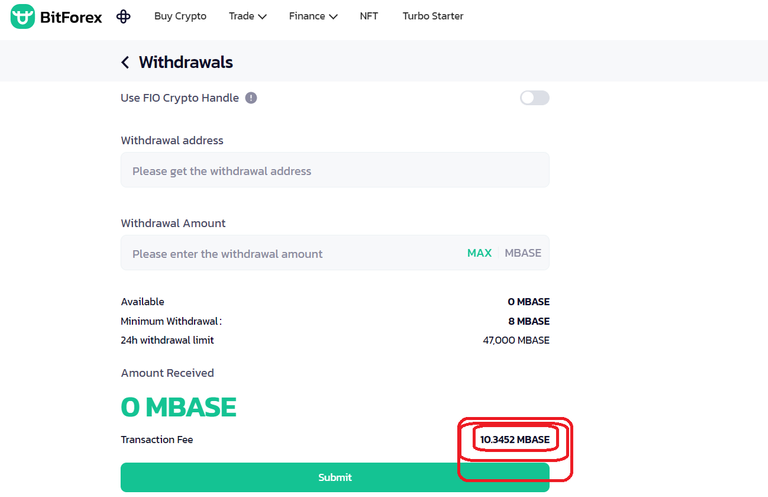 While the crypto world these days has plummeted in recent days the Mbase token has behaved incredibly reaching at the time of writing this post the 0.78 USD having a rise of 22% in the last 24 hours and reaching a high of 0.81 USD.
Si bien el mundo crypto estos días se ha desplomado en los últimos días el token Mbase se ha comportado de manera increíble alcanzando es el momento de escribir este post los 0,78 USD teniendo una subida de un 22% en las ultimas 24 horas y alcanzando un máximo de 0,81 USD.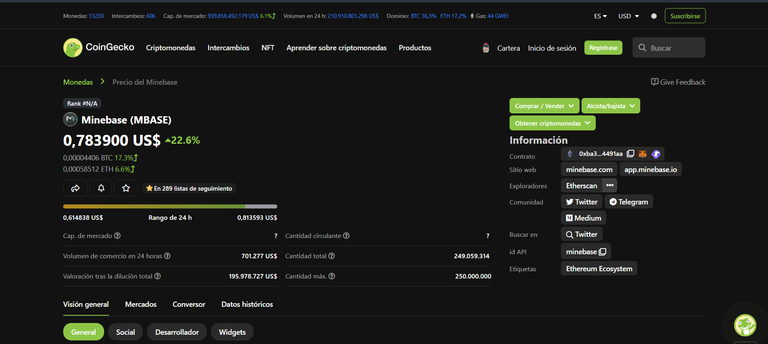 Fuente de imagen
A detail to keep in mind: to withdraw the accumulated Mbase tokens you must have 0.015 ETH in the wallet, at this time means about 19 USD, so I recommend if you are going to enter the project leave working and accumulate more than 30 days to see reflected a profit that can allow us to afford the taxes and get profits, although everything will also depend on the price of the token at the time we decide to withdraw our profit.
It is not investment advice at all, nor do I expect it to be taken as such, personally I have entered into many projects and very few have had good results, if you are going to buy tokens, whatever they are, do it with money that you can afford to lose, example: a dinner at a restaurant.
Un detalle a tener en cuenta: para retirar los tokens Mbase acumulados hay que tener 0,015 ETH en la wallet, en este momento significan unos 19 USD, por lo que recomiendo si van a entrar en el proyecto dejar trabajando y acumular mas de 30 días para ver reflejada una ganancia que pueda permitir costearnos los impuestos y obtener ganancias, aunque todo va a depender también del precio del token al momento en que decidamos retirar nuestra ganancia.
No es consejo de inversión para nada, ni espero que se tome así, personalmente he entrado en muchísimos proyectos y de muy pocos he tenido buenos resultados, si vas a comprar tokens, cualquiera sean, lo hagas con dinero que te puedas permitir perder, ejemplo: una cena en un restaurante.
Translated with www.DeepL.com/Translator (free version)