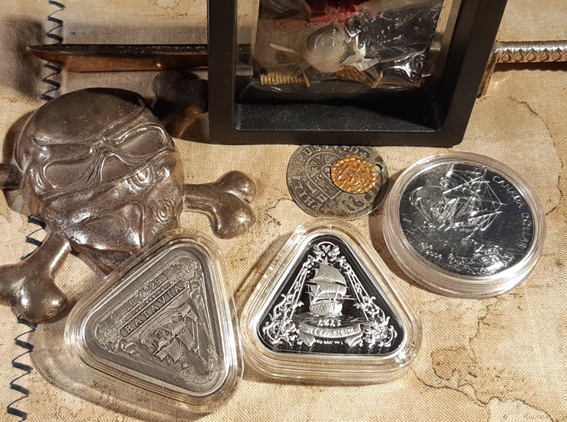 "Blackbirds tend to like shiny things." ~ The Bloody Raven
My timing was bad on this purchase just before December. @punkysdad and I settled on our shopping list only to find the Proof Coin version had just sold out. Clicking on the Email option would be useless as this retailer seldom reply with the words, "We have this back in stock!" Especially with such a limited run of 20,000 worldwide.
I admit to being taken by this novel design.
Its triangle shape easily stands out among the other coins in my Stack.
The proof with a contrasting cameo finish.
And of course, the visual portrayal of the ship itself in beautiful detail.
2019 1 Australian Dollar Shipwreck Batavia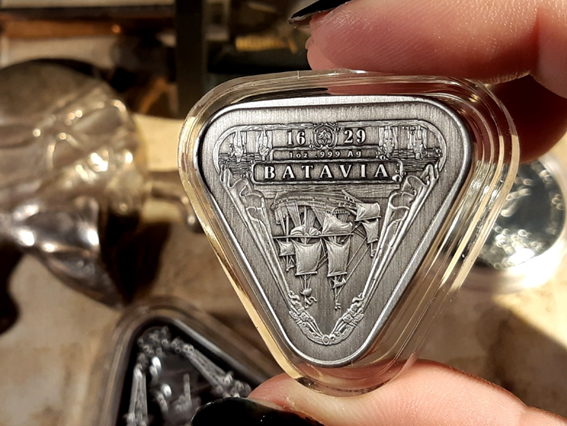 Reverse: The Batavia under sail
Upside down Legend: 16.29, 1oz .999 Ag, BATAVIA
0.999 Silver, 31.1g
Diameter of 33.9mm, Thickness 4mm
I did not find this design peculiar as some critics stated. I thought this was cleverly designed by Engraver Adam Ball. The way that the reverse of this coin tells two stories; one of it's triumphant launch into its maiden voyage of adventure and hopeful years profitable trade, and then the story of it's disastrous demise cast upon the hazardous uncharted reefs off the unexplored western Australian coastline.


The Original 1628 Batavia: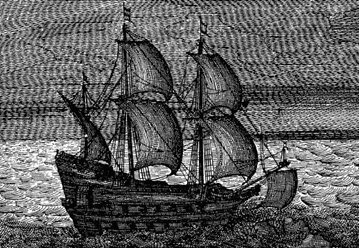 W1
Built in: Peperwerf Amsterdam
Commissioned & owned by: Dutch East India Company (VOC)
Completed: 1628
Class: East Indiaman
Tonnage: 650 Tons
Displacement: 1200 Tons
Length: 186 ft
Beam: 34 ft
Draught: 17ft
Sail Plan: Full Rigged
Armament: 24 Cannon

The 1995 Modern Replica of the Batavia in Lelystad.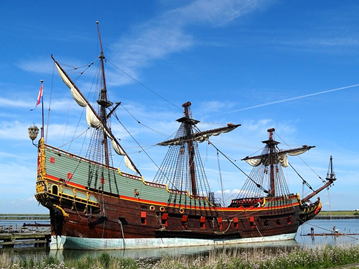 P1
Constructed under Master Shipbuilder: Willem Vos.
The new ship's keel was laid October 1985, built to the specifications of the original remains recovered from the Beacon Island shipwreck site. The original remains are on display in Fremantle. Relying mostly on traditional construction methods and building matrials, she was finally completed and launched April 1995. She made a public appearance with the Dutch Olympic team at the 2000 Sidney Games before being permanently moored back in the Lelystad Netherlands as a museum and public display.
2019 1 Australian Dollar Shipwreck Batavia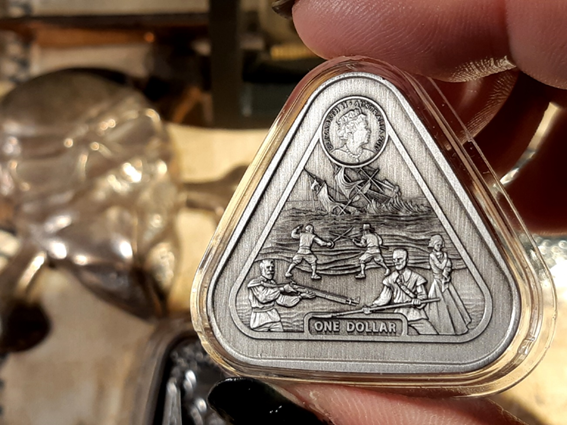 Obverse: The Battle between the Survivors and the Mutineers.
6th Portrait of Queen Elizabeth II facing right
Legend; ELIZABETH II, AUSTRALIA 2019, ONE DOLLAR
Royal Australian Mint, Mintage of 20,000
Reference N#179081
Antiqued: 1000
I've looked into the details of the Mutiny that led to the disaster; Commander Pelsaert with the protagonists, the passengers and then the Mutineers themselves. The circumstances, A madman Second in command antagonist Cornelisz and his accomplices. A treasure in 12 wooden chests totaling about 250 Thousand Guilders in Rijksdaalers silver coin earmarked for the purchase of goods, provisions, and payment of the crew.
The records of eye-witness testimony detail the horrific events that happened after Pelsaert departed for help, read like a fictional horror & crime novel. But far from fiction when events, actions, and decisions that not only wrecked the Batavia but also led to the massacre of most of the 332 passengers of not only the unaligned men, but women and children were not spared either. If not for the heroism of Wiebbe Hayes and the timely rescue by the returning Commander Pelsaert the 122 remaining passengers may not have made it out alive.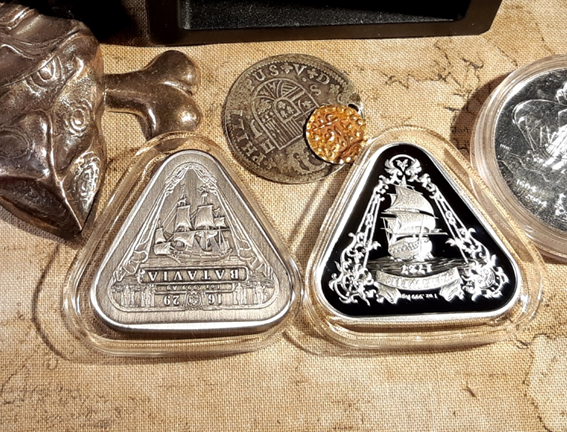 2019 Batavia and 2021 Zeewijk
The surviving Mutineers were captured, tried, and mostly executed with only two spared death were marooned. Thus, ending one of the most terrible Maritime disasters in history.
There were so many layers to the story of the ill fated Batavia, her crew and passengers as historians continue to discuss as more archeological evidence is being uncovered. A startling contrast compared to the comparatively idyllic founding of Sydney by Captain Arthur Phillip's first fleet in 1788.
So, how much did I pay for this?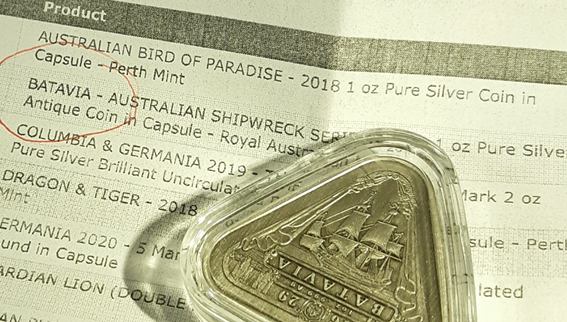 I am too embarrassed to say but for this…
That it is for a future Post of: My TOP TEN Stacking disasters.
Thank you for coming aboard unto me pirate blog today!
What would you do trapped on an island with no natural source of food and water with a mad officer put in charge with all the weapons and supplies in his possession? Make out your Will?

The #piratesunday tag is the scurvy scheme of Captain @stokjockey for #silvergoldstackers pirates to proudly showcase their shiny booty and plunder for all to see. Landlubbers arrrh…welcomed to participate and be a Pirate at heart so open yer treasure chests an' show us what booty yea got!
Related Article
1988 Australia $10 Silver coin commemorative First Fleet
Sources
Amusing Planet: The Historic Dutch ship – Batavia
Wiki: Batavia 1628 Ship
P1. Batavia Replica by Wikimediaimages under Pixabay
W1. Batavia Scanned Plate image by F. Pelsaert by Public domain
Apmex: Batavia
References
1. My own pictures shot with a Samsung SM-A530W
P. Image under Pixabay
R. Clip art from 123RF
W. Wiki Commons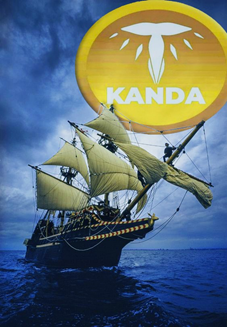 Educating Africans on the benefits of the Block chain
Join our Discord, https://discord.gg/cmbSM5B
"Et lux in tenebris to serve laboro, sum sicarius" "I work in the shadows to serve the Light, I am an Assassin"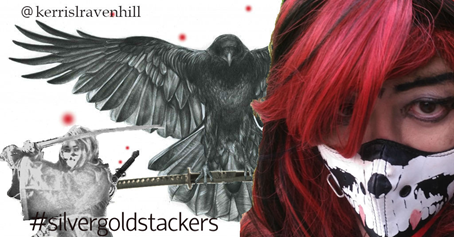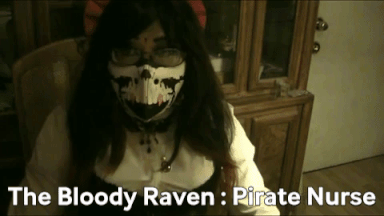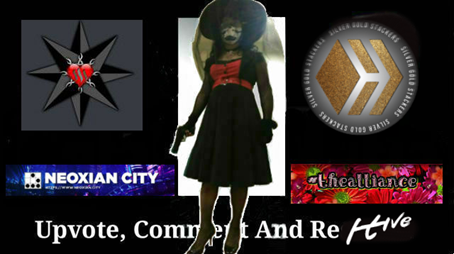 Posted Using LeoFinance Beta