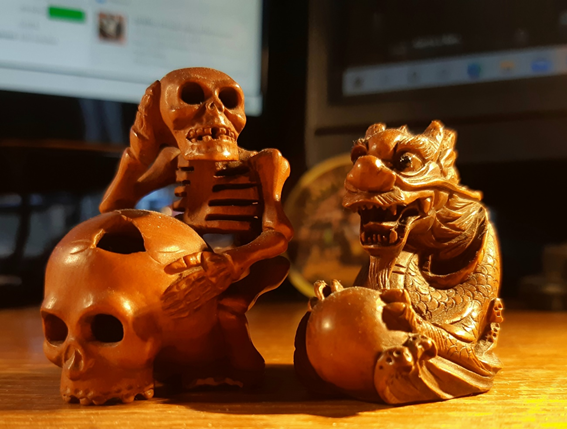 "Say Burt, we were expecting just a few coins from the old Boss, aren't we?" His hollow eye sockets turned to his scaly friend.
The contemplative Inro Dragon nodded slowly, replies in his usual aged raspy voice, "I have seen this behavior before of Master Jiraya with the Lady Mishikara almost 200 years ago."
When the release of the Perth Mints third Black Flag series coin was imminent Captain Nyssacat373 immediately volunteered to secure a pair of these for the Bloody Raven. There was no hesitation in his thoughts as he replied, "Done." He had already planned to purchase this coin, so he'd simply add to his order. I paid him the difference for my purchase.
You see, Canadian buyers of bullion are at a disadvantage in choices of bullion products largely on an Economy of Scale, that is, the bullion market is comparatively small to the much bigger and diverse US Market. I can't put a finger on it but it seems that the larger Canadian retailers indirectly avoid competing on price on certain bullion product lines. Let's say, Perth Products. For example, Dealer 1 would put 2021 Kookaburras just as Dealer 2 would put the 2021 Koalas concurrently on sale, while Dealer 3 advertises 2021 Swans. Coincidence, conspiracy, or just plain survival?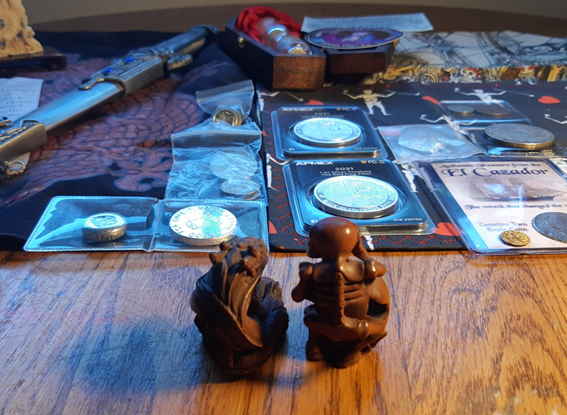 "Yes Burt-San." Jin jin surveys the trove laid out before them and smiles, "He likes her."
"Blackbirds tend to like shiny things." ~ The Bloody Raven
This by fate, led me to somewhat of a Stacking relationship with DrWho aka Nyssacat373, who had already showered me with such undeserved attention, volunteered himself as my Proxy Buyer in the rich US precious metals Market.
When the package arrived, it felt like far more than the two One Troy ounce coins I purchased. He did infer that it had something to do with Valentine's day, but his personal letter went missing when the CBSA opened his parcel for Customs inspection. Another bone to pick with the CBSA.
On to the latest Perth Mint's Black Flag


While I am pleased that Ching Shih is finally getting her spotlight in the west, at the same time the 2021 Black Flag: Ching Shih represents a significant departure from the trajectory within the series. As a stand-alone coin itself it is more than adequate of this remarkable historical persona outside of Western history.
2021 Tuvalu Black Flag Ching Shih: Red Flag Fleet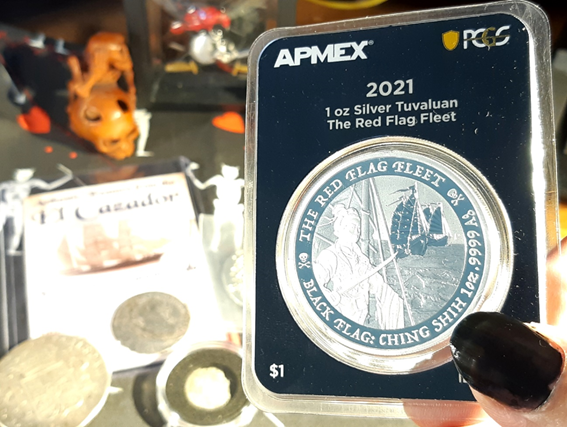 Ching Shih with her Red Flag Ships, facing right
Legend; THE RED FLAG FLEET, P LB, BLACK FLAG: CHING SHIH 1oz .9999 Ag
Diameter 40.9mm, Thickness 3.5mm
Weight 31.1g, Silver 0.9999
Designer: Lucas Bowers
In my research of Ching Shih, I have never discovered details about her personal ship. If she had one. Culturally speaking most Chinese vessels were named to their owners rather than ships with their own distinct name. "Ching Shih's Junk" just doesn't sound fear inducing but Designer Eric Bowers could acceptably use the collective name of The Red Flag Fleet. Other than the legend the premise of the design then dramatically diverges.
2021 Tuvalu Black Flag Ching Shih: Red Flag Fleet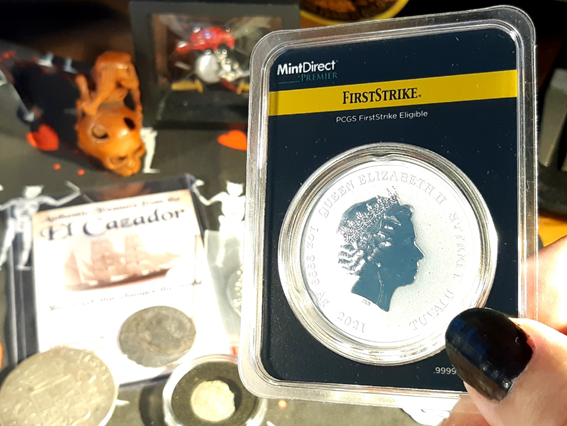 Obverse; Queen Elizabet II facing right
Legend; QUEEN ELIZABETH II, IRB, 1oz 9999 Ag 2021 TUVALU 1 DOLLAR
Designer: Ian Rank-Broadley
Mint: The Perth Mint
Edge: Reeded
Rather than the emphasis being on the ships/ junks the emphasis is now on the Captain for the 2021 Coin. Ironically, there is no historically attributable illustrations or pictures of Ching Shih so Bowers would have to 'make' her up. Does she does bear some semblance to Hong Kong TV star Maggie Shiu who played the role of Ching Shih in the 2015 Series Captains of Destiny. You tell me, I'm not even a financial advisor.
2021 Tuvalu Black Flag Ching Shih: Red Flag Fleet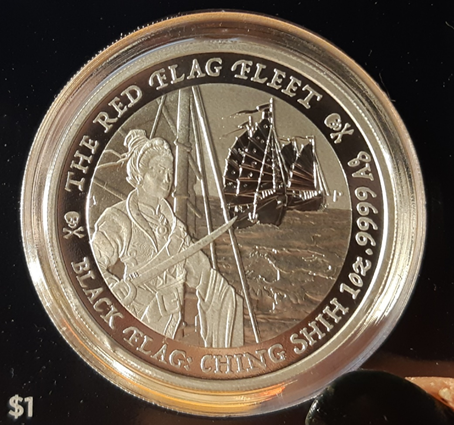 Personally, I think Ching Shih would best be a standalone coin so I would preferably like to see a consistent overarching theme on the Ships in the Black Flag Series. As to why Eric Bowers chose this design. We'll have to ask him.
The Black Flag Series so far.

A Gift Bonus Silver Coin


I was speechless when I unwrapped this special Mexican 'Trade Dollar' and date 1805 puts this square in the rise of Ching Shih in her career as Queen of the Pirates ended in 1810 and settling into a peaceful retired life running a Gambling house and brothel.
1805 Mexico 8 Reales Carlos IV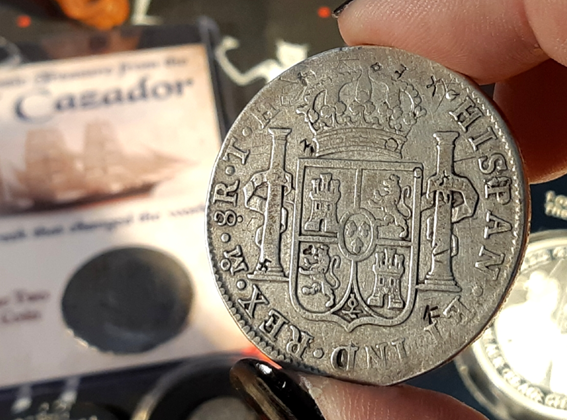 Reverse; Hispanic Arms; Pillars, Crown, Shield
Lettering; ·HISPAN·ET IND·REX·Mo ·8R·T·H· (King of Spain and the Indies Mexico City 8 Reales TH)
Weight 27.07g, Silver 0.903
Diameter 39mm, Thickness 2.35mm
This marvelous coin has been in heavy circulation after receiving no more than 24 chop marks which is relatively low and may been circulating in a confined region such that the authenticity of this coin was in little doubt between merchants.
What is a Chop Mark?
Chopmarks are basically countermarks used by Chinese bankers and merchants stamped on coins as a defense against debased counterfeit coins. Chopmarks also signified that a coin's composition had been verified and that it was acceptable for use in trade. ~ Chop Marks Blog Spot
1805 Mexico 8 Reales Carlos IV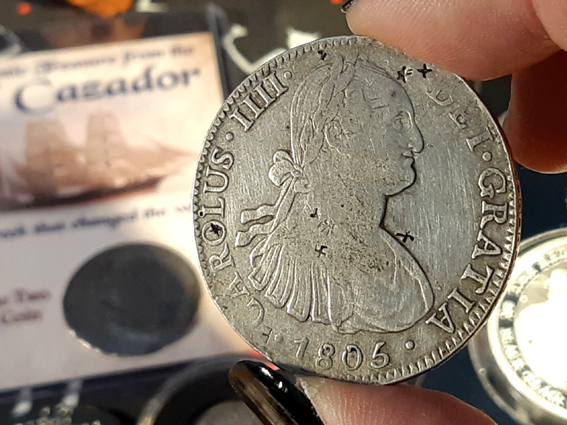 Obverse; Carlos IV Facing right
Legend; CAROLUS·IIII·DEI·GRATIA·1805·
Minted in Mexico City
Reference KM# 109
And the significance of this particular coin?
Chinese merchants came to prefer the "Carolus" 8-reales of Spain of 1772-1810. They called them "Four Work" because the Roman numerals in the king's name CAROLVS IIII look like the Chinese character gong for work. But Charles IV passed away, and Spain lost its American colonies. New coins came from an independent Mexico. Even though the Mexican "Cap and Rays" coins were equivalent to the Carolus issues (27.07 grams; .903 fine), the older coins were preferred and commanded a premium. ~ Colin J Gullberg, Chopmarked Coins, A History; the silver coins used in China 1600-1935.
Oh my, what an awesome gift Captain Nyssacat373! Thank you 💋
Could the Pirate Queen of Canton, Ching Shih have personally handled this very coin?
Perhaps not but this is a perfect addition to my Pirate Money collection and a genuine historically significant piece in International trade.

The #piratesunday tag is the scurvy scheme of Captain @stokjockey for #silvergoldstackers pirates to proudly showcase their shiny booty and plunder for all to see. Landlubbers arrrh…welcomed to participate and be a Pirate at heart so open yer treasure chests an' show us what booty yea got!
Sources
Chopmarked Coins; Worthless or Historically significant
Coinweek: First Read: Chopmarked Coins: A History; the silver coins used in China 1600-1935
References
1. My own pictures shot with a Samsung SM-A530W
P. Image under Pixabay
R. Clip art from 123RF
W. Wiki Commons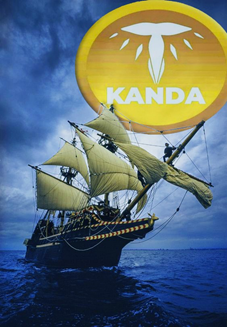 Educating Africans on the benefits of the Block chain
Join our Discord, https://discord.gg/cmbSM5B
"Et lux in tenebris to serve laboro, sum sicarius" "I work in the shadows to serve the Light, I am an Assassin"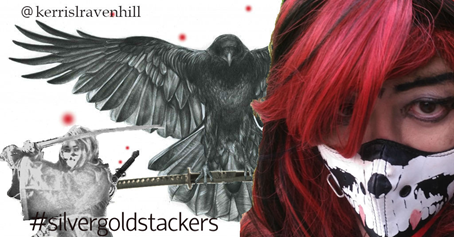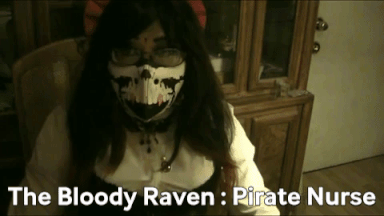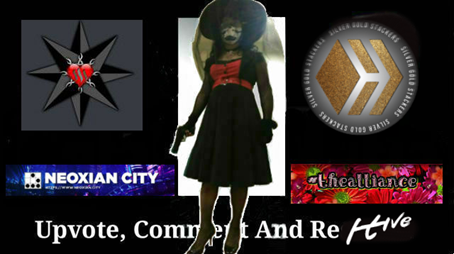 Posted Using LeoFinance Beta