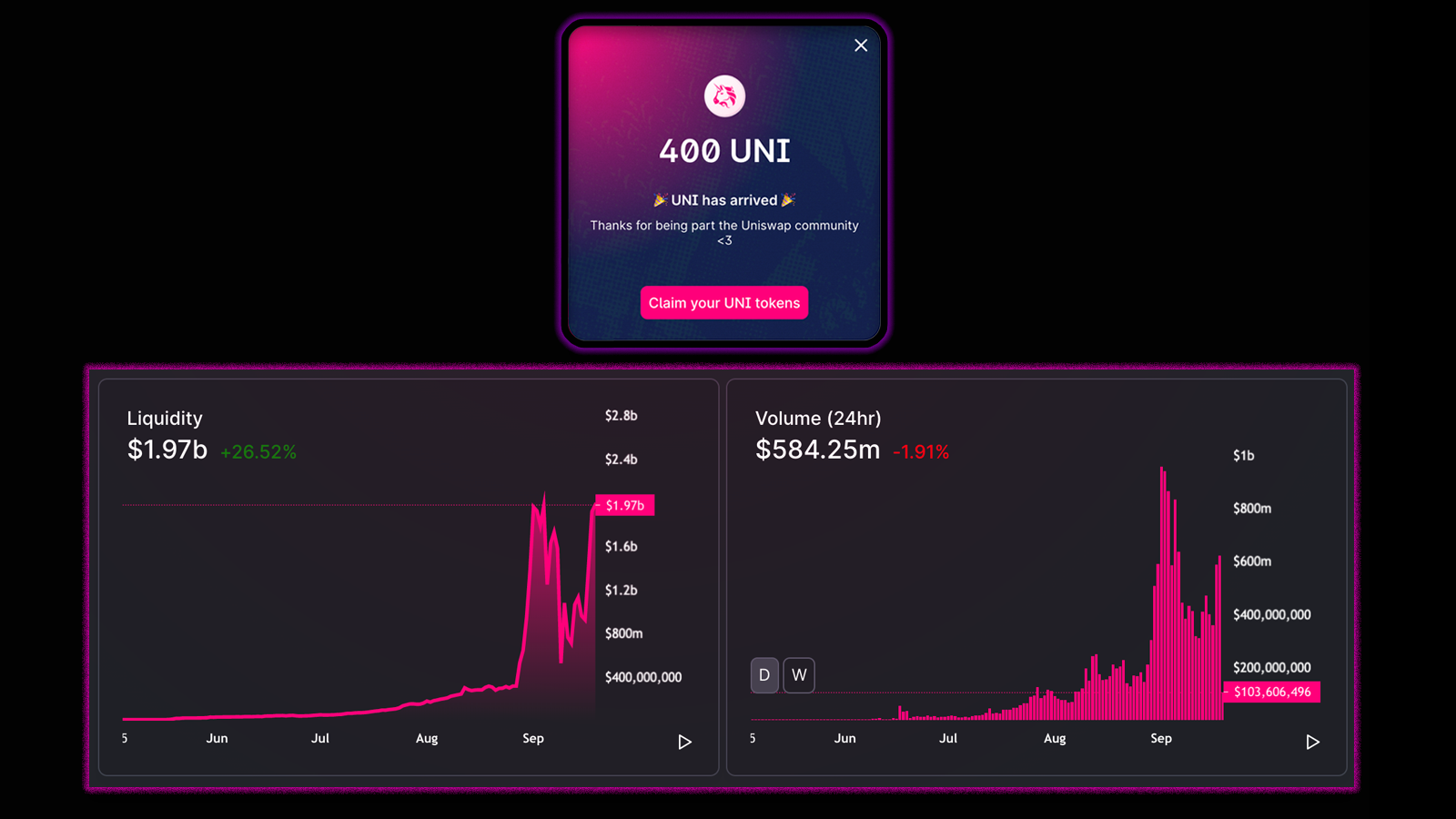 ICYMI the Uniswap decentralized exchange (DEX) on Ethereum decided to mint and airdrop their very own governance token. From what I gather, this was always a part of the Uniswap roadmap, but it was more likely to come with V3 of the interface.
Serving as proof that things don't always go according to plan, Sushiswap and other Uniswap forks popped up all over the place after Uniswap's recent boom in volume. The key difference with each fork is that they launched with a "governance token" whereas Uniswap hadn't launched their token (yet).
So became a new practice called "Vampire Mining". This is essentially where you clone another liquidity project (i.e. Uniswap) and spin it up almost identical to the original. Then you add a governance token and offer it to people who migrate their liquidity from Uniswap to your fork.
This is what Sushi and many others did. As you can see from the volume and liquidity charts, Uniswap dipped from its ATH's within a few days of these forks being released.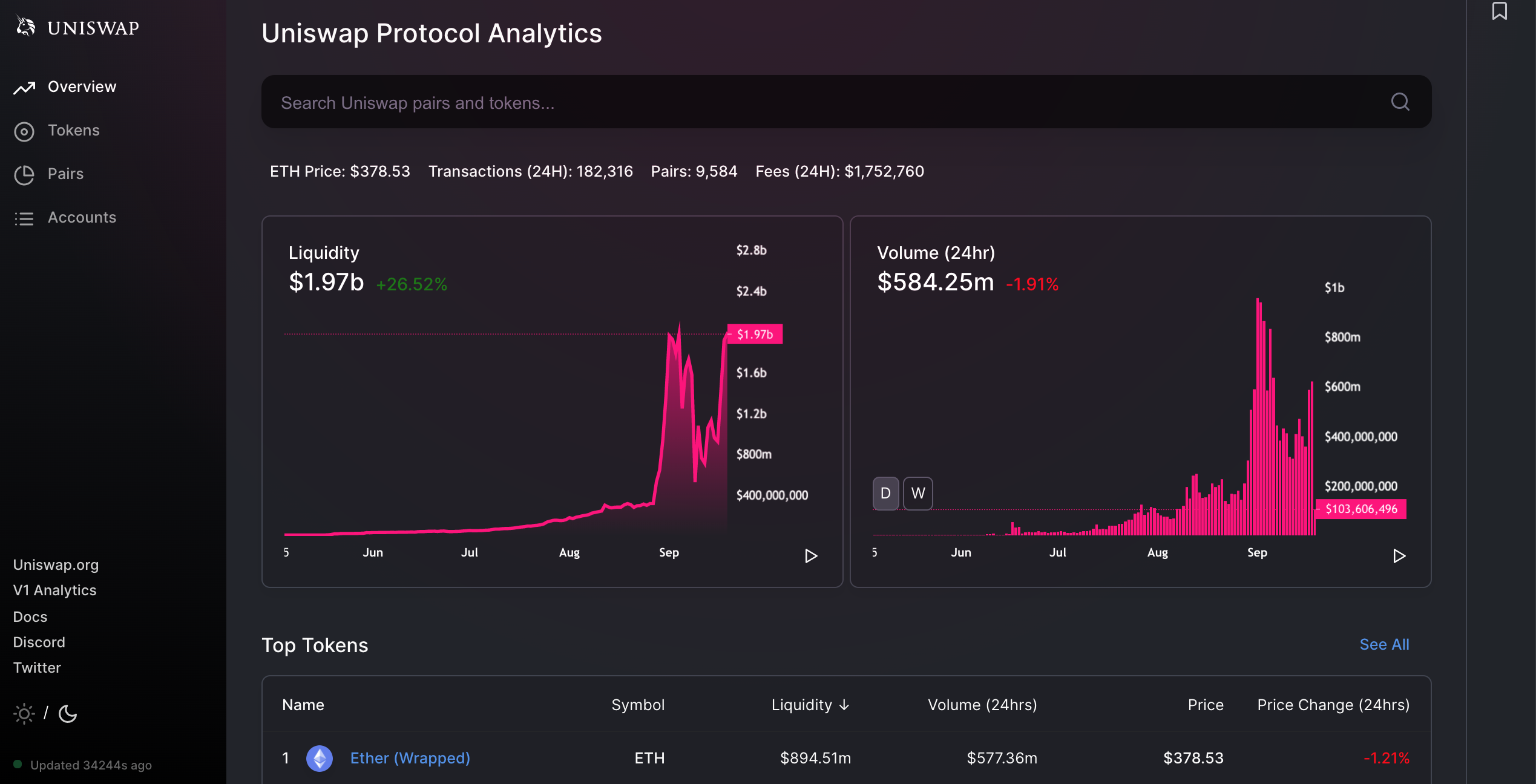 The general consensus around the industry is that many of these forks weren't actually anonymous dealings entirely. It was a plot by centralized exchanges (CEXes) to overthrow Uniswap and take back some of the trading volume.
Keep in mind that every $1 of volume done on Uniswap is $1 less of volume that could be done on Binance, Bittrex and others. It's not a far reach to say that these exchanges would do anything in their power to take back this $500M + daily volume that is happening on Uniswap.
UNI Stimulus Check

The new meme in crypto is that Uniswap just gave us a UNI sized stimulus check. The U.S. gov gave out a stimulus check for $1,200 to most adults. My UNI airdrop is currently worth $2,800. Maybe the U.S. should take a page out of Uniswap's playbook and learn how to stimulate an economy :)
I've been waiting to claim my UNI airdrop because I had a gut feeling that the token price would pump.
Turns out that I was right. When UNI was released and I heard about it on Wednesday night, I saw the token price at ~$2. Then it jumped to $2.97 and I decided that it was a risky bet, but well worth the potential reward. I bought up some UNI on Binance and then held it.
To date, I've only sold my cost basis back and still have a decent amount of UNI freerolling. On top of that, I've got the airdrop to claim.
UNI is now trading at $7. $10 seems pretty likely in the next day or so.
The universe has a funny way of intersecting. wLEO was set to make its first debut on an external exchange (outside of Hive) on Thursday morning but the UNI airdrop blew up the ETH network and forced us to push the launch to next week.
The DEX Craze Isn't Over
A lot of people are still blind to the fact that this is a long-term change in the crypto markets. This is not a boom/bust cycle where the whole industry gets rug pulled (pun intended) in one night and all of the infrastructure disappears.
I've been saying that DEXes will take over the CEXes since I got into the crypto space and learned how the industry worked. I haven't been alone in saying that. The DEX revolution is just getting started.
The conspiracy about CEXes launching things like Sushiswap (or at least having a hand in their growth) and also buying up UNI so that they can control the fee structure is not off base. The CEXes realize that this looming threat of DeFi is not a fleeting idea.
Much of the infrastructure we're seeing today will exist tomorrow and will continually be improved and built upon.
This, along with many other reasons, is the primary driver of launching wLEO. List yourself where the people are and move where they move.
For all its faults, ETH is still the most dynamic blockchain in this industry. It has the most dApps, the most trading volume, the highest # of users... It's an incredible blockchain in spite of its poor technology.
Bridging Hive --> ETH gives us the best of both worlds as we foray into a space that is still nascent, but incredibly useful.

Join Our Hive Community & Earn LEO Rewards!
Earn LEO + HIVE rewards by creating crypto/finance-related content in our PeakD community or directly from our hive-based interface at leofinance.io or LeoFinance Beta
Follow @leofinance for official updates
Posted Using LeoFinance Beta