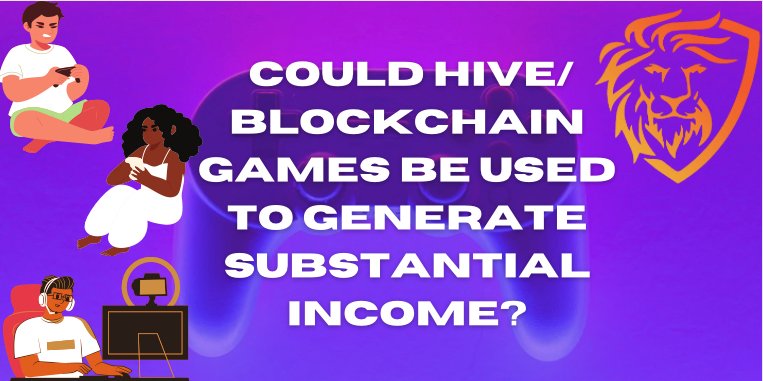 Designed by me
---
Recently I wrote a post about how I wanted to invest more on hive and how I was already investing in the gaming area in hive, and after that post, I got a lot of questions from people who wanted to know what hive games entail and if they could make money from it.
Now, even though I got to explain to certain people who asked, I think it is useful to talk about this area in hive because it isn't spoken enough about.
SO WHAT IS HIVE GAMING?
Hive gaming or blockchain games are video games that can be used to earn either cryptocurrencies or NFTs, in my words.
These games usually have an advantage over the conventional games because you can enjoy them while earning money.
On hive currently, there are about seven games but anything I say in this article would concern the once I have personally played which are splinterland, risingstar, rabona, and dcrop.


For splinterland: splinterland is a battle card game in short, and you get to purchase cards/NFTs that you can use to battle other players.
Rabona is a fantasy football game where you get to build a soccer team and play with other players.
Dcrop is a farm-ish game were you get to purchase plant NFTS, plant them, harvest them, etc.
Rising star is a music/artist NFT game where you get to grow your career and warm starbits.
Note: all these are brief descriptions in my own words.
CAN YOU EARN SUBSTANTIALLY FROM THESE GAMES?
Moving on to the main question, can you generate substantial income from these games? Well, the answer is a yes but this yes is dependent on a lot of things.
The first thing is time and the second is investments because like all things in crypto you need time and you need to invest.
I know a lot of people who are earning pretty well daily with games like rising star and splinterland and trust me when I say it is doable but, as I said, investment and time are essential.
For me, I have been playing these games for a while on and off and I haven't really earned anything from it, I even had to leave some of these games because I couldn't keep up so, before getting into it, you need to know that it isn't a get rich quick scheme and you might not gain anything.
It is also important to note that while these are considered games, they aren't really like the conventional ones, and you might be bored of them, but regardless of these things, I feel like this is a great way to earn if you are ready to put in the work.
FINALLY,
Hive games can be something that will change your finances if I am being honest and if you are ready to invest and put in time, I can say that it is worth diving into.
---
---
Posted Using LeoFinance Beta
Posted Using LeoFinance Beta