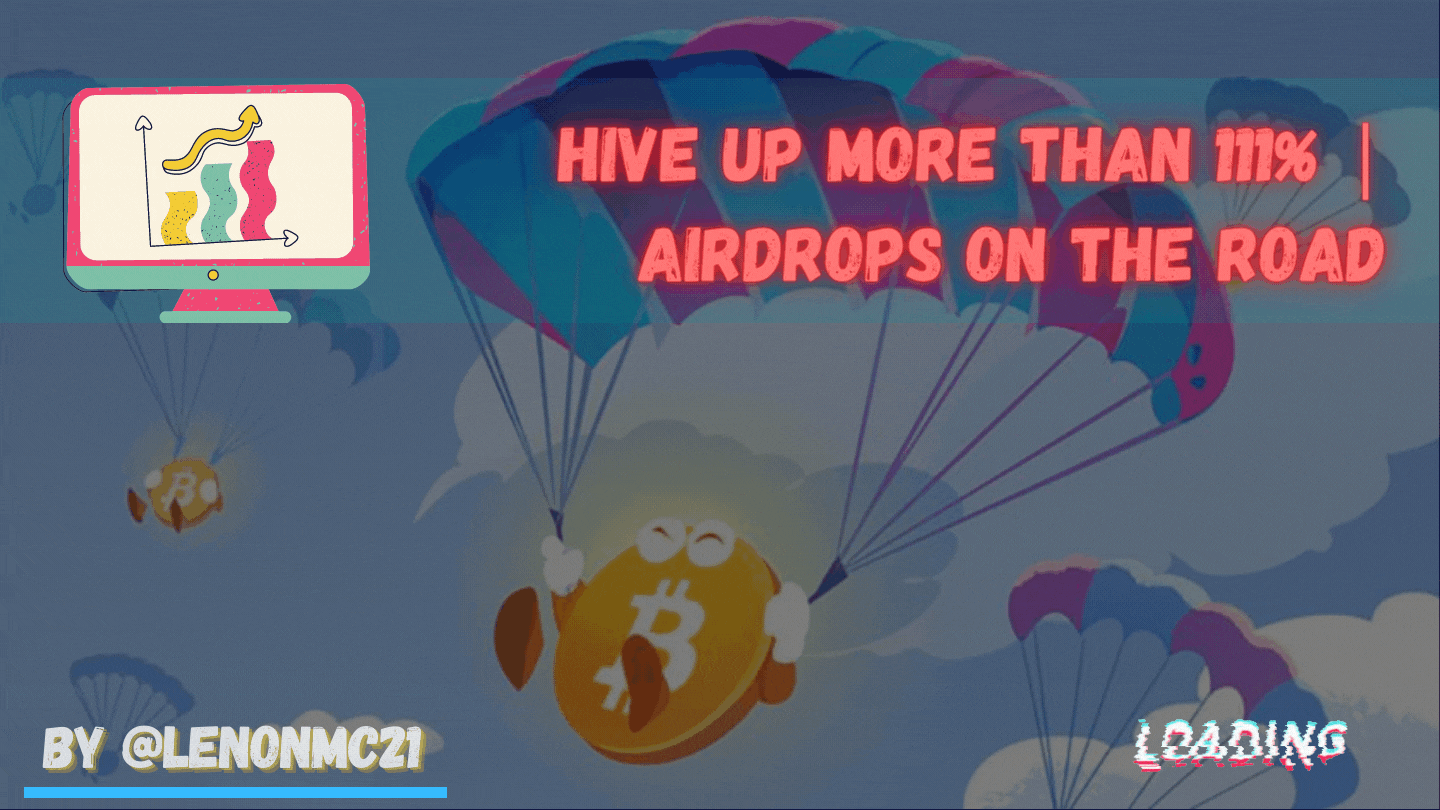 Cover created in Canva
English
Hive is a really versatile and gigantic ecosystem where we can all be part of, especially because we can create content basically of any kind in a decentralized community and that through different applications we can do practically whatever we like, from having fun playing games like "Splinterlands", selling our artwork through non-fungible tokens (NFT) in a marketplace and speculating on a platform with a large number of tokens based on the second layer of HIVE, our great "Hive-Engine many things more.
So, all this begs the question, why has HIVE gone up so much in price in such a short time? Surely something must be going on that we have very strong bullish momentum with large candlestick size and volume. So in this short post, I intend to explain and investigate some of the fundamentals behind this rally, plus of course, take a look at the HIVE chart and see what the future may hold through probabilities and technical analysis.
Now, without further ado, please join me:
Airdrops | Splinterlands - CubFinance - Project Blank - SPK Network

There are several fundamentals that I want to highlight and these are some that I am aware of, however, there may be other things going on that have led to several or many investors buying a lot of HIVE triggering the big rise of about 111% in the last 7 days.
Airdrops:
Splinterlands: we have some Airdrops to mention, we know that "Splinterlands" has in progress one of the most fascinating Airdrops of the moment, granting us SPS (Splintershards) to all the community that owns Splinterlands assets both in the game and on the platform (Blockchain) that can be connected. Sincerely a phenomenal Airdrop.
SPK and new game: I have read some blogs from big-time users on the platform like @edicted, commenting on some Airdrops that are coming from a very famous user called @theycallmedan. One of them corresponds to the new network called "SPK Network" based on the 3Speak project, something that I honestly must investigate thoroughly because it looks too interesting. On the other hand, we have the mention of a new PVP game led by the same user mentioned above, which looks great, what I know so far is that the snapshots of these will be released the same day and may receive the same, those who own HIVE, although I'm not sure if the HP, may be part of it. If anyone knows the answer do not forget to leave it in the comments, I would like to know this.
Project Blank: Another project that is really awaited by the community is "Project Blank", sincerely I can't wait for us to see live this project that will surely take HIVE beyond the moon where it is right now. One thing is that the great work done by "Splinterlands", can bring to HIVE a large number of players, however, in my opinion, Project Blank can bring another type of more general audience to the game, which of course could be very beneficial. Gentlemen to Holder LEO.
PolyCub: This is a project that I found out about not too many days ago, and the "Leofinance" team has been working hard on its entrance and arrival to the "Polygon" network. To participate we simply have to keep our CUB holdings, to be able to receive the new pCUB (I think that's how it's written), in the Polygon network, something simply great.
What can we expect with the releases? A quick look at the 4H chart of HIVE

For those of you who handle some "Fundamental Analysis", it is no secret that there is a saying that goes "buy on the rumor and sell on news". I really may be wrong, but there is a lot going on in HIVE right now and one of the things that cross my mind is that we could be seeing this big momentum thanks to all these "Airdrops" that are coming very soon and some of them are already being executed. I don't usually make investment recommendations and this is definitely not one of them, but HIVE is a great ecosystem and it's worth Holding these tokens in the short, medium, and long term to be able to make some nice gains.
---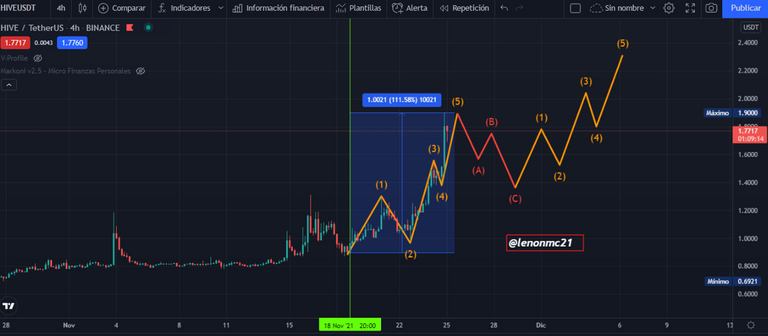 Now, with respect to the technical, in 4H charts, I can observe harmony in the movements that the price is making, since, these impulses that go from wave 1, go through wave 3, and end in wave 5, are of equal or similar size, highlighting that it has risen very strongly, however, it may come to a correction of ABC type, to seek more liquidity a little more below the wave number 4 to follow its upward trajectory and we experience new highs. Of course, I could be wrong, this is a probability, as it may go down changing the structure or it may decide to keep going up with much more strength, but, maybe this scenario is not so far-fetched after all.
Conclusion

We are in one of the best moments of HIVE, we can only continue working and supporting so that the ecosystem continues to grow. Before I say goodbye please, if you have official information of the information that I have just offered and that I have read on my own do not hesitate to share your knowledge in the comments, it would be of great help to be aware of everything.

Español
Hive es un ecosistema realmente versátil y gigantesco donde todos podemos formar parte, en especial porque podemos crear contenido básicamente de cualquier tipo en una comunidad descentralizada y que por medio de diferentes aplicaciones podemos realizar practicamente lo que más nos guste, desde divertirnos jugando con juegos como "Splinterlands", vender nuestras obras de arte por medio de tokens no fungibles (NFT) en un mercado y especular en una plataforma con un gran número de tokens basados en la segunda capa de HIVE, nuestro gran "Hive-Engine muchas cosas más.
Así que, todo esto lleva a preguntarme ¿Por qué el HIVE ha subido tanto de precio en muy poco tiempo? Seguramente algo debe de estar pasando que tenemos un impulso alcista muy fuerte con velas de gran tamaño y volumen. Así que en este breve post pretendo explicar e indagar algunos de los aspectos fundamentales tras este rally, ademas de por supuesto, daré un vistazo a la gráfica de HIVE y observar que nos puede deparar el futuro por medio de probabilidades y análisis técnico.
Airdrops | Splinterlands - CubFinance - Project Blank - SPK Network

Hay varios aspectos fundamentales que quiero resaltar y son algunos de los cuales tengo conocimiento, sin embargo, puede que estén sucediendo otras cosas que ha llevado a que varios o muchos inversores estén comprando muchos HIVE desencadenando la gran subida de alrededor del 111% en los últimos 7 días.
Airdrops:
Splinterlands: Tenemos algunos Airdrops que mencionar, sabemos que "Splinterlands" tiene en curso uno de los Airdrops mas fascinantes del momento, otorgándonos SPS (Splintershards) a toda la comunidad que posea activos de Splinterlands tanto en el juego como en la plataforma (Blockchain) que se pueda conectar. Sinceramente un Airdrop fenomenal.
SPK y nuevo juego: He leído algunos blogs de usuarios de gran envergadura en la plataforma como @edicted , comentando algunos Airdrops que están por venir por parte de un usuario muy famoso llamado @theycallmedan. Uno de ellos corresponde a la nueva red llamada "SPK Network" basada en el proyecto 3Speak, algo que sinceramente debo investigar a fondo porque se ve demasiado interesante. Por otro lado, tenemos la mención de un nuevo juego PVP liderado por el mismo usuario comentado anteriormente, que se ve de los mas genial, lo que conozco hasta ahora es que las instantáneas de estos serán lanzadas el mismo día y podrán recibir los mismos, los que posean HIVE, aunque no estoy seguro si el HP, podrá formar parte del mismo. Si alguien conoce la respuesta no olvide dejarlo en los comentarios, me gustara saber esto.
Project Blank: Otro proyecto que realmente es muy esperado por la comunidad es "Project Blank", sinceramente no veo la hora de que podamos ver en vivo este proyecto que seguramente llevara a HIVE más allá de la luna donde está en estos momentos. Una cosa es que por medio del gran trabajo realizado por "Splinterlands", pueda traer a HIVE un gran numero de jugadores, sin embargo, en mi opinión Project Blank, puede traer a otro tipo de audiencia mas general al juego, lo que por supuesto podría ser muy beneficioso. Señores a Holdear LEO.
PolyCub: Este es un proyecto del cual me entere no hace muchos dias, y es que el equipo de "Leofinance" ha estado trabajando arduamente en su entrada y llegada a la red de "Polygon". Para participar pues sencillamente debemos mantener nuestras tenencias de CUB, para poder recibir los nuevos pCUB (Creo que así se escribe), en la red de Polygon, algo sencillamente genial.
¿Qué podemos esperar con los lanzamientos? Mirada rapida a la grafica de 4H de HIVE

Para los que manejan algo de "Análisis Fundamental", no es un secreto de que existen un dicho que dice "Compra en rumor y vende en noticia". Realmente puede que me equivoque, pero están sucediendo muchas cosas en HIVE ahora mismo y una de las cosas que pasan por mi mente es que pudiéramos estar viendo este gran impulso gracias a todos estos "Airdrops" que están por venir muy pronto y que algunos de ellos ya se están ejecutando. No suelo realizar recomendaciones de inversión y definitivamente esta no es una de ellas, pero HIVE es un gran ecosistema y vale la pena Holdear estos tokens en el corto, mediano y largo plazo para poder obtener unas buenas ganancias.
---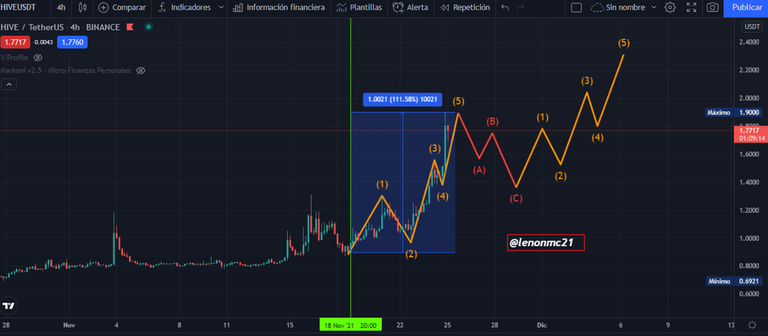 Ahora bien, con respecto a lo técnico, en gráficos de 4H, puedo observar armonía en los movimientos que esta haciendo el precio, ya que, estos impulsos que van desde la onda 1, pasan por la 3 y terminan en la 5, son de igual o similar tamaño, resaltando que ha subido con mucha fuerza, sin embargo, puede que venga una corrección del tipo ABC, para buscar mas liquidez un poco más debajo de la onda numero 4 para seguir su trayectoria alcista y experimentemos nuevos máximos. Por supuesto puedo equivocarme, esto es probabilidades, ya que, puede que baje cambiado la estructura o decida seguir subiendo con mucha mas fuerza, pero, puede que este escenario no sea tan descabellado después de todo.
Conclusión

Estamos en uno de los mejores momentos de HIVE, solo podemos seguir trabajando y apoyando para que el ecosistema siga creciendo. Antes de despedirme por favor, si tienen informaciones oficiales de la información que acabo de ofrecer y que he leído por mi cuenta no duden en compartir sus conocimientos en los comentarios, seria de gran ayuda para estar al tanto de todo.


---

If you are new you can join the game under this LINK