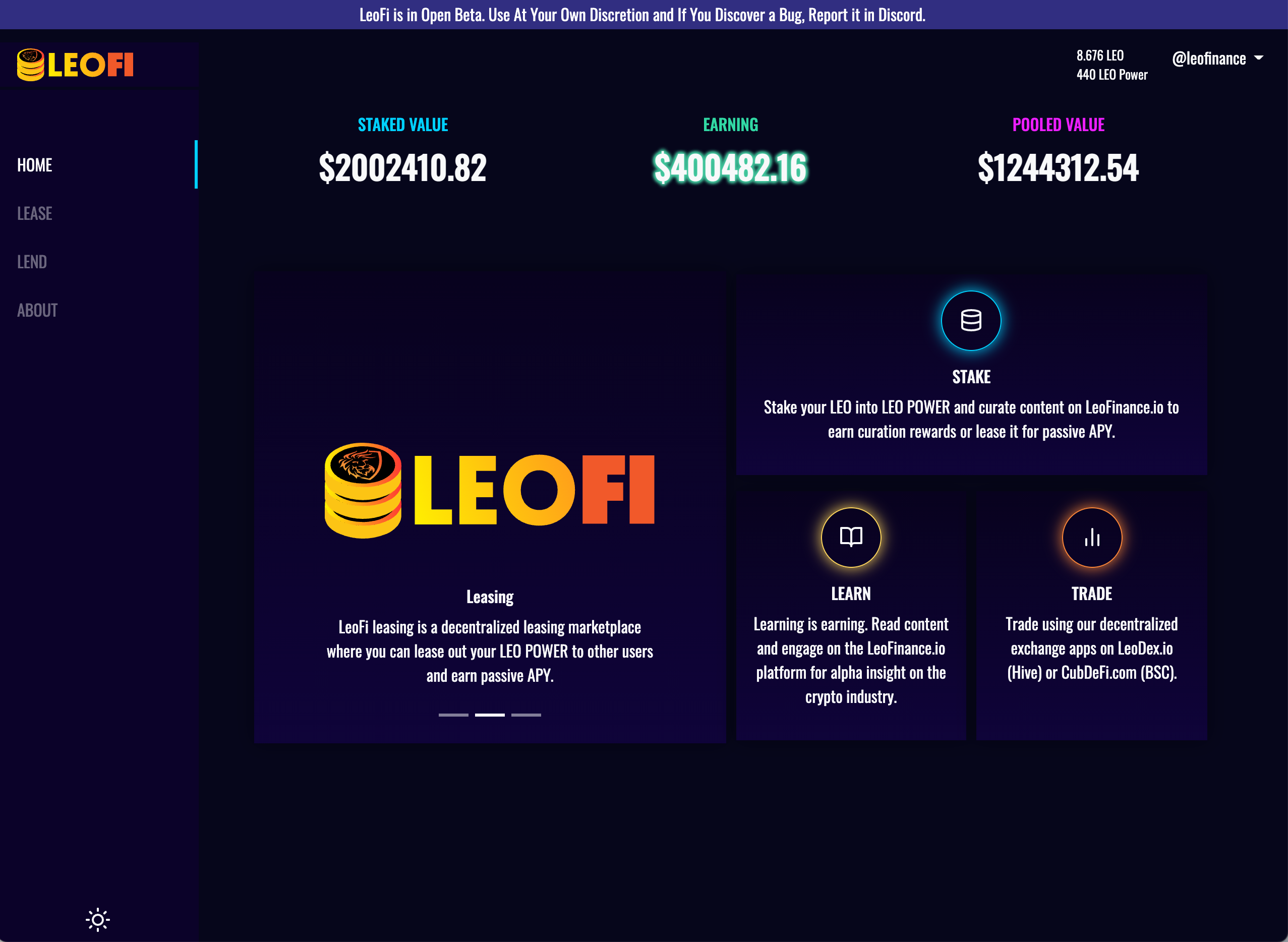 If you go back several months in time, then you'll see our early talk about LeoFi. As we first began our research into LeoFinance's expansion into the DeFi space, LeoFi was our natural progression.
While LeoFi was under initial development, we started researching platforms like PancakeSwap, Binance Smart Chain, etc. That led us down the path of developing products like Cub Finance. Through that, we sidelined LeoFi for a few months - knowing that we'd run some more extensive testing and development of the backend for a later release.
Today's the day for LeoFi to move from closed beta to open beta!
---
Introducing LeoFi Leasing
LeoFi will have a large array of features in the future. On the LeoFinance roadmap, we've planned out a multi-year rollout of various DeFi-like features which we'll bring to the Hive blockchain and native LEO token through LeoFi.
Our first product for LeoFi is a Decentralized Leasing Marketplace. If you've ever leased or requested a lease for HIVE POWER, then this UI/UX will feel very familiar.
Since the beginning of LEO over 2 years ago, many people have requested new use cases for LEO POWER itself. Some users don't have the time or desire to curate manually but they also realize that automating their upvotes doesn't necessarily help the platform grow.
Enter LeoFi Leasing.
With LeoFi leasing, users can earn LEO passively by leasing out their unused LEO POWER and most importantly, benefit the platform simultaneously.
Instead of just automating upvotes and letting a small selection of authors continuously earn rewards, you can lease out your LEO POWER to another LeoFinance community member who may do more hands-on manual curation.
There are a number of amazing curators in our community who are continuously onboarding, helping, upvoting and discovering new users.
With LeoFi leasing, you can see who is requesting leases. You get to choose who gains access to your LEO POWER delegation and if you want to be more selective in helping the platform grow, you can check-in on the user you delegate to and see if they manually curate.
This gives our users the best of both worlds: passive LEO earnings on their LEO POWER + the ability to help the platform grow through manual curation.
How to Use LeoFi Leasing
The LeoFi Leasing Page has a variety of data points and functions.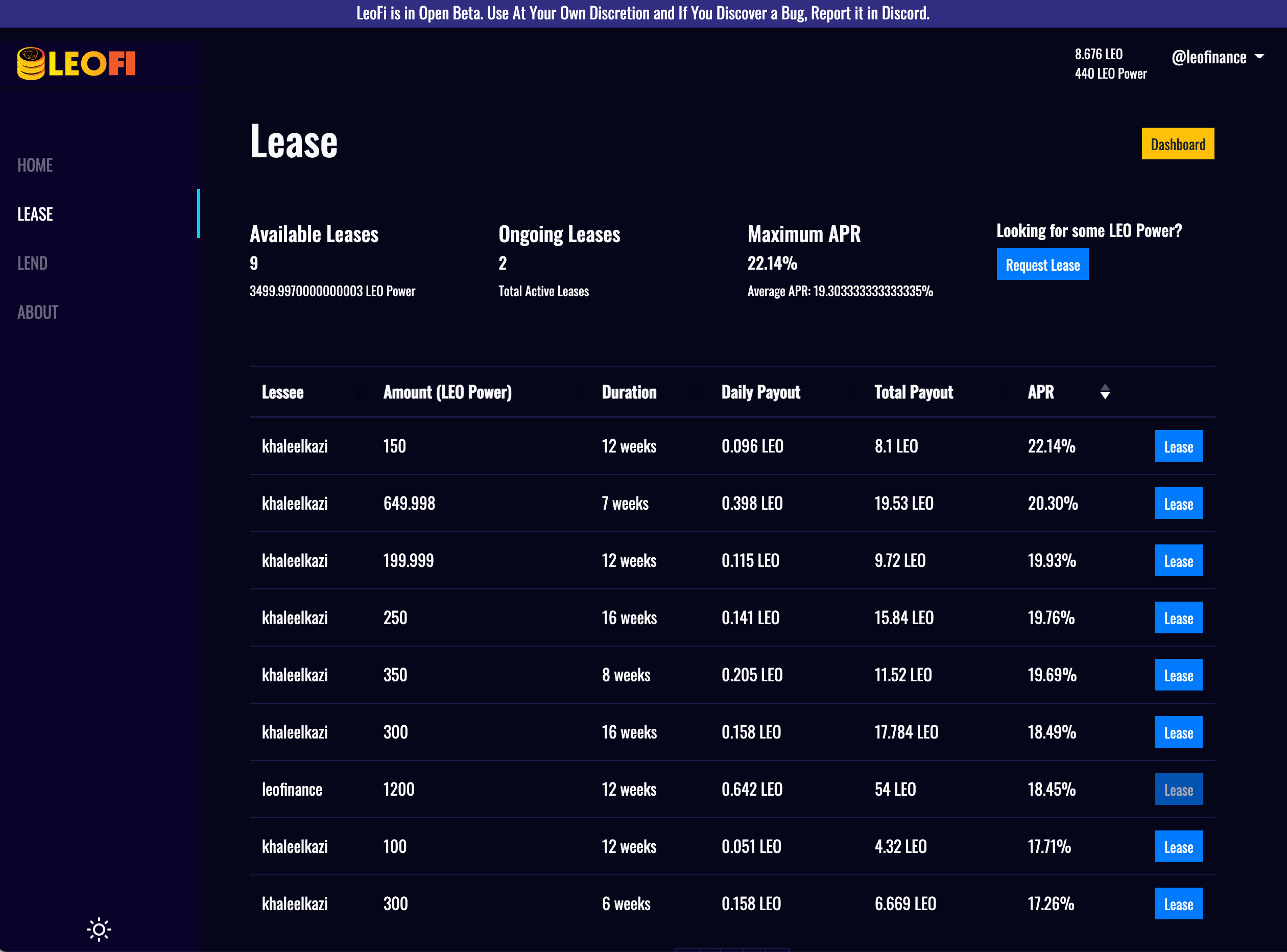 LeoFi Leasing Page
Request a Lease
To request a LEO POWER Lease, click the "Request Lease" button in the top right.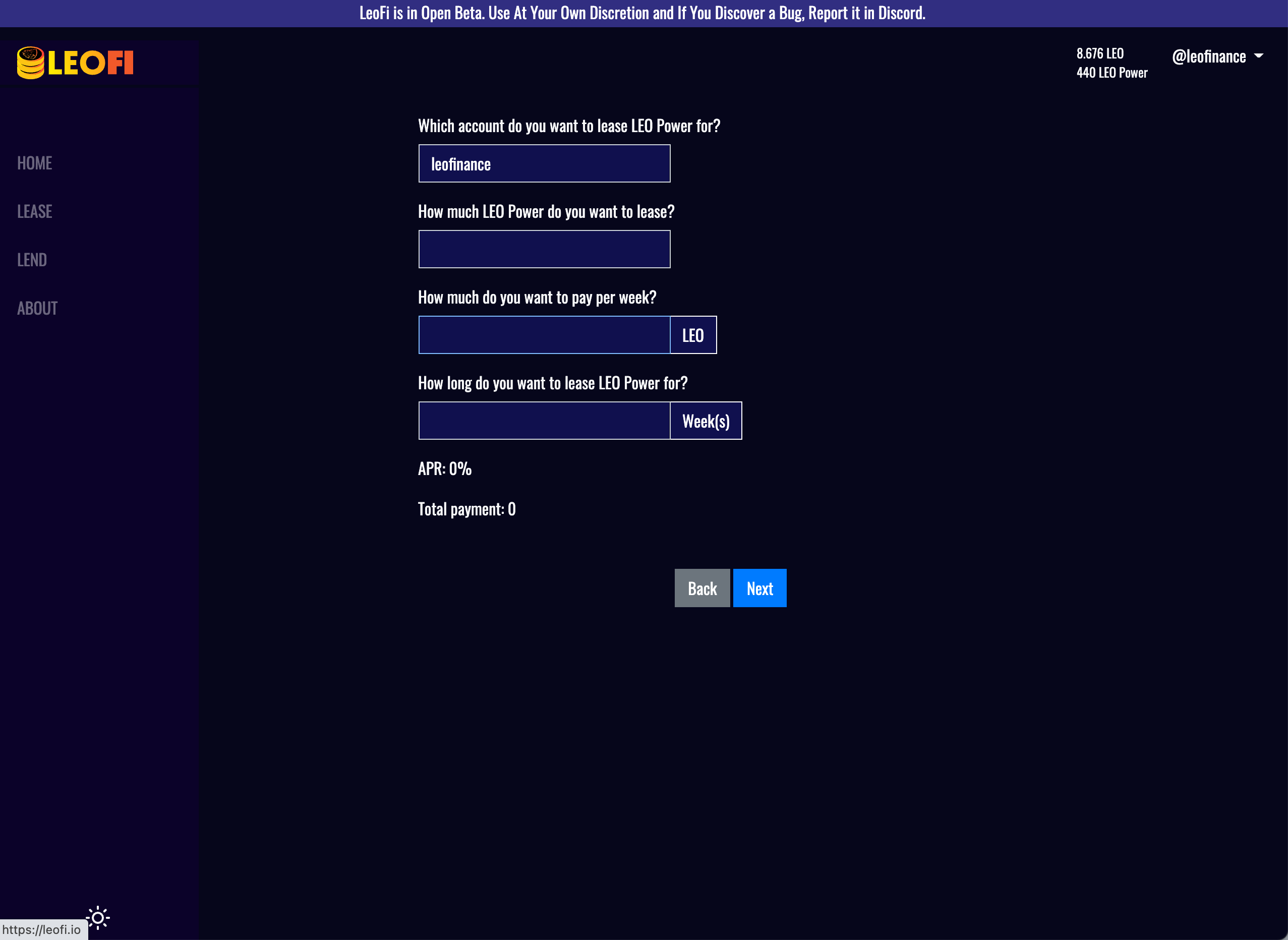 Once you arrive on the request a lease page, things are pretty straight forward. Start by entering the amount of LEO POWER you want to lease, then how much you want to pay per week to lease that power and then the duration of your lease.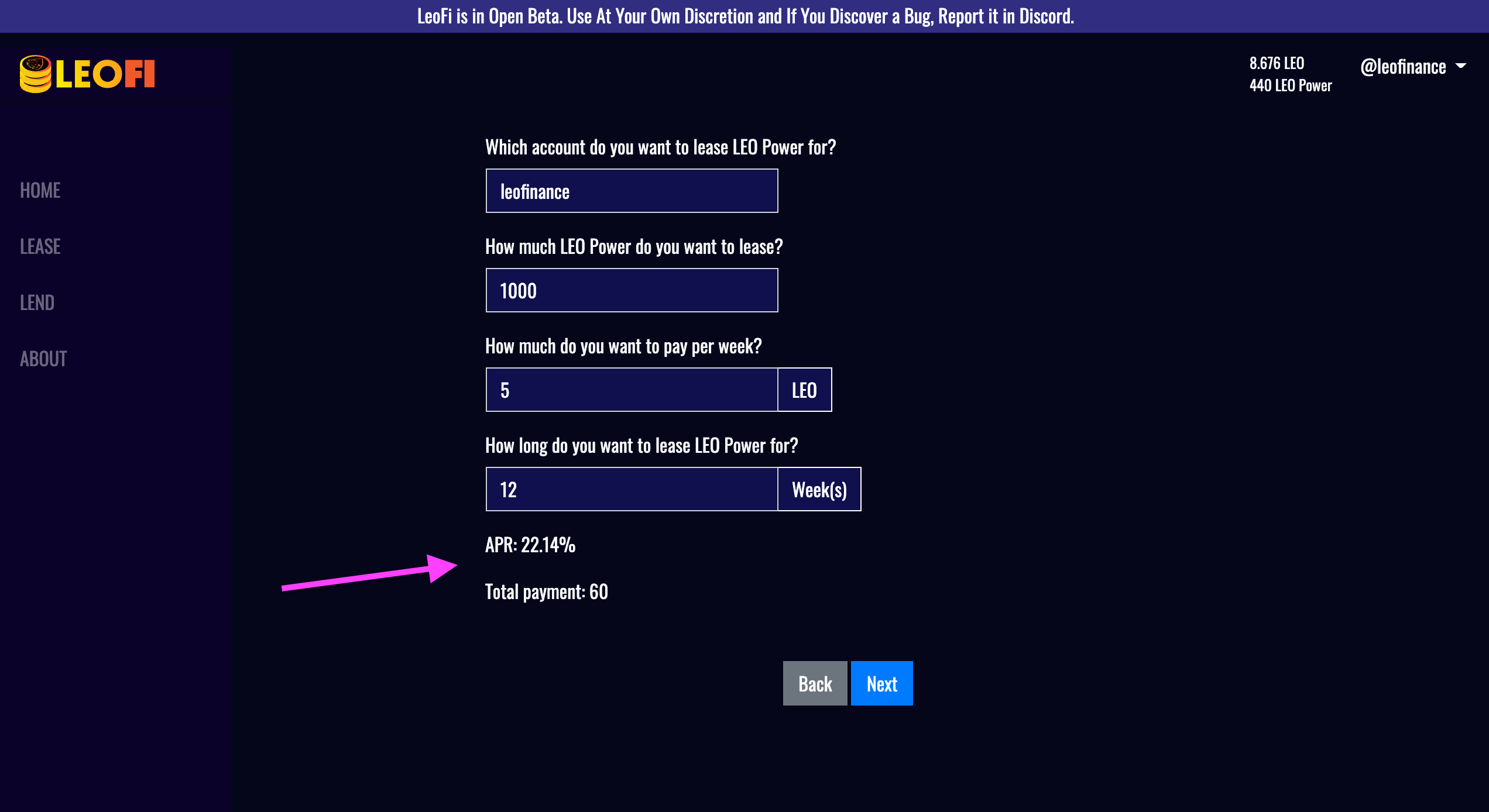 The APR and Total LEO Payment will automatically calculate itself in real-time as you manipulate the fields above.
Clicking "Next" will take you to a "Confirmation" page to review your Lease Request before submitting it. You can complete the Transaction with either Hivesigner or Hive Keychain.

After a few seconds, you'll see your Lease Request populate on the main Leasing page.
Your request will be filled when another user clicks "Lease" and fulfills your order for LEO POWER.
Note: if you want to see when your Lease Request is fulfilled by another user, you can find a notification sent via a LEO Memo to your LEO wallet on-chain. Otherwise, you can return to the "Dashboard" and view your active / pending leases.
Leasing Dashboard
The yellow "Dashboard" icon on the leasing page will take you to your LeoFi Leasing Dashboard. You'll find your active Leases, Requests and Expired leases.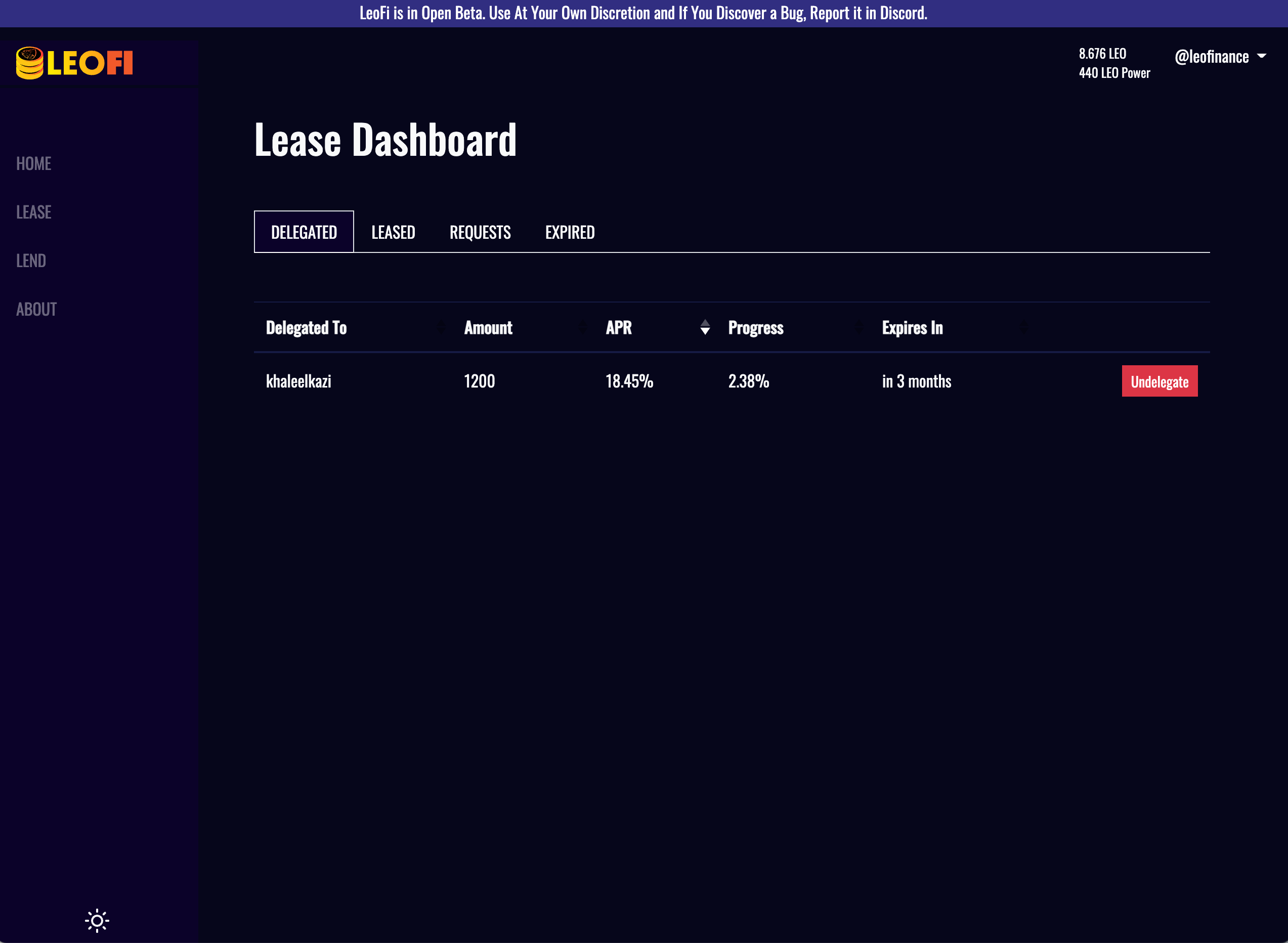 The dashboard is pretty self-explanatory. You can undelegate and cancel a lease that you've given out or you can renew leases.
Note: if you undelegate (cancel) a lease you've given out, then the LEO payment will be returned to the user who leased the LEO POWER from you - less any LEO that was already paid out.
How Do Payments Work?
User A requests 1,000 LEO POWER and pays 60 LEO total for that lease for a 12 week duration.
When User A submits their Lease Request, the LEO is sent to @leofi where it is held in escrow.
User B fulfills User A's lease request by clicking the "Lease" icon and delegating 1,000 LEO POWER to User A.
Afterwards, User B will now start earning Daily LEO Payouts from the @leofi escrow account. It will take the 60 LEO payment and distribute from that total LEO each day.
If User B undelegates and cancels the Lease before the 12 weeks are over, then they will have received payouts up to whatever day the Lease was active. Any remaining LEO from the original 60 LEO payment will be refunded to User A.
LEO Burn Fees for Leasing
There is a 10% fee on each LEO Power Lease (i.e. if a total Lease payment is 60 LEO, then 6 LEO is subtracted as a fee - making the final payout 54 LEO).
100% of fees generated by LeoFi leasing are sent to @null and burned from the LEO supply permanently.
More In-Depth Guides for LeoFi?
This post covers the basics of LeoFi. We'd love to see some community posts talking about the more in-depth mechanics, use cases and functionalities of the LeoFi application as everyone digs in to the latest use case for LEO tokens.

Please Note LeoFi is in Open Beta. We've spent several months testing frontend and backend, but there can still be bugs that we haven't yet caught. Please use the application at your own discretion and if you find any bugs, report them in Discord so we can quickly fix them and improve LeoFi!
Future of LeoFi
There are a few amazing features coming to LeoFi. You'll notice the "Lend" page says coming soon - this will feature a similar marketplace to LeoFi leasing but instead allow users to lend LEO to each other via various collateralized and other means. We've modeled this feature based on some of the most popular DeFi lending applications currently in production.
The next stage for LeoFi is to improve the Leasing App while we are in Open Beta.
Once we are comfortable with the Leasing App and everything is working smoothly, we'll exit Open Beta and then release the next 2 major features of LeoFi Leasing:
HIVE POWER Leasing Marketplace
Tribe POWER Leasing Marketplace
When these features are released into Open Beta, you'll be able to Lease and Request HIVE POWER delegations the very same way as LEO POWER currently works.
With Tribe Power - it's the same. Use the app to lease your favorite tribe tokens on Hive Engine.
All fees from LEO POWER Leasing, HIVE POWER Leasing and Tribe POWER Leasing will be converted to LEO and burned permanently from the native token supply.

LeoFinance is a blockchain-based social media community that builds innovative applications on the Hive, BSC and ETH blockchains. Our flagship application: LeoFinance.io allows users and creators to engage and share content on the blockchain while earning cryptocurrency rewards.
Earn a 16% APR on HIVE POWER and Support LeoInfra's Onboarding Efforts by Delegating HP to @leo.voter (Currently at 2M HP). We Use this to Claim Accounts and Delegate RCs to Newly Onboarded Users + Daily LEO Payouts to Delegators
Posted Using LeoFinance Beta