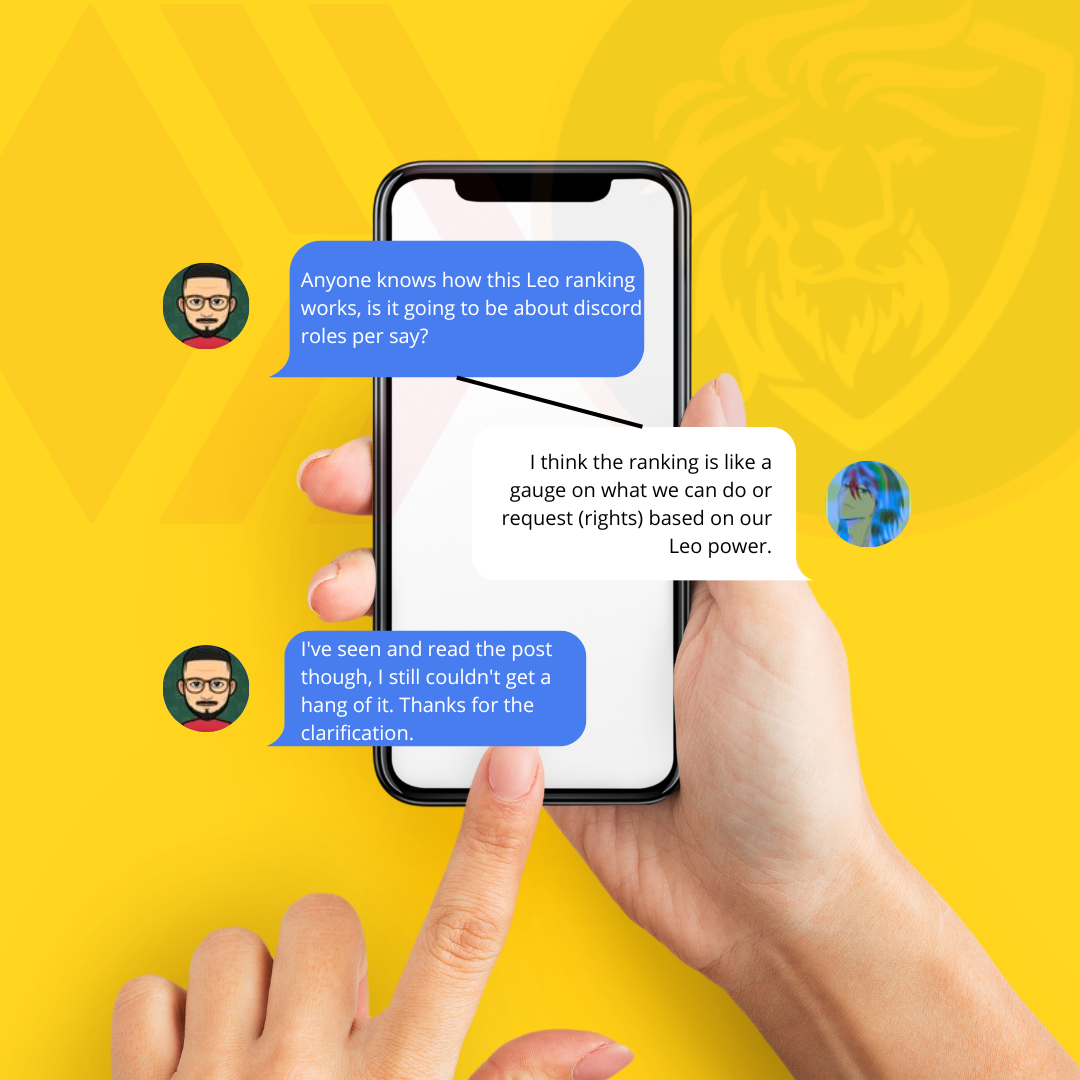 Nested replies... Wondering what they are? They're a cool feature that allow you to engage with Threads and replies to Threads without clicking any extra buttons. In short, they allow you to read the 1st reply to a Thread without opening that thread.
This is a feature that exists on Web2 (Twitter) and we stole it for Web3. It's amazing and as of right now, it's live on https://leofinance.io/threads - the #1 Web3 Microblogging App in the world!
What is A Nested Reply?
A nested reply shows the 1st reply to any Thread. You'll see Nested Replies on the:
As you can see in the image below, @josediccus made a Thread about LEO Discord Roles and the recent update we made to them.
Then, @ifarmgirl-leo posted a reply to his Thread. She happened to be the first reply, so her Thread shows up as a connected (Nested) reply to it.
This is indicated by a connecting line between their two threads.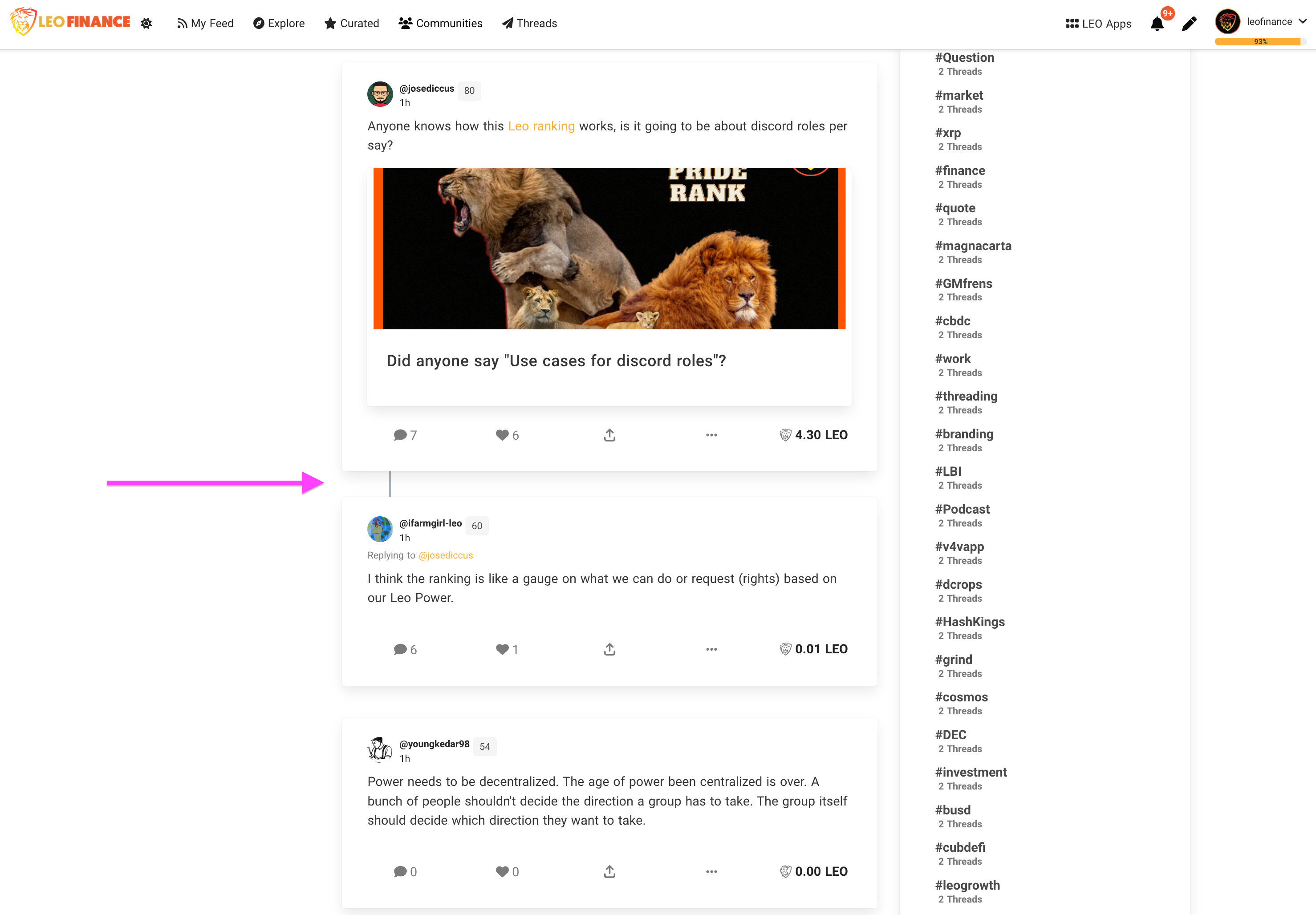 Why Nested Replies?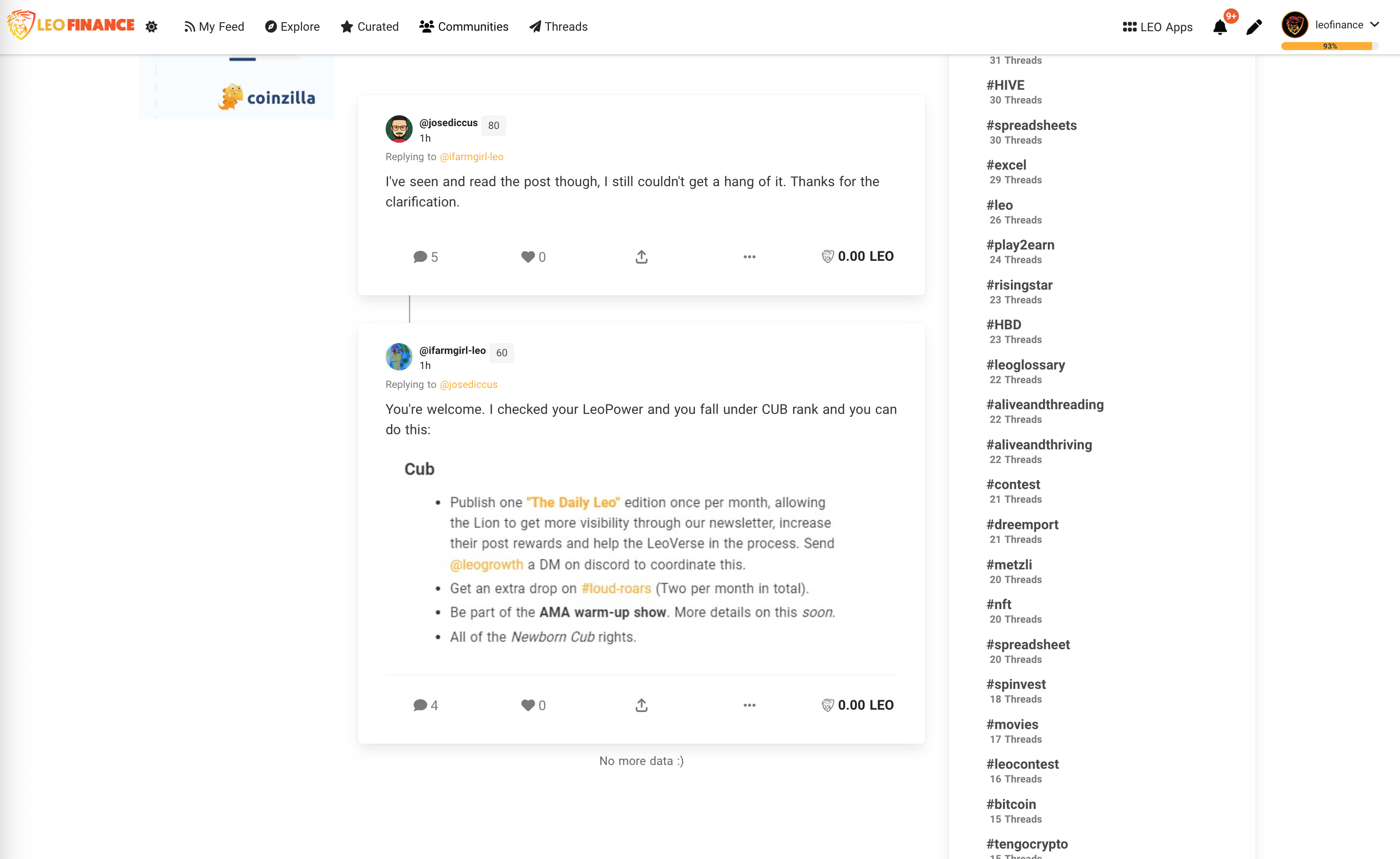 Why is this important? If you've been using Threads, you'll notice that our team has pushed update after update. Threads today is nothing like the Threads that launched on August 4th, 2022.
Threads is so much faster, so much easier to use and is packed with a ton of new features since it originally launched, just 8 weeks ago.
We continue to ask you - the community - what features and improvements you want to see on Threads. Many asked for a way to sort their Threads and we gave you that on the Profile page where you can now see the option (next to Blogs) for "Threads".
Next on our list of highly requested features was Nested Replies. You all wanted an easy way to see replies to replies on Threads and this is exactly what Nested Replies do.
Now you can easily navigate replies to replies and jump into conversations without having to click through as many pages.
How Do I Use Nested Replies?
It's easy! The 1st reply to any Thread will show as a Nested Reply.
In terms of how you will use this feature personally, that is completely up to you. The user experience is extremely intuitive.
Personally, I've been using the feature heavily. It's made my experience on Threads so much better since I can quickly reply to a Thread and the 1st reply to that Thread without having to click through as many pages.
Another big use case is when I'm on my personal profile page looking at previous Threads I've made.
Many of the Threads I've posted got 1 reply to them and I want to engage with the person who replied to those threads. Now I can just click the comment icon on the Nested Reply and reply straight from there instead of having to click on my own Thread and view their reply.
It's a simple yet powerful feature.
If you haven't tried it out yet, head over to https://leofinance.io/threads and give it a shot!
New to LeoThreads and Microblogging on Hive in General?
LeoThreads DOES NOT create top-level blog posts. Instead, Threads stores content as Comments on the Hive blockchain.
We still see a lot people say that they are afraid to make a Thread because they don't want to get downvoted / shitpost on their Hive account.
This is precisely why Threads is so powerful. We are NOT using top-level blog posts to store content on-chain.
Threads live as comments which means you can make 1 Thread per day or 1,000 Threads per day from your Hive account and nobody can tell you that you're spamming the blockchain and blog feed with shitposts.
You can post 100 pictures of your cat every day, nobody will yell at you. This is how Web2 does it and this is how we do it. Web3 is about remaking Web2 into something distributed, decentralized and beneficial to all who use it. Everything is posted on-chain without the worry of spam and nonsense.
We still see a lot of people scared to try Threads for many of these reasons. Get onto https://leofinance.io/threads and try it for yourself. Start creating content on Hive and earning rewards without making blog posts.
We've seen a signficant increase in Daily Active Users (DAUs) on Threads since our last 3 updates:
Performance & Scaling Update: improved Threads Loading speeds by a factor of 10x
My Threads: added threads to profile page
Nested replies (today): multi-fold improvement in the User Experience by making it easier to read/engage with replies to threads

About LeoFinance
LeoFinance is a blockchain-based Web3 community that builds innovative applications on the Hive, BSC, ETH and Polygon blockchains. Our flagship application: LeoFinance.io allows users and creators to engage and share content on the blockchain while earning cryptocurrency rewards.
Our mission is to put Web3 in the palm of your hands.
Twitter: https://twitter.com/FinanceLeo
Discord: https://discord.gg/E4jePHe
Whitepaper: https://whitepaper.leofinance.io
Our Hive Applications
Join Web3: https://leofinance.io/
Microblog on Hive: https://leofinance.io/threads
LeoMobile (IOS): https://testflight.apple.com/join/cskYPK1a
LeoMobile (Android): https://play.google.com/store/apps/details?id=io.leofi.mobile
Delegate HIVE POWER: Earn 16% APR, Paid Daily. Currently @ 2.8M HP
Hivestats: https://hivestats.io
LeoDex: https://leodex.io
LeoFi: https://leofi.io
BSC HBD (bHBD): https://wleo.io/hbd-bsc/
BSC HIVE (bHIVE): https://wleo.io/hive-bsc/
Earn 50%+ APR on HIVE/HBD: https://cubdefi.com/farms
Web3 & DeFi
Web3 is about more than social media. It encompasses a personal revolution in financial awareness and data ownership. We've merged the two with our Social Apps and our DeFi Apps:
CubFinance (BSC): https://cubdefi.com
PolyCUB (Polygon): https://polycub.com
Multi-Token Bridge (Bridge HIVE, HBD, LEO): https://wleo.io
Posted Using LeoFinance Beta