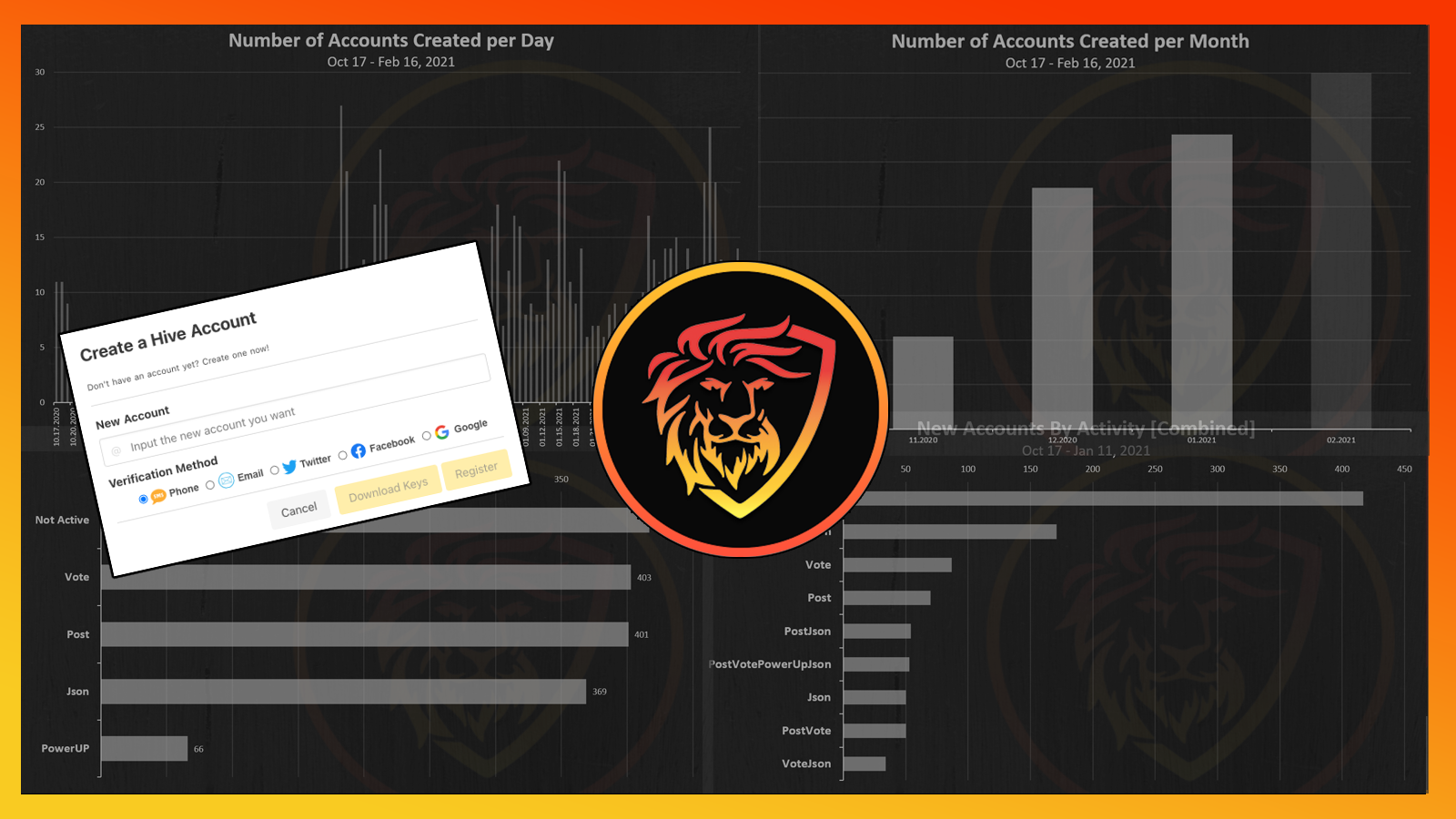 LeoInfra is our onboarding system for the Hive blockchain. Each day, new users on https://leofinance.io are creating accounts using LeoInfra's fast and easy onboarding options: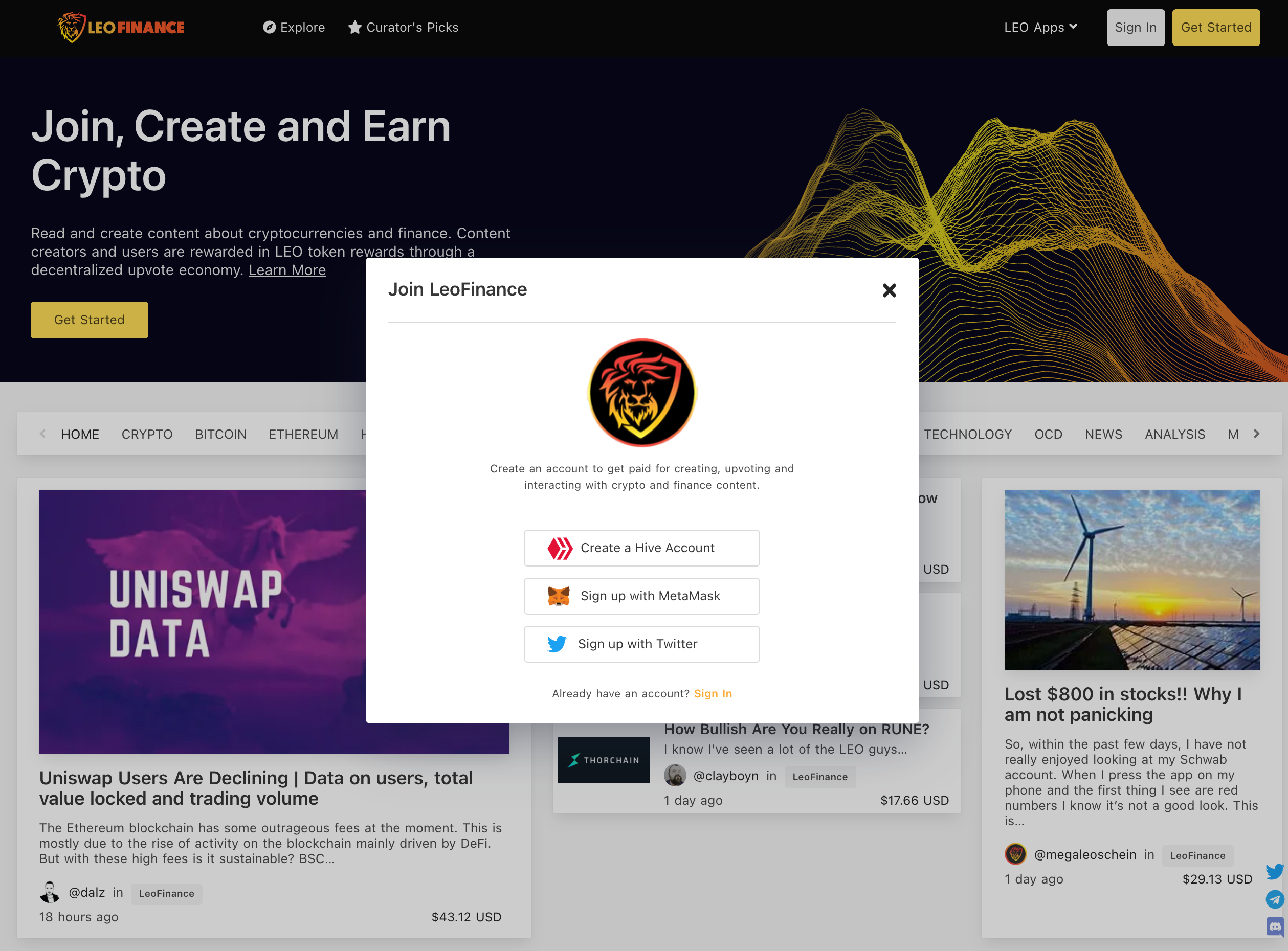 When LeoInfra V1 launched back in October, we created the first ever iteration of Hive Lite accounts using Metamask wallets. Any user with a Metamask wallet can create a Hive account in seconds on the LeoFinance UI. The reason we call these "Lite" accounts is that the Hive account is created on the backend for the user and encrypted to their ETH address - so the user doesn't need to download and store their Hive keys right away.
Instead, the user can take some time to explore LeoFinance.io. Learn more about the platform and what makes it so special on the backend. As their journey on Web3 progresses, they go to the wallet UI and can decrypt and download their Hive keys and take full ownership of the account.
The usability of Web2 meets the principles of Web3.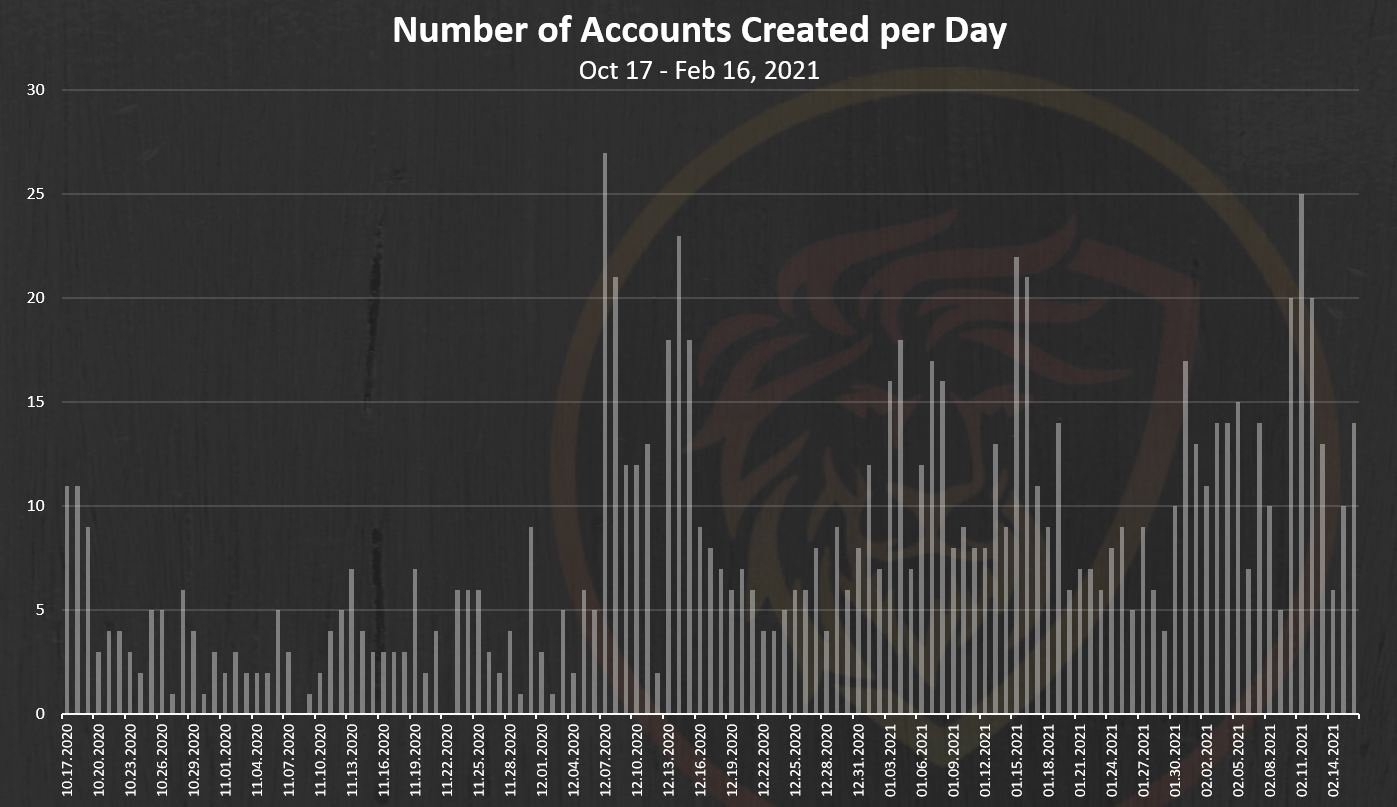 In early December, we launched LeoInfra V2 which introduced something that we took a lot of time to perfect: Twitter Lite accounts.
The vast majority of the crypto space lives on Twitter. Crypto Twitter is the preferred medium of communication for nearly this entire industry. Easy onboarding straight from Twitter into Hive Lite accounts was one of the many things on our hit list and you can see the immediate rise it brought to LeoInfra's onboarding numbers in the above chart.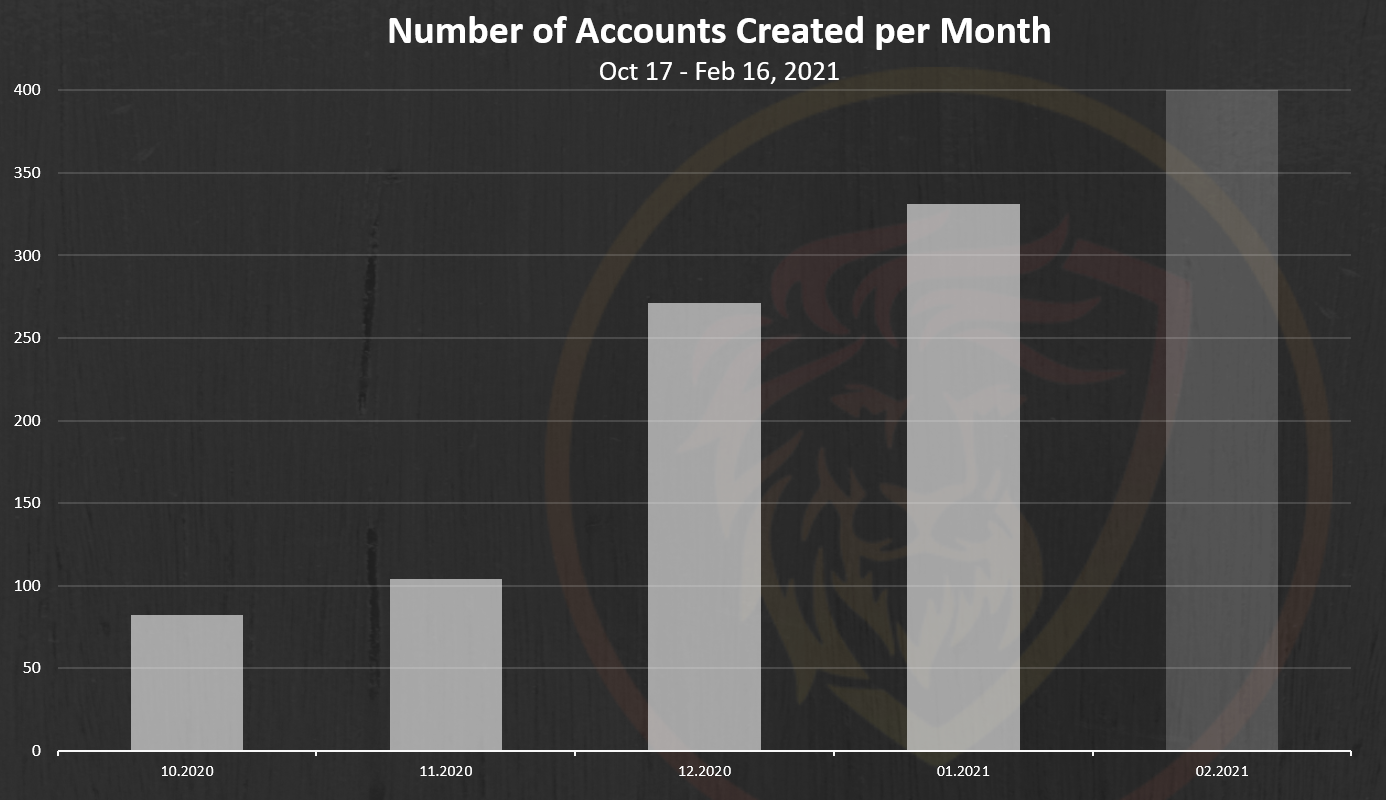 Each month, the number of new accounts getting created via LeoInfra is continually rising. February is set to be our largest month yet with a projected increase of about 20% in new accounts created (compared to January).
LeoInfra V3 is being developed and will introduce a multitude of new account creation methods:
Facebook Lite Accounts
Google Lite Accounts
Email Lite Accounts
In addition to the current SMS and Twitter verifications for a full Hive account (where the user takes custody of the keys right when they create an account), we're adding:
Facebook Verification
Google Verification
Email Verification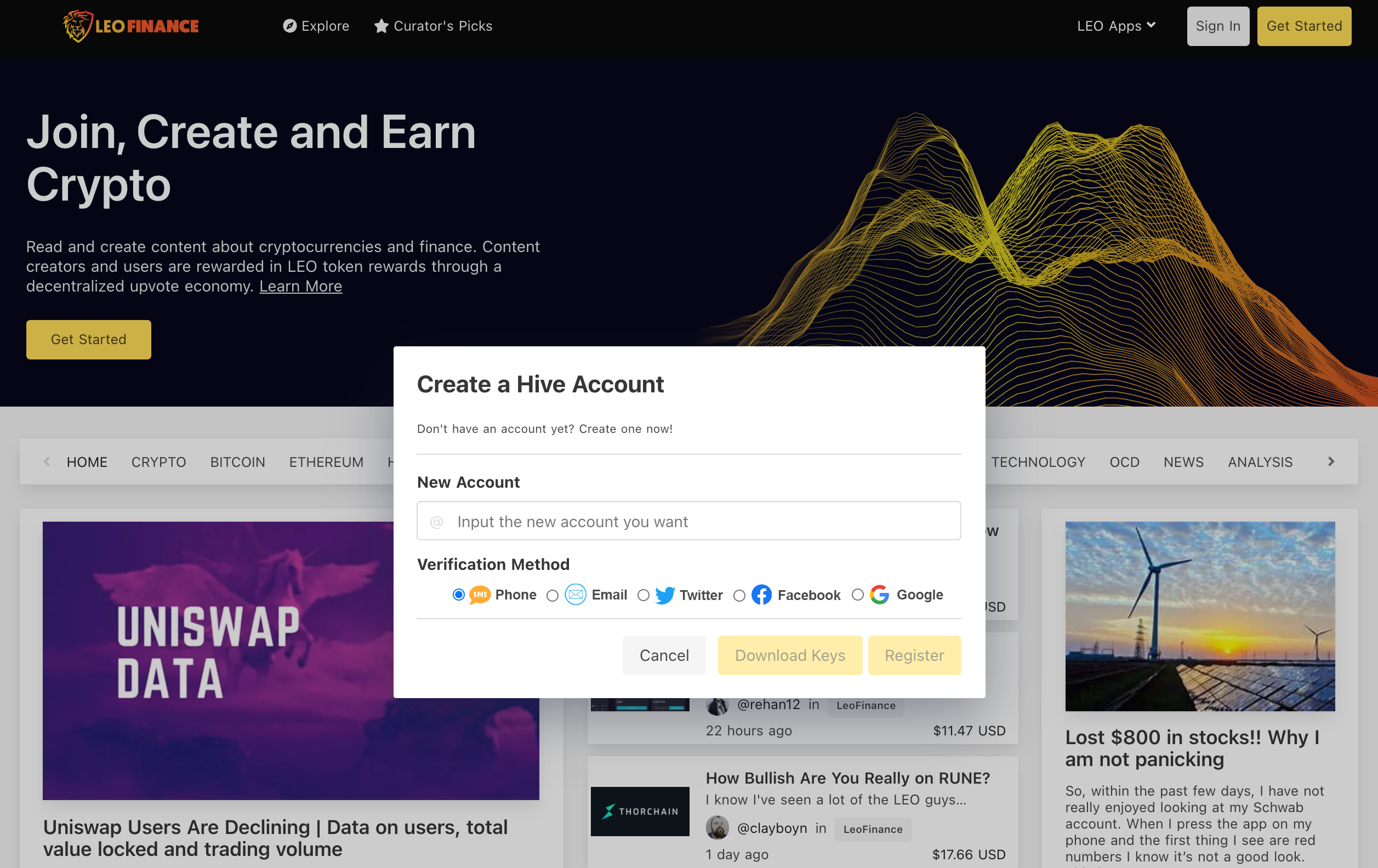 Retention Rates and Activity
Our retention rate for newly onboarded accounts is pretty astonishing. As the number of accounts we onboard increases, we may see these high retention rates decline which is the nature of onboarding. Our goal is to onboard both a high quantity of new accounts but also maintain a level of quality (measured in terms of activity).
The goal is not to onboard 10 million ghost accounts. Our aim is to onboard 1 million real people to this blockchain and LeoInfra is the path to doing so. Our focus over the coming months with new updates to LeoFinance.io will introduce more dynamics for making it easier than ever to use the site with additions like tooltips, etc.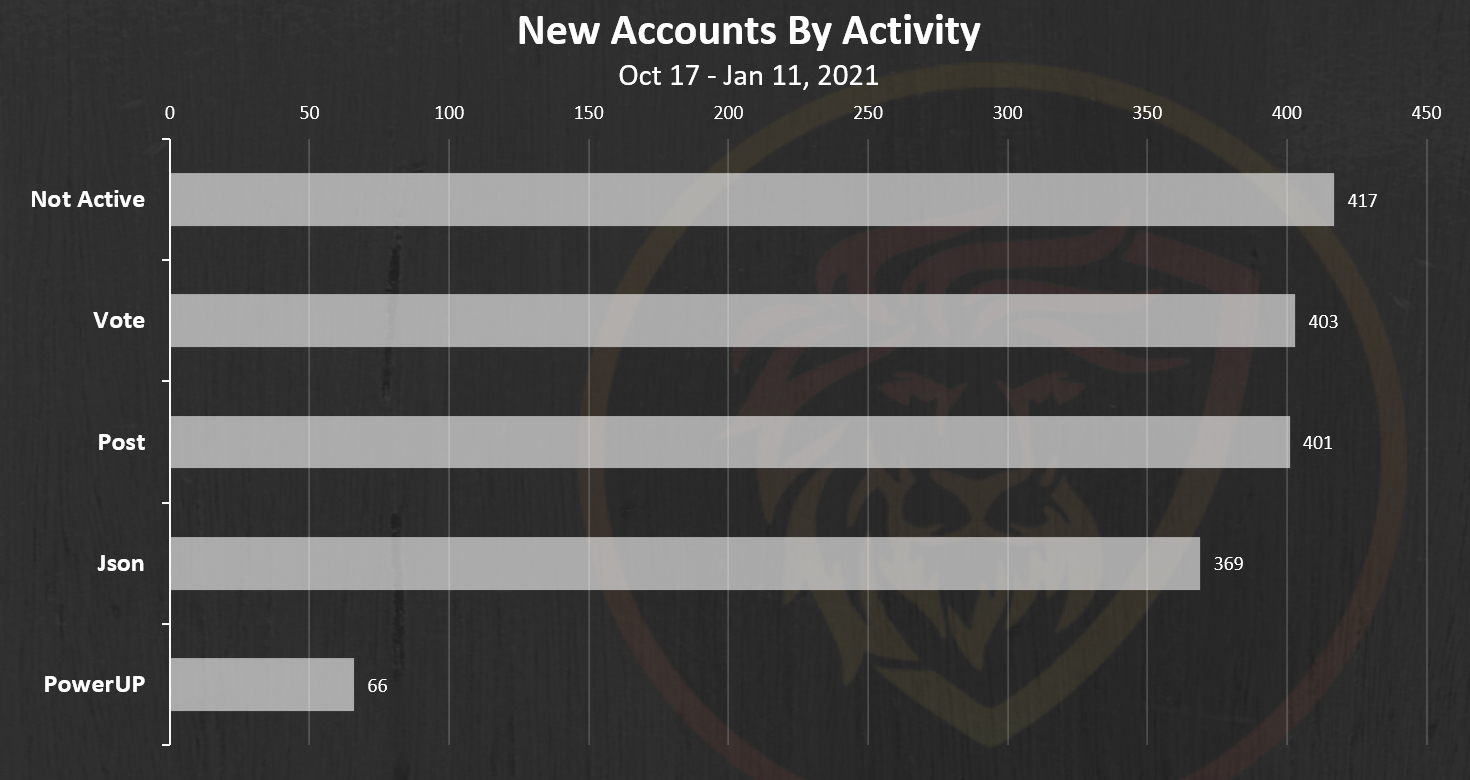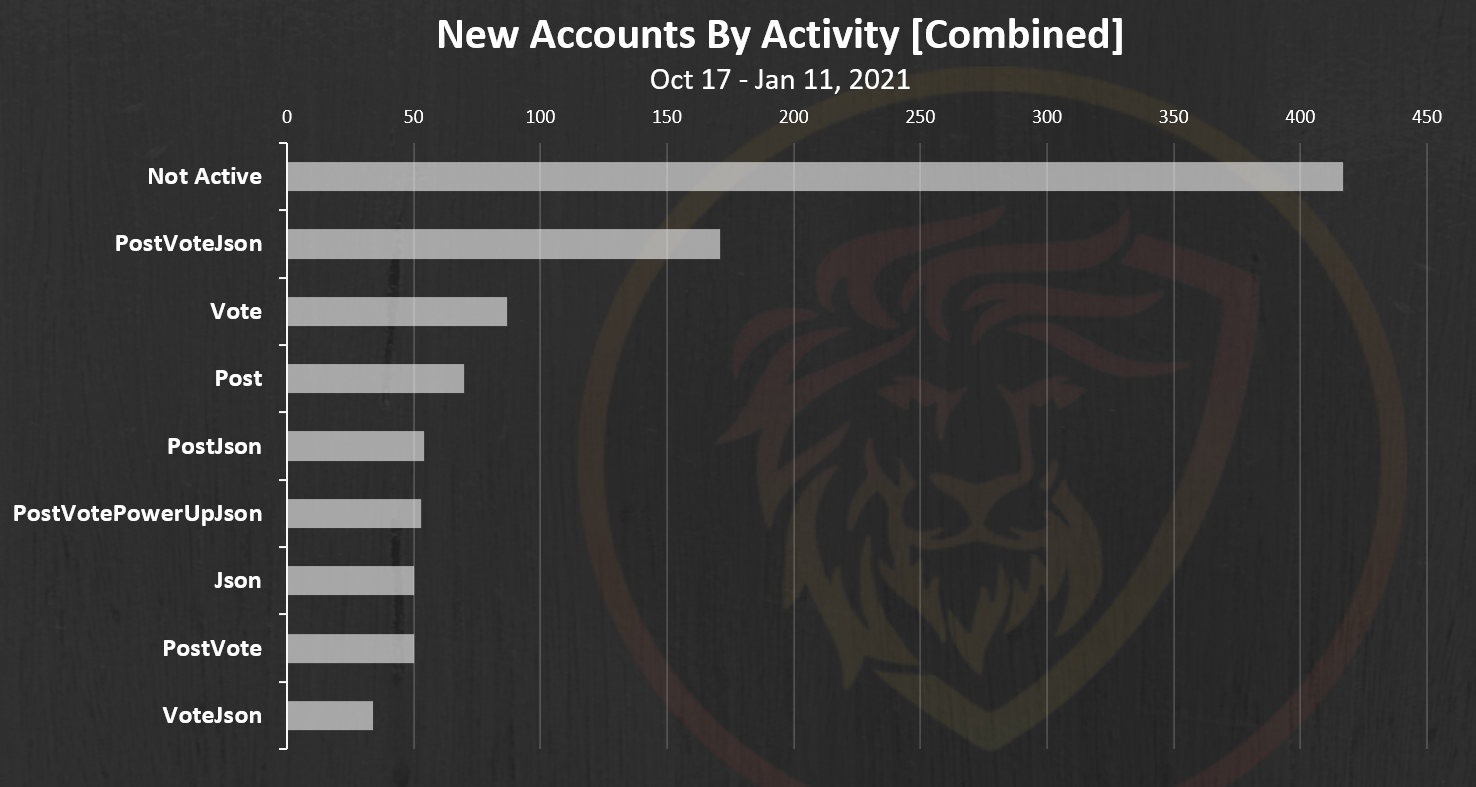 Marketing
We explored a few different marketing firms. The main one we discussed was the MarketMuse suite which would bring a number of SEO tools and content specialists onboard LeoFinance and how we operate. We've ruled out using them for now as it seems we could use our marketing spend in better areas than "SEO".
As a UGC (User-Generated Content) site, our strength is in having a wide range of high-quality content creators covering a variety of subjects.
A debate was sparked not too long ago over the meta discussions and types of content seen on LeoFinance. In order to grow, we need to have a healthy mix of meta posts and content that is about the crypto/finance industry more broadly.
If we only talk about LeoFinance on LeoFinance, then we won't attract outside attention. If we never talk about LeoFinance on LeoFinance, then we might not retain and educate newly onboarded users about our own project.
The goal is to have a healthy balance of the two and make sure that we're attracting as much outside attention as possible while servicing that attention once it is here.
In other marketing news, we're working on a variety of content-based marketing strategies (as always) with the YouTube channel, our Substack and Twitter. All 3 of these have been growing exponentially - especially the substack - and we believe they'll be a growing source of high quality crypto traffic that we can also convert into users.
#ProjectBlank will spark a new era of marketing for LeoFinance in a number of ways. We'll talk more about that as it approaches. Easy onboarding, seamless UI/UX all apply.
One of our newest projects which is set to launch in less than a week will also take marketing and onboarding to a new level. Attracting a certain crowd of DeFi users to a new application we've built and slowly educating them about LeoFinance.io and how they can talk about all their crypto activities and earn rewards for it on the blockchain.
LeoFi Updates
Speaking of LeoFi..
LeoFi has become a top priority for us and will work in a multitude of ways. We recently hired 3 different devs to work on various aspects of the LeoFi branch of LeoFinance.
The LeoFi dashboard is coming along nicely and we've discussed it a few times already. The first application of LeoFi will be a leasing app for LEO Hodlers. We'll introduce additional applications to the dashboard that allow for a wider variety of DeFi applications for LEO/WLEO/BLEO.
A 2nd dev is working on an ETH contract for the 2nd application of LeoFi, tentatively referred to as LeoFi "Lending".
More recently, we've started building a new application on the Binance Smart Chain which will not only handle bLEO but will introduce an entirely new aspect to LeoFi which will put the LeoFinance project directly in front of major DeFi users.
The contracts are being deployed to testnet as we speak, auditing companies have been contacted to check out our new contracts and the bLEO bridge is being constructed to tie it all directly into LeoFinance, the LEO token economy and wLEO as well.
We believe that DeFi is still in its infant stages. Many people wonder how long the High Yields will last (in fact, this is a common conversation on our LEO Roundtable podcasts) but yield farming is just one aspect of DeFi. The point of DeFi is that financial applications are being developed in the crypto space at a lightning pace and without the centralized middle-men, there is far more opportunity for the average investor.
This is the age of retail and we're just beginning to see these applications take shape. There will be volatility. There will be competition. That is the nature of any disruptive technology.
Frequently Asked Questions Wens
If I had a satoshi for every time someone asked Wen, I'd have more Bitcoin than Microstrategy.
Wen Geyser?
After some talk in the community, we decided to move the Geyser payouts to the 1st of every single month. Tomorrow's geyser will be a 37d payout and the March geyser will also be a 37d payout. Starting on April 1st, the geysers will always distribute on exactly the first of each month which takes all the guess work (and the Wen asking) out of the equation.
Long-term, LeoFi will introduce vaults and manual claims for LP Incentives. Sometime in 2021, we'll replace the monthly Geyser distributions with an auto-accruing claim vault. This means that you'll be going to your LeoFi dashboard to claim your LP rewards whenever you feel that they're worthy to claim as opposed to waiting for the 1st of the month.
Note: our HiveLink system will still function. This means 0 fees for claiming LP incentives for HiveLinked ETH addresses who pool liquidity in wLEO)
Wen Whitepaper?
The Whiterpaper - aptly referred to as the "Whitebook" by @nealmcspadden - is going to be released Soon™️.
The whitepaper has gotten so long that we decided to setup a standalone docs site where everyone can navigate it. This also gives me the important ability to constantly update the "docs" whitepaper whenever there is something new to add or more details of a project are becoming publicly available.
LeoFinance prides itself on moving quickly, breaking a lot of shit and adapting to the ever-changing tides of crypto. LeoFi has expanded to 3 projects being developed simultaneously as opposed to the 1 app being developed in a vacuum 2 weeks ago. The rapidly changing nature of LeoFinance means that we need a rapidly upgradeable whitepaper.
This also allows me to get the whitepaper out publicly sooner. Rather than waiting for things like #ProjectBlank to launch (since there are key details in the Whitepaper that we're not ready to share until launch), we can release the docs site now with certain pages set to private.
When those details are ready for public viewing, we can unlock them.
Wen #ProjectBlank?
Soon™️
Wen Airdrop?
Soon™️
the better question is wen airdrops?

LeoFinance is a blockchain-based social media platform for Crypto & Finance content creators. Our tokenized app allows users and creators to engage and share content on the blockchain while earning cryptocurrency rewards.
Support LeoInfra's Onboarding Efforts by Delegating HP to @leo.voter (Currently at 2.4M HP). We Use this to Claim Accounts and Delegate RCs to Newly Onboarded Users
Posted Using LeoFinance Beta