The #Play2Earn Business Never Stops
Another quite productive season in what is hands down one of the best #play2earn games in the crypto space has come to an end, and as it has been the case with pretty much every season after the implementation of the new rewards system, I was able to continue building up my account at a relatively high pace.
The truth is I had to grind hard, but I've been working from home as of late, so I was able to engage in so many ranked battles last season that my ECR is currently just above 50% and I haven't played for almost 24 hours as we speak. The worst part is I'm now more eager than ever to hit the battlefield, as I went on and purchased some new Gold Foils last night.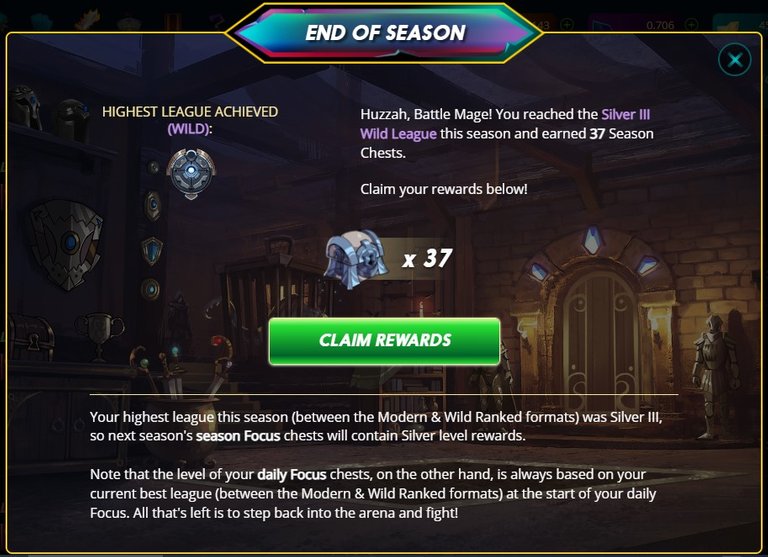 There are so many bargains on the Splinterlands #NFT market these days, that I've decided that buying up Gold Foils almost on a daily basis is what I want to do with my DEC and VOUCHER earnings from now on. Besides building my collection, I will also be looking to make the most of the rental market given the increase in Collection Power my new acquisitions bring.
Season Chests Breakdown
This time around my loot consists of Common and Rare #NFTs, as well as DEC, Potions and a few Merits. This is the first time I score Merits, and they are more than welcome since I will soon be able to purchase my first Gladius Pack with those. All Reward #NFTs will once again be stacked with the aim of maximizing my decks in the long run. One level at a time.
DEC rewards will be used to purchase more Gold Foils, and Potions, oh well, Potions will keep collecting dust in my inventory. These days I prefer to just keep packs unopened and buy any #NFTs I like directly from the market.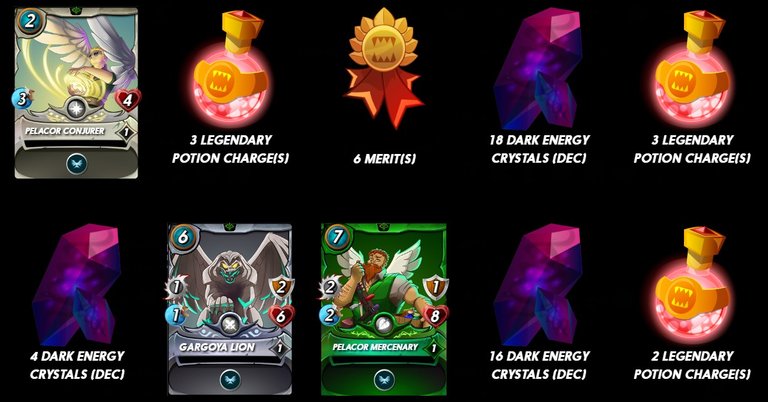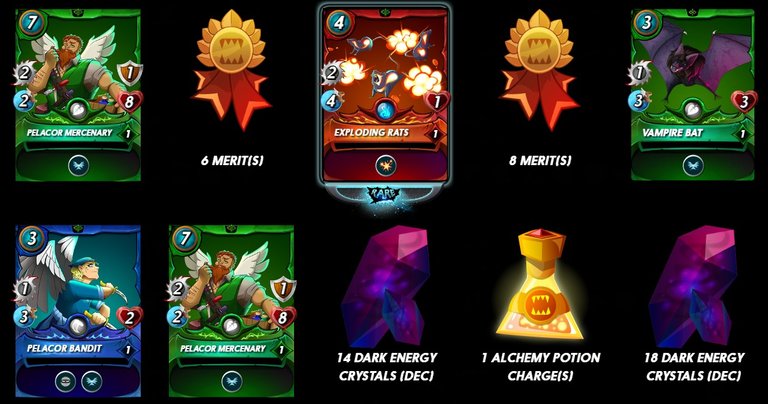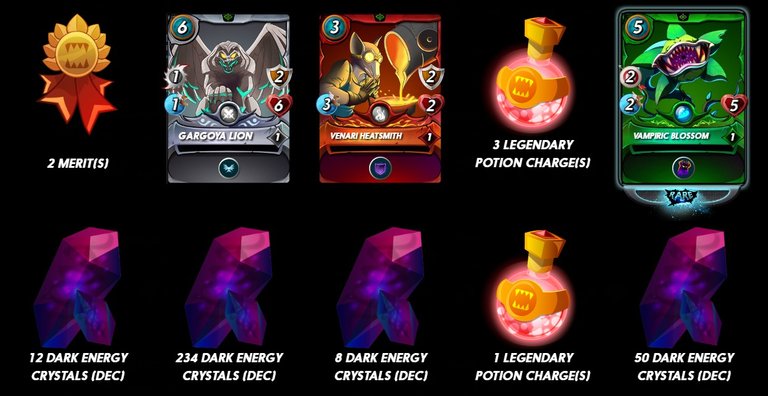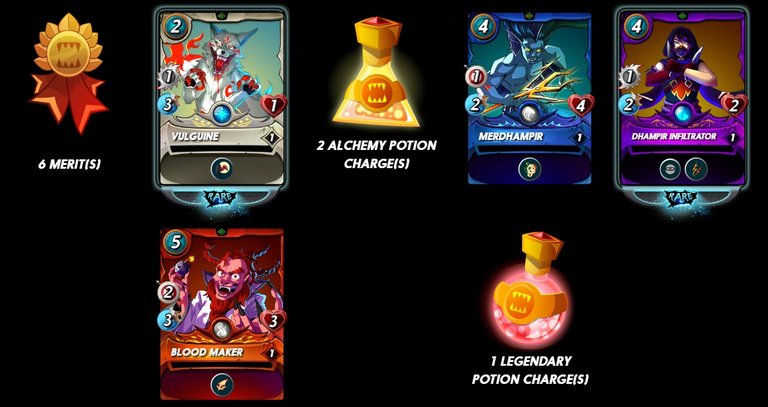 374 DEC
3 Alchemy Potions
13 Legendary Potions
11 Common NFTs
4 Rare NFTs
28 Merits
Once again, no Epic or Legendary NFTs nor Gold Foils of any sort, so I think it's safe to assume that Lady Luck didn't want to dance with me this time. Still satisfied with my loot though, as I get to keep building up my account while earning DEC, SPS and VOUCHERS passively on a daily basis.
I'm in it for the long haul, not only regarding Splinterlands but crypto in general, so it goes without saying that I'm fixed on accumulating and building during this part of the current cycle. Markets are totally cyclical in nature and I can't help but think that the new rewards system couldn't have come at a better time.
Final Thoughts
The bottom line is this was another productive season. Will be hoping for more of the same for the ongoing one, and of course adding more Gold Foils regularly, so I expect things to start to snowball quite soon. That's what I love the most about this decentralized, blockchain-based world of ours; endless options, unlimited possibilities.
---
Join the fun
Haven't tried Splinterlands yet? You can sign up using my referral link - it's mandatory! xD
Want to stay tuned with the latest developments? Follow the game's official blog on the Hive blockchain.
Looking for more info? Join the game's official discord server.
Never forget!
NFA - DYOR
I'm just a random guy with opinions.
This is by no means financial advice; just my personal thoughts and experiences. You've probably heard it before, but it can't be stressed enough: always do your own research, and never invest more than you can afford to lose.
Have a good one everyone!
@lordneroo
Posted Using LeoFinance Beta