Hello dear friends and followers, back with you all this time to analyze how are at the close of this week the price action of the major cryptocurrencies by market capitalization, in general terms remains the uptrend in the daily chart for most cryptocurrencies fact that provides some stability for investors to continue trading with more tranquility.
While reading and analyzing a price action chart in any time frame is no guarantee of determining what the next move will be, it is no less certain that reading and analyzing a chart is an extraordinary way for traders and investors to monitor the fluctuations of the price action of the cryptocurrencies of our interest.
A noteworthy fact at the close of this week is that the Bitcoin on the daily chart maintains the uptrend above $24,000, a very positive action if we take into account the pronounced setback that the cryptocurrency market has been developing since the last quarter of last year, everything seems to indicate that substantial conditions are being generated for institutional clients to decide to invest in this price area, an element that would mean a very important recovery for the health of the market.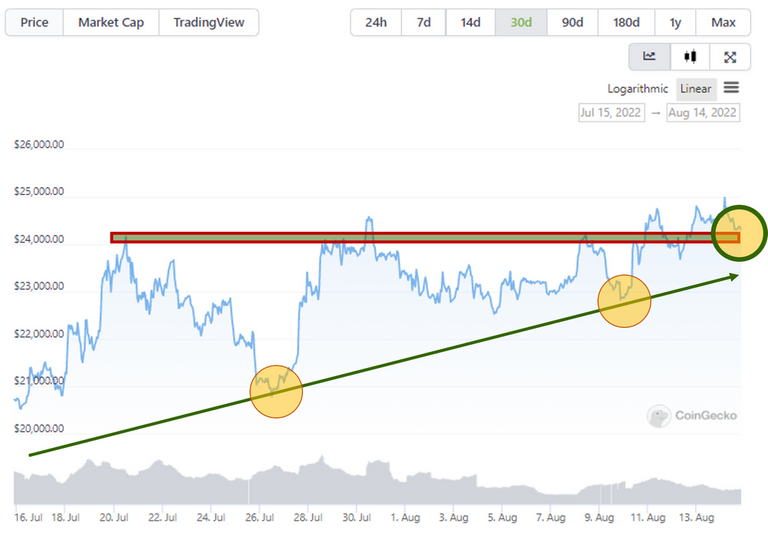 Particularly the Bitcoin has been rebounding in the last four weeks, this if we take into account that the price action shows an 18% recovery, although we are still far from its historical highs, the foreseeable optimism that is taking the cryptocurrency market can create ideal conditions for a potential change of trend in the monthly chart, which will mean starting to walk the path towards a new historical record.
With recent macroeconomic events and going forward, from my perspective there is a high probability that bearish strength is running out, so bullish times are closer than many expect.
I would like to know your own opinions on price action projections within the cryptocurrency market.

SOURCES CONSULTED
CointeleGraph.
Bitcoin hits $25K as bearish voices call BTC price 'double top.
Link

OBSERVATION: