Hello Friends,
SPS is one after token that I think is available at a highly discounted price as of now and this token has potential which we will see in the coming months. So, what is that which makes the sps token valuable 1 I had a lot of potentials? Today in this post I will be sharing about this token, and I hope you will like it. These days I'm spending some time reading something about his splinterlands and how this project is going on because this is one of the projects, I have been keeping on the to-do List for quite some time.
SPS is a governance token of the game which means we are going to get many benefits if we hold this token. The team has already announced that there will be offering many more opportunities in the future where all the sps holders will be able to earn nice returns and even many opportunities to get additional benefits with sps holding. Governments' token comes with some additional benefits and privilege so the more we hold them the more we are going to grab more benefits.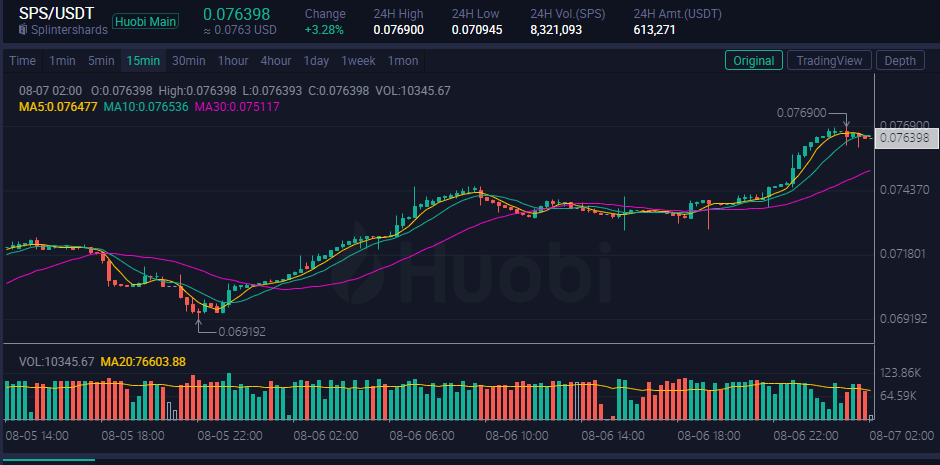 While I was checking out the historical graph after token then I figured out that it was almost at $1 last year however now is the price on the lower side which I think is a good opportunity to do some shopping with sps. We often expect deals in shopping when we go to malls and similarly in crypto also, we can get such discounts in the bear market, and I believe now is the good time as the market is already in the bearish sentiment. Everyone here wants to buy the dip and sell high, but I think with sps things are a little different because here you can buy the deep in the current period and hold the father long term so that you can earn even more on the steak and of course later on you can book the profit at the higher price.
SPS token is just one year old and within this. This token is listed on more than 10 exchanges which means we have so many options to choose from in terms of exchanges. This is good for the market liquidity in the exchange, and we need not struggle with the buy or sell order since there will be enough volume available. Some people are talking about that token will be listed in the Binance exchange but I'm not sure whether it is going to happen soon, or it may take longer but I believe if this happens then for sure sps is going to be more than $1 in no time.
This week this is listed in another leading exchange and this exchange name is Huobi. Although there has not been any big price increase after the listing, I think this is surely going to contribute to the trading volume increase and more people will be trying to buy this token since the linked benefits are nice and of course for the trading point of view also can be a good option. I have not yet registered myself in the exchange but now I will do because I will surely try to buy more tokens in the exchange as the current price is low and maybe I can sell later when the price is high. This way I will also try my way to earn some profit if possible but again I'm not so good at trading and I rarely trade because this is one of the areas where I am not good.
Because the sps token is a reliable project then I can invest some money in this and will keep on holding it for some time so that it can help me or some decent returns on my investment. I have not decided that I will be held in the exchange account, or I can also try to be part of some sps pool so that it can bring me more tokens every day and of course, that is also counted as income because it will be helping me increase my token
Keep on playing and earning with Splinterlands
Thanks a lot.
Posted Using LeoFinance Beta