Just 3 days ago, I blog about the changes that I am going to do for Rising Star, but now I am gonna to update the readers that within these 3 days, I have to change my gameplay totally.
Record Signing started way earlier
When the record signing announcement was out, it said that it will be live next week. However, just within 3 days, the record signing mission had started and I just barely do 6 to 7 Promote Fan Club which only unlock FA1 and FA2 card.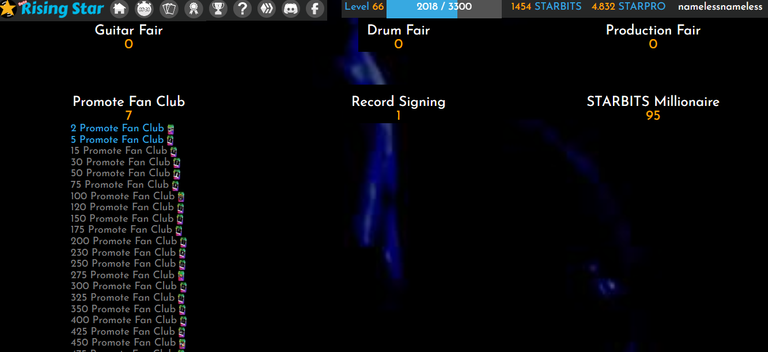 As you can see in the above picture that I have completed 1 Record Signing. This is what the 2nd mission for my record signing is.


So in order for me to get the next FA card from the mission, I need to have the FC16 card.
Let us have a look at how to get to FC16.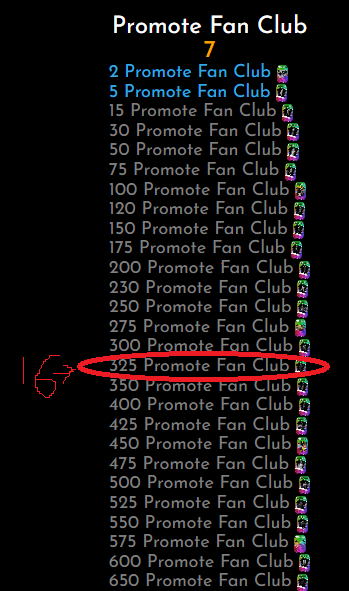 Under the Achievement of Promote Fan Club. To get FC1, you need to complete 2 promote fan club mission. To get FC2, you need to do 5 times of the mission. And counting all the way to FC16, I realise I need to do 325 times of the mission before I could get the next FA from the record signing mission. So apparently, Record Signing is not targetted at newbie friendly.
So I decided not to focus on Promote Fan Club and Record Signing anymore. I may still push myself a little for the Promote Fan Club cause FC3 is quite a good card and I am half way there. But for now, I will focus more on preparing for the Starbit Millionaire changes.
Pumping in Starbits to Speed boost
So I decide to pump in some starbits. I converted 50 hive.swap into starbits and that gimme about 240k Starbits. So what I do these 240k. Let's compare my stat before and after the pump.
3 days ago (when I blogged about RIsing Star)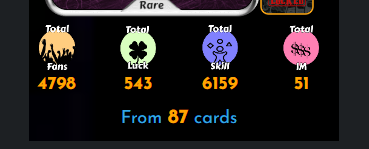 Fan: 4798 (After I buy the 12 packs for 100k Starbits)
Luck: 543
Skill: 6159
After investing 50hive,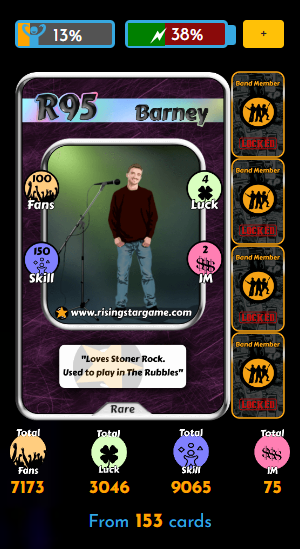 Fan: 7173
Luck: 3046
Skill: 9065
There is not much change in fans but there is a significant change in luck and skill. So what happen?
Invest in Music Lessons
As I am worried about the ego, I decide to invest in music lessons for long term benefit.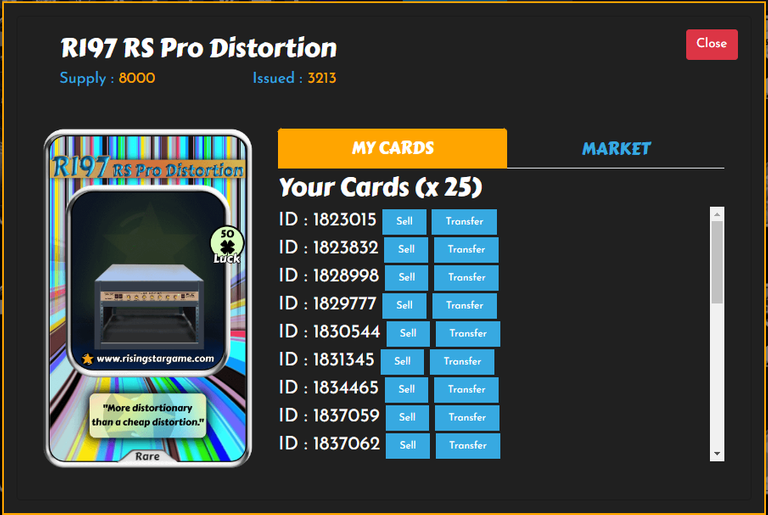 I went to buy 25 R197 cards to further boost my luck on specifically Production Lesson. At that time, the cheapest ratio of starbits to luck for instrument is guitar but production instrument is just falling behind a bit. Since I already have a stronger base in production, I will just focus on production.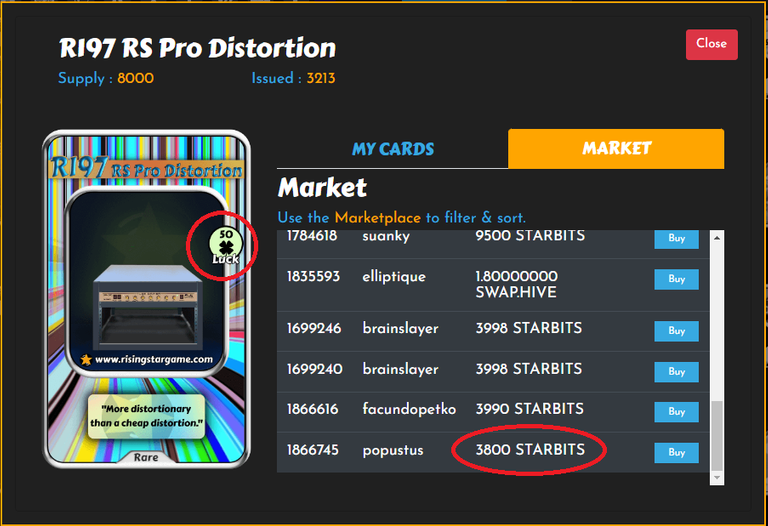 As you can see above, for just 3800 starbits, I can add 50luck to Production Lesson. I also bought more production instrument at similar ratio to pump my 500 to 3000!
What is the effect for these new luck.
Previously, my production lesson give me skill reward between 12 to 36. Let's have a look now when the luck is 3000.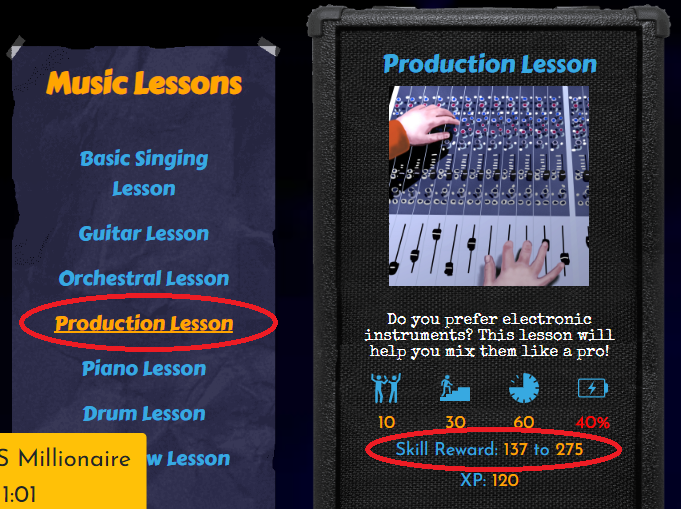 It is now giving me skill reward of 137 to 275 each lesson!
Let's take a look what I can get from the music lesson


Just from doing 8 production lessons within a day, you can see that I have roughly gain 1650 skills. So from now on, I am really focus on rising my fans as fast as possible to hit that sweet spot of 12k fan by 26 June for the change in Starbit Millionaire quest.
Buying Fan cards
I still have some spare starbits from the 240k Starbits after buying these instrument cards. So when I buy the people card to boost my fan, I still would choose cards that give me decent skill too. So this will create an overwhelming ego in the long run.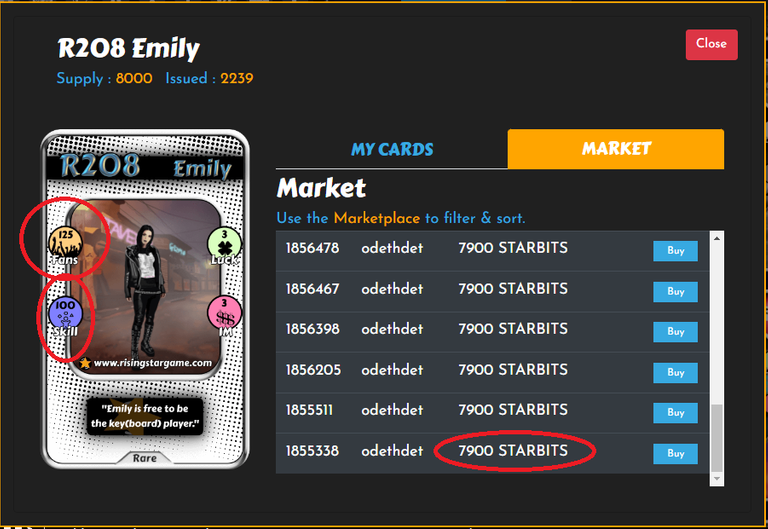 So one of the top choice I bought is R208 Emily card that can gimme 125fans for 7900 starbits. Not the best rate starbit/fan ratio, but it definitely give one of the best accompanying skills amount.
Overview for my Rising Star,
I stop focusing on Record Signing, I am still aim for certain milestone of Promote Fan club. I can still benefit from the unused starpro for the upcoming Starbit Millionaire updates.
I am now full force on rising my fan and skill counts. About 10 days to go to hit 12k. Without any more spare cash to further pump my rising star. I hope it can be self sufficient to achieve the goal.
Posted Using LeoFinance Beta