Solana Price Action
Solana had fallen from its peak price of $250+ to the current of less than $40. That is a drop of 85% from its All-Time-High price. And what is the scary part that the downward trend has no sign of stopping yet.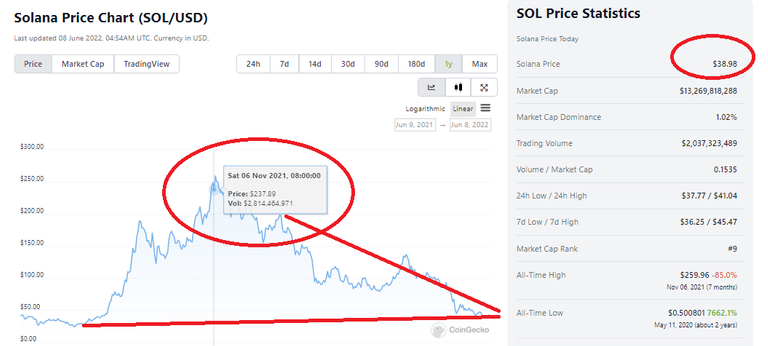 In my previous blog on Solana, I still even highlight about the key issue/problem that Solana faced.
Solana NFT Achievement
However, Solana is still growing strong. Recently, it is also able to achieve what other crypto projects that fail to do so. It's most popular NFT marketplace is to win against the legendary Eth NFT marketplace Opensea in term of its users.



In the above picture, you can see that the number of users at Magic Eden have surpassed Opensea. One of the huge advantage of Solana is about its almost feeless transaction and this made purchasing of low price NFT feasible in NFT space. It does not make sense to buy a $15 NFT where you have to pay like $20-50 of gas on Eth.
Solana NFT momentum
One thing to take note is that despite having more users, the trading volume on Magic Eden still lose to Opensea.
According to Coindesk's article, the average price of an NFT traded on Magic Eden is about $123 while on Opensea is abovet $700. You can see the huge difference in quality.
Yet, the good news is that in the last 30 days window, the number of traders for Opensea is down by 1% while Magic Eden increased by 316%. So if this momentum continues, you can see that Magic Eden will continue to achieve bigger heights.
And there are reasons to support this claim. Recently, it has shown that more Solana projects have been establishing its blue chip NFT status like Trippin' Ape Tribe, Bored Ape Yacht Club and Okay Bears with a much higher price tag as compares to its solana peers.
Solana $100mil Fund
From another Coindesk's article, riding on the wave, Solana just announced a $100mil fund to support South Korea web3 crypto companies that works on NFT, gaming, DEFI projects.
The fund is setup by Solana Ventures and Solana Foundation.
What is amazing is that the timing of this $100mil fund came just at the right time. What such promising futures for the Solana NFT markets. The recent crash of the LUNA & UST had caused a pool of available talents or projects available to be scooped up. With this fund, Solana was able to capture top talents into its ecosystem as many top competitors like Polygon and Avalanche are also fighting for the same space.
Overall
I am still bullish in Solana and will continue to accumulate some along the way. I had converted some of my USDC on solana to Solana at the price of $55 so I dont really have any spare cash left in Solana. However, I will find ways to accumulate more solana.
How about you?? Do you also hold or planning to buy more solana??
Posted Using LeoFinance Beta