Background
With the new reward system, I have started a new Splinterlands journey with an alt account starting from scratch to see how far it can progress.
Day 7 Part 1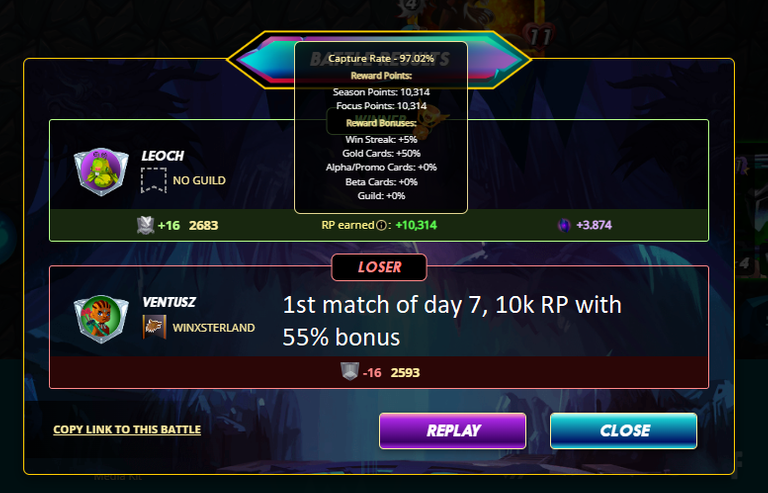 Good start to the day with the first match of day 7 with a win. The RP has been quite stable of around 9k to 10k per match if I use about 30-50% bonus.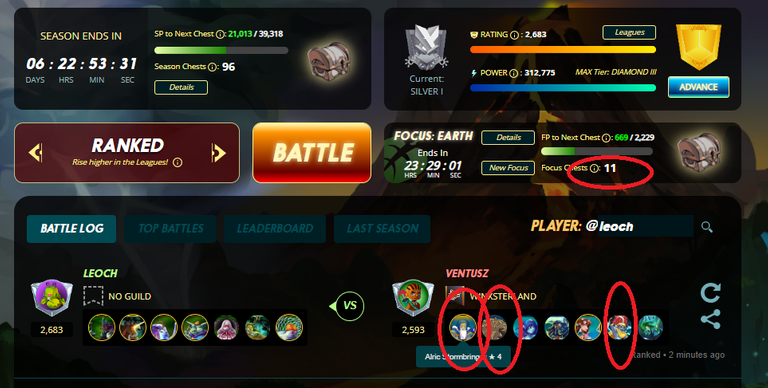 As usual, that would net me about 11 chests right off that 1st match. Do also take note that my opponents are becoming stronger and stronger. Just now my opponent has actually a gold foil lv4 alric!! And the line up is super disgusting too with powerful creeps.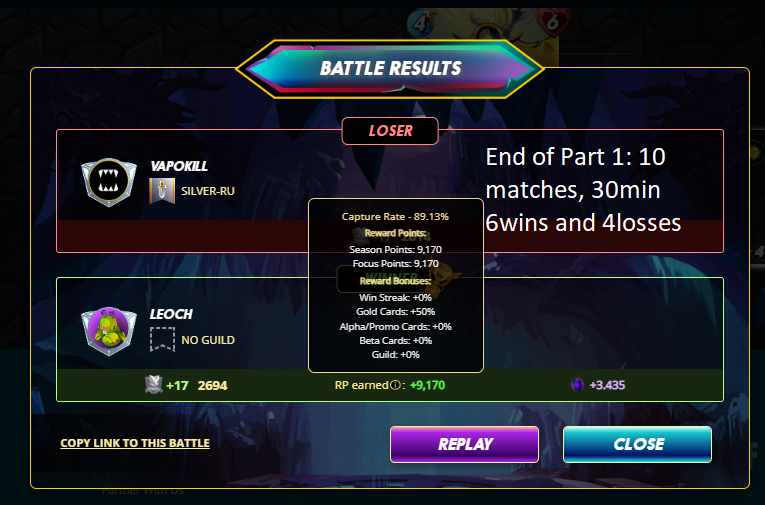 At the end of Part 1, I played a total of 10 matches within 30 min and i only managed to win 6 matches.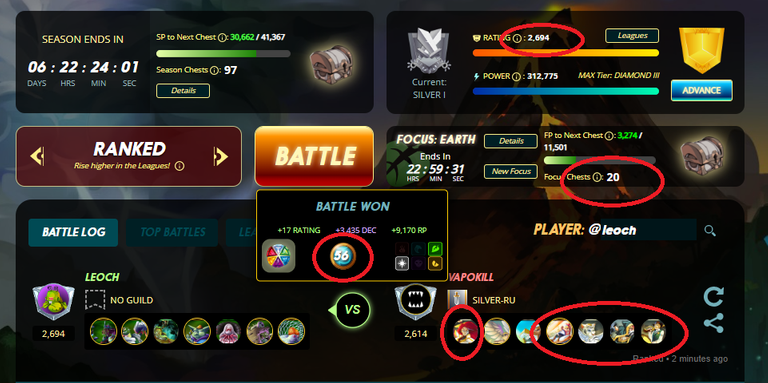 With only a 60% win rate now, I am still considered lucky to maintain my rating at around 2.6k++. I also unlock 20 bronze chest which is considered not bad with only 6 wins. I would also like to highlight that the opponents are really getting very very strong. Just look at my last match, lorna is one of the top summoner for low mana. And his lineup has powerful creeps like Uriel, Kralus, Silvershield assassin and silvershield sheriff. Lucky the combo is not threatening as lorna dont work well for high mana and he place the uriel and kralus at the backline so i dont really have a hard time in the first few rounds.
Day 7 Part 2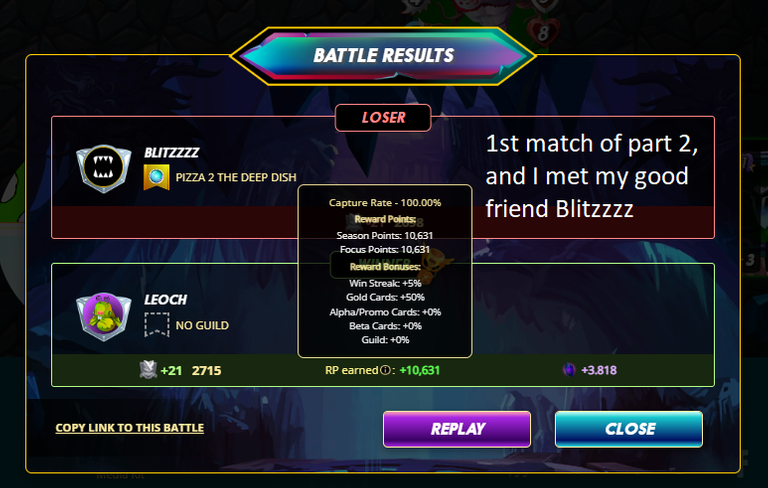 For the first match of part 2, I was matched with a very good friend which is @blitzzzz. I have to say that I am lucky to win the match because of my mycelic manage to reduce his sandworm of 5 attack to become 1 damage twice. This make the 9 mana mega worm become like just an earthworm.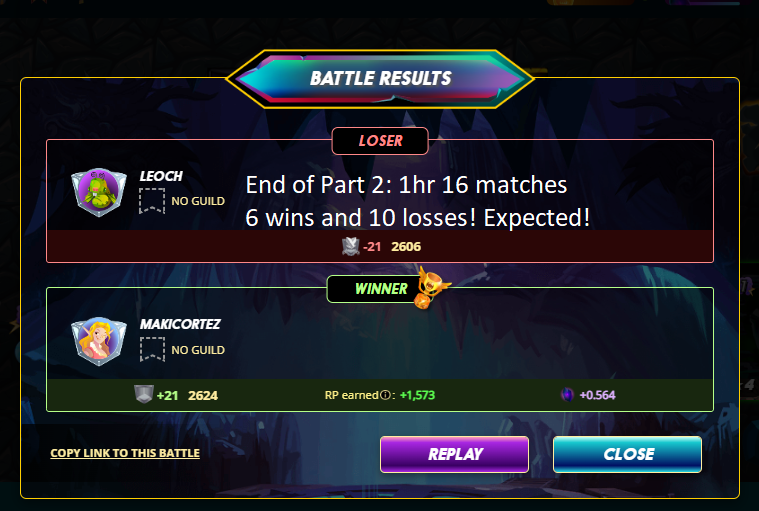 Fast forward to the end of Part 2, I took a total of 1hr to play 16 matches and I ended up losing 10 matches and only win 6 matches. Yes you heard me right, I am losing more than winning.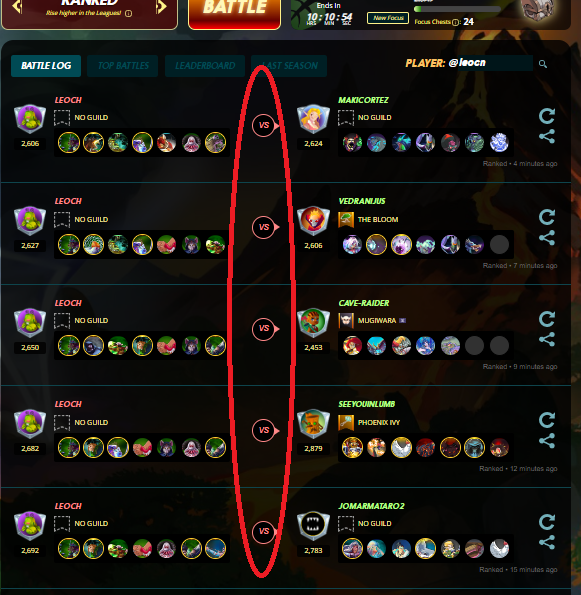 Just have a look at my string of losses with their imba summoners. They are really good players and they deserve the wins.


So in total for day 7, I played 26 matches and I only won like 12 of them and lost the other 14 matches. At the end of the day 7, my rating dropped to just the surface of 2.6k. It is considered very grateful that I still can open 24 chests and my EOS chests had grown to 99!
Day 7 Rewards

24 chests: 4 commons, 1rare, 4legendary,5alchemy, 75dec and 1 epic. Total worth is $1.38. Thanks to the epic cards, today the value almost double of yesterday.
Past Rewards
| Day | Number of Chest | Common | Rare | Legendary Potion | Alchemy Potion | DEC | Other | Link |
| --- | --- | --- | --- | --- | --- | --- | --- | --- |
| 1 | 1 | 0 | 0 | 0 | 0 | 1 | 0 | Here |
| 2 | 12 | 2 | 1 | 3 | 4 | 9 | 0 | Here |
| 3 | 23 | 3 | 0 | 2 | 4 | 157 | 2Epic | Here |
| 4 | 28 | 12 | 1 | 5 | 2 | 46 | - | Here |
| 5 | 26 | 6 | 2 | 7 | 3 | 196 | - | Here |
| 6 | 27 | 6 | 1 | 5 | 3 | 146 | 1Epic | Here |
Posted Using LeoFinance Beta