Background
With the new reward system, I have started a new Splinterlands journey with an alt account starting from scratch to see how far it can progress.
Day 5
Based on yesterday experience, I have a feeling that I will earn less chests as I will be meeting stronger players due to higher rating. As such, it will be harder to get high winning streak.
As usual, I will split the gaming for the day into 2 parts.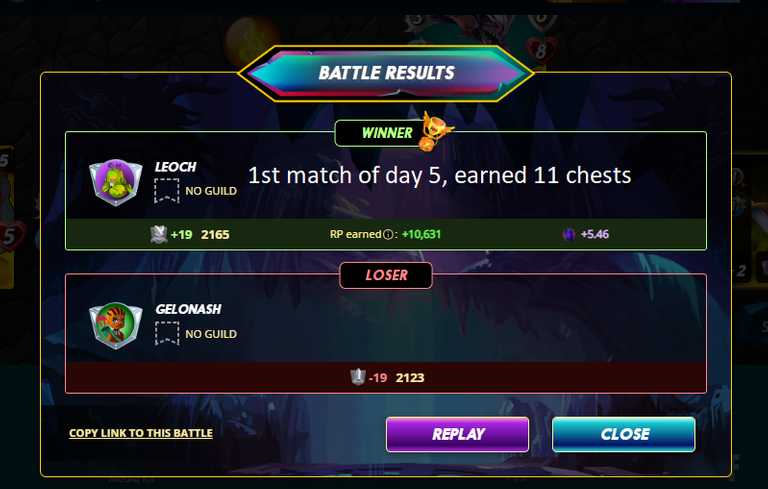 Part 1
The first match of the day 5 is a win. I can get 10k RP.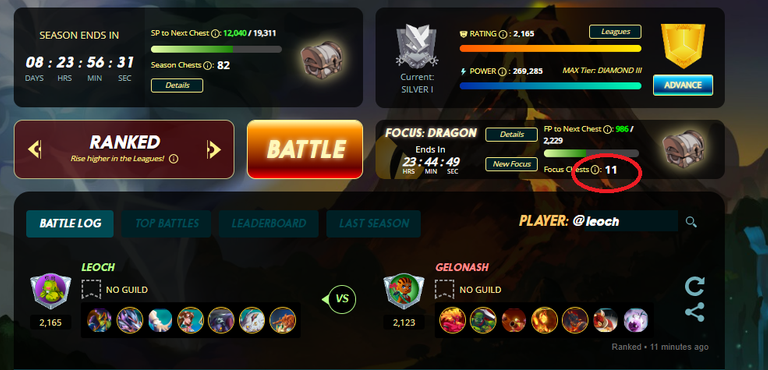 And with that, I am able to get 11 bronze chest. Juicy win! But also do take note that my opponent is getting stronger too. At the bottom part of the picture, you can even see that his team is also made up of gold foil cards!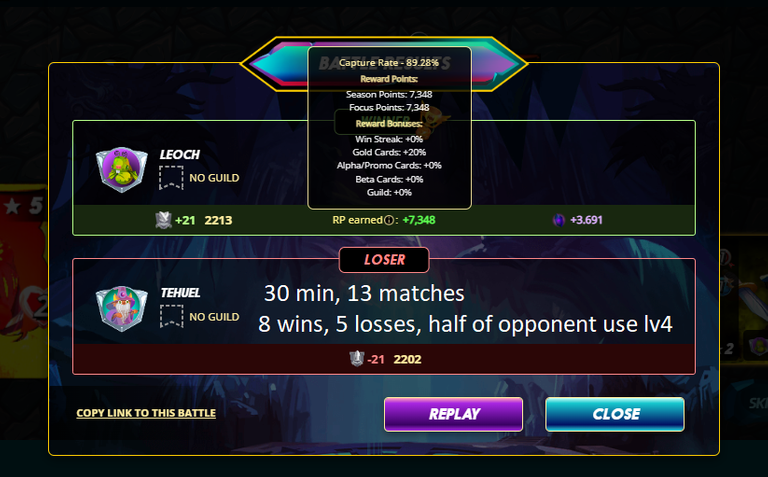 At the end of Part 1, I played a total of 13 matches within 30min. I got 8 wins and 5 losses. My RP per win dropped back down to 7.3k only. Half of the opponents that I met are using level 4. And also for my daily focus, I can only use quix which means I may have difficult in getting the ideal setup. The advantage for dragon is there but the disadvantage is also there when you only have 1 dragon summoner: quix which is defensive.


Despite the low win rate, I still manage to get 21 bronze chests from Part 1. The growth of Season chest is getting very very slow now. But at least it is still moving to 85 chests now.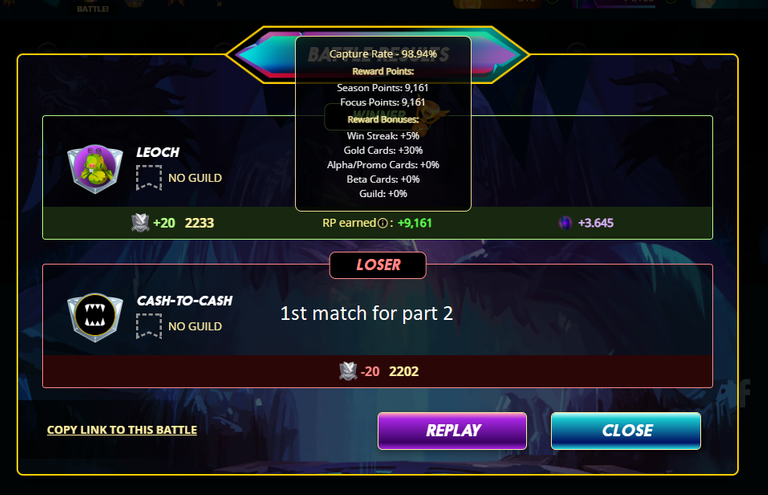 Part 2
Happy that the first match of part 2 is a win. RP is now 9k per win.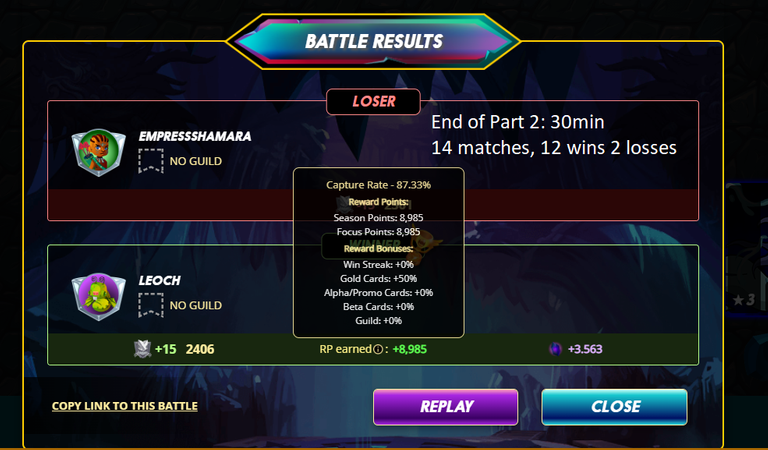 I played another 14 matches in part 2, with 12 wins and 2 losses. The 14 matches took a total of 30min. From Part 1, after realising the shortcoming of my situation, I try to play around that like choosing more leaf cause I have queen mycelic to cast protection on the whole team etc.


So I managed to get 26 daily chests for day 5 which is lower than yesterday at 28chests. My season end chests also grow to 90 which makes me very excited to open so many chests at season end. But before that, let's open our daily chest first.
Rewards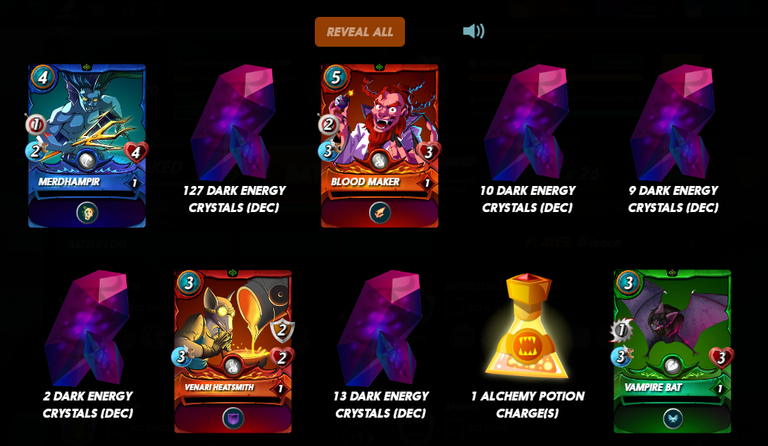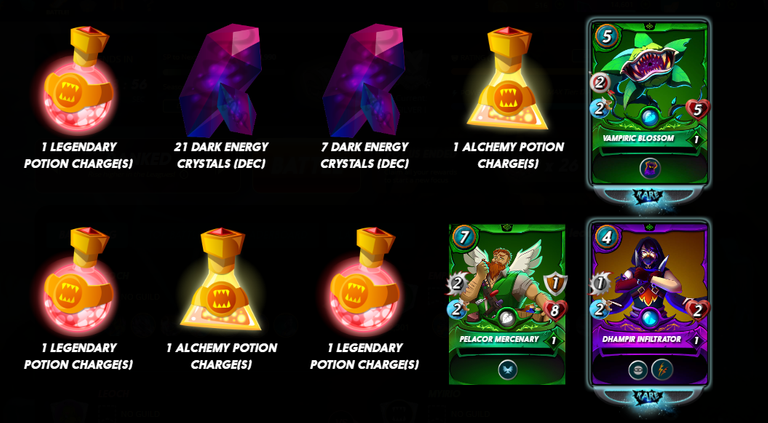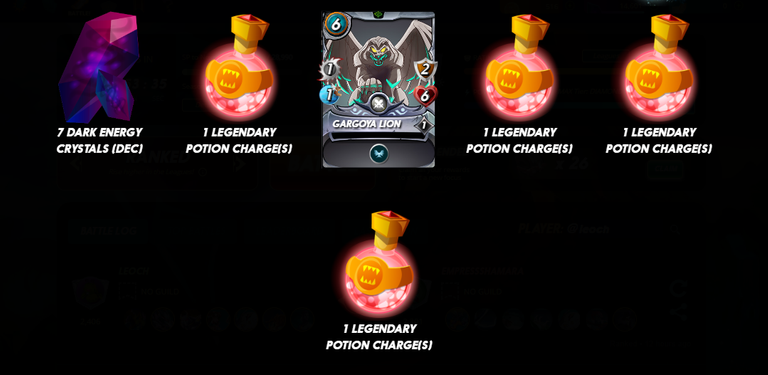 Day 5 Rewards: 26 chests for 6 common, 2 rare, 7 legendary potion, 3 alchemy potion, 196 DEC
Past Rewards
| Day | Number of Chest | Common | Rare | Legendary Potion | Alchemy Potion | DEC | Other | Link |
| --- | --- | --- | --- | --- | --- | --- | --- | --- |
| 1 | 1 | 0 | 0 | 0 | 0 | 1 | 0 | Here |
| 2 | 12 | 2 | 1 | 3 | 4 | 9 | 0 | Here |
| 3 | 23 | 3 | 0 | 2 | 4 | 157 | 2Epic | Here |
| 4 | 28 | 12 | 1 | 5 | 2 | 46 | - | Here |
Posted Using LeoFinance Beta