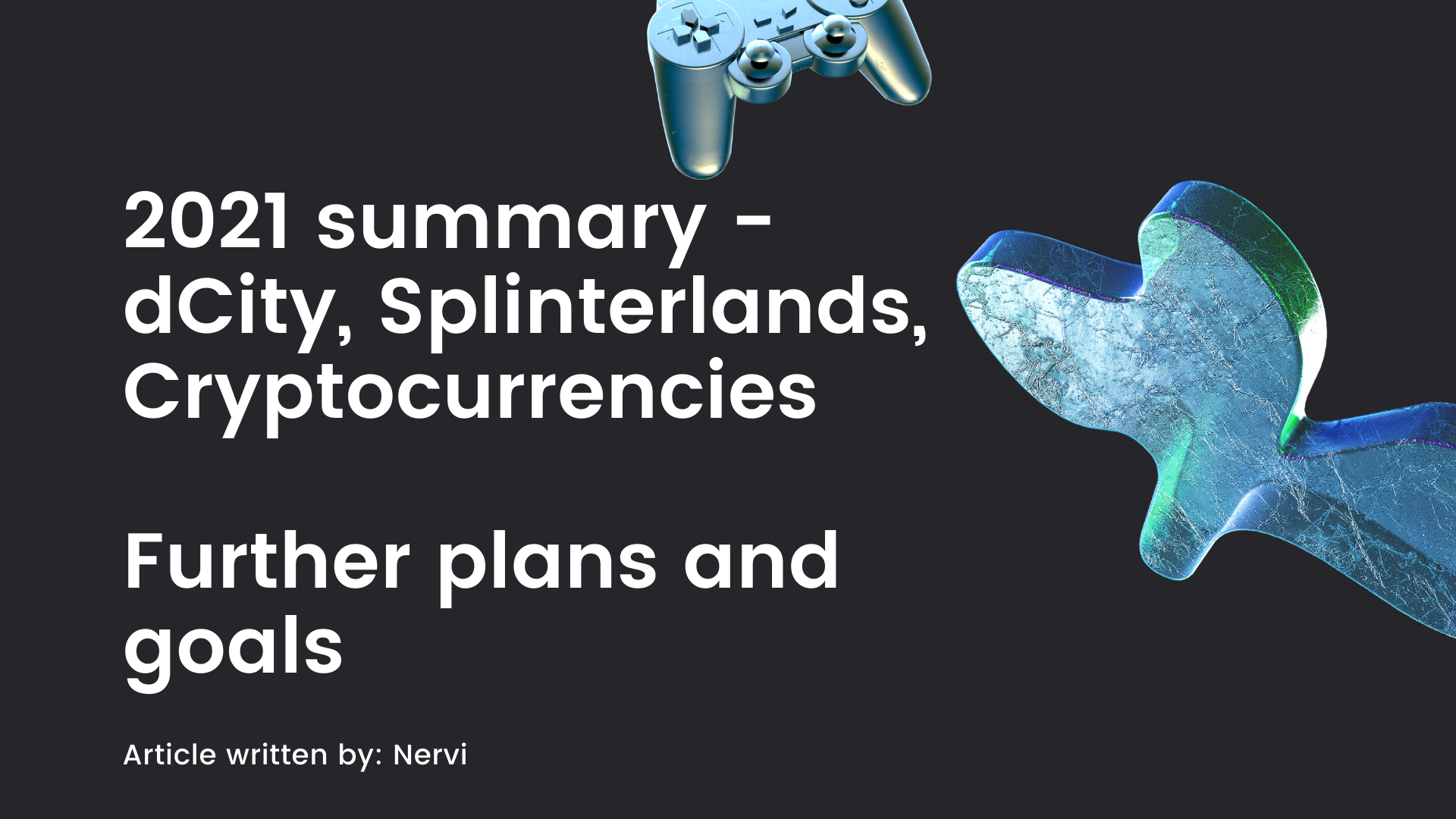 2021 was definitely an interesting year. A lot was happening in the world, and a lot was also happening in the cryptocurrency space. Bitcoin had another historical price record, the boom on NFT reached incredible levels and some projects scored increases counted in thousands of percent. How did this year look like for me? I invite you to my small summary of the year 2021.
Cryptocurrencies
This year I decided to return permanently and with a bang to cryptocurrencies. When Bitcoin was still cheaper than popular phone models I first heard about cryptocurrencies and started to look for information about this magical technology and market in my free time. For a long time I simply forgot about them, then there was a little inspiration in 2018 and again almost zero interest in cryptocurrencies in a fairly broad spectrum. 2021 was the year where I did twice as much as the last couple of years combined.
I decided that I would not be indifferent to this market because I see gigantic potential in it. Not only because it can make you a millionaire (if you don't lose money hah) but above all you can meet many people with whom you can talk and share your knowledge or passion for a project or cryptocurrency. I will repeat here such a sentence, which I heard when Hive did not exist (S***m) - you come for profits, you stay for the community. And here on Hive I like it very much.
dCity
This year was very much a gaming year for me. My first posts of 2021 were just about gaming. Even then I was still writing in a language other than English. And so here began my humble adventure with @dcitygame, which @gerber introduced me to. Since then, dCity has consumed my curiosity. Every day I manage my city, buy cards, talk on the game discord, think about strategies.
Some time later a series of tutorials appeared on my blog - Your guide to dCity. From what I saw the series was well received and I thank you very much for that. Along with it, a few other posts about dCity appeared. And there can only be more posts! Right?
Splinterlands
It's been a crazy year for Splinterlands. The popularity of the game at one point just grew exponentially. Now SL is a huge gaming community that is growing all the time. I definitely think there is still a lot of good ahead for this game.
Splinterlands also taught me about speculation and investment in a way. Something that will no longer be around can become more expensive over time. Thanks to this game I have started to analyze certain decisions around investments and I definitely move my portfolio to action more often.
With the upcoming general sale of the latest edition of Chaos Legion packs I have been buying a lot of XCHAOS tokens. This is also a milestone for me when it comes to investment or speculative themes. 2551 tokens are in my account, it will be an interesting time.
Further plans
What do I wish for myself this year? I would definitely like to spend the same amount of time (or even more) on topics related to cryptocurrencies, blockchain and the all-encompassing technology surrounding these topics. My interests fit where I currently am and I plan to grow in that regard. For sure, the next such goal will be to increase my (broadly defined and understood) cryptocurrency portfolio. I'm becoming more and more interested in diversification and financial security and this seems like a good place to do that. At least as a part of it.
If this article has interested you in any way, please leave an upvote or comment, thank you.
Thank you and until the next time, Nervi.
Posted Using LeoFinance Beta