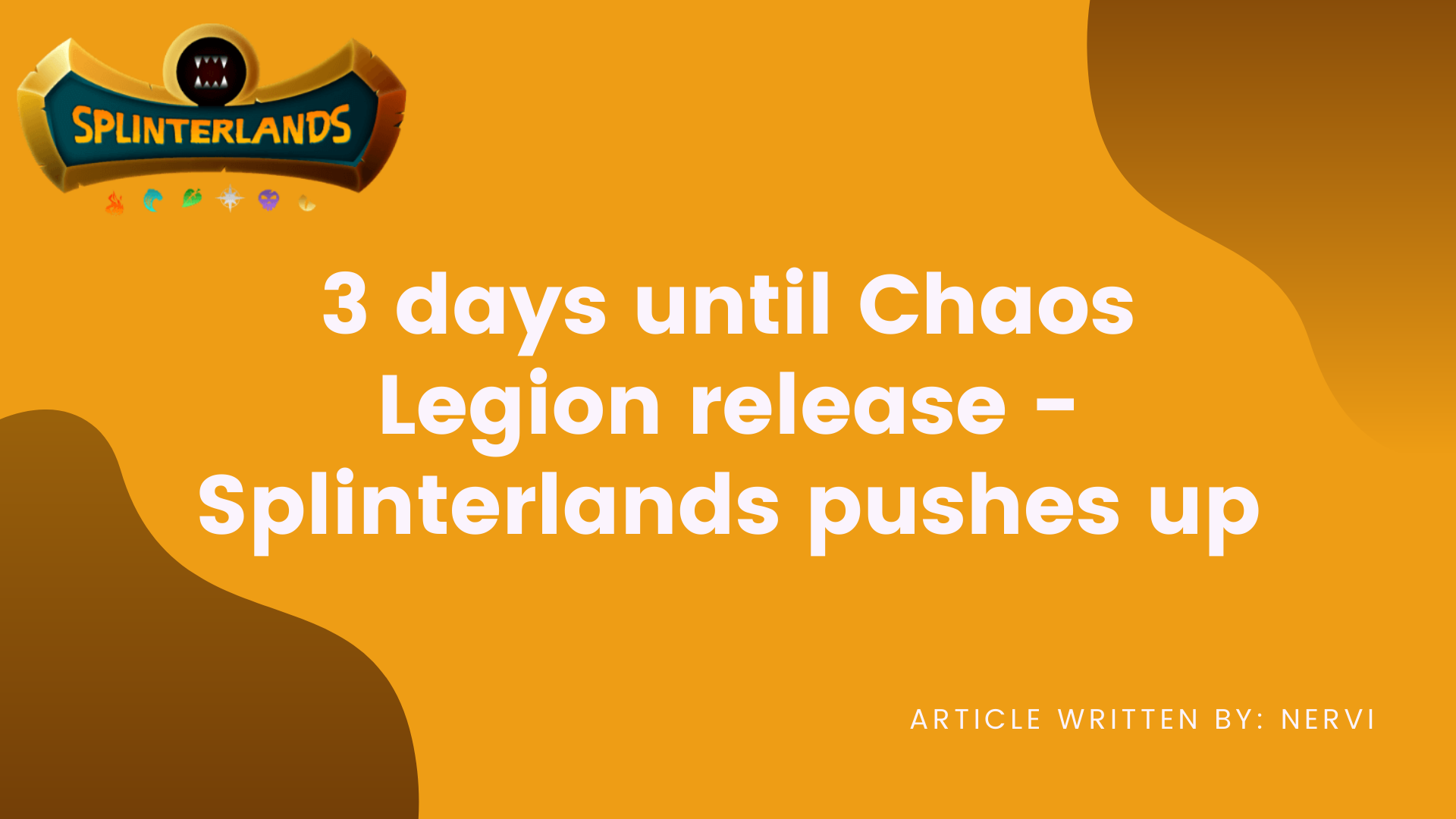 In just 3 days the new edition of packs available in Splinterlands - Chaos Legion - will be launched. Since the announcement, the amount of SPS thrown into the stake has been growing rapidly all the time, along with the price. What can we expect in a few days and what will be the image of Splinterlands in the coming weeks?

Definitely everyone was buzzing about the upcoming CL edition. After Untamed's official distribution ended, players certainly anticipated the next edition of cards and floated theories about what cards they would be and with what abilities. Now we have a foretaste of the announcement, along with the new Reward cards which are in the same artwork as Chaos Legion. We saw brand new cards and new skills such as Camouflage and Deathblow. Along with the new heroes and abilities, the approach to planning our cards will change. If there is a round where we can use the strongest cards with high attack scores then we will be unpleasantly surprised with a card that has Forcefield and then our attacks will be very weak. Theories of card planning, tactics, multitude of possibilities - all this makes every fight will look different and new CL cards only fuel these impressions.
But let's go back to this presale and Chaos Legion packs for a moment - we'll talk about the feelings a bit later. 15 million packs is already a very big number, 10 times more than it was during the Untamed edition. However, we need to take into account that times have changed and active players are no longer a few thousand, but almost 330 thousand (data taken today from PeakMonsters website). So theoretically this increase of packs by 10 times is understandable and one could ask to increase this limit. Otherwise the smaller players might not even have time to buy their first package, because they would quickly spread. And this is where the presale comes in. During the presale players will be able to buy their first CL packs before the official start by using Vouchers. I will talk about them later. One million of the 15 million packs will be placed in the presale and their cost per pack is 4 dollars. However, if you purchase the packs using SPS you will receive a 10% discount on each pack in the presale. Of course, additional packs will still be given if you buy a large number of them in one transaction.
The Voucher issue is a very important part of this presale. To get a Voucher you need to have SPS in Staking. Without this you will not receive Vouchers (the secondary market will however be open to all). To calculate the approximate number of Vouchers depending on the number of SPS you can go to Splintercards, a very useful and mega comprehensive tool from @tehox. There will also be a million Vouchers, as many packs in the presale. So here comes the speculative aspect and the real cost of buying a pack during the presale. If a Voucher is priced at $6 then the real cost of buying just one pack is $10, makes a difference right. But there is no Vouchers yet so the question to its price remains open. Of course, if you buy less or most packs you will have a chance or guarantee (depending on how many CLs you bought) for additional presale rewards. You can read more about it in the official post from @splinterlands.

The final part of this post will be dedicated to my thoughts and broad opinion on CL itself and the future of Splinterlands. First of all I will talk about the price of the pack and all the presale stuff. At the very beginning I assumed that the price of the pack will be unchanged and you won't need any SPS in stake or other presale style mechanisms. Then I wanted to invest in my opinion quite a large amount of money in these packs, now unfortunately I am forced to buy CL on the secondary market probably and to buy only a few packs in the official distribution because I seem to have quite a lot of SPS but at the moment I will receive only a few Vouchers. I was a bit agitated by this, but I understand that Splinterlands is no longer the same game it was two years ago and it took me a while to get my mind around the fact that cards I used to buy for a few cents each now cost $5 or $10 a piece.
I am, however, satisfied with the potential bonuses that will be available for presale purchases. I'll most likely stock up on a bit more SPS to get a bigger piece of the pie than with today's stock. As I talk to other people and look at the official Splinterlands discord I see mixed feelings, a lot of people don't really understand the whole presale scheme which includes staking, getting Vouchers - generally you have to read a lot of news to not get left behind.
I am, as usual, hopeful that this presale will end on a positive note and we will be together in the Hive community exchanging opinions, cards and thoughts on Splinterlands.
If this article has interested you in any way, please leave an upvote or comment, thank you.
Thank you and until the next time, Nervi.
Posted Using LeoFinance Beta