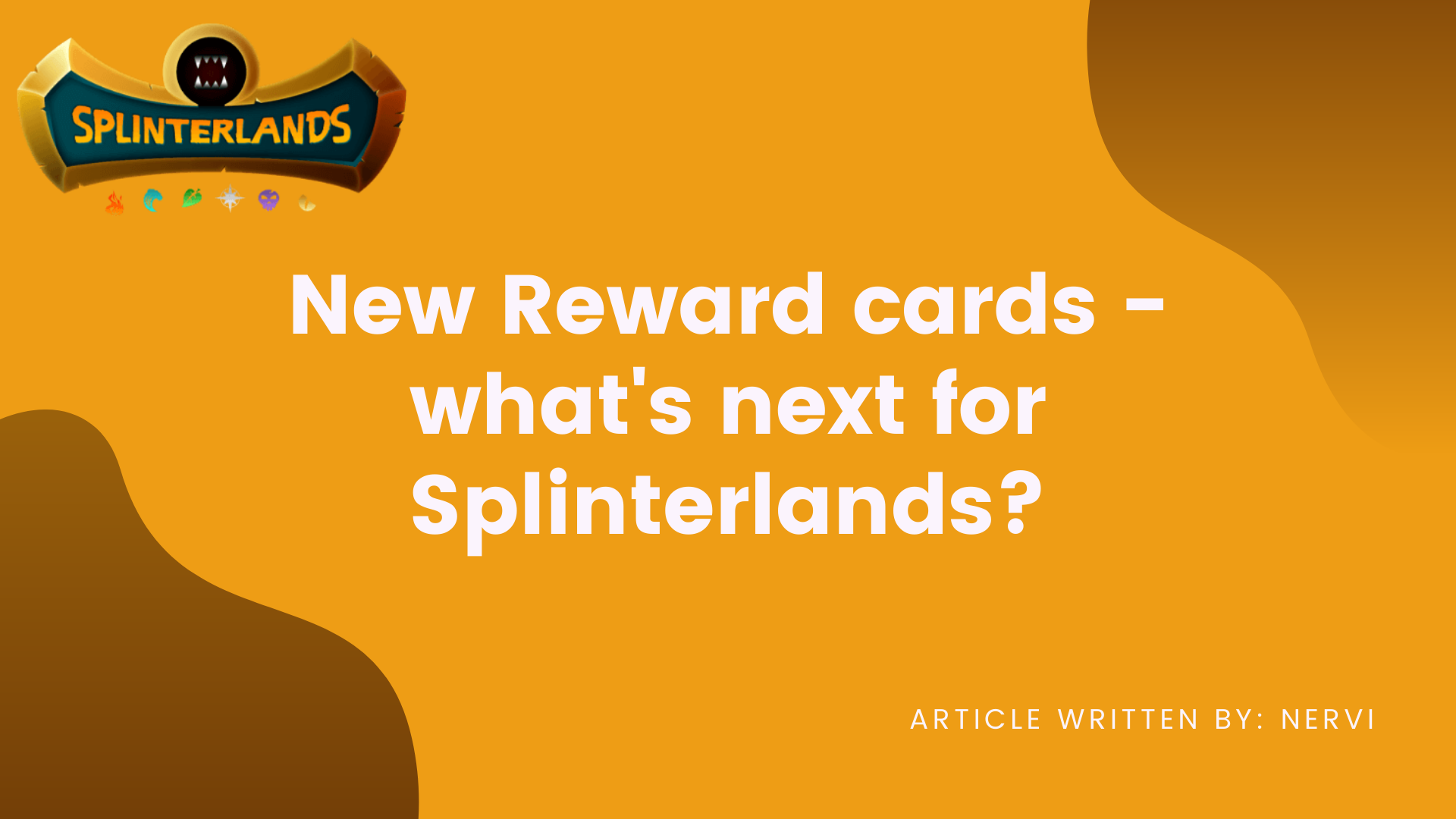 Starting this Monday, September 13, 21 new heroes will join the game in the form of brand new Reward cards. They will be set in the atmosphere of the upcoming Chaos Legion pack series. What is known about the Reward cards so far?

The Reward card breakdown was revealed in the last @splinterlands post, there will be three cards from each element and three neutrals. Of the 21 cards, 6 will be Common, 8 Rare, 4 Epic and 3 Legendary. It comes down to the fact that not every element will get its own legendary or epic card.
I really like the change in percentages for receiving cards, DEC or Potions. In two days, the prize distribution will look like this - 50% for Reward card and 25% each for DEC and Potion. And when the Chaos Legion packs officially come out we will have a 1% chance to get one! (1% will be included in the 25% chance for the Potion).
During the AMA 4 new skills were presented. They are Amplify, Forcefield, Camouflage and Deathblow. They seem to be quite powerful, we will see on which cards they will be available. If you are curious about all the details regarding the Reward cards, I refer you to the official post. There's no point in me repeating information.

I wanted to devote this part of the post to my own thoughts and opinion on the upcoming changes. In general, I have been complaining a lot that for a long time practically all my friends and I have been getting measly amounts of DEC for Daily Quests. It was often the case that I would get more DEC for winning a match than in 5 boxes combined. It was frustrating, to say the least, because you got the impression that why play to complete a Daily Quest when you know what's going to fall out - 2 Potions that nobody uses now and 25 DEC. And the time spent on the quest significantly outweighed the potential rewards. Now the pool of current Reward cards is even smaller, I'm glad new cards are finally coming out.
21 cards is a pretty cool amount, it will provide a lot of variety on the battlefield which is definitely a big plus. Likewise the amount of cards will be very large, 20 times more than the previous Reward collection. Will this be enough for the currently gigantic increase in the number of players? I don't know, I hope it will be stable though. That 50% card chance sounds really great, at least to me. As I've talked to other players they agree with me that they'd rather get a Common card than a dozen DECs a few times in a row.
All in all I have a positive feeling about the upcoming changes. I hope that there will be fewer and fewer technical breaks due to bugs and the sheer volume of players and that Splinterlands itself will grow at a high but healthy rate!
If this article has interested you in any way, please leave an upvote or comment, thank you.
Thank you and until the next time, Nervi.
Posted Using LeoFinance Beta