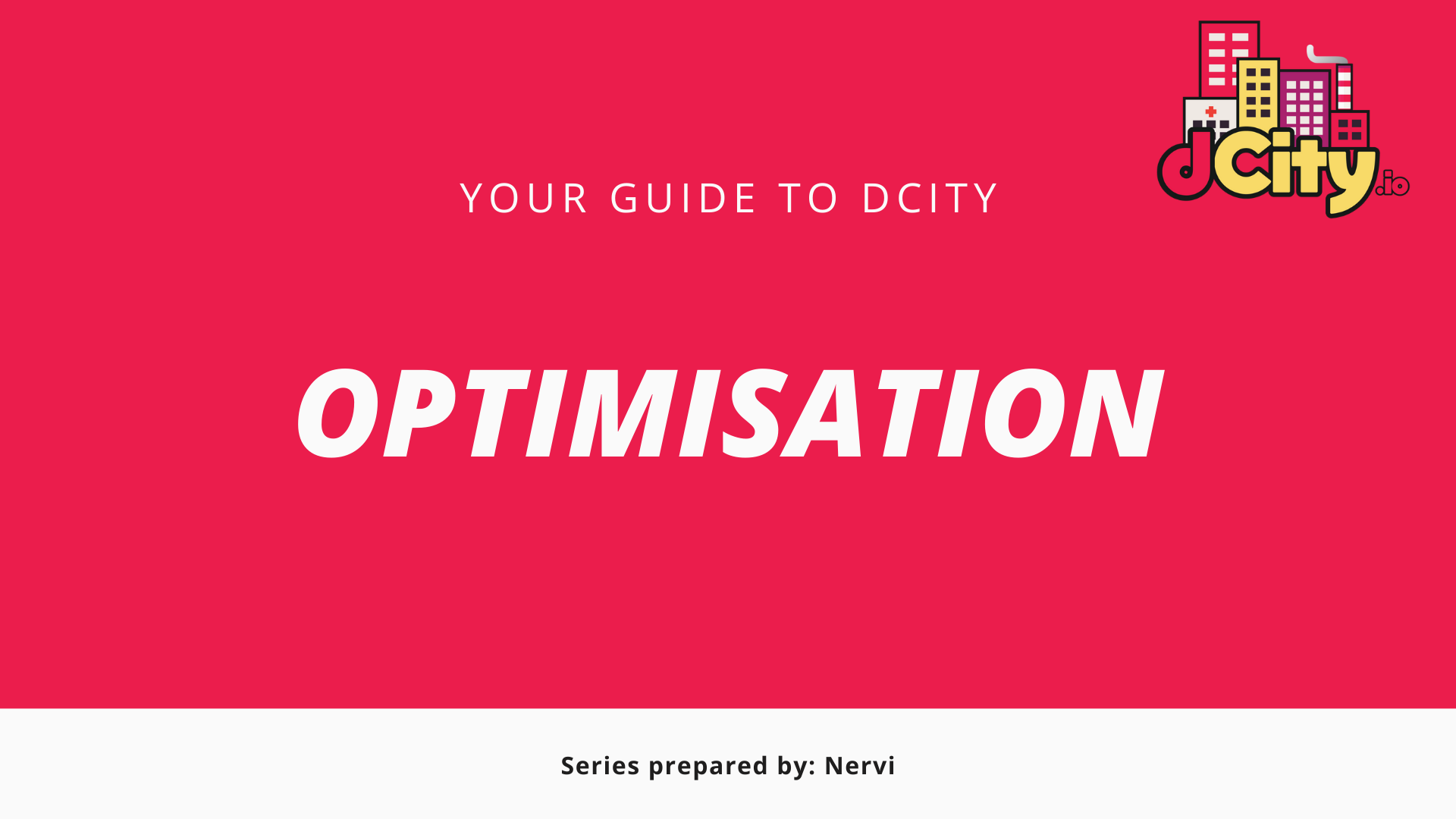 Optimisation is all around us nowadays practically everywhere. We see it in mathematics, computer programs or logistic routes. The aim of optimizing the production of some services or materials is to maximize efficiency while maintaining a relative or minimal time or financial effort. Various optimization techniques can also be applied in dCity, I invite you to the next part of the dCity guide.
Today we are going to deal with a less technical version of optimization, but nevertheless I will present you with a few buildings and methods that will help you optimize your city in the sense that you will have to spend less money or receive more daily salary.

OK let's focus first on buildings and other cards. There are quite a lot of cards in the game that give us more use than just Income, Popularity or Education. We have at our disposal over a dozen cards (mainly buildings), which provide us with additional bonuses or reduce negative effects in our city. They are divided into two categories: cards that we can stake, and cards that we can only have one of, because they don't have any additional effects. If you want your town to earn more money, instead of buying a Factory or Bank you can invest in a Law Firm building which reduces your town's taxes. An example would be my city at the moment. Currently I am forced to pay 85.0446% tax, without the Law Firm card I would pay 94.494% tax. You can see with the naked eye how useful this card is. This building is one of two cards that are non-stakable. The other is Hospital, which adds +1% to Population. I don't own this card, but it will probably come in handy at some point.
Now let's move on to the cards that can be staked. The following cards are very useful in my opinion:
Job Center - +3% training chance
WEED Farm - Produce WEED tokens
Stadium - Produce ENTRY tokens
Cinema, Gym, Police Station, Court - Decrease crime rate
Job Center I have 10 units, thanks to it with other perks I have 30.33% for training resident, without these cards I would have 0.33% so theoretically every third day a resident can turn into a Worker or Artist which is good for me because such card is more expensive than for example Immigrant. I mention WEED Farm because there is an event connected with this building, which is very cheap and increases production of WEED tokens and gives us a boost to Creativity. Stadium produces ENTRY token so for example when playing Splinterlands tournament we don't have to buy ENTRY tokens because we produce them ourselves. The other cards mentioned above reduce the crime rate so we reduce the risk of a lower SIM reward, which is helpful in the long run.
There are many more such special cards, here I have listed the basic ones that are worth having in a medium or small city.

We will now move on to optimising the spending in our city. As you probably know Market is a very frequently visited page by players on dCity. Here we sell and buy cards. Often we need a card immediately and we can't afford to put up a Bid and wait for someone to sell us a card at a lower price. In such situations it is worth seeing what currency we can pay in, often the difference in exchange rate will be our friend. Take a look at the example below:

We have purchased a building but we need an Worker for it. Instead of automatically buying a card for the SIM it is worth looking at other tokens because it may turn out that with a little effort we will be able to buy a card several or tens of percent cheaper, in this case as much as 51%. When I need to buy such cards that I need immediately I often monitor the market for a while and check what is most profitable. This method allows me to save tens or sometimes hundreds of SIMs with a single purchase. And the more SIMs we have the more we earn from Holding rewards, remember!

I hope you've learned about new mechanics in dCity today and new ways to save some SIM or even increase your city's turnover. If there's any topic I should cover please write about it in the comments below the post. See you in the next part of the dCity guide!
If this article has interested you in any way, please leave an upvote or comment, thank you.
Thank you and until the next time, Nervi.
Posted Using LeoFinance Beta