OFFICIAL TWITTER BANNER OF FOXYFAM.IO. PROPERTY OF FOXYFAM.IO OFFICIAL TWITTER PAGE

The metaverse world continues to explore and expand the diversity of the field. Slowly making and setting its impact higher than usual, creating prominent projects to help grow the digitalized world, to aid the demands of selfishness and corruption present in the physical world.
Existing NFT games, or commonly known as the play-to-earn platforms, have shed light on less-performing countries, giving them the capacity to combat day-to-day life requirements through the game's earnings. As the world slowly adapting to the change, the rise of play-to-earn project expansions has evolved. Today, the increase in foxyfam.io is gradually making progress into the Blockchain.
To own a foxyfamNFT is to play. To play is to become part of the pioneering individuals entering the brand new world, to brand new possibilities—the pathway to more innovative Blockchain gaming.
Up-to-date, FoxyFam.io does not offer a play-to-earnings mechanism but offers holders an avenue to see their avatar NFT into a 3D scale model playing the game.
THE GAME
FoxyFam.io is still in its beta game, and the web version will be launched soon on windows, allowing Foxy holders to access this. The game situates in a forest, wherein Foxy- the main avatar of the FoxyFam.io NFT is lost in the caves chasing the butterflies. The game works in a run-based style, collecting the butterflies and dodging the obstacles that come in the way. The avatar speed up is allowing it more exciting for the users. Kind of, the Foxy gathers points while running and collecting the butterflies. The game is addicting and makes you want to do better, taking first place in the server's home.
THE FOXY NFT
Each minting transaction of the NFT costs 0. 03 ETH or around USD 105$, and opens up to 20 per transaction.
Minting- turning the digital art becomes a part of the Ethereum Blockchain-a public ledger that is unchangeable and tamper-proof.
The floor price-the lowest price at which products are sold is at 0.0144 or USD 507$. The number of current holders or owners of the NFT is 1445.
THE CHARITY
Like other NFTs, FoxyFam.io aspires to support an organization that helps the environment achieve equilibrium is needed in this modern world. This project supports Save a Fox; it is an organization situated in Minnesota that rescues foxes from many different situations, including other fur animals. This movement enables fur animals to find a safe place to stay and achieve healthy living.
NFT will continue to break through and earn its value in the Blockchain. NFT will continue to offer differences from other NFTs and open possibilities for more.
As for now, this is not financial advice. Do Your Own Research.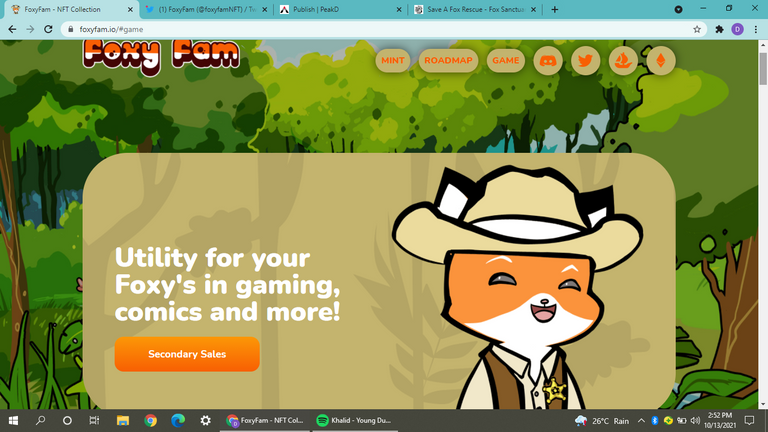 FoxyFam.io
https://www.foxyfam.io/#game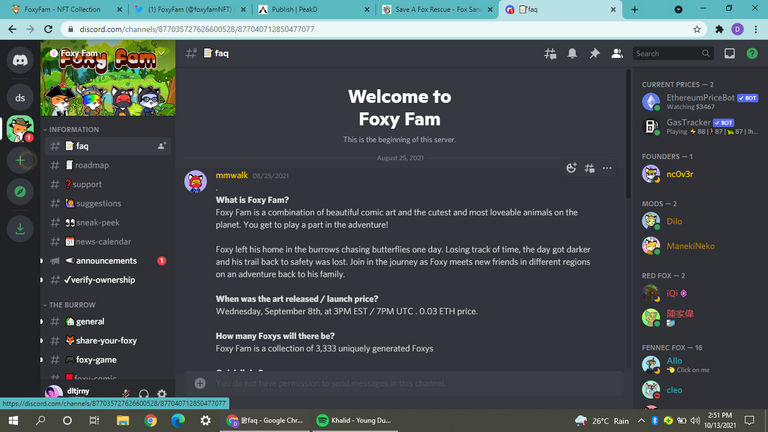 Discord
https://discord.com/channels/877035727626600528/892242449634824212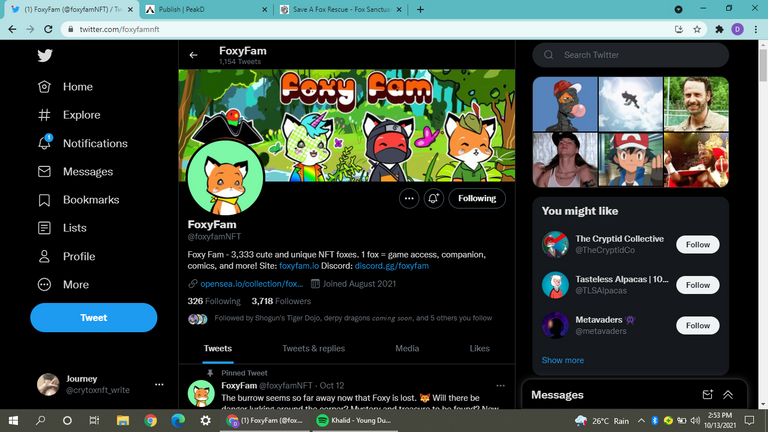 Twitter
https://twitter.com/foxyfamnft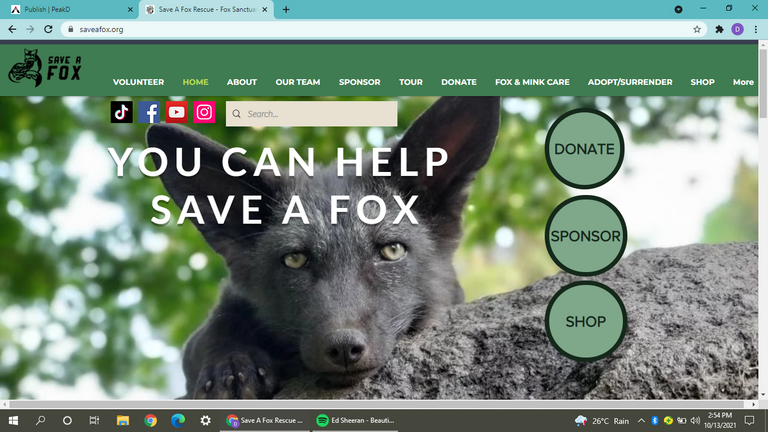 Charity (Save A Fox)
https://www.saveafox.org/