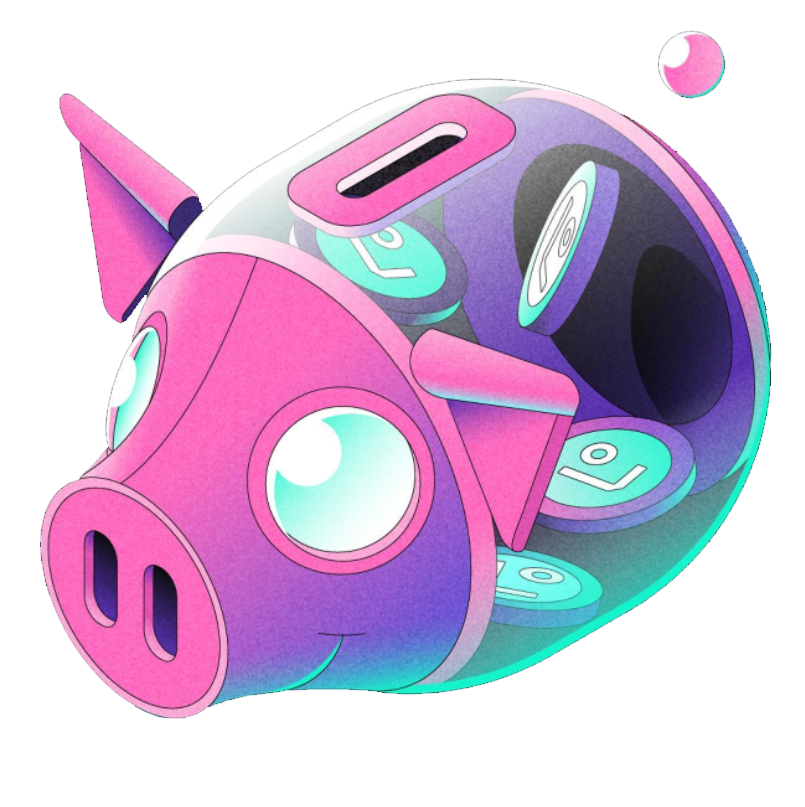 LunarCrush, a social intelligence platform for crypto investors has added a new in app feature called LunrFi. The feature enables users to stake their utility token called LUNR for high APR rewards.
Quick Overview Of LunarCrush
In cryptocurrency investing, fundamental & technical analysis is not enough to make investment decisions. Sentiment analysis also plays a big role where the value of a crypto can also be factored in what other investors say in social media.
This is where LunarCrush comes in handy. The platform helps it's users by analyzing crypto related data across different social platforms, evaluates them through their machine learning algorithms and broadcast the findings in the app. This helps crypto investors by saving them a lot of time doing research and taking out spam or useless posts.
In addition, LunarCrush also has additional features such as,
Portfolio Tracker - Track your crypto easily and set alarms on when your crypto holdings goes up or down

Watchlist

News Aggregator - Compiles news sources from known publishers across the web

Feeds - Compiled latest social posts on any crypto of your choosing

Influencers - List of top crypto influencers ranked based on different factors

Insights

LunrFi (New) - DeFi protocol where users can stake LUNR tokens for high APR rewards.
The LUNR Token
LUNR token is the utility token of LunarCrush. Built on the Zilliqa blockchain and interoperable with blockchain networks Ethereum, Binance Smart Chain (BSC), and others in the future with a total/ max supply of 250,000,000.
The LUNR token is given for free to LunarCrush users based on the contribution they have given to the platform.
The daily distribution is based on points earned within the day. Points are given 3 ways, daily login (5 points), time spent in app (1 point per minute with max of 60 minutes), and opinions given (max 30).
LUNR is distributed daily based on individual performance in the app and user lvl, and weekly based on amount of LUNR held in your wallet. So the more LUNR you hodl in your wallet the more LUNR you can get in the weekly bonuses.

Also, more LUNR is given based on your profile strength and your current level. Profile strength is simply connecting your social accounts (not fake or dummy accounts), web3 wallets and level and other simple requirements. Your level is based on the amount of LUNR held in your wallet. The level system is the premium membership of LunarCrush, the more LUNR you hodl, the higher your level and more metrics, features is accessible plus more weekly bonuses is given.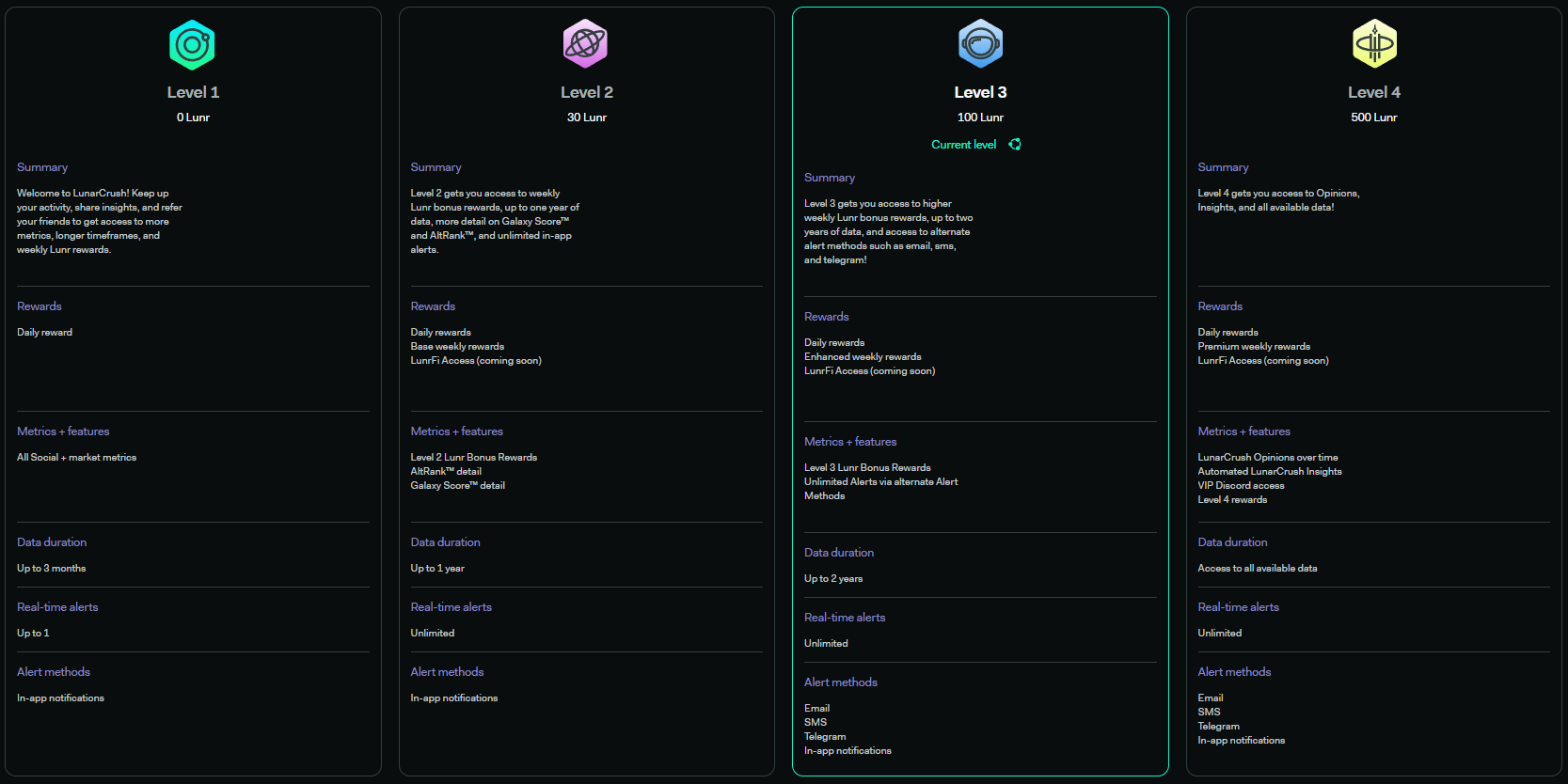 To start earning LUNR tokens all you need is to signup at LunarCrush, simply provide your email address. To increase your profile strength for higher rewards simply do the tasks listed on the profile tab.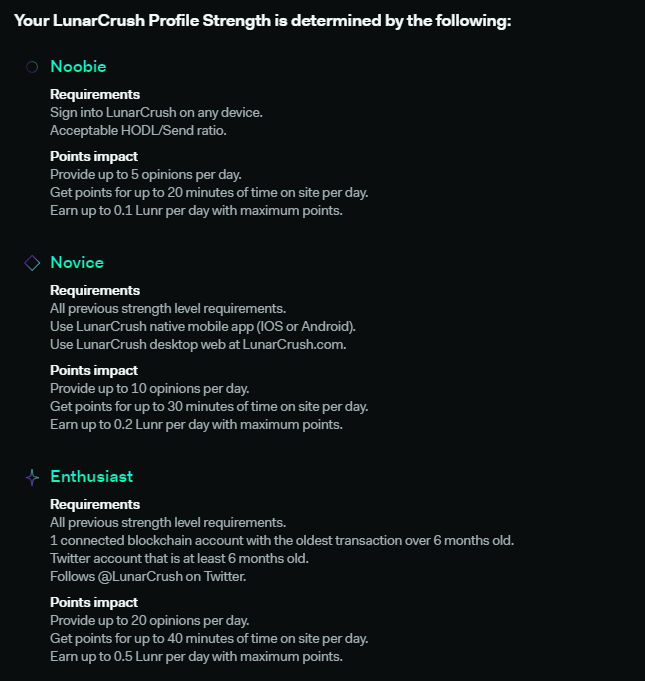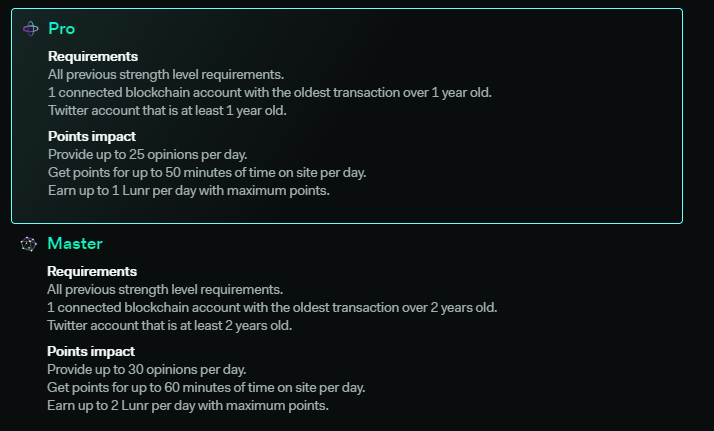 ZillPay Wallet - The ZillPay wallet is a browser extension used for all Zilliqa blockchain dapps. This is the same as the MetaMask wallet but only for Zilliqa. You can download this at the chrome web store.
LunrFi
LunrFi is the latest feature added to LunarCrush. A DeFi protocol where users can now stake their LUNR tokens for high APR rewards. The minimum amount to stake is 100 LUNR and users have four staking options to choose from.

To stake your tokens simply go to the Lunr Token tab, then LunrFi tab, then click stake LUNR tokens. You will be asked to connect your ZilPay wallet if not connected yet. After that choose which option you prefer.
Staking options:
1 Year Staking - 25% Max APR

6 Months Staking - 19% Max APR

3 Months Staking - 12% Max APR

1 Month Staking - 8% Max APR

Take note that your LUNR tokens must be held in your connected ZilPay wallet not on your LunarCrush wallet.
If you want to purchase LUNR to increase your earnings and level, here's a list of available exchanges.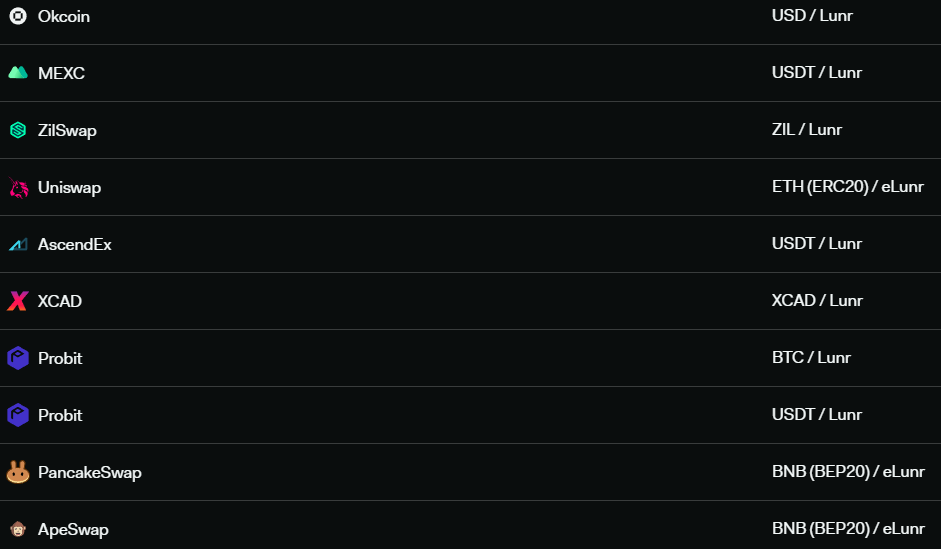 Take note of these following dates as more announcements will be made for LunarCrush and LUNR.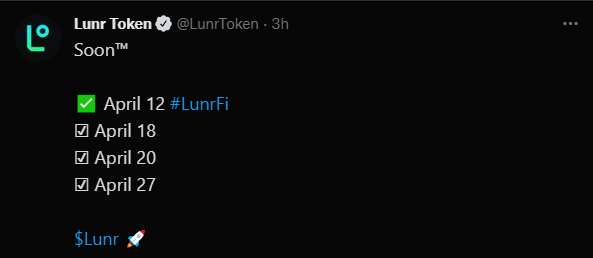 Thanks for reading and have a nice day. Happy earning!
NFA-DYOR
Posted Using LeoFinance Beta