Today I will talk about XRP. Where XRP used to fluctuate in the ranking of 7-8, the ranking of XRP is now 4. And at any time, this coin may move to the top 3 by topping Binance Coin.
In my opinion, Investing in Bitcoin is out of my hand and so risky for small traders like me. But it's time to invest in other cryptocurrencies, such as BitTorrent or Ripple(XRP), etc. Just sharing my opinion, do your own analysis before taking any decision.
Ripple's market cap is now $2,012,263,336,663, and it's now on the list of top 5 cryptocurrencies. It climbed from ranking 7 to 4 within few days!

But many of you know that the SEC is in the fight with Ripple now. XRP or Ripple was released in 2012, and its founders are Chris Larsen and Jed McCaleb. These two have created this cryptocurrency together. Now the U.S. The Securities and Exchange Commission's (SEC) complaint is that Ripple has illegally increased their capital by offering unauthorized digital assets and securities. It was then that a conflict of SEC with Ripple began, which caused panic within the investors. What if Ripple loses the lawsuit with the SEC!
However, Ripple has assured his investors that even if their operations in the USA were stopped, there would be no problem because 80% of their investors and traders are outside of America. I am one of those investors.

I invested about $400 in Ripple in 2018. I have been holding the Ripple for almost three years now. Because from then on, I thought Ripple was going to take the path of Bitcoin and Etherieum.
In response to the SEC's allegations, Ripple submitted a 100-page legal document on March 4, claiming that the SEC had failed to show any fair notice that Ripple had violated any law. Then there was the possibility that Ripple's price may rise sharply after this news. And many of those who were analyzing this cryptocurrency started investing in this market.
Although there is a risk factor that if Ripple loses the case with the SEC, the price of Ripple could go down completely. However, looking at the situation, it seems that no decision is being taken in this case, and it could take a lot of time. And if Ripple wins the case, imagine how much Ripple's price could go up! Then maybe many will regret - why I didn't invest in Ripple.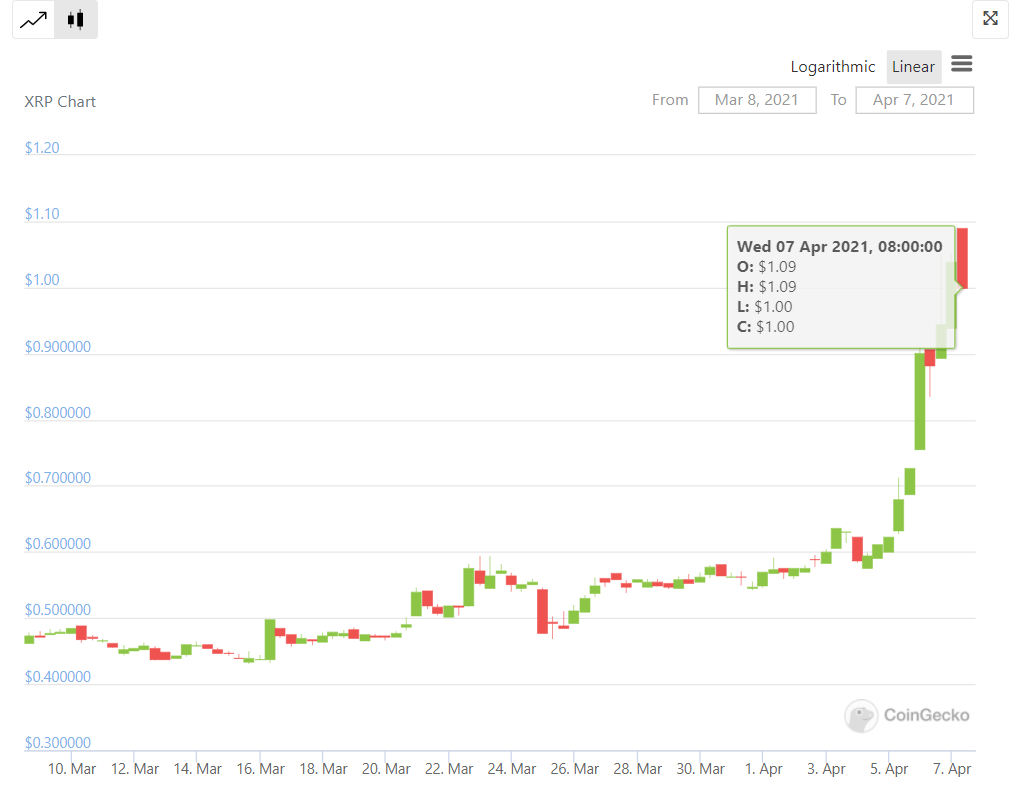 Ripple's all-time high price is $ 3.3, which was touched in June 2018. What do you think? Will Ripple cross the all-time high price this year? I saw many short-time traders trading with the stop loss at $0.70. And their concept is that this price may not go down in the next few weeks. I am not a technical analyst; I am a long-term crypto holder. I have been holding XRP for three years, and I don't mind holding it for another three years.
But now, XRP is in a very high and risky position. For those who are day traders or short-time traders, my suggestion is to wait a few more days, analyze the market and then invest if the market is a little down.
However, this is the first time since 2016 that this cryptocurrency has crossed the $1 milestone. So I think XRP has a perfect chance to cross the all-time high price of $3.3 again. And we have to keep an eye on the lawsuit update with the SEC.
---
Please note that this is not financial advice, just my thinking on a cryptocurrency. Do your own research before investing in any crypto.
Posted Using LeoFinance Beta