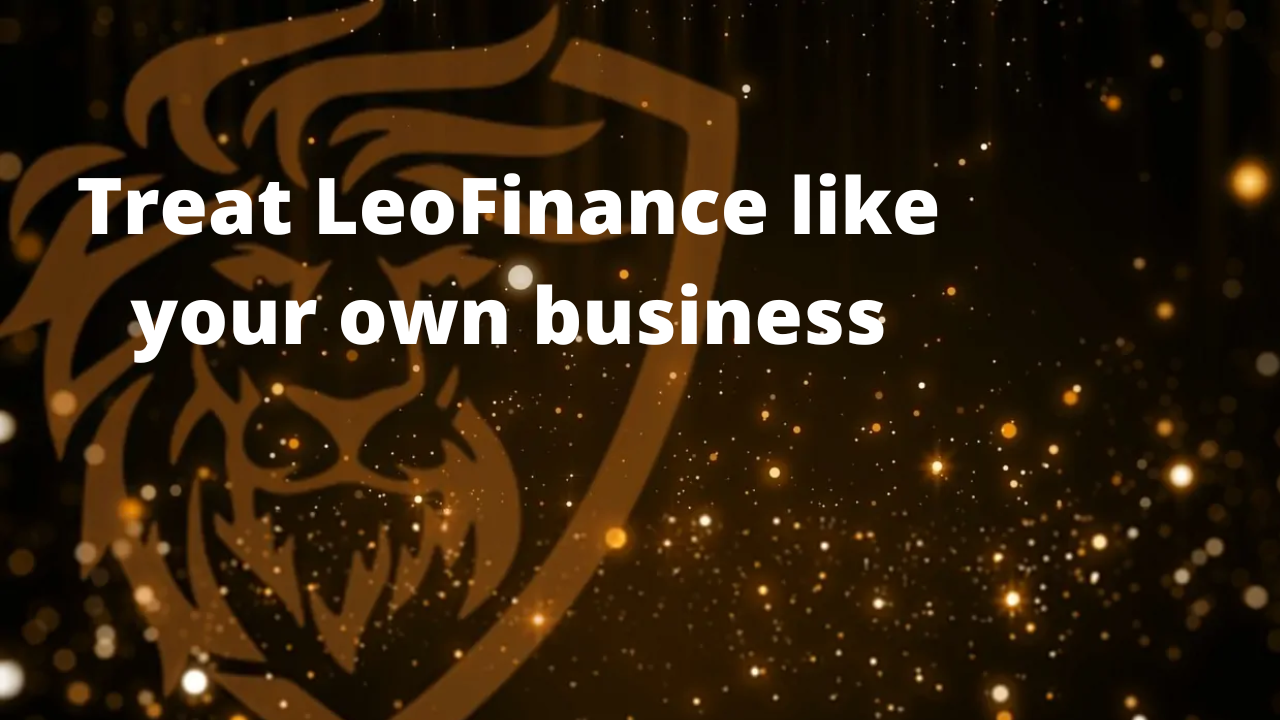 Leofinance is a world of unlimited possibilities. Apart from blogging which is only the beginning, there are several other ways to utilize this platform in order to get the most out of it. Taking advantage of the opportunities it has to offer is simply dependent on your willingness to invest your time into adding value in your own way while understanding the tokenomics and what makes the platform tick.
Unfortunately, I've come across several people who simply hop onto the platform with the aim of making some quick money by simply writing some articles without the willingness to put in the effort required for growth. The feeling of disappointment follows and they leave the platform as quickly as they joined while calling it a scam or a den of favoritism. This is absolutely wrong.
---
We all know that Powering up LEO allows you to grow your stake, and increase voting power which in turn provides the opportunity to earn curation rewards from voting contents of interest. But that is not the end.
Utilising LeoFinance requires a lot more from you. It requires you to support it in every way possible while treating it like your own.
---
Treating it like a business
Getting the most out of LeoFinance requires you to begin to treat it like a business with expectations. Apart from the money involved in starting a business, time, energy, hard work, and consistency are required before success begins to manifest. This success may take months or even years, but it eventually comes through providing the right step is taken along with the willingness to not give up regardless of challenges encountered.
A lot of top businesses today began small and were nowhere close to being recognized during their initial years. It was a literal up-and-down process, but with time a strong footing was established because they were not willing to give up. If this same approach can be given to your presence on Leofinance, you will begin to see reasonable changes with time.
The only difference in this case is that the money has been spent on establishing this platform, and all you need to do is invest your time into ensuring you get that required visibility.
It may seem difficult especially at first especially since some days may be full of upvotes while some are not. It can be really discouraging when the time spent on producing quality content isn't reflected in the reward. If you do not give up but consider zero visibility as a way to step up your game and restrategize, then you're on your way to some real success.
---
Publishing exclusively on LeoFinance
Apart from me, I know there are several others on LeoFinance who publish on other platforms as well. This means we are sometimes caught up in deliberating where to first post certain content first. You may think whether you post certain content here or there doesn't make a difference. It actually does.
You may not know it but posting first on Leofinance benefits the platform by providing it with better visibility via Google traffic. Whenever a certain search/keyword is sought for on google, the result will be narrowed to where the content was originally published, hence posting on some other platform first will do us no good ('us' = the LeoFinance community). This is why the title of your content also needs to be unique, short, and concise so it can help your content's SEO (Search Engine Optimization) and that of LeoFinance.
If you treat LeoFinance like it belongs to you, then you wouldn't want to post anywhere else first. Would you rather post on someone else's blog first before posting it on yours? Think about it!
---
Side note: My last three posts on LeoFinance was first published on some other platform. They were articles I had written about a year ago before I joined LeoFinance. I had to republish them here since I thought they may be found useful. And yes, they were. This led me into discovering that posting here first offered some advantages to the community which I wouldn't have known if @forexbrokr had not brought it to my knowledge. I should say 'thank you' for that.
LeoFinance is still lacking the deserved visibility, hence it is up to us to provide that visibility via publishing exclusively on LEoFinance so the traffic can be directed here and not somewhere else.
---
Quality Content and Engagament
Skipping this step will defeat the purpose of this platform. Just like on conventional social media platforms, the only way to get recognized/popular is by constantly creating content that people will find useful/interesting, while also interacting and replying to other people's posts on their feed. This is literally how people get popular on their various social media accounts unless you're a celebrity. The same also applies here on LeoFinance.
Quality engagement is very important and cannot be ignored. In order to become recognized on the platform, you need to be active in your own way. Regardless of the quality of your content, if you don't engage with others, the rewards may not come because your quality content will be hidden from those that should see it.
This often leads to the problem of comparison. You'd begin to compare your content of high quality without little to no upvote with the content of lesser quality but with massive upvotes. The difference between you and that person is something as simple as recognition which comes as a result of engagement.
---
Think about this - if you were a whale here on Hive/LeoFinance, would you rather look out for/ upvote content from a username you're familiar with via constant engagement on your content or some random person you have no idea about his/her existence?
This is not an issue of favoritism but a very logical approach. Your ability to ponder on this question and give it the right answer will make a difference in your approach to LeoFinance/Hive.
---
Note that making quality comments to content on the platform isn't just for the rewards but is your own way of contributing to the platform. Your comments shouldn't be one of eyes-service but should be made out of sincerity. You could make comments in the form of a question as a way of engaging with the content creator. That way you'd surely be remembered.
---
For starters, I decided I'd be making ten quality comments every day as of today in a bid to increase my visibility and grow my traction.
In terms of quality engagement, the best person to learn from is @taskmaster4450le. I've seen his name come out at the top of the LEO weekly engagement list by @abh12345 more times than I can count.
I don't think anyone beats him to it. He's literally everywhere. That consistency is something I'm envious of and looking towards to inculcating. @jfang003, @finguru and @forexbrokr are also worth mentioning as examples to follow. There are a lot more names but I can't possibly remember them all.
---
Participate in LPUD
If you are to treat LeoFinance as your own, then you must participate in Leo Power up day because this is something that adds value to Leo tokenomics. Though this value may not be seen now due to the bear market at hand but will be reflected in the long run.
Powering up is very essential for your growth on LeoFinance since it gives you higher voting power with a higher stake, while also allowing you to earn curation reward from voting contents of interest. Apart from your growth, this also shows that you're a true member of the community as it is a community event that is worth participating in.
There are several articles that show how important powering up is both to you and to the LEO community in general. Here is one I have written myself - Reasons to participate in Leo Power up day
---
Promote LeoFinance
There are several ways of promoting LeoFinance. The most popular way is by word of mouth. By letting family and friends know that LeoFinance exists while providing them with the advantages it has to offer, you're literally creating more visibility for the platform.
Other ways of promoting LeoFinance are by writing quality articles about the platform and sharing them on your social media handles where they'd be seen by several hundred or thousands of people depending on your number of followers or how much engagement you get on your posts. Facebook and Twitter are just the beginning. Places like Reddit and Quora are also there for the promotion of LeoFinance.
---
If anyone is still skeptical about hopping onto the Leo train, tell them about threads and how it eliminates the need for long-form content. They'd be glad to come along, and with time they'd become better content creators and will come to realize they can also create longer content on their Leo blog.
They don't have to worry about the stress of account creation either. LeoFinance has solved the Hive onboarding problems, hence whoever you're onboarding you can easily create an account via his/her Twitter or Facebook account. Isn't that too easy?
So what are you waiting for? The only thing stopping you now is you. Yes you, reading this right now.
---
Conclusion
LeoFinance is here to stay, and the sustainability of this platform is not only dependent on the creative team but on each user's willingness to do the right thing. Yes, it is dependent on you, me, and whoever is reading this right now.
There are so many more ways to promote Leofinance. It all begins with building the business mindset and treating LeoFinance like your own business which you want to grow into something that everyone would want to talk about/ be a part of in the not-too-distant future. It's not an easy process but your consistency will pay off in due time.
---
Thanks to @khaleelkazi and his creative team for the restless days and sleepless nights put into constantly making LeoFinance a better place for us all. The constant upgrades and innovation is something that makes us want to stay. The launch of Threads alone cannot be appreciated enough, as it's something that made me return to LeoFinance. Thanks for everything you do.
LeoFinance is for everyone. Let's support it in our own way so it can have the world wide visibility it deserves.
Posted Using LeoFinance Beta