[EN] Good day, friends. I followed Bitcoin and I try to examine how it is doing every day. This follow-up has been going on for years. New support and resistances are formed after each movement. I also do not hesitate to identify and fix support and resistance. As a result of my strict follow-up, it becomes easier to predict serious serious movements.
Stuck on the $13850 resistance in its latest move, BTC is currently choosing the $13014 and $13850 channel and it is floating in that channel. To read what might happen in the future, let's take a look at the graphics without wasting time.
---
BTCUSD SELL SIGNAL IN THE HOURLY GRAPH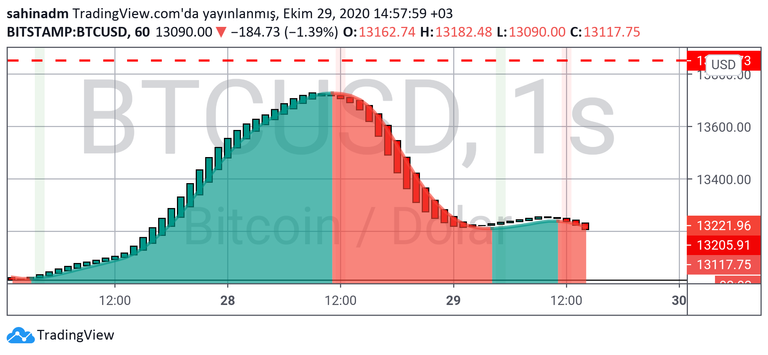 In the hourly chart, signals may occur more frequently and earlier than other charts, and may change. Because the time interval is less and the chart where the average trades are reflected first. Therefore, we can get the bearish or upward news from this chart, even if it is not exactly. Not quite because no timeframe is available for standalone trading.
The market is currently grappling with support at $13014. This support could be broken down. If it breaks, it can make a stop around $12773. Good if he does. If not, there are lower ones. The intermediate directions are looking down for the time being.
---
BTCUSD SELL SIGNAL IN 4-HOUR GRAPH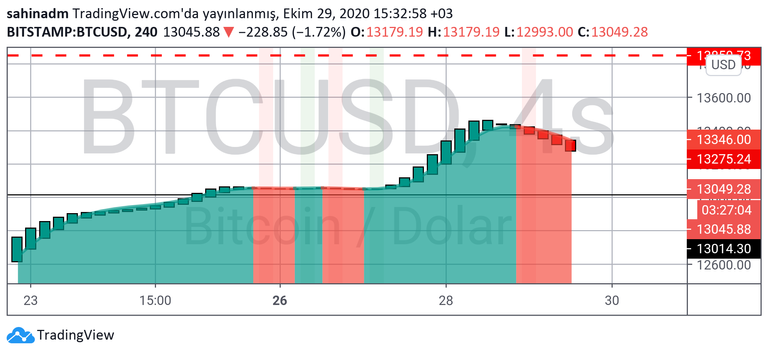 We came to the 4-hour chart. The SELL position continues in this chart. The night started with the 23:00 candle. Since the signals of this chart are longer and more dominant, the investor should be hesitant about prices. For now, $12990 and $12773 matter for the 4-hour chart.
It's time to ignore the upward trends and focus on the downtrend and create a strategy in an attempt to exploit the downtrend. The falls inspire confidence. You need to be calm.
BTCUSD BUY SIGNAL IN DAILY GRAPH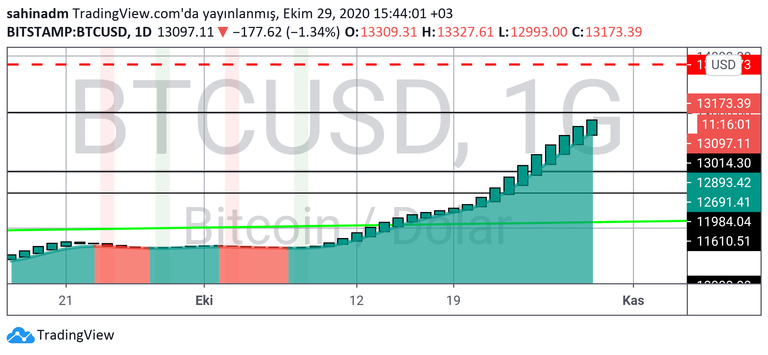 The continuation of the BUY signal on the daily chart is a great relief to not break hopes. It is the daily chart that calls the hourly and 4-hour charts downward. Because the daily chart, which cannot respond to excessive increases due to its weight, presses the stop button. This is why falls give confidence. If all time zones move together, the real uptrend begins. The tops and bottoms formed from these movements (in small time frames) are also important as numbers and rankings. These, in turn, tell us that the main movement is in favor of rise or fall.
Technically, the $13850 level is the only way out of the declining trend that has been going on for years, and it has tested it twice in 2 years. Let's see if it will continue this year.
Below is $11500 and $10845 for the daily chart.
The BUY signal continues on the weekly and monthly charts. The situation is normal for now. If the daily chart drops to the SELL position then it's time to deploy the second and third plans.
---
[TR]
İyi günler arkadaşlar. Bitcoin'i takibe aldım ve her gün ne durumda olduğunu incelemeye çalışıyorum. Bu takip yıllardır sürüyor. Tuttum mu bırakmadım bir daha. Her geçen hareket sonrası yeni destek ve dirençler oluşuyor. Ben de desteği ve direnci belirlemekten ve sabitlemekten kaçınmıyorum. Böyle sıkı takibe almamın sonucunda ciddi ciddi hareketleri tahmin etmek kolaylaşıyor.
---
BTCUSD SAATLİK GRAFİKTE SAT SİNYALİ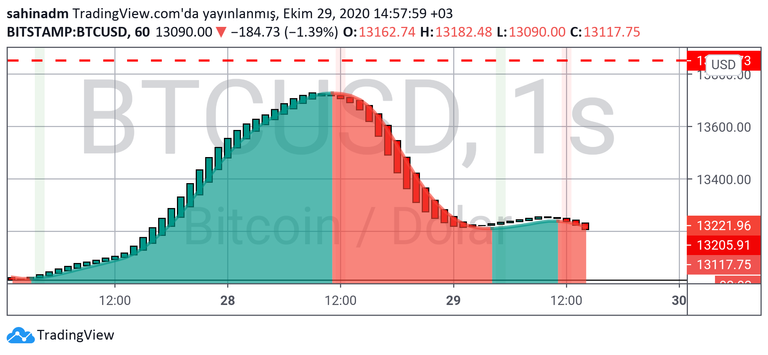 Saatlik grafikte diğer grafiklere göre sinyaller daha sık ve erken oluşup bitebiliyor, değişebiliyor. Çünkü zaman aralığı daha az ve ortalama alım satımların ilk olarak yansıdığı grafik. Bu yüzden düşüş veya yükseliş haberini tam olarak olmasa da bu grafikten alabiliriz. Tam olarak değil çünkü hiçbir zaman dilimi tek başına alım satım için kullanıma uygun değil.
Şu an piyasa 13014$ desteği ile boğuşuyor. Bu destek aşağı yönlü kırılabilir. Kırılırsa 12773$ civarında bir durak yapabilir. Yaparsa iyi. Yapmazsa daha aşağılar var. Ara yönler şu an için aşağıya bakıyor.
---
BTCUSD 4 SAATLİK GRAFİKTE SAT SİNYALİ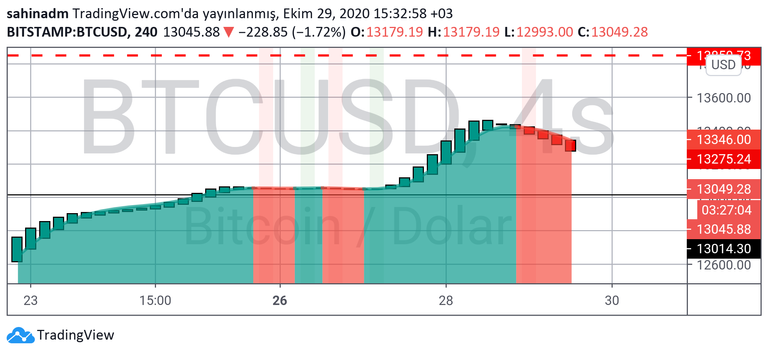 Geldik 4 saatlik grafiğe. Bu grafikte de SAT pozisyonu devam ediyor. Gece 23.00 mumuyla başladı. Bu grafiğin sinyalleri daha uzun sürdüğü ve daha baskın olduğu için yatırımcının fiyatlar hakkında bir tereddüte düşmesi gerekiyor. Şimdilik 12990$ ve 12773$ 4 saatlik grafik için önem arz ediyor.
​Yukarı yönelmeleri şu an görmezden gelip düşüşe odaklanıp düşüş trendinden faydanlama çabası içinde bir strateji oluşturma zamanı. Düşüşler güven veriyor. Sakin olmak gerek.
BTCUSD GÜNLÜK GRAFİKTE AL SİNYALİ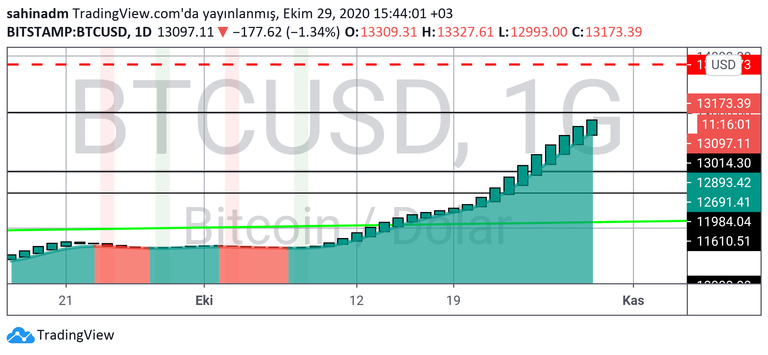 Günlük grafikte AL sinyalinin devam etmesi umutları kırmamaya yönelik büyük bir teskin aracı. Saatlik ve 4 saatlik grafikleri düşüşe çağıran da günlük grafik oluyor. Çünkü aşırı yükselmelere ağırlığı sebebiyle cevap veremeyen günlük grafik stop düğmesine basıyor. Düşüşlerin güven vermesinin sebebi de bu. Tüm zaman dilimleri beraber hareket ederse asıl yükseliş trendi başlar. Bu hareketlerden (küçük zaman dilimlerinde) oluşan tepe ve dipler de sayı ve sıralama olarak önemli. Bunlar da asıl hareketin düşüş veya yükseliş taraftarı olduğunu bize anlatıyor.
Teknik olarak 13850$ seviyesi yıllardır süren ara düşüş trendinden kurtulmanın tek yolu ve burayı 2 yılda 2 defa test etti. Bakalım bu yıl devamı gelecek mi göreceğiz.
Aşağıda 11500$ ve 10845$ var günlük grafik için.
Haftalık ve aylık grafiklerde de AL sinyali devam ediyor. Durum şimdilik normal. Günlük grafik SAT pozisyonuna düşerse o zaman ikinci ve üçüncü planları devreye koymanın vakti gelir.
Dilerseniz yazıyı buradan da görüntüleyebilirsiniz. Kolay gelsin.
---

Analizlerim hiçbir şekilde yatırım tavsiyesi değildir, genel durumu belirlemek içindir. Bu analizler al/sat yapmaya uygun değildir. Bu analizlere dayanarak yapılan alım veya satımlardan doğacak zararlardan yatırımcı sorumludur.
Grafikler, www.tradingview.com grafik veri sunucusunda @sahinadm tarafından oluşturulmuştur.