[EN] Hello everyone. Bitcoin continues to proceed in its normal course. Next was $13850, you know. Now preparing to retest this level. Let's see if he can. Let's try to see it based on the graphics.
---
BTCUSD BUY SIGNAL IN THE HOURLY GRAPH

On the hourly chart, it is still 2 hours since the BUY signal has formed. Each signal is the beginning of a new trend (channel). These channels are constantly updated as intermediate and main channels. Hourly, minute or even 4 hour channels are realized as intermediate channels. Being an intermediate channel does not mean their effect is low. Often times they function as a leading channel.
This hourly BUY position has formed in accordance with the top-trough relationship and the chart is now progressing in its normal course. In other words, the fact that it moves simultaneously with the 4-hour chart means that the trend will start stronger if it starts.
As you know above, there is the major $13850 resistance, below is the $12892 support for the hourly chart. Let's move on to the 4-hour chart.
---
BTCUSD BUY SIGNAL IN 4-HOUR GRAPH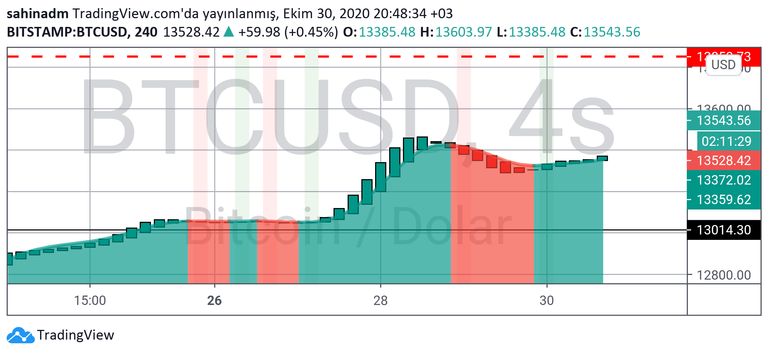 While talking about the hourly chart above; The reason why I said that if the trend starts, it starts strong, is because the hourly chart is constantly changing positions, while the 4-hour chart first gives a SELL signal and then it is horizontal. In other words, when trying to create the position on an hourly chart, the 4-hour chart makes the decision.
Above $13850 there as resistance. Below is the support of $12892. This is another proof that the hourly and 4-hour charts are preparing to move together. Let's move on to the daily chart.
BTCUSD BUY SIGNAL IN DAILY GRAPH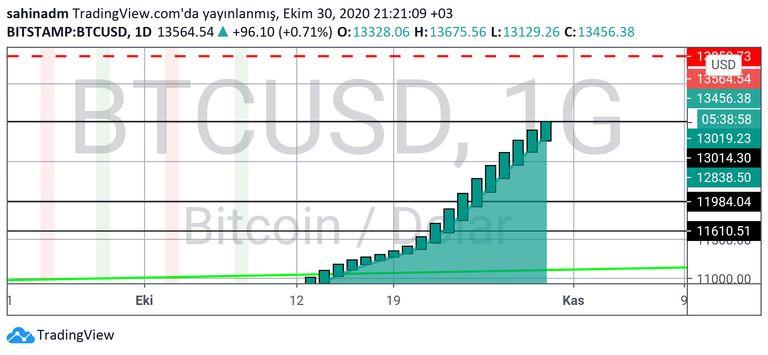 The situation is stable on the daily chart. Comfort also comes from here, as a matter of fact. Because one of the powerful powers that issue permission decision for an important, if not final, move is the daily chart.
There is support for $11037 for the daily chart below, while the $13850 resistance stands above.
Now I am waiting for your comments. Does BTC go up or down? How far does it go in which direction?
---
[TR]
Herkese merhaba. Bitcoin normal seyrinde ilerlemeye devam ediyor. Sırada biliyorsunuz $13850 vardı. Şimdi bu seviyeyi tekrar test etmek için hazırlık yapıyor. Bakalım başarabilecek mi? Grafiklerden yola çıkarak görmeye çalışalım.
---
BTCUSD SAATLİK GRAFİKTE AL SİNYALİ

Saatlik grafikte AL sinyali oluşalı daha 2 saat oluyor. Her sinyal, yeni bir trend (kanal) başlangıcı. Bu kanallar ara ve ana kanal olarak sürekli güncelleniyor. Saatlik ve dakikalık hatta 4 saatlik kanallar ara kanal olarak gerçekleşiyor. Ara kanal olmaları etkileri düşük anlamına gelmiyor. Çoğu zaman öncü kanal olarak işlev görüyorlar.
Oluşan bu saatlik AL pozisyonu tepe-dip ilişkisine uygun olarak oluştu ve grafik şu an normal seyrinde ilerliyor. Yani 4 saatlik grafikle eş zamanlı hareket etmesi bir bakıma trendin başlarsa daha güçlü başlayacağı anlamına gelir.
Yukarıda bildiğiniz gibi büyük öneme sahip 13850$ direnci var, aşağıda ise saatlik grafik için 12892$ desteği var. Geçelim 4 saatlik grafiğe.
---
BTCUSD 4 SAATLİK GRAFİKTE AL SİNYALİ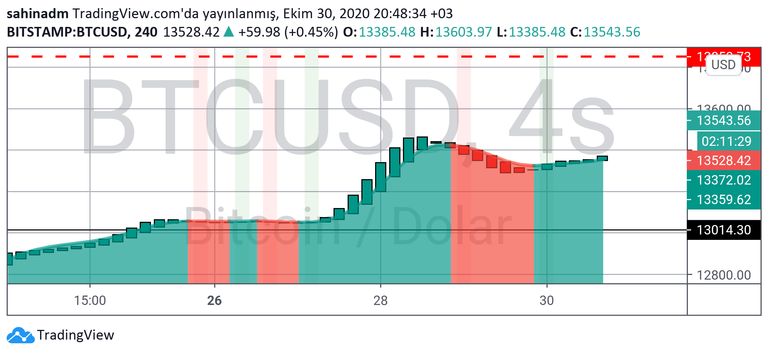 Yukarıda saatlik grafikten bahsederken; trend başlarsa güçlü başlar, şeklinde bir cümle kurmamın sebebi saatlik grafik sürekli pozisyon değiştirirken 4 saatlik grafik önce bir SAT sinyali veriyor sonra ise yatay seyrediyor olmasından kaynaklanıyor. Yani pozisyonu saatlik grafik oluşturmaya çalışırken kararı 4 saatlik grafik veriyor.
Bu kadar detaya indiğimi hocam okursa kızar bana. Yeterlidir şimdilik efendim.
Direnç olarak 13850$ var yukarıda. Aşağıda ise 12892$ desteği var. Bu da saatlik ve 4 saatlik grafiklerin beraber hareket etmeye hazırlandıklarının başka bir kanıtı. Geçelim günlük grafiğe.
BTCUSD GÜNLÜK GRAFİKTE AL SİNYALİ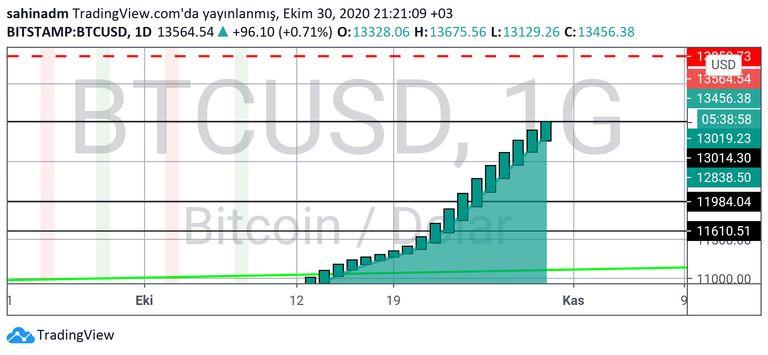 Günlük grafikte durum stabil. Rahatlık da buradan geliyor aslına bakarsanız. Çünkü en nihayî olmasa da önemli bir hareket için izin kararı çıkaran güçlü yetki sahiplerinden biri günlük grafik oluyor.
​Yukarıda 13850$ direnci dururken aşağıda günlük grafik için 11037$ desteği var
Şimdi yorumlarınızı bekliyorum. BTC yukarı mı, aşağı mı gider? Hangi yönde nereye kadar ilerler?
Dilerseniz yazıyı buradan da görüntüleyebilirsiniz. Kolay gelsin.
---

Analizlerim hiçbir şekilde yatırım tavsiyesi değildir, genel durumu belirlemek içindir. Bu analizler al/sat yapmaya uygun değildir. Bu analizlere dayanarak yapılan alım veya satımlardan doğacak zararlardan yatırımcı sorumludur.
Grafikler, www.tradingview.com grafik veri sunucusunda @sahinadm tarafından oluşturulmuştur.