This is exciting for the entire community and myself as well. Seeing WLEO in USD terms and on an intraday chart!
It's just a fantasy, but it is the real thing!
Just a couple months ago the idea of seeing LEO on a tradingview chart was a dream.
Then WLEO Launched
Then WLEO got listed on Coingecko
Then WLEO showed up on the tradingview feed
Now here we are looking at are very first intraday chart of WLEO in USD!
How this happen:
WLEO/WETH is available on tradingview
You take WLEO/WETH*ETHUSD which equals WLEO/USD
One missing ingredient though....
Intraday timeframes on formula driven charts, such as the equation above, require a certain subscription service.
The Cat decided to level up and pay for the service because intraday WLEO charts are too good to pass up!
Especially considering how short the trading history is. Deriving much from the daily chart is difficult so we need to zoom in a bit. The next normal level to do that is the 4 hour chart and by leo god, what do we have!?!
WLEO/USD - The very First Support Level Is.....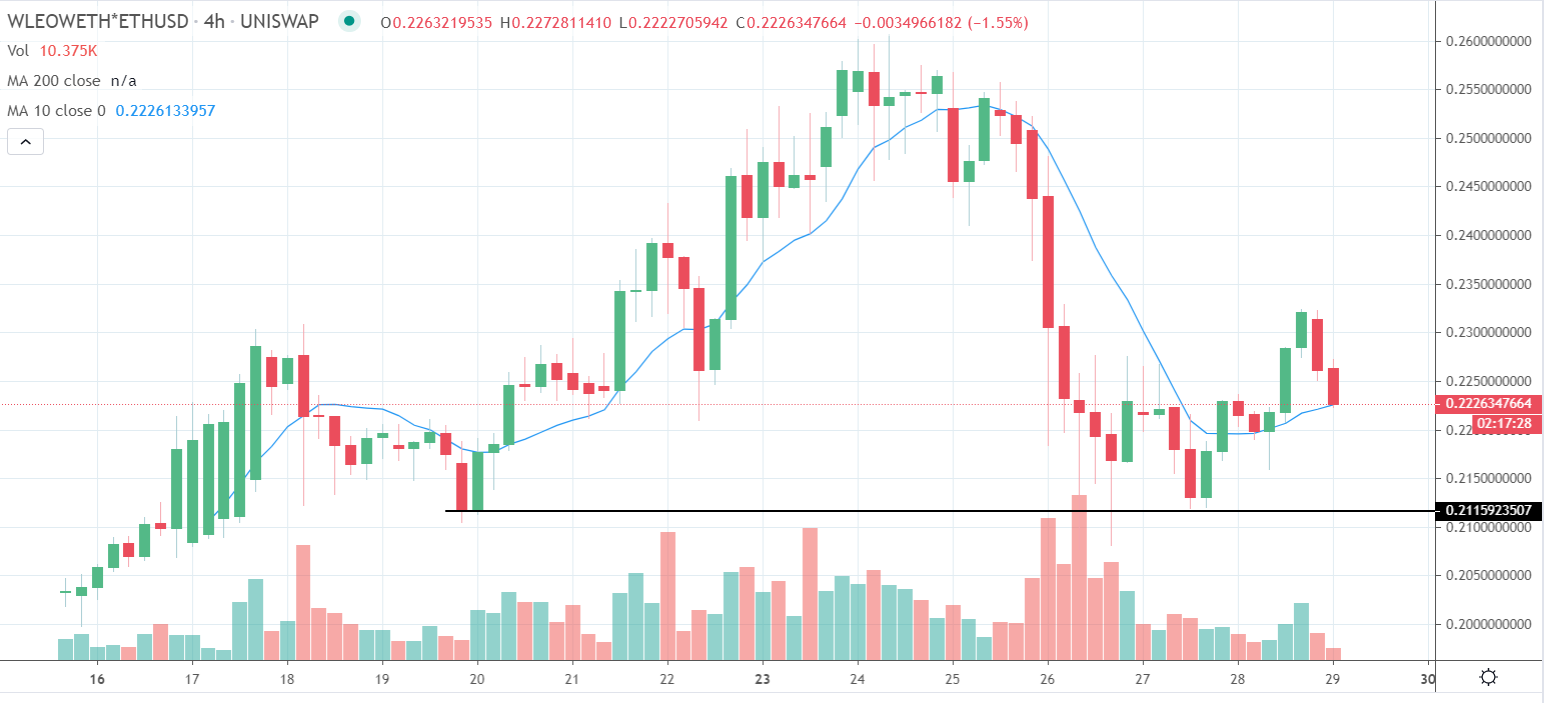 It is official! 21 cents USD is WLEO's very first support level!
If we want to be completely technical it is 21.1 cents, but as you can see looking at this 4 hour there is a clear pivot point bottom on November 20th which then got tested on an intraday spike on the 26th.
That was followed by a light test the following day of the 27th.
Price then rebounded with the rest of crypto and is currently finding its way.
Initial Price Range for WLEO/USD
Just a couple weeks into trading, the upside and downside price range for WLEO are 25 cents and 21 cents, respectively.
This is marked by the first true support level and the all time high peak set back on the 24th.
This is all very early charting and price action. As weeks go by and we can look at both the 4 hour chart and the daily a better view point can be had.
For now, lets watch price do its thing for a bit and see what pivot points at what prices occur within this range, while we wait for the upside breakout many of us are confident will occur.
Exciting times my fellow Lions!
Posted Using LeoFinance Beta