Welcome to the weekly update post for @spinvest-leo, where I (@jk6276) record on chain for transparency our transactions for the week, and update @spinvest investors with our progress.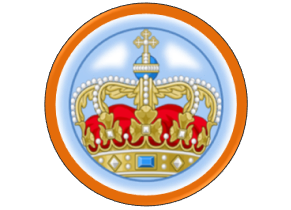 I missed last weeks update post due to real life commitments, and simply posted results in summary in discord. Back to normal this week with a full update post. 😀
---
EMP Money.
An interesting week here. Some changes launched by the team, including removing rewards from one of our pools, the BNB/ESHARE pool. Also, there has been some significant improvement in the peg situation, and hopefully this week marks the turnaround where the peg improves, rather than worsens each week. Positive signs that better days are ahead for EMP. ESHARES value has popped up, and with the ETH increase its been a nice week.
Farmed $27.63 worth of ESHARE.
Swapped half to bLEO - received 234
Value for dividends = $14
Swapped the other half to BNB
So, nice bump to income this week, basically double last week return. A decision was required regarding the BNB/ESHARE pool tokens, with no income being earned any more. Break the LP, and reinvest, or add to the EMP reactor contract. I have chosen to do the latter, and decided to drip into the contract a little each day, instead of all at once. This slow deposit strategy will mean we get a couple of raffle tickets each day, and build the position up gradually. Once all the funds are in, then I will compound most earnings, and claim a little.
The strategy for the SPS/BNB LP tokens remains unchanged. Compounding 5 days, and claiming 2 days each week.
The new Reactor position: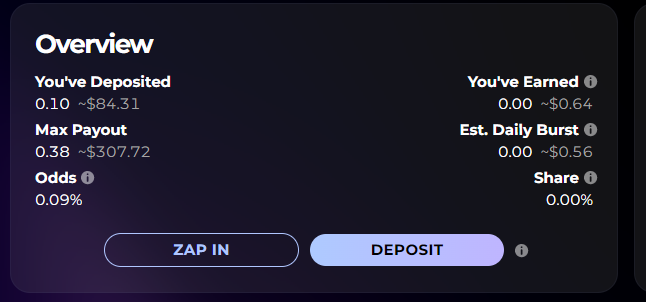 The Generator position: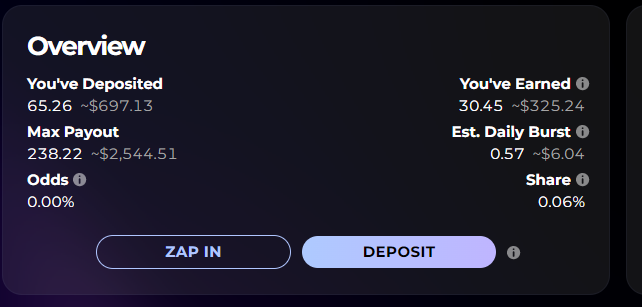 These strategies are long term in nature, and results should become apparent over time.
Asset values this week (from DeBank):
EMP/ETH - $1172 (up $267)
BNB/ESHARE - $383 (up $115)
Very nice return to form for EMP this week, after weeks and weeks of declines.
---
CUB Finance.
Claimed just over 370 CUB
Swapped halfish to bLEO, received 75
Value for dividends = $4
Swapped the other half to BNB.
Asset values this week (from DeBank):
CUB/bHBD - $866 (up $19)
CUB/bHIVE - $806 (up $24)
Steady week from CUB. income value slightly down, and asset value slightly up. No issues here, steady is good.
---
Splinterlands.
Claimed 111.5 SPS wrapped it to BSC.
Swapped halfish to bLEO, received 75
Value for dividends = $4
Added all spare assets (SPS and BNB from above) into the SPS/BNB pool position.
Asset value this week:
The plan is working - adding to the position with compounded income, and the claimed tokens from the generator on EMP is steadily growing this position. Nice.
---
POLYCUB
Claimed around $3 worth of POLYCUB.
Compounded full amount back into the pool.
Asset value this week:
POLYCUB/USDC - $731 (up $3)
vexPolycub - $140 (up $1)
Quiet week, not much doing, and flat asset values. CUB is a bit more in the spotlight at the moment, and POLYCUB is just doing its thing.
---
HIVE
Sent around $2 from post payouts (no update post last week)
Traded some HE stuff to Hive (I had a bit of time to stuff around this week) - added 6 HIVE power to our small wallet.
Asset value this week: HIVE power - $213 (up $10)
---
Summary
Asset value this week: $4938 (up $498 from last week)
Sent for dividends: $22 (up $6 from last week)
Sent from post payouts: $2
Overall, a nice week, with EMP being the star performer. I think these results show that sticking with a mix of several platforms is working, with each having their ups and downs during this bear market.
As a little note, I have not put screenshots of each position from debank this week. Remember you can follow along with where we are at at any time by viewing our wallet for yourself.
Thanks for reading this weekly update,
JK.
Posted Using LeoFinance Beta