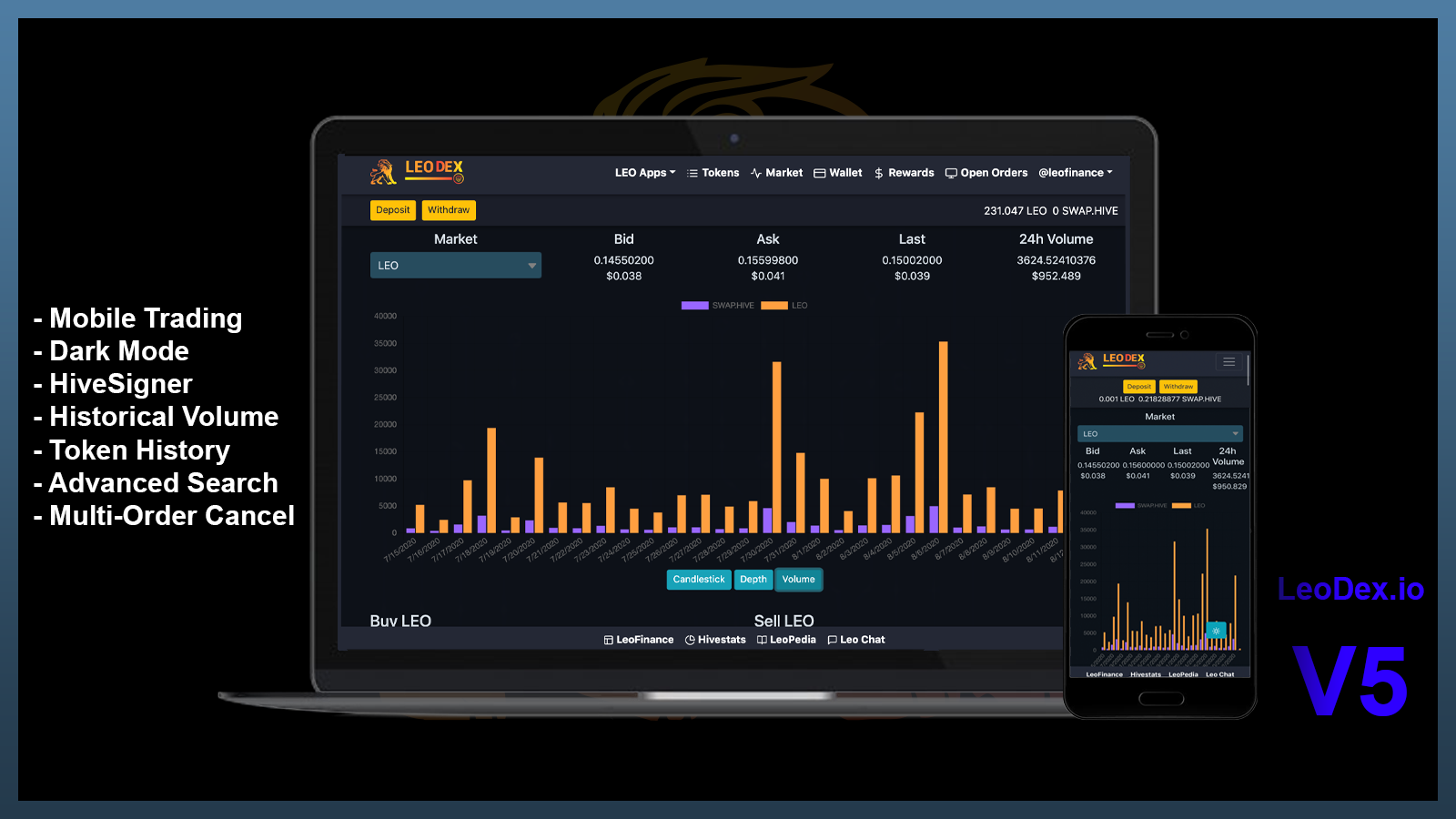 The highly anticipated LeoDex V5 update is now live! We've introduced a lot of highly requested features along with an aesthetic overhaul to the entire interface.
We've also migrated LeoDex to it's own domain. It was previously located at https://dex.leofinance.io and now you can access it at https://leodex.io (the old domain will redirect users to the new one).
In this post, we'll run you through the new features that we've brought in LeoDex V5:
Dark Mode
Mobile Trading
HiveSigner
Historical Volume
Token History
Advanced Search
Multi-Order Cancel
Market Orders
New Deposit/Withdraw Menu
Dark Mode
If we got a LEO for every time someone asked us to add Dark Mode to LeoDex, we'd be LEO whales! When you first load up https://leodex.io, you'll immediately notice the dark layout. In my opinion, it's a vast improvement over the previous look.
Dark Mode is the default layout for LeoDex. If you want to switch to Light Mode, you can easily toggle between it using the Sun/Moon icon at the bottom right.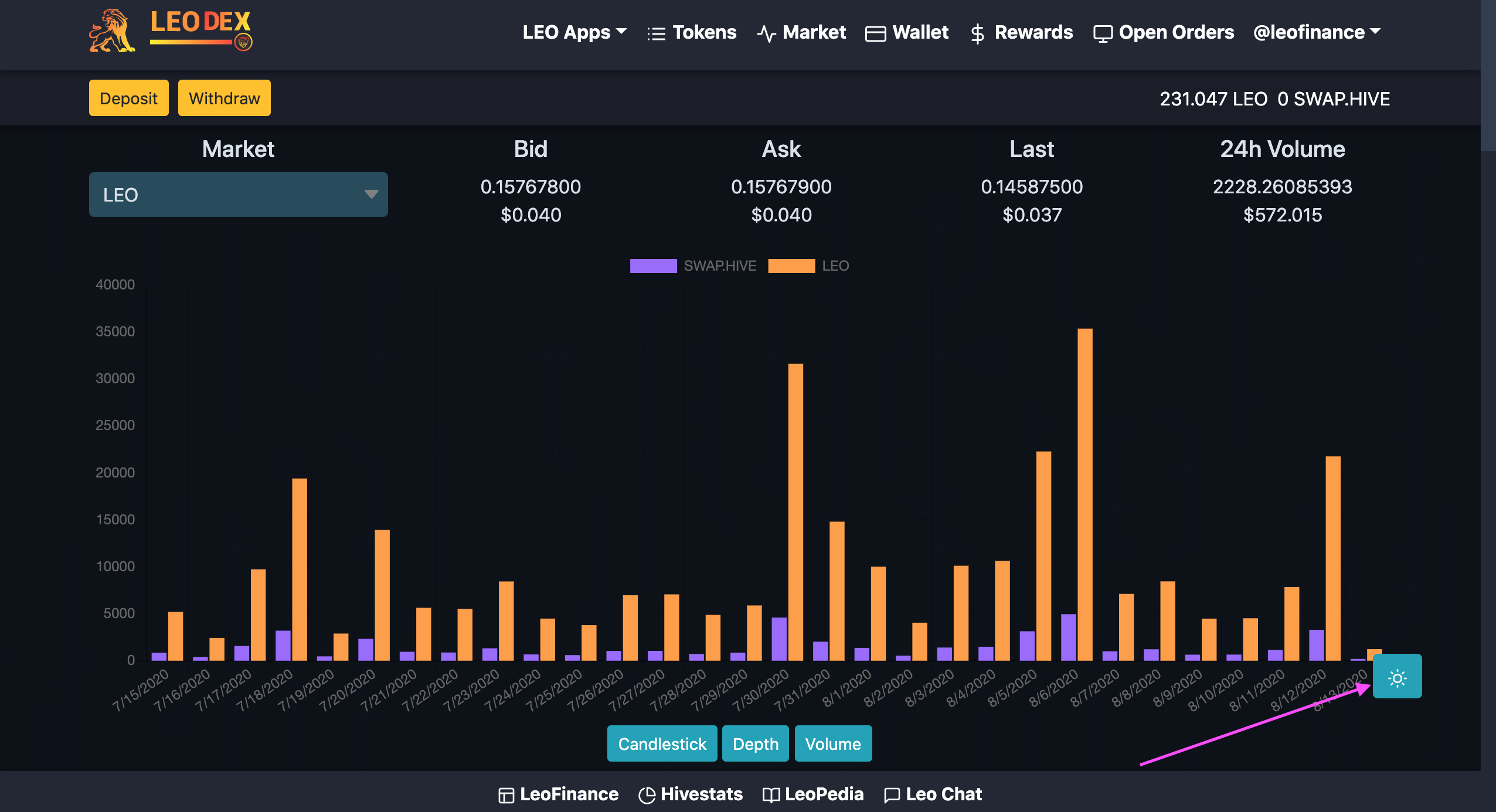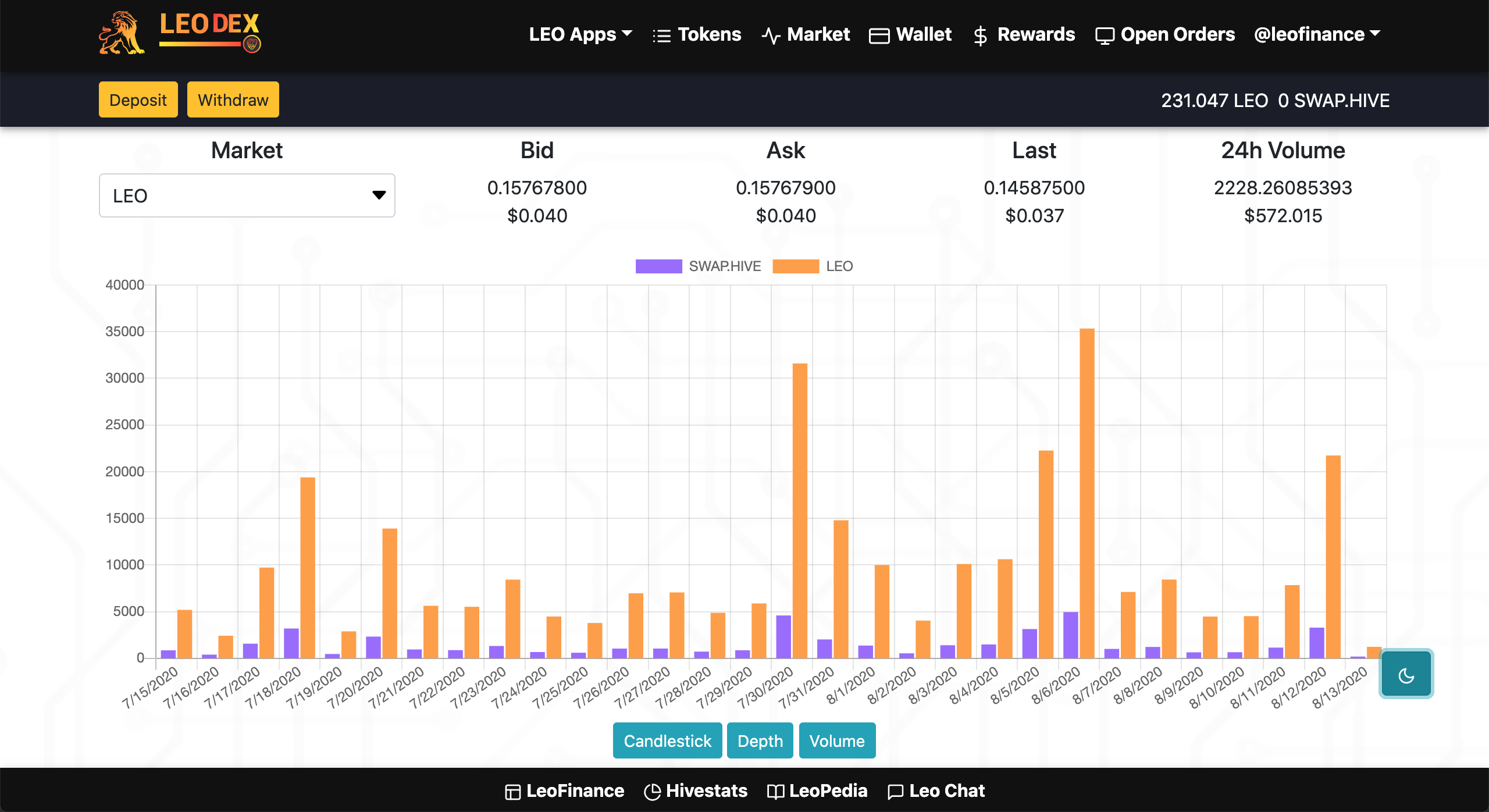 The previous versions of LeoDex had Leo the Lion featured in the background. We've heard from several users that it'd look better without him, so he's been replaced:

Mobile Trading & HiveSigner Integration:
Mobile Trading is something that I've wanted for a while and I know there are many other power users out there like @trumpman who want to trade on Mobile/without HiveSigner. @uyobong and many other users have also mentioned issues with Hive Keychain.
Now you can login to LeoDex with either Hive Keychain or HiveSigner. If you have Hive Keychain on your browser, then it will automatically prompt keychain. If you don't (or you're on mobile), then it will automatically redirect to a HiveSigner authentication process.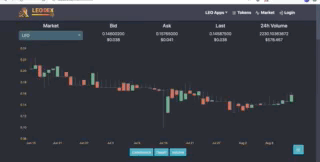 Login with HiveSigner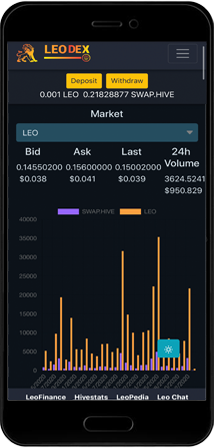 Trade Hive-Based Tokens on Mobile
Historical Volume Chart
Trading volume is an important metric, especially on a small exchange like Hive-Engine. When you're evaluating tokens for investment/trading purposes, knowing the historical volume for that token is a vital tool. We often see random spikes in trading volume on certain days for different tokens.
Before today, you weren't able to see the historical volume for various tokens on Hive-Engine. This meant that you were essentially in the dark about the actual usage of a particular token because you could only see the volume over the last 24 hours.
Now, you can see the last 30 days of trading volume on each day. The chart is broken down as the total swap.hive traded in a day and the total x tokens traded in a day.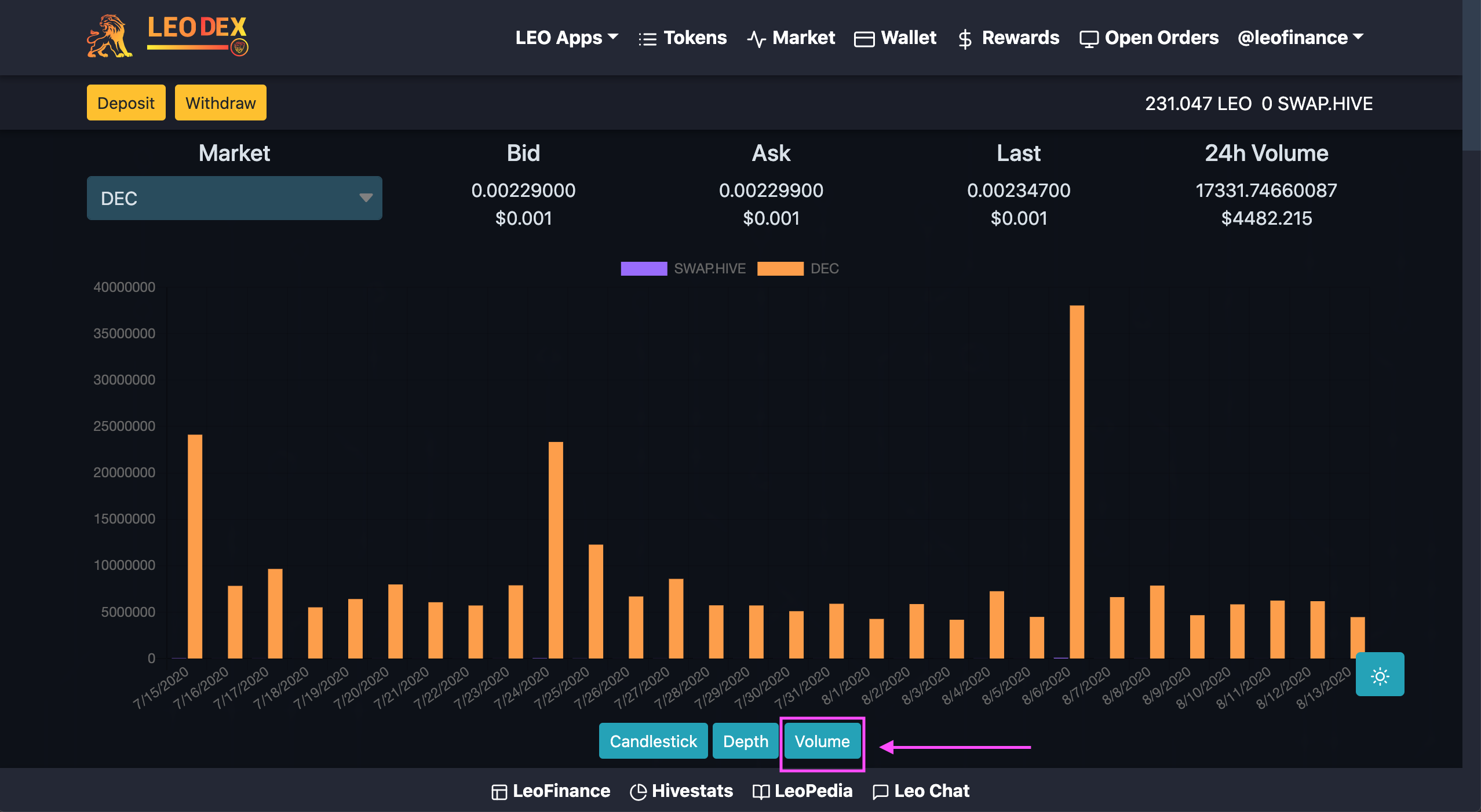 Volume Chart
Token History
Again, many users want to see their history for a particular token. They want to know when they were issued tokens, when they placed a market order, etc. This feature is actually available on https://hivestats.io (which is my preferred way to view history), but having it on-site for LeoDex also makes a lot of sense.
You can find your history by navigating to the wallet page and then clicking the history button next to any token: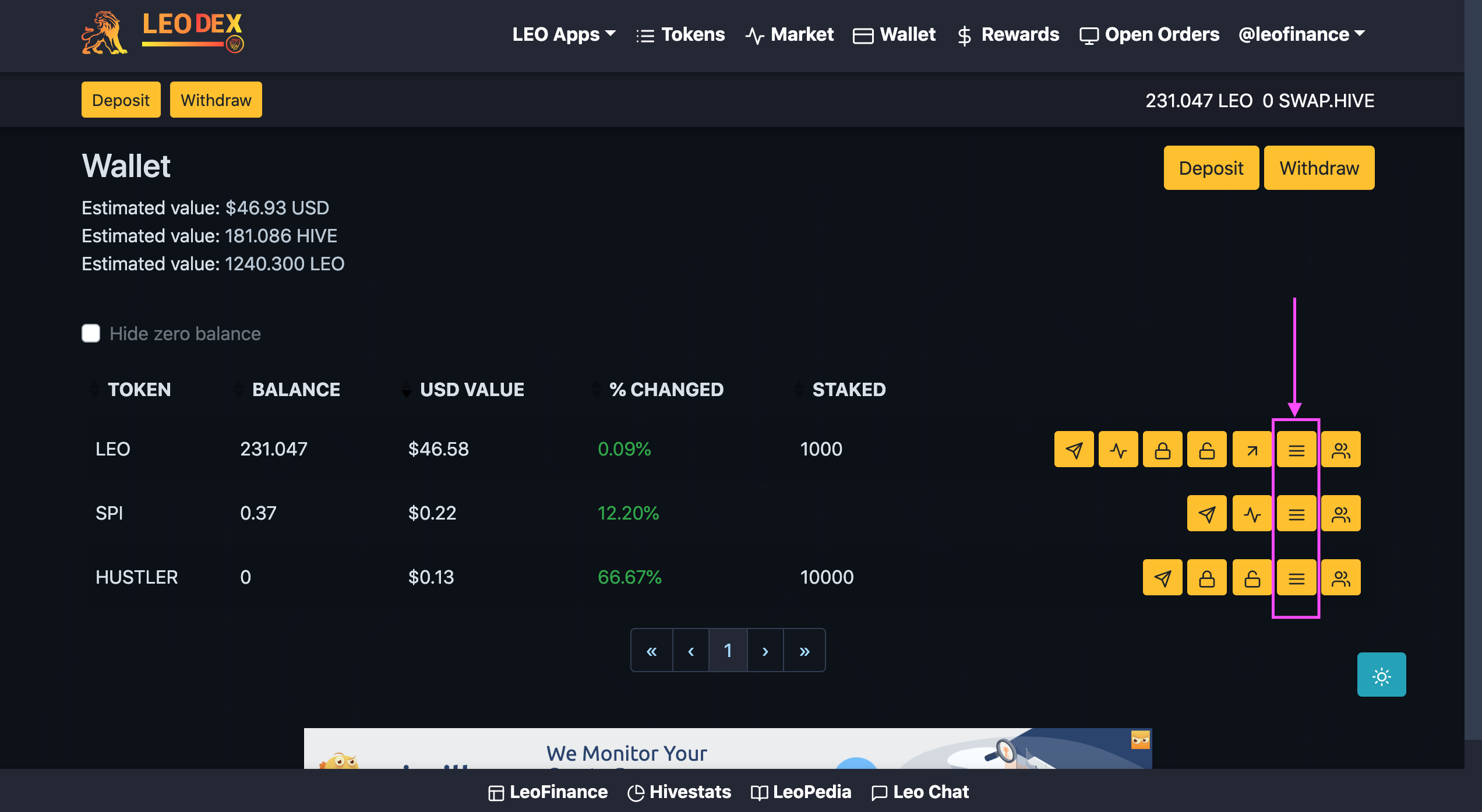 Token History Button on the LeoDex Wallet Page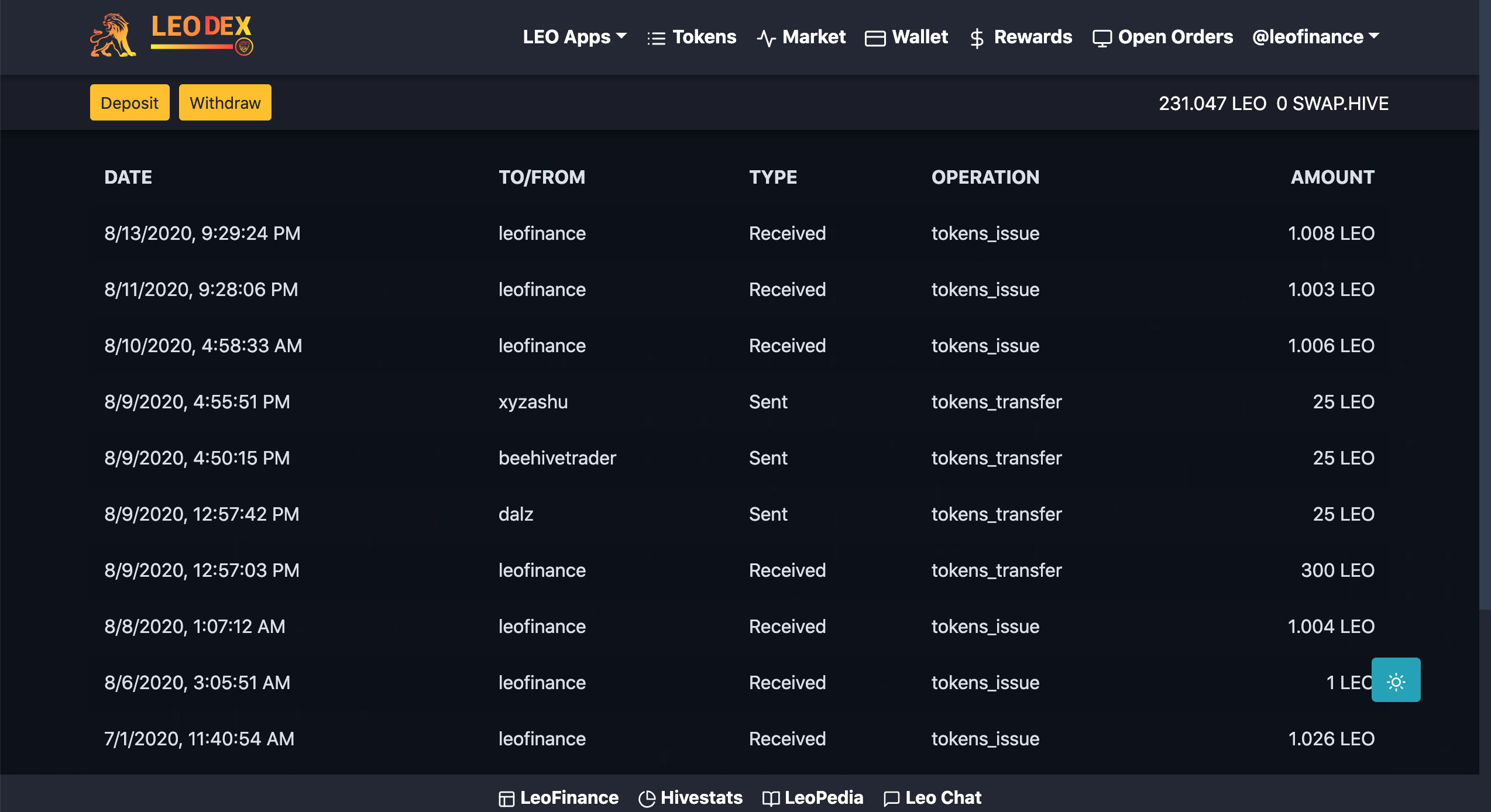 Token History Page
Advanced Market Search
Searching for Hive-Based tokens to trade should be an easy and intuitive experience. For this feature, we looked at top exchanges like Bittrex and modeled their UI to create a better menu for navigating tokens: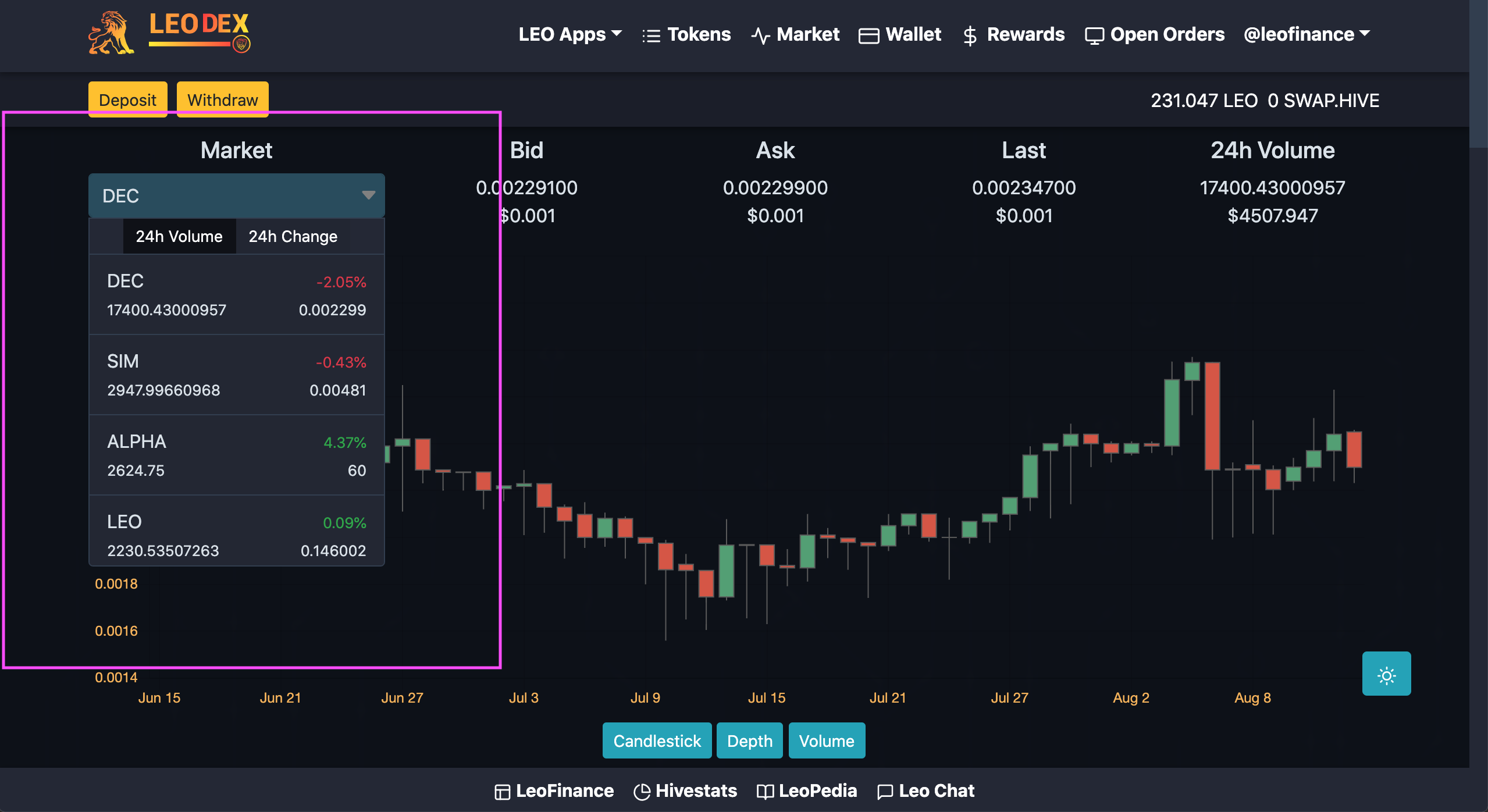 Advanced Market Search Menu
Another awesome feature on this menu is that you can click on the 24hr volume / 24hr change to toggle sorting. If you click 24hr volume, you can see a list of all HE tokens sorted by top/bottom volume.
Multi-Order Cancel
If you're an active trader on Hive-Engine (like me), cancelling multiple orders can be an absolute pain in the ass. Clicking each cancel button individually, waiting for the page to reload, then clicking the button again... It's a hassle. Now you can just select all the orders you want to cancel and hit 2 buttons and it's done.
You can access this feature either on the trading page for a specific token or access all of your open orders on the Open Orders page.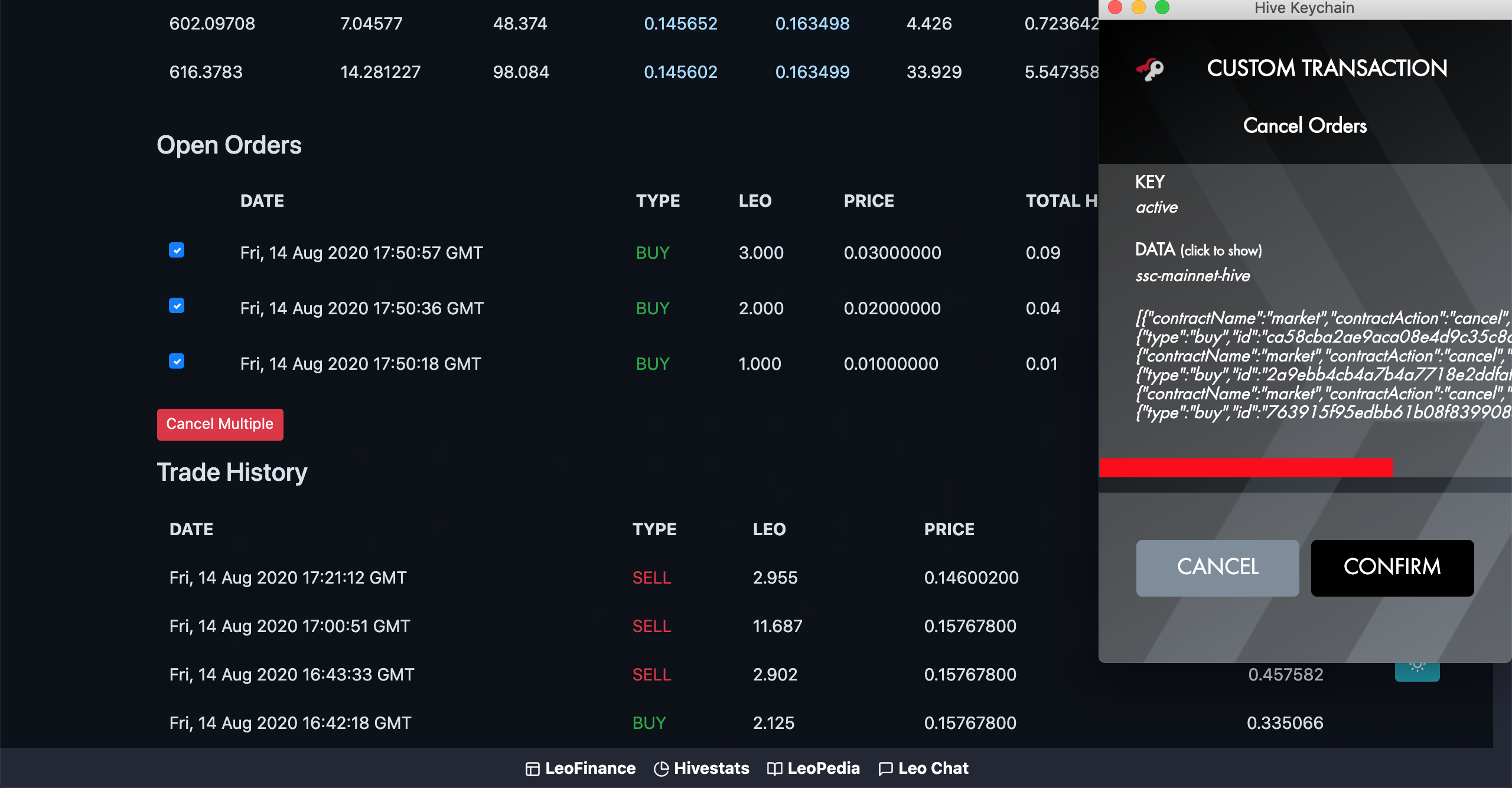 Cancel Your Open Orders in Just a Few Clicks
Market Orders
For the first time ever, you can now place market orders for HE tokens directly on the exchange. To do so, just toggle between Limit / Market in the order field. There are different reasons for using either a market or a limit order. For many users, buying a token at the current market price is all they want to do.
Now you can simple enter in how much HIVE you want to spend on a token, and then buy that much HIVE worth of the token and get instantly filled at the asking price.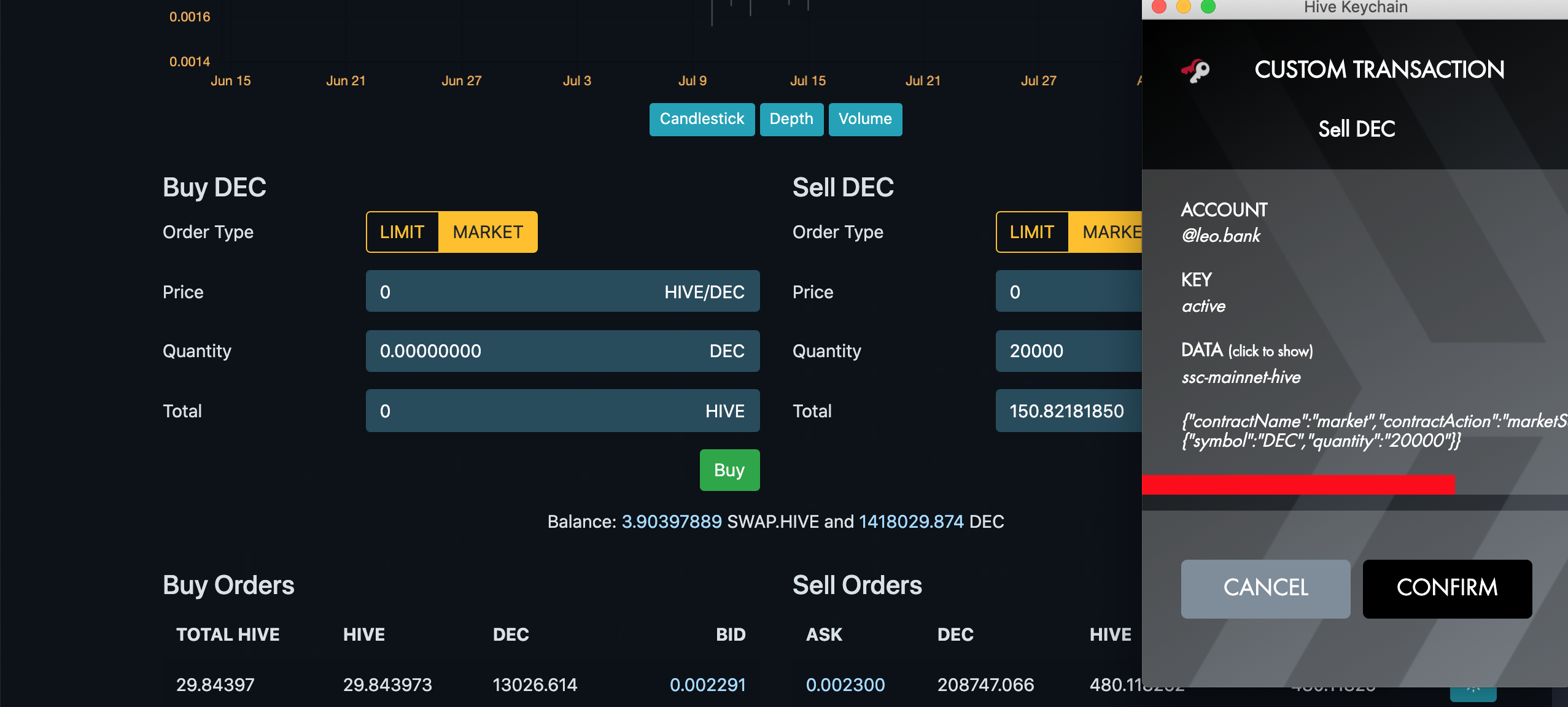 Set a Market Order Buy or Sell and Get Instantly Filled
Edit: we've found a small bug in the market order display where it shows the wrong estimate for how much tokens you're buying and selling. The feature still works, it just gives a miscalculated estimate. We're working on a patch and will release it ASAP.
New Sub Menu
The submenu below the main header gives quick access to depositing and withdrawing HIVE and SWAP.HIVE. You can also see your LEO and SWAP.HIVE balances at the top right.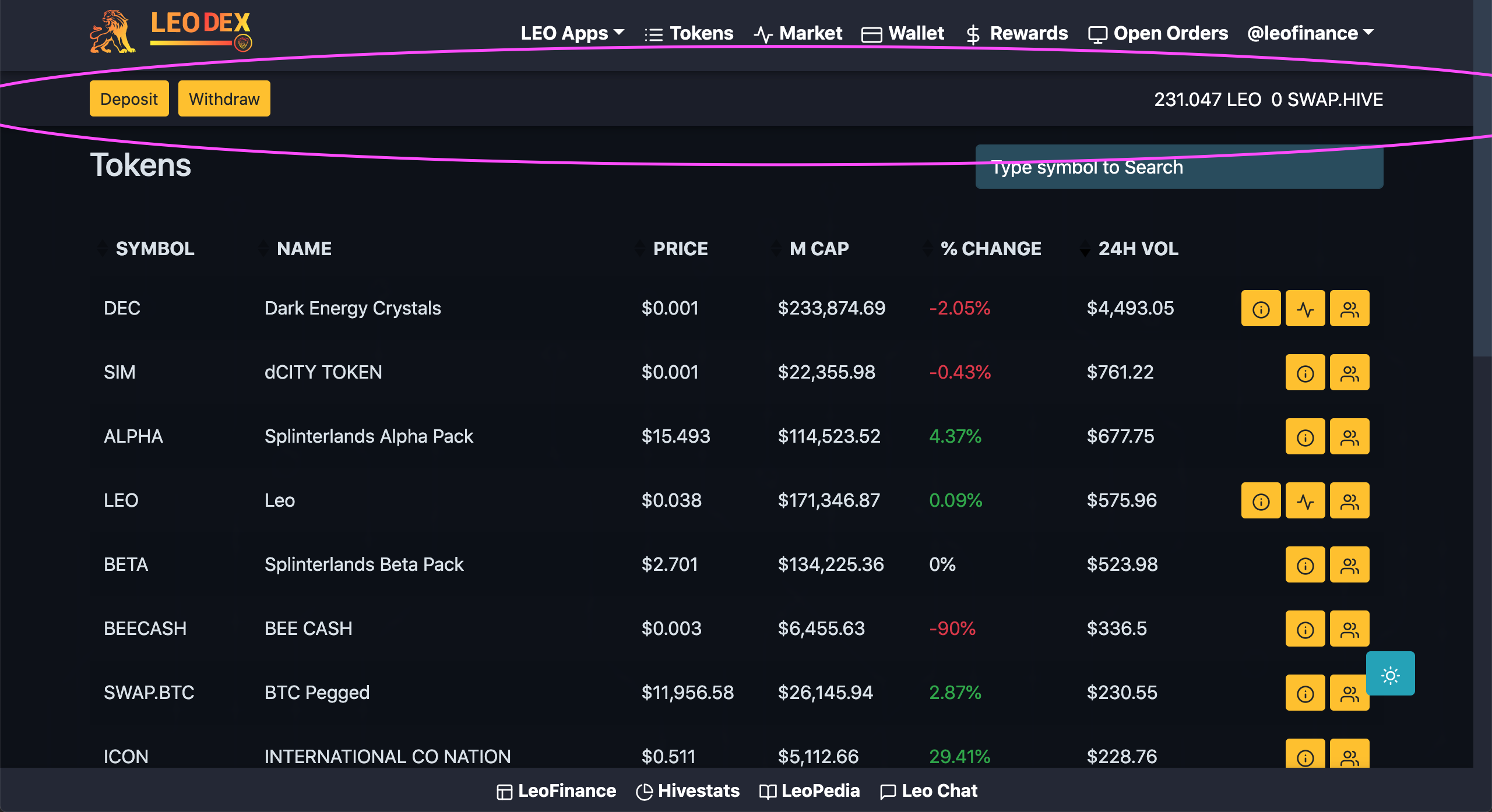 New Quick Access Menu
A few miscellaneous extras:
New LeoDex domain: https://leodex.io
LeoApps and LeoChat footer menu
Longer order books (shoutout to @xyzashu)
LEO the Lion background didn't make the cut

Our Community:
LeoFinance is an online community for crypto & finance. We run several projects that are powered by Hive and the LEO token economy:
Posted Using LeoFinance