Seriously no excuses for me for not getting better on my curation rewards. With 10k of HP I could have done better. My continouS falling APR on curation rewards do not justify my curation activity in Hive. However, the return as shown below was from the previous week since I started to spend more time on curation.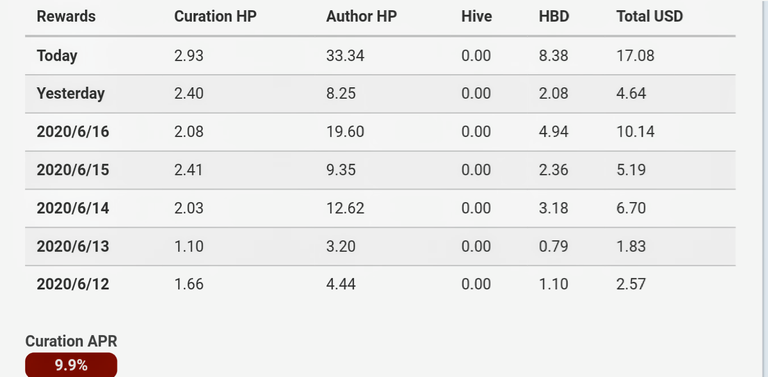 Last week, I started to access https://Hivestats.io for calculation my reward generation. It gives a clear bifurcation of all the reward generated and help us to access our growth. From Curation to Author.
It was from last week that I started to give more onus on curation (before, I was more focus on getting to 10k HP). The table does indicate a sharp fall on my APR. It was 11.1 and now showing 9.9. A major decline of 1.2 points for the week, suggesting me to get more into curation for better utilising my available HP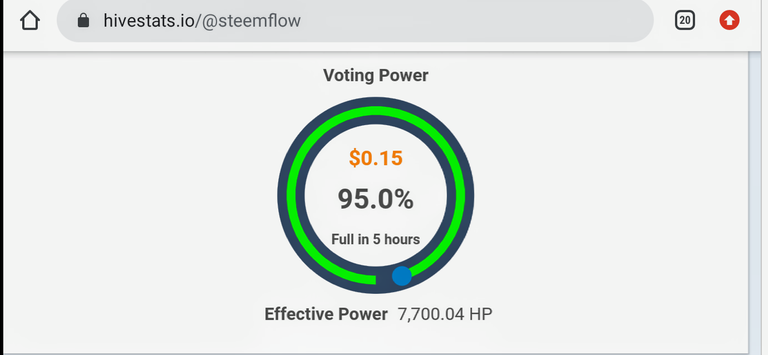 I usually leave my voting mana into 90's as it takes a lot of time to recover not allowing me to curate. However since last week I give more priority to curation I hope to see a change of fortune in my next week data.
Looking at my this week total earning, I feel a bit of relief as it was not on the negative. It is still showing a good figure which is average out my last week data. Thanks to my continous activeness on the platform allowing me generate good author Reward.

But at the same time, it does indicate some bad figures of my curation. Which is still not upto mark. Giving me enough reason to "pull my shocks" and get on the league to make most of the curation.
Infact curation is the best way to get a good secondary reward. And having enough of HP in my wallet, I make sure to get good return instead of wasting it leaving it ideally. It is like leaving money in bank account rather than getting return through proper i investments.
I think I have enough to get a a good return by my own. Only way is to give time for curating quality content on hive.
There is not much change in my Hive Power growth. The graph still hanging around the same mark last week.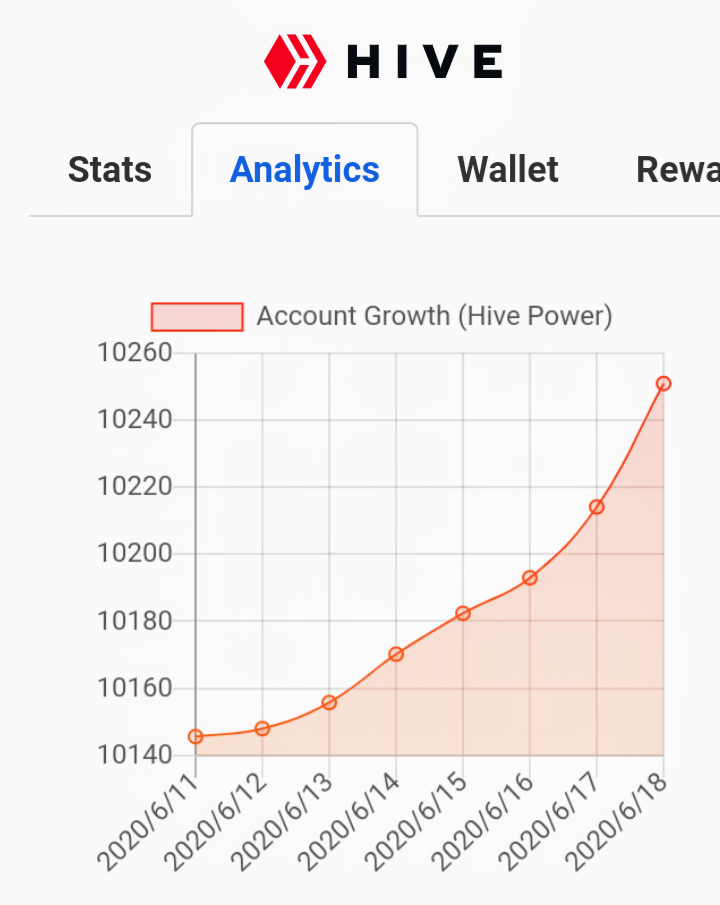 This week there is no major power up unlike last week. The growth in Hive number is pretty clear with my total hive earning as shown in previous snapshot. A total change of approx 200 Hive. But the slowing down market does indicate me of encashing on the oppurtunity. May be utilising some HBD to convert into Hive and further increase my stake a little bit on growing prospect of HIVE.
Summing up my overall Hive activity, I do figure out my weak zone which is to improve my curation activity. I would be more interested to see my next week Hive statistics that may bring up some positivity with my curation return.
@leofinance, thanks for bringing the newer version. It does gives a clear picture. However , as pointed last time, the user profile data has not yet been updated. Hope to get it updated sooner.
Stay Home...Stay Safe!!
Namaste @steemflow