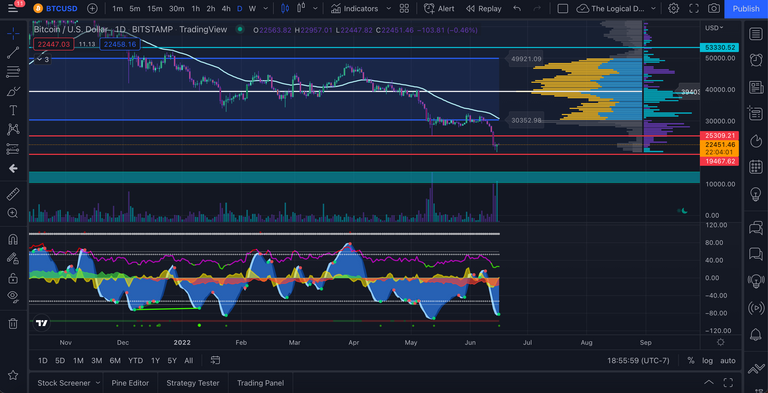 Bitcoin looks to be finding some bounciness around the current levels. We have seen the top crypto asset plunge down nearly to it's old all time high from the 2017-2018 bull run. But we are seeing that sellers seem to be running out of gas and some very short term bullish movement has been in play. Surprisingly we didn't see another drop with the FED's .75% rate hike today, this means it was expected and already priced in to the market.
Looking here on the daily time frame we see that the momentum wave on the market cipher indicator is showing a buy signal with the green dot printing today. This has created a higher low in the momentum which is a bullish indication, but not guaranteed. We are still hovering in the low oversold levels on the RSI, but we have upwards movement in that along with the Money Flow indicator.
In the volume profile, we are seeing that we have been creating a bit of a smaller volume node at our current levels, but not much to stop the price if buyers decide to step in. We could easily get it back up to the 30k range where there has been allot of volume over the last few weeks. People just need to get over the fear in the markets and realize this is a generational buying opportunity.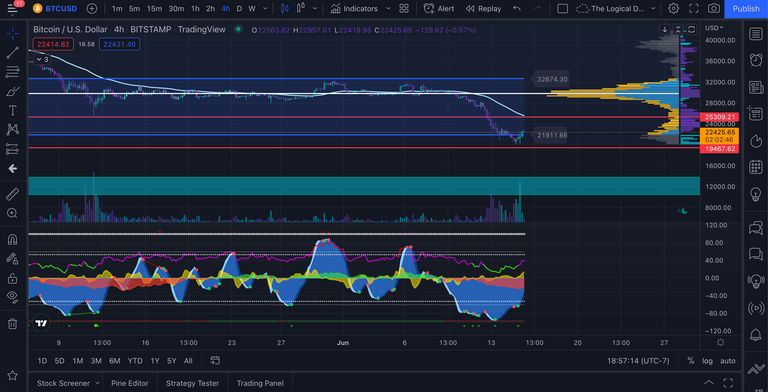 Zooming a bit into the 4HR time frame we see that we do have a bit of a V forming in the price action and we have rising momentum in the indicators. And looking here at the volume profile, we see our point of control, which is the highest level of volume for the time frame in the last 360 candles, is hanging out right there at that 30K level, so based on the point of control theory, where it acts like a magnets and pulls price back to it, I think we will see a return to that level at some point in the next few weeks. It's going to take some time though, at least from what I see.
I just hope we aren't forming yet another bull trap like we have seen basically seen all the way down. Hopefully we can start to find some support and consolidate at the current levels.
Are You Shook?
Anyway, what are your opinions about Bitcoin and the markets? Are you scared and running for your life, or are you diving in with all the dry powder you have to scoop up more coins at these low low prices?
I am trying to trade it a bit, but the last few days I haven't wanted to touch it, just kind of letting everything settle down and consolidate a bit to see what the next move is looking like. I have basically used up my dry powder to cover bill, but that's just life in a crazy inflationary world. But hopefully the trading will eventually help build the portfolio back up to its former glory.
Let me know in the comments what you think about the markets.
Until next time...
Be Cool, Be Real, and always Abide!
Support The Logical DAO
If you want to support the efforts of The Logical Dude and his projects that come out of The Logical Labs, you can support by purchasing a special NFT directly from the site using pHBD on Polygon! These funds are used to fuel the income engine in The Logical DAO
https://thelogicaldude.com/nfts
https://thelogicaldude.com/dao
The Logical Labs Projects
https://hivelist.io - Classifieds, NFTs, DEFI Pool, Online Retail
https://HiveHustlers.com - Community for Entrepreneurs and All Around Hustlers
https://coin-logic.com - Live crypto market data, news, and research
https://blocktunes.net - Music NFTs, DAO, Downloads, and more
https://groovelogic.audio - DJ/Producer/Sound Engineer music and services
https://weedcash.org - The Highest Form of Social Media
Video Channels
View my channel on 3speak.tv! Video platfrom for a free speech society!
https://3speak.tv/user/thelogicaldude
But if you must... here is the YouTube channel link:
https://www.youtube.com/channel/UCtGApfTp4ZzLHksDdImJ9JA
Other Ways To Support
If you like what I am doing, please consider voting for my Hive Engine witness with your staked WORKERBEE!
https://tribaldex.com/witnesses
Get started playing Splinterlands, the top blockchain game in the world, today!
https://splinterlands.com?ref=thelogicaldude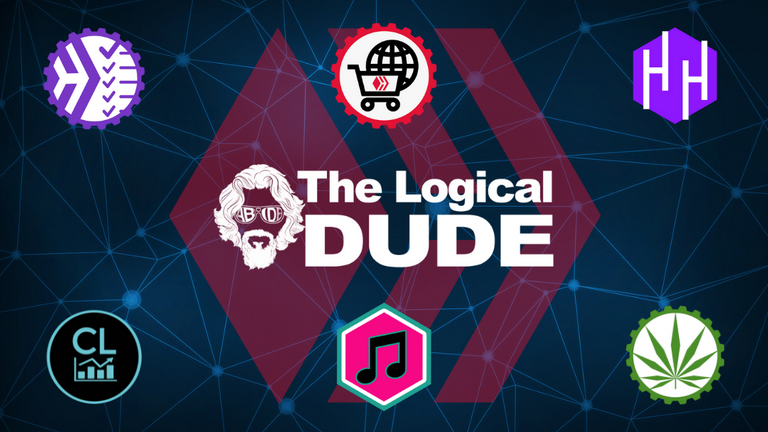 Posted Using LeoFinance Beta