Hello friends.
Today, I have done a way to get the next SPK Token of HIVE Blockchain Web3.
You have to get SPK Token through LARYNX Token, which you already know is receiving monthly Airdrop.
How to get SPK Token is as follows.
First, I logged in with Hive Account username and Hive Keychain using the link below.
https://vue.dlux.io/me?#wallet/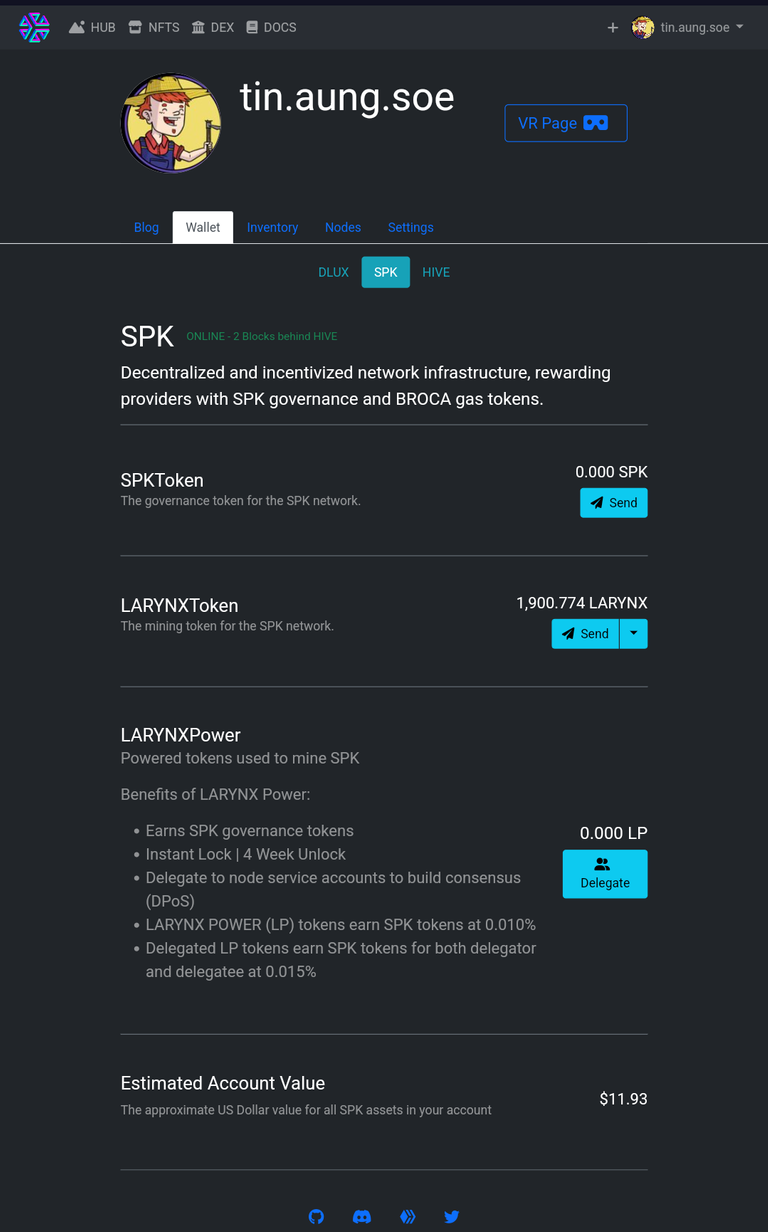 After that, I did Powering Up the LARYNX Tokens I got.

After that, LARYNX Powers can be delegated to those who have SPK Node Run.
I made a LARYNX Power Delegation to @regardspk.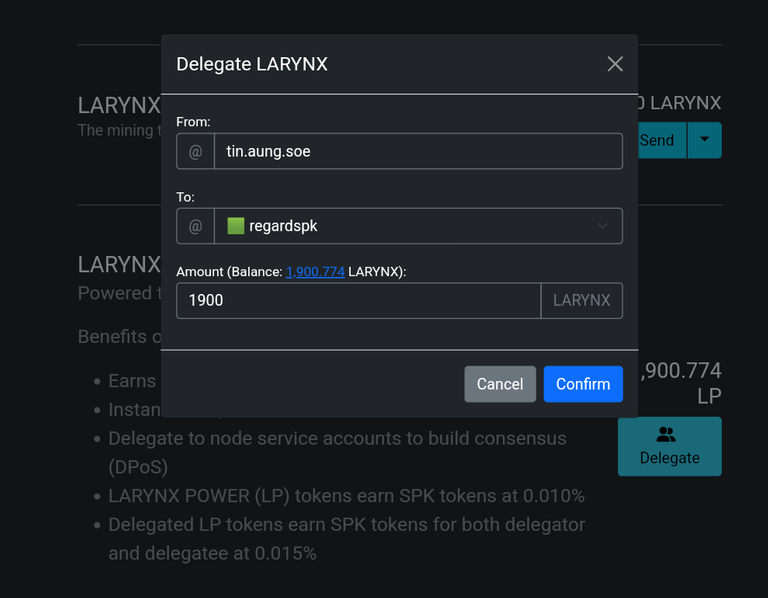 It remains to be seen how many SPK Tokens will be received from LARYNX Power 1900 Delegation.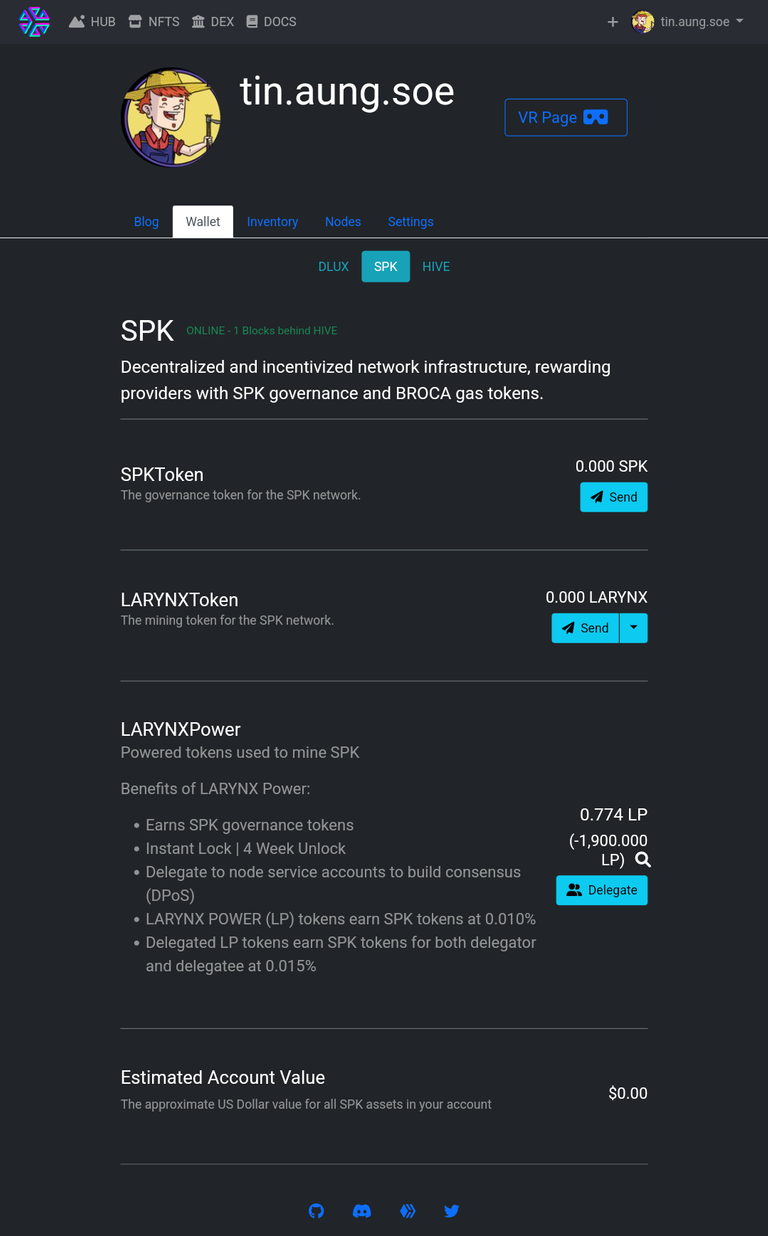 If you are not selling LARYNX Tokens, I would like to share that you can get SPK Tokens by powering up LARYNX Tokens and delegation.
Thank you for everything.
Tin Aung Soe
[Burmese]
မင်္ဂလာပါ မိတ်ဆွေတို့ရေ။
ဒီနေ့တော့ HIVE Blockchain Web3 ၏ နောက်လာမည့် SPK Token ရယူနည်းတစ်ခုကို။လုပ်ဆောင်ခဲ့ပါသည်။
သင်တို့ သိရှိပြီးဖြစ်သည့် လစဉ် Airdrop ရရှိနေသော LARYNX Token မှတဆင့် SPK Token ရယူရမည် ဖြစ်သည်။
SPK Token ကို ရယူနည်းမှာ အောက်ပါအတိုင်း ဖြစ်သည်။
ပထမဦးစွာ အောက်ပါ Link ကို Hive Account username နှင့် Hive Keychain ဖြင့် Login ဝင်ခဲ့ပါသည်။
https://vue.dlux.io/me?#wallet/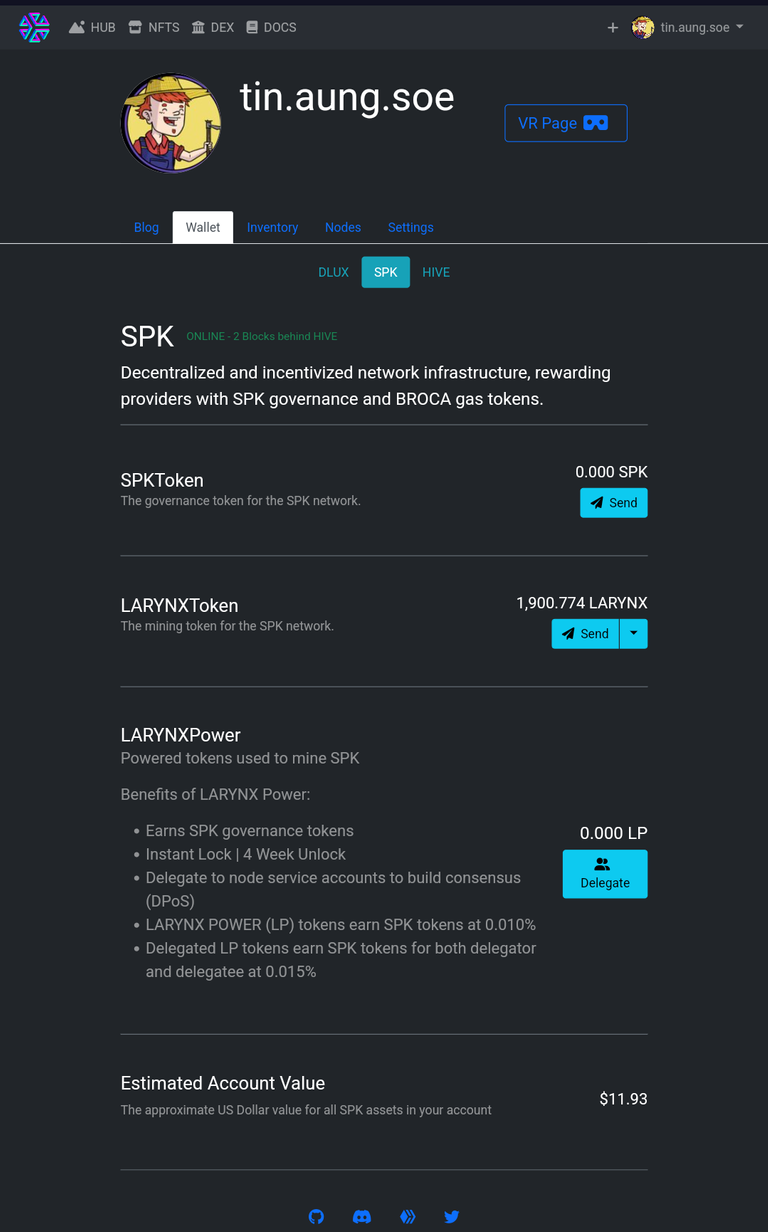 ထိုနောက် ကျွန်တော် ရရှိထားသော LARYNX Tokens ကို Powering Up လုပ်ခဲ့ပါသည်။



ထိုနောက်တော့ LARYNX Power များကို SPK Node Run ထားသောသူများထံ Delegation လုပ်နိုင်ပါမည်။
ကျွန်တော်ကတော့ @regardspk ထံ LARYNX Power Delegation လုပ်ခဲ့ပါသည်။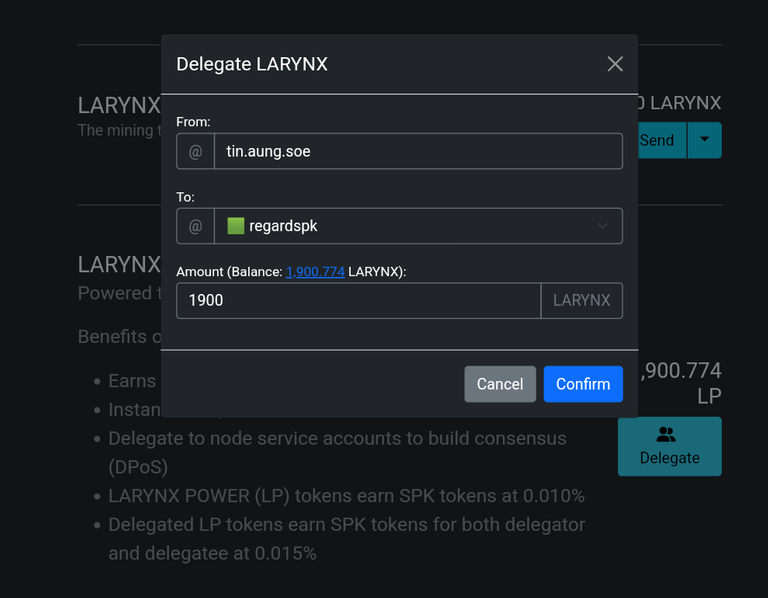 LARYNX Power 1900 Delegation လုပ်ထားခြင်းမှ SPK Token မည်မျှရမည်ကိုတော့ စောင့်ကြည့်ရပါဦးမည်။
သင်တို့လည်း LARYNX Tokens ကို ရောင်းချခြင်း မပြုလုပ်ပါက ကျွန်တော်ကဲ့သို့ LARYNX Tokens ကို Powering Up ကာ Delegation လုပ်ထားခြင်းဖြင့် SPK Token ရယူနိုင်ကြောင်း မျှဝေပေးလိုက်ရပါတယ်။
အရာအားလုံး အတွက် ကျေးဇူးတင်ပါသည်။
တင်အောင်စိုး