Hello everyone!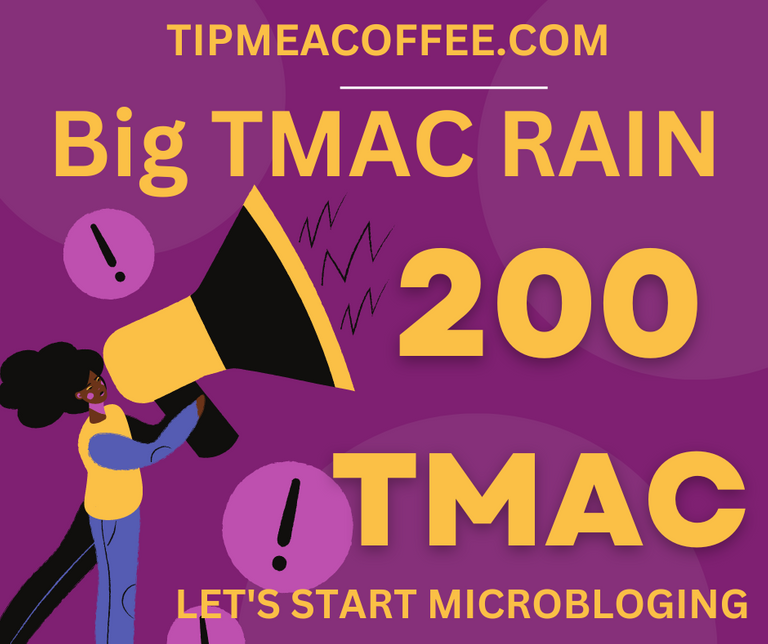 We are here with an exciting news that 200 $TMAC tokens up for grab. As the biggest rain 🌧️ of $TMAC tokens has started. On the exciting occasion of the new year 2023 TMAC team has started the biggest rain of 200 $TMAC tokens to say Happy New Year to the community. So it is the best chance to a big share from the $TMAC rain.
How can you participate?
It is very simple to participate in the $TMAC rain. You need to make posts at TipMeACoffee. And a post requires a minimum of 60 characters. You can post latest and updated news and stories to earn $TMAC tokens. The more posts you will make the more share you will have from the rain.
Some Important Tips
👉 Always make meaningful posts which make sense
👉 Use the tags in between the sentence to highlight the important words
👉 Always share updated news and stories not old content
👉 Do not repeat the same posts again and again
👉 Stay active and post regularly but make sure quality posts
---
You are all invited to join:
@piya3 @bearbear613 @walarhein @alexairways @penyaircyber @deltasteem @bitandi @mango-juice @bechibenner @e-mc2 @dragonballfan @golddiggernrw @mein-senf-dazu @hironakamura @lancang @monica-ene @treasuree @actordontee @royalevidence @offgridlife @steemadi @glorydee @bearmol @ynwa.andree @new-spirit @viviehardika @lionsuit @tin.aung.soe @devyswan1 @uthantzin @ansoe @ministerwalley @kaungsett8388 @naythan @suhlaing @milaan @redna @sanjamkapoors @queenstarr @th4488 @pregosauce @dmilliz @temmylade @asterkame @princekham @nyinyiwin @myothuzar @kaunglay2 @egistar @abirkhondokar0 @iyanpol12 @sentimento @suhag001@shati @shazara @babulkhan9 @cleanenergygarro
Useful Links
Breeze Foundation | Tip Me A Coffee | Tmac.finance | Breeze Explorer | Submit Proposals | Forum | Help Desk
---
Social Media Handles
Twitter | Telegram | Discord | Medium
---
All the pictures are the authority of the @tipmeacoffee otherwise stated
Posted Using LeoFinance Beta