Hello everyone!
Today we are here with exciting news to obtain $100 $TBREEZE tokens worth $40. And the most interesting thing is that rewards will be transferred next week. As we have already mentioned this giveaway but here it is the final call for all of you guys.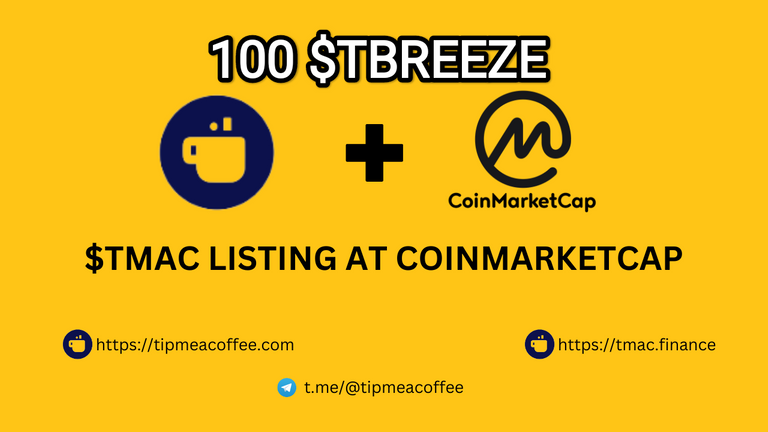 How to participate?
As $TMAC listed at Coinmarketcap we have a great initiative for all of you regarding this wonderful update.
You can accumulate $40 worth 100 $TBREEZE tokens by completing the following simple tasks:
🔥 Add $TMAC to your watch list
🔥 Give a positive comment about $TMAC at Coinmarketcap
👉 Coinmarketcap Link: https://coinmarketcap.com/currencies/tip-me-a-coffee/
👉 All the approved comments will be able to get the rewards
👉 After completing the tasks send your proof with your bsc address here in the comments section of this post or join our discord or telegram to submit your proof. we will verify you and you will receive your rewards
Reblog this post

Invite your 3 friends
---
NOTE: THIS CONTEST IS ENDING NEXT WEEK AND REWARDS WILL BE TRANSFERRED SO IT IS THE FINAL CALL TO GET 100 $TBREEZE.
---
Invitation to all the users and especially these users who have already participated in the previous giveaway.
@piya3 @bearbear613 @walarhein @alexairways @penyaircyber @deltasteem @bitandi @mango-juice @bechibenner @e-mc2 @dragonballfan @golddiggernrw @mein-senf-dazu @hironakamura @lancang @monica-ene @treasuree @actordontee @royalevidence @offgridlife @steemadi @glorydee @bearmol @ynwa.andree @new-spirit @viviehardika @lionsuit @tin.aung.soe @devyswan1 @uthantzin @ansoe @ministerwalley @kaungsett8388 @naythan @suhlaing @milaan @redna @sanjamkapoors @queenstarr @th4488 @pregosauce @dmilliz @temmylade @asterkame @princekham @nyinyiwin @myothuzar @kaunglay2 @egistar @abirkhondokar0 @iyanpol12 @sentimento @suhag001@shati @shazara @babulkhan9 @cleanenergygarro
---
Useful Links
Breeze Foundation | Tip Me A Coffee | Tmac.finance | Breeze Explorer | Submit Proposals | Forum | Help Desk
---
Social Media Handles
Twitter | Telegram | Discord | Medium
---
All the pictures are the authority of the @tipmeacoffee otherwise stated