Hello everyone!
TipMeACoffee is here to announce wonderful and thrilling news for all of you. As you all know the FIFA World Cup 2022 is going on with great excitement in Qatar. And we have organised a wonderful contest for all of you that while enjoying the FIFA World Cup 2022 you can win exciting rewards by @tipmeacoffee . The reward pool is more than $3100 so join it fastly to participate and win.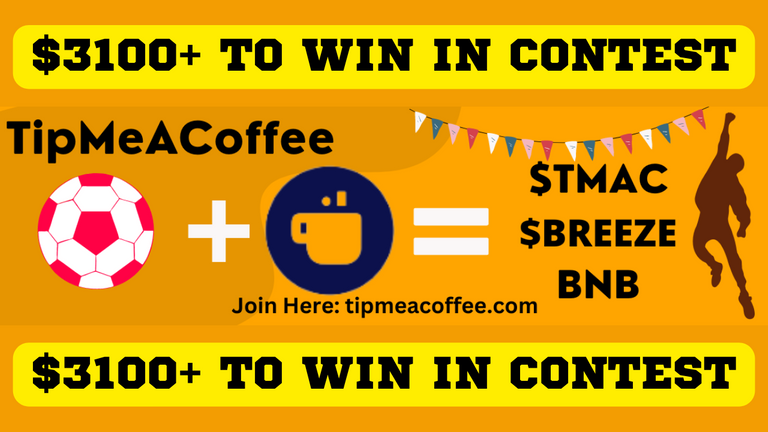 How To Join The Contest
Here are details of FIFA22 contest
To win, users need to follow the given rules:

Users who will be posting most posts on TipMeACoffee website and remain most active on discord contest channel #fifa22 will be winners
You must post in the sports category, at least twice daily at TipMeACoffee website

Your post must be about FIFA world cup only and these posts should be updated news not old stories

You must share your TipMeACoffee post on twitter with following 4 tags (must step for every post), #tipmeacoffee, $TMAC, #tmac_contest, #tmac_fifa22

Sharing on other social media will be additional points for your rankings to become top users of week

In addition to posting on TipMeACoffee, You must be active in discord #fifa22 channel chat to talk about latest updates
Rewards For The Contestants

Every week 50 TMAC and 500 BREEZE tokens will be rewarded to 3 winners
25 TMAC + 250 BREEZE
15 TMAC + 150 BREEZE
10 TMAC + 100 BREEZE
At the end of World Cup, TMAC will be distributing a grand prize 🔥🔥🔥 1BNB + 5000 $BREEZE + 500 $TMAC Tokens 🔥🔥🔥
It will be given to the best and most active users during all this period.
Lets start playing ⚽⚽⚽




Boom Boom Tmac🔥🔥🔥
---
Useful Links
Breeze Foundation | Tip Me A Coffee | Tmac.finance | Breeze Explorer | Submit Proposals | Forum | Help Desk
---
Social Media Handles
Twitter | Telegram | Discord | Medium
---

All the pictures are the authority of the @tipmeacoffee