Hello everyone!
As many users are asking about $BREEZE, $TBREEZE and $TMAC and people are confuse in understanding these tokens. So our today's discussion topic is to understand the tokens of breeze foundation.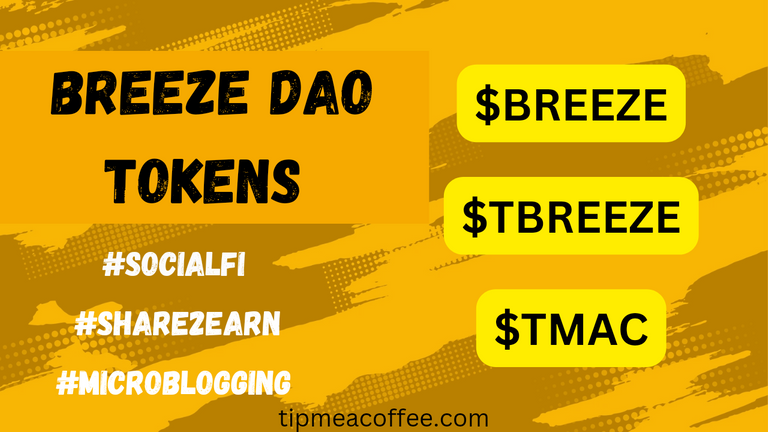 Breeze blockchain has two native tokens. One is the governance token and the other is the utility token.
What is $BREEZE
$BREEZE is the governance token of the breeze foundation. Holders of $BREEZS tokens will be able to make all decisions of Breeze Dao. They will be able to vote on the proposals. So they have the decision making power for Breeze Dao.
Moreover holders of $BREEZE tokens will earn regular share from $TMAC tokens. As 10% of $TMAC tokens are set for this dividend pool of the $BREEZE holders . This share in the $TMAC tokens will be distributed among $BREEZE tokens holders on a regular basis through the proposals.
And any person or a user can hold $BREEZE tokens and can participate in the governance of the foundation and can earn regular dividend as well. You can buy in the private sale as it is in the seed stage or you can win through the airdrops from the community. The listing price of $BREEZE is $0.4.
What is $TMAC
$TMAC is the utility token of the breeze dao. And anyone can earn this token through TipMeACoffee, a web3 socialfi share2earn microblogging platform. Users can earn by sharing posts at TipMeACoffee.
You can also buy $TMAC tokens from pancakeswap. You can stake your $TMAC tokens at the best DeFi project of Breeze Dao which is tmac.finance.
What is $TBREEZE
$TBREEZE is the wrapped version of the $BREEZE as currently $BREEZE token generation event hasn't occured, in order to give full authority to their winning airdrops we are giving them $TBREEZE and users will be able to swap their $TBREEZE to $BREEZE tokens after the token generation event.
1 $TBREEZE = 1 $BREEZE
So it is all about the $BREEZE, $TBREEZE and $TMAC if you have any questions you can ask here or join or discord or telegram for more updates.
Useful Links
Breeze Foundation | Tip Me A Coffee | Tmac.finance | Breeze Explorer | Submit Proposals | Forum | Help Desk
---
Social Media Handles
Twitter | Telegram | Discord | Medium
---
All the pictures are the authority of the @tipmeacoffee otherwise stated
Posted Using LeoFinance Beta