Good day Hiveians!
Join me in analyzing the crypto markets!
Not too much has happened since then in terms of price, but the additional time that has passed has made the original scenario in my view much more likely. Just to recap: until the crash to 30k I thought that bitcoin was in the late phase of the bull market and that we would see 100-200k in the coming months. Before the "Musk Rally", however, I argued actually for this scenario that I am again proposing. The main idea is seen in the two charts below: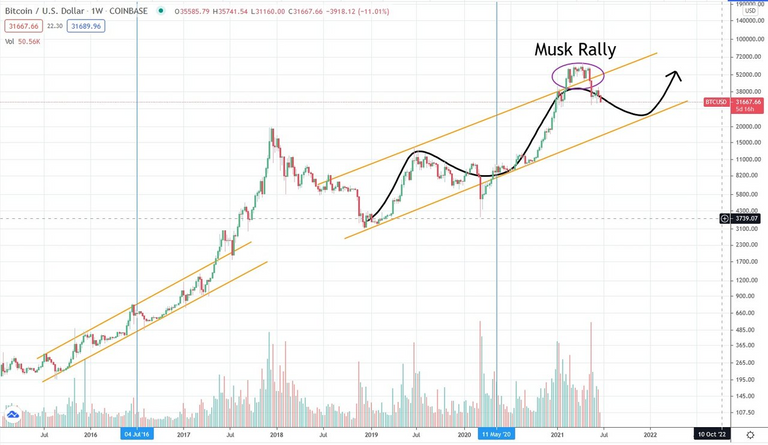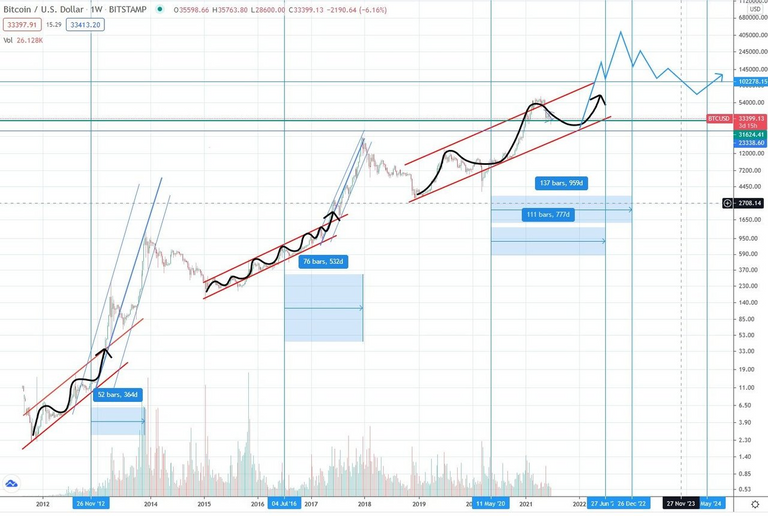 The main thesis is once again that the market top has shifted to 2022. It makes sense from a time perspective when comparing the past peaks in relation to the halving events.
Another week of sideways movement and a crucial rejection of key trend lines as well as the bearish outlook from several indicators has made a correction to 20k all but confirmed in my opinion. Let's dive into the charts:
The macro correction should look something like this: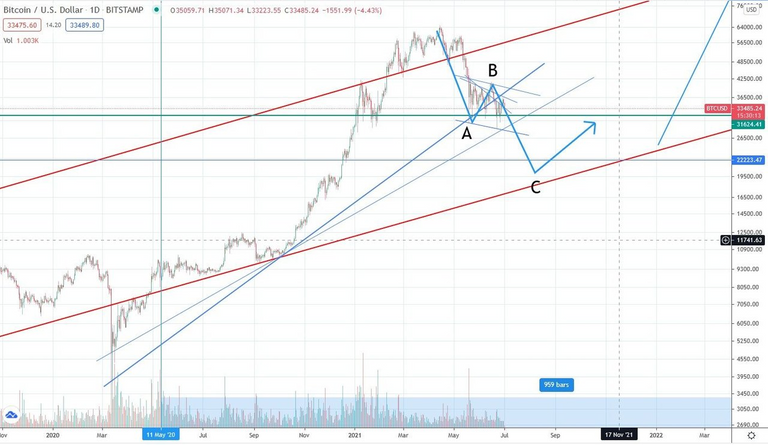 The "C" is supported by several factors which I will explain later on more detailed. But the one seen in the chart is the support line from the main channel seen in all previous bull markets (2nd chart). There are several main factors for the bear scenario (but keep in mind that we are still in a bull market overall!)
A key trend line seen here in blue has been breached and acted as a resistance in the last weeks.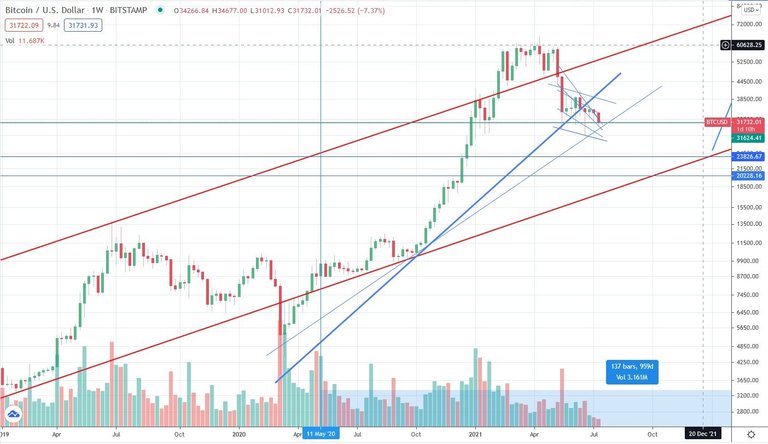 A "death cross" occurred several weeks ago (yellow and blue lines crossing)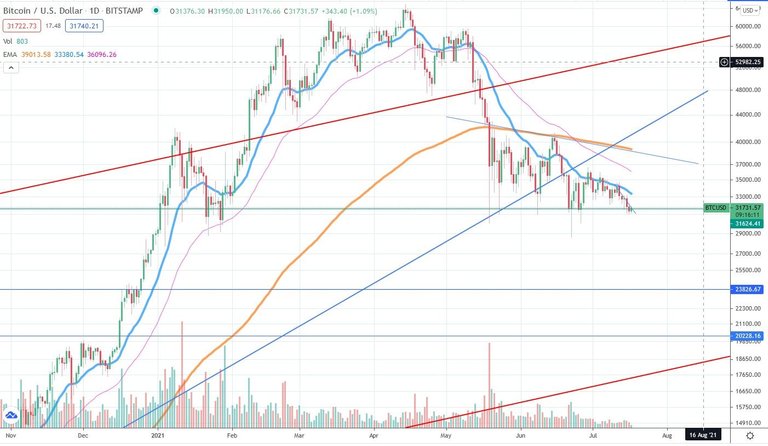 A pretty much confirmed head and shoulders pattern (the confirmation lies in the rejection of the key trend line seen here again)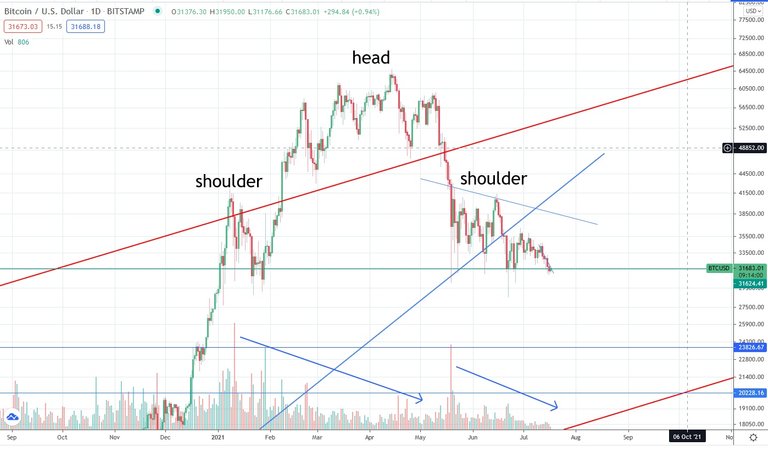 Super low volume which has pretty much always preceded big crashes. It's seen in the blue arrow in the chart above.
All of these factors support a further correction of about 20-40% to about 20-23k. The support line is very strong at these levels. It comes from three parts: The first being the former high of the 2017 peak. The second one is a support from a sideways movement from the strong impulse wave in late 2020. And the third is the before mentioned support line which is the main channel leading up to the late phase of the bull market.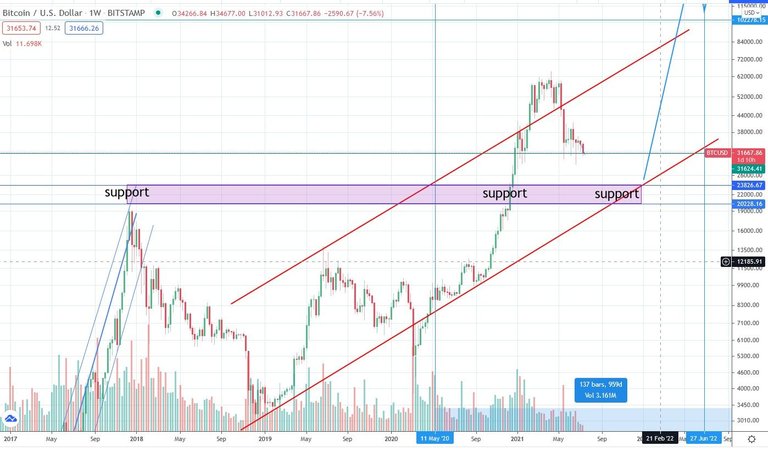 ---
As a general reminder: Please keep in mind that none of this is official investment advice! Crypto trading entails a great deal of risk; never spend money that you can't afford to lose!

⛅🌦🌧🌦🌧🌨☁🌩🌦⛅🌧☁🌤🌥🌪🌧🌨🌩⛅🌦☁🌤🌥🌤⛅🌤⛅🌦⛅

⛅🌦🌧🌦🌧🌨☁🌩🌦⛅🌧☁🌤🌥🌪🌧🌨🌩⛅🌦☁🌤🌥🌤⛅🌤⛅🌦⛅